Sony Xperia PRO-I Revealed: The Smartphone Designed with Content Creators in Mind
Sony has revealed the brand-new Xperia PRO-I. A content-creating beast of a smartphone that boasts a 1.0″ type sensor, phase detection autofocus, and the capability to record 4K 120p video.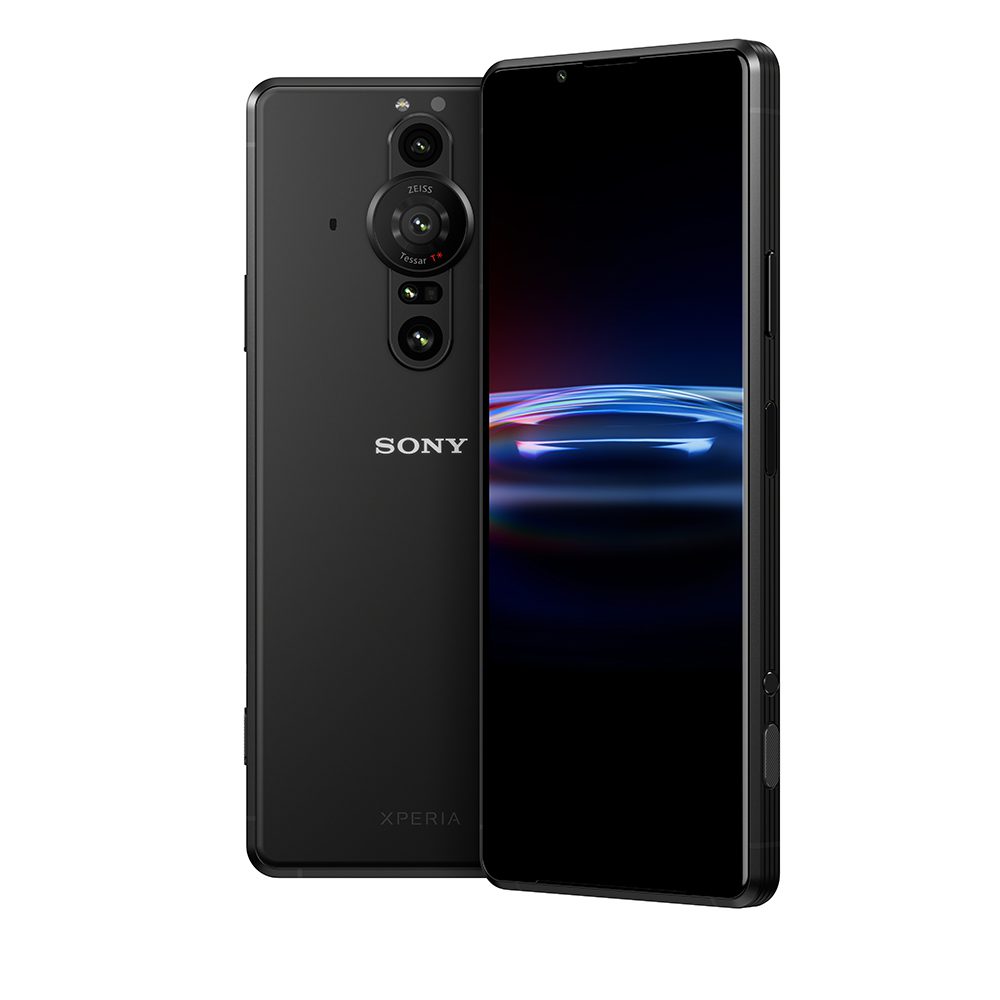 With cameras being such an essential element in smartphones, the war on their capabilities for content creators keeps hotting up. We now have some pretty impressive devices on the market that enable them to be integrated into professional workflows. The Sony Xperia PRO-I is the latest. So let's take a look at a rundown of specs:
Sony Xperia PRO-I Key Features
1.0-type Exmor RS sensor
Phase detection autofocus
1st Xperia to support Eye AF and Object Tracking during video shooting
4K 120p recording
BIONZ X image processor
ZEISS® Tessar Optics with T* anti-reflective coating and dual aperture F2.0/F4.0
Corning Gorilla Glass Victus
4K HDR OLED 120Hz refresh rate display
High quality audio features, including Dolby Atmos, 3.5mm audio jack, Full-stage Stereo Speakers, 360 Reality Audio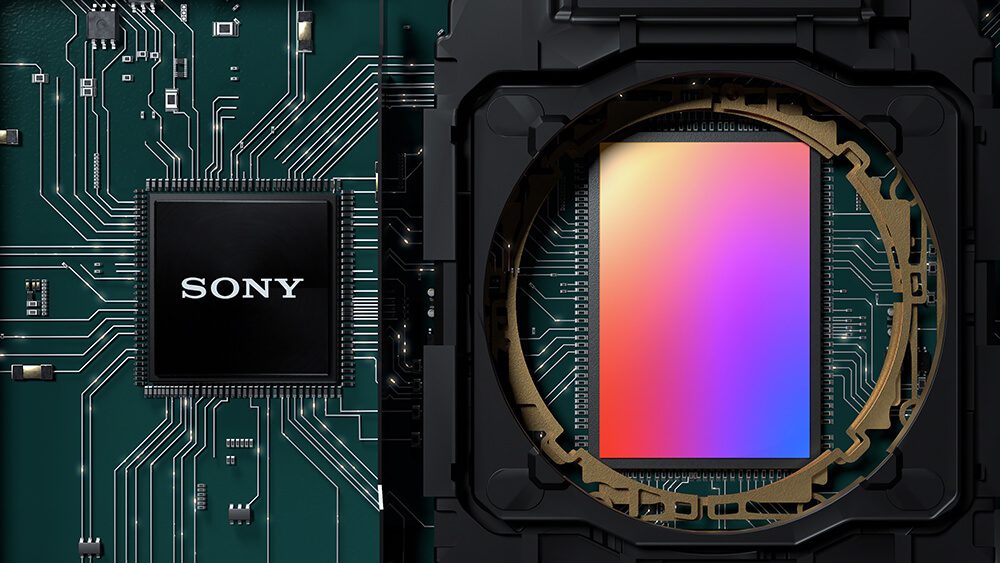 Sony claims that the Xperia PRO-I arrives as the World's First Smartphone to incorporate a 1.0-type image sensor with phase detection autofocus. The 1.0-type Exmor RS sensor is the same one used in the RX100 VII camera, however, it has been adapted for the PRO-I smartphone with a pixel pitch of 2.4µm. It uses a BIONZ X image processor and a front-end LSI, which Sony suggests helps to give clear, noise-free images, even when shooting in the dark.
Phase Detection AF
The new Xperia Pro-I's 315 phase-detection AF points cover 90% of the frame and, according to the official press release, this allows shooters to continually capture subjects at high speed and with high accuracy, even in scenes where focusing is challenging. What we consider to be quite groundbreaking, though, is the fact that the PRO-I is the first Xperia to support Eye AF and object tracking when shooting video.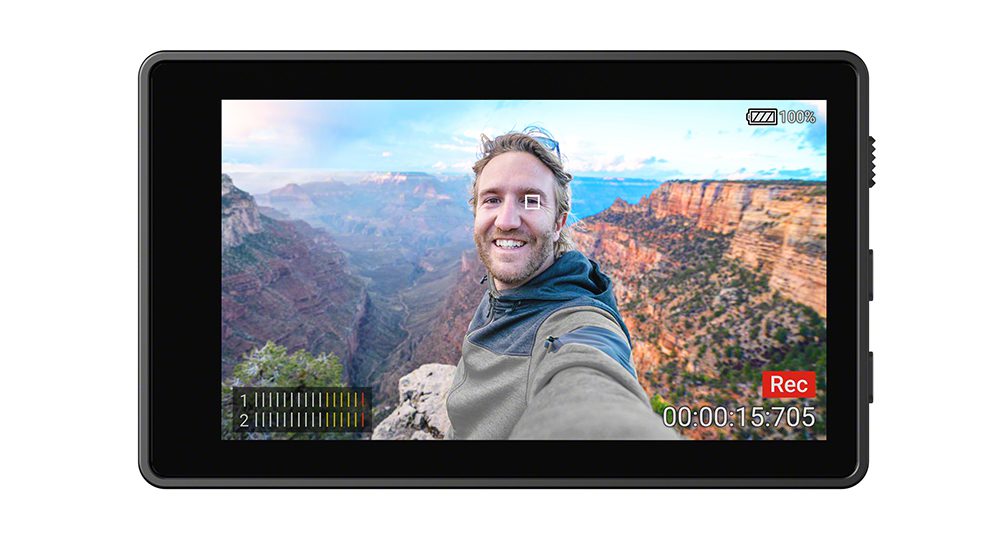 First off – Sony has stated that the new Xperia PRO-I is the world's first smartphone that is able to capture 4K at 120fps.
The Xperia PRO-I adds two new video features, specifically for video and filmmaking. For quick, high-quality videos and vlogging, the new Videography Pro feature includes creative settings in a single location. Users can simply and accurately adjust settings such as focus, exposure, and white balance. The new device also utilises a high-precision level meter that has been individually calibrated at the factory. By assigning the 'Videography Pro' application to the 'shortcut key' on the side of the body, [which can also be used to assign other applications or features] users can start shooting video immediately, just like a dedicated camera. 
For filmmaking, the Cinematography Pro feature borrows tech directly across from Sony's professional video camera tech, promising users a simple route to creating a cinematic look with eight different colour settings inspired by Sony's VENICE digital cinema camera, including a 21:9 recording ratio and also boasts the latest Optical SteadyShot with FlawlessEye.
Additionally, the Xperia PRO-I has a built-in monaural microphone next to its main camera. The device also houses Sony's leading audio separation technology to efficiently filter wind noise, both for stereo and monaural microphones. Sharing files can be effected using a 5G network or by connecting the Xperia PRO-I to a computer by USB 3.2 Gen 2 to transfer data twice as fast from the Xperia PRO-I to a PC.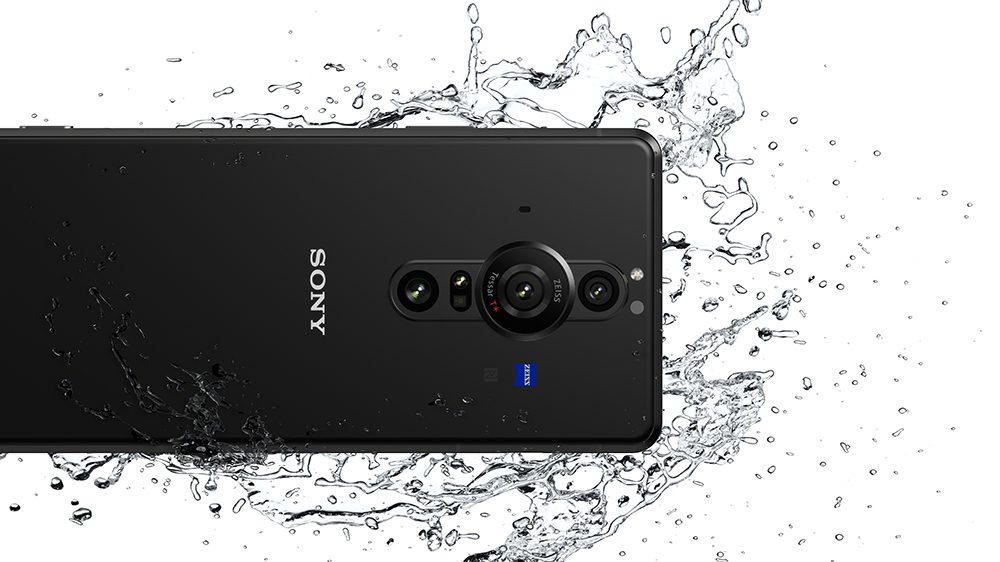 The Lenses
The Xperia PRO-I comes packed with three lenses. All three feature ZEISS T* anti-reflective coating and a 3D iToF sensor. The [newly developed] 24mm lens utilises ZEISS Tessar Optics with less peripheral image distortion giving greater intensity in contrast and sharpness.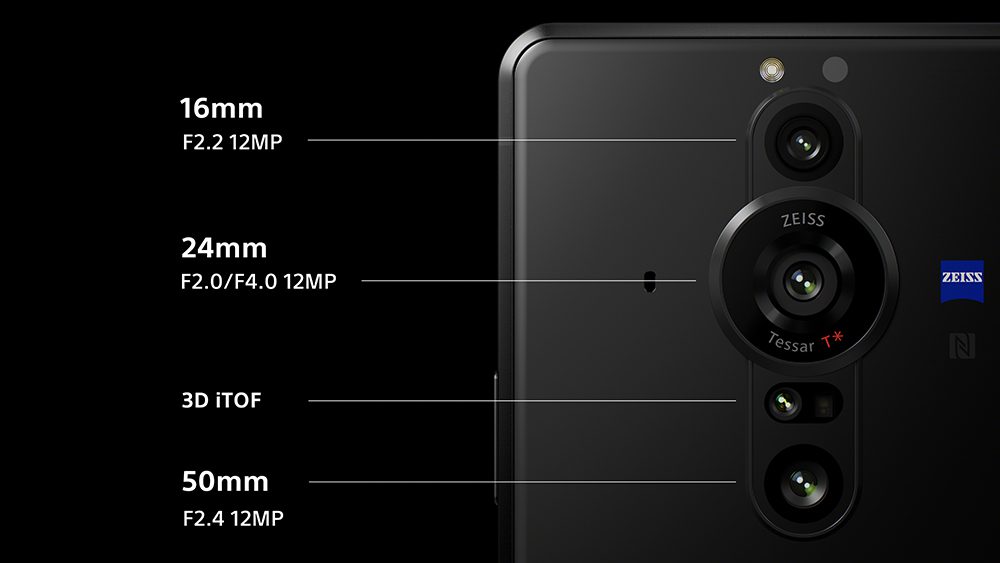 The Xperia PRO-I's 24mm lens is complemented by two further lens options, 16mm and 50mm. The device's 3D iToF sensor instantly calculates the distance between the camera and the subject, to help ensure fast, accurate autofocus.
Stills
The new smartphone can shoot 12-bit RAW still images at up to 20fps in AF/AE burst shooting mode. There's also an anti-distortion shutter and with the 'Photography Pro' feature on the Xperia PRO-I, it's possible to customise manual settings or easily access automatic settings and shoot in RAW format.
It also features a dedicated shutter button that has the very same shutter switch module as Sony's popular RX100 series cameras and requires similar button strokes to operate AF and shutter release. Long-press the shutter button to quickly launch Photography Pro to immediately start shooting, even when the display is off. There is also a strap hole, so the device will feel more like a dedicated camera than its predecessors.
6.5" 4K HDR OLED Display
The Xperia PRO-I allows the user to edit and share content directly from the device. It has a wide 6.5" 4K HDR OLED 10-bit equivalent display with a 120Hz refresh rate and reliable, pro-level colour reproduction in creator mode. As an added benefit, the colour setting of the display can be adjusted to match the user's preferred monitor or printed photos.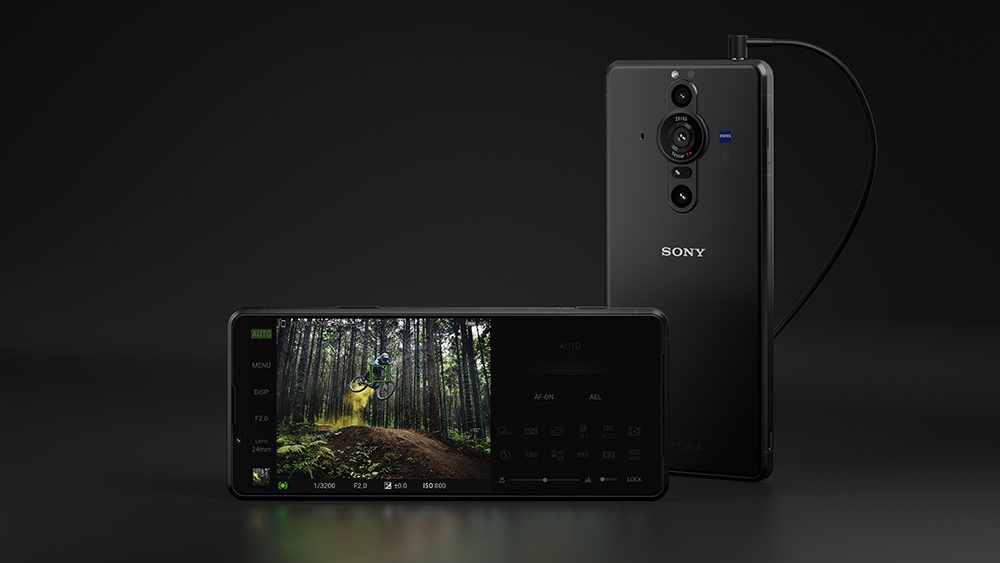 Vlog Monitor
An interesting addition for vloggers to consider with this new smartphone/camera is the new mobile vlogging kit called 'Vlog Monitor'. Users can pair this new accessory with the Xperia PRO-I, which has an aspect ratio of 16:9 on a 3.5-inch LCD [1280×720] screen and a metallic clip. It also has a magnetic, detachable design, making it simple to attach and detach to the holder.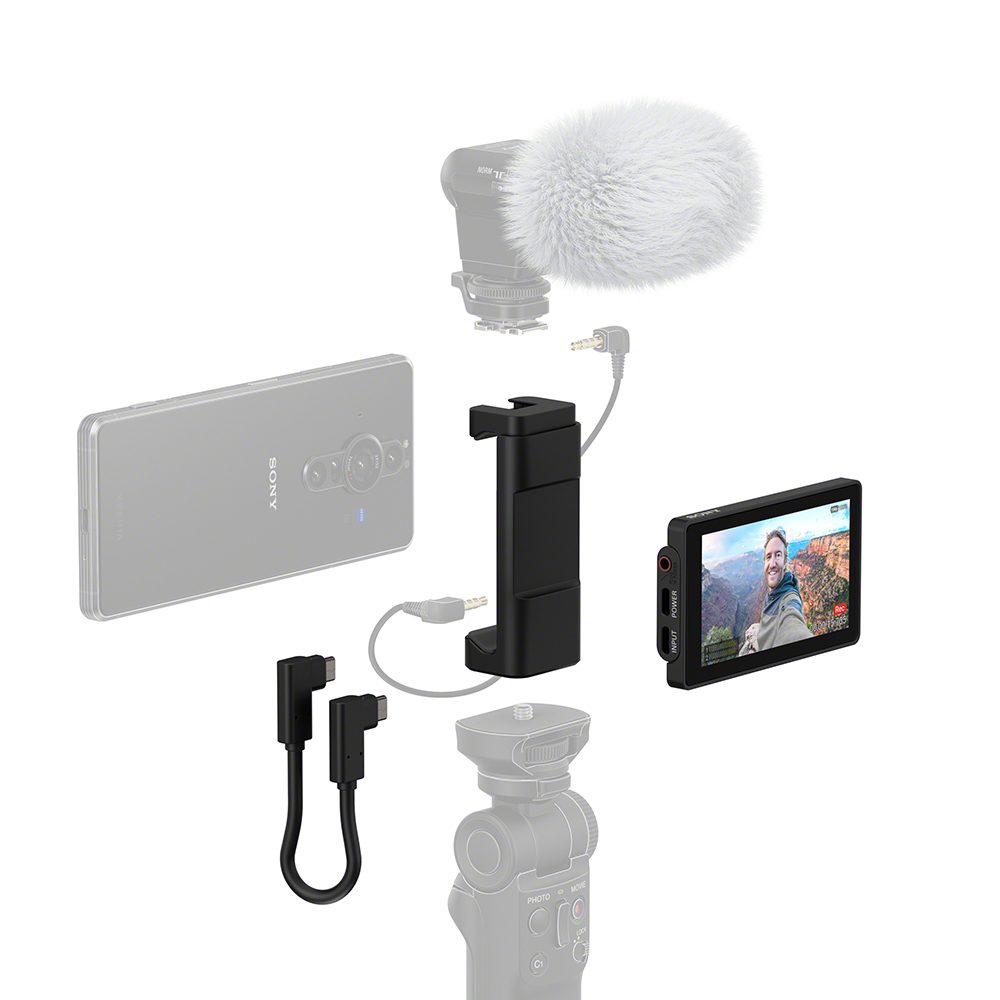 When shooting with the Xperia PRO-I and the Vlog Monitor combined, it's possible to connect a Bluetooth shooting grip, [such as the GP-VPT2BT] that will allow you to start/stop recording without touching any buttons on the Xperia PRO-I. 
The Vlog Monitor also houses a 3.5mm mic jack so it's easy to connect third-party external microphones by mounting a microphone on the accessory shoe mount that can be found on top of the holder.
It's also possible to display the screen when using 'Photography Pro' or 'Videography Pro' by connecting the Vlog Monitor to a smartphone with the supplied connection cable. In addition, since it is equipped with a USB Type-C port for supplying power from an external power source, users can shoot while supplying power to both the smartphone and accessories.
Power
This new smartphone has a 4,500mAh battery and it's possible to fast-charge the device up to 50% in just 30 minutes with the [included] 30W charger.
Memory
The Xperia PRO-I has a generous internal memory, with 12GB RAM to handle intensive computing tasks and 512GB ROM offering sufficient storage for photographs, videos, and other files to support micro SDXC media up to 1TB. 
Pricing and availability
The new Xperia PRO-I will be available in early December for around £1,599. Watch the official launch video below.
---