VUZE XR VR180° / 2D 360° Camera Now Available
We originally saw the Vuze XR during its European debut at 2018 Photokina in Cologne this September. HumanEyes Technologies, parent company of the VUZE series of cameras are dedicated to bringing VR to reality with its range of Vuze VR cameras. Now, we've learned that the new Vuze XR is available from selected retail partners and has been shipping pre-orders from the 30th of November.
Those who watched our roundup videos from this year's Photokina will know that the Vuze XR is an all-new, versatile camera with a unique design. It's a camera that promises users, namely VR enthusiasts, content creators and VR industry pros the ability to shoot and share immersive content in stereoscopic 3D VR180 or 2D 360°, with all formats being achieved with just the one device.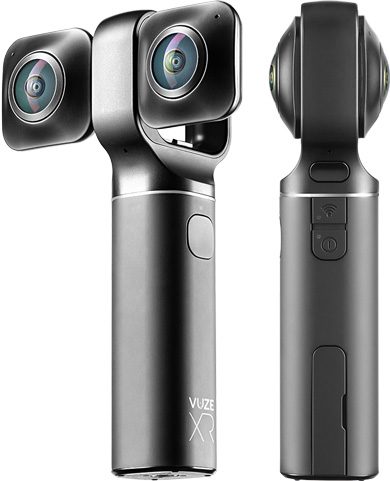 Vuze XR key features
5.7K 30fps video
3D VR180°
2D 360°
18MP stills
Video stabilisation and editing including 360° panoramas, effects, filters, stickers, and 'Director's Cut' mode
In-camera stitching [4K/30fps in-camera, desktop stitching 5.7K/30fps when edited with Vuze VR Studio software]
LIVE Broadcast + Share to Social: Live stream to popular social media channels, including Facebook and YouTube in 360°
Mike Cain, European Sales Director for HumanEyes, told PhotoBite: "The Virtual Reality industry is still in its infancy, and some of the technologies and standards are still undergoing an evolutionary process. That said, the industry has strongly coalesced around the 2D 360° format for laptops and mobile devices and the new 3D VR180 format for VR headsets. The Vuze XR was designed to support both with stunning precision, plus it delivers 18MP still photos as well, so it literally is two versatile cameras in one."
Vuze XR Mobile App

This mobile application is available for iOS and Android devices. The app gives the user remote camera control via Wi-Fi connection, photo and video preview, basic and advanced editing, stabilisation control, photo and video filters, and the ability to upload to social media, as well as live streaming.
Desktop Editing Software

The Vuze XR comes with sound desktop editing software for both Mac and PC users. This supports basic editing and stitching functions for both VR180 and 360° content.



Pricing and availability

The Vuze XR is available now and costs £399. See more at the Humaneyes website.