New Year – New Camera Gear? Read This to Get Shooting in 2018
Here we are, facing another brand new year, and this will be the year that will take your photography to the next level; especially with the amazing new camera that you bagged at Christmas! It may be that this is the first camera you've owned that doesn't have a phone attached to it, or perhaps you've graduated to a DSLR or mirrorless camera for the first time? Either way, you'll have aspirations to capture some awesome images in 2018, either personally or professionally
In this piece, guest contributor, Fujifilm X photographer, motorcycle enthusiast and fashion photography guru, David Kai-Piper, has devised a checklist for anyone stepping out into the new year, with new gear.
Fashion & Portrait Photographer, DKP setting up for a winter shoot on location
1: Update your firmware
Your camera may be new to you, but how long has it been out of the factory, sitting in a warehouse or on a shelf? It is highly likely that you will need to run a firmware update, to make sure that your camera is running at its best and with all latest capabilities and compatibilities. Don't forget to check for firmware updates for the lens too. Running these updates will improve your camera's functionality and they are free from most manufacturers.
2: Charge your battery
As per the instruction manual, give your battery a full charge before you use it for the first time. Look after your batteries. Your camera is useless without them.
A good tip would be to consider a second/spare battery or battery grip for times when you'll be away fro a plug for extended periods.
3: Set the time and date on your camera
Your camera has an internal memory and can save the date and time to each and every image. This might seem not too important, but this info lives in the digital photos meaning that years from now you can search for the images you took, by date; very handy when you want to just find 'that' image of the cat pulling the Christmas tree down each year. Your camera can save other data too, such as the lens you used and the settings of the camera. This is called EXIF data.
Some of the fun things you can do include changing the name of the files the camera saves and the copyright data about who owns the camera.
4: Register the warranty for your kit
If you're like me, your camera was not a cheap purchase. Remember to add it to your home insurance; fill out the Warranty card and if you use any serial number register sites, update your accounts to include your new gear. Keep a safe note of your serial numbers.
Jodi Lakin: Rooftop in Birmingham
5: Get out, take photos and take over the world
The handbook is not for show; it does have some stuff that will be important to you. You don't have to read it cover to cover and it won't necessarily help you to learn how to master photography, but it will help you navigate around the camera and find the buttons/functions you'll need to create your next masterpiece.
Photography is not a science, nor is it pure art it is a unique blend of the two and learning the technology behind the process will help you create the images that your mind's eye sees. There is no race; no finish line and to a large extent, no wrong way to take a photograph. The only thing that will help you be a better photographer is time, patience and practice.
Photography is not a science, nor is it pure art it is a unique blend of the two and learning the technology behind the process will help you create the images that your mind's eye sees. There is no race; no finish line and to a large extent, no wrong way to take a photograph. The only thing that will help you be a better photographer is time, patience and practice.
At first, it may not all make sense to you but your manual will help you get past the first few steps. It will help you set up your camera and get started. I'm not saying study and learn it word for word, but later, as you start to use your camera you may recall reading something that you can then go back to as a reference.
Check that you know how to change some of the camera's settings; knowing how to change core settings and what the core settings mean are the first steps. However, the most important thing about your new camera is the understanding that it is a camera, it is tough, well built and will be able to take some knocks. Keeping it in a box on the shelf is not going to help you with your photography. Keeping the camera handy, charged and ready to go is the best bet.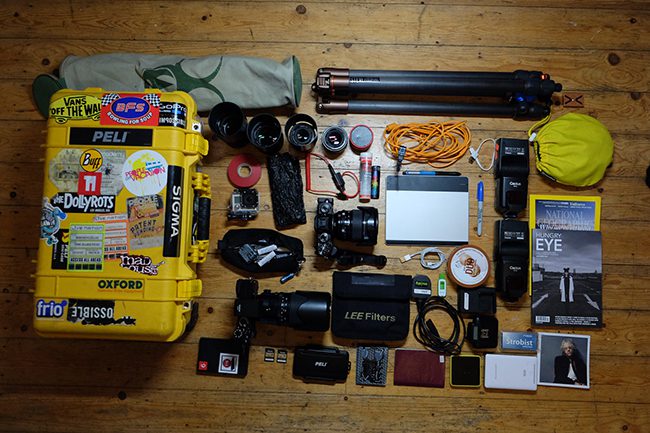 6: Every photo is not going to be a keeper
10 in 1000 'keepers' is a really good hit rate, [in digital photography terms]. I have been shooting for 15 years, now, and if I add 5 photos to my portfolio in 2018, it will be an outstanding year.
The secret is to keep it simple and keep going, don't be disheartened.
Scale this down to any level and the idea is that, while learning about cameras, manual modes, shutter speeds, focal lengths the first few thousand photos are most likely not going to make a gallery show. This is normal, just as getting frustrated with blurry photos is normal. The secret is to keep it simple and keep going, don't be disheartened.
With regards to learning, the internet is a wonderful tool; just be aware that anyone can post anything they like and for this reason, I would recommend talking to other people who are signed up in communities, [like Fujiholics]. There are lots of workshops that Fujiholics and other groups provide to help you to get where you want to be as a photographer. Check the Fujiholics website out for more information and a great example of what a strong photo community can offer.
Getting ready for your first big outing with your new camera? Next up, a few things you may want to consider before heading out. Have you got a camera strap, a bag, spare batteries, memory cards or maybe a tripod? What are you going to photograph?
7: Camera straps
Would you be shocked to know that not everyone thinks they are a good idea? A general rule of thumb for most people who shoot often, is that a camera should either be in your hand, or carefully stored away in a camera bag. I personally am not a fan of having my camera on a strap hanging around my neck. Yes, it does give you quick and easy access to your camera, but you don't want all of that weight dangling off your neck the whole time. Not for the cameras sake, but for your neck.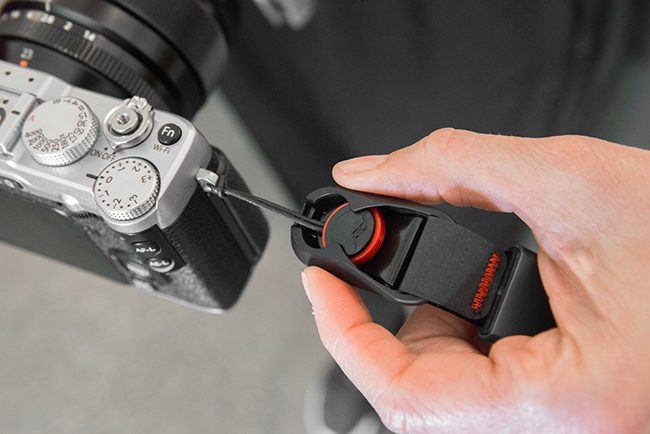 I have seen my fair share of cameras fall off shoulders, get caught on clothing and just cause more hassle dangling on a strap. If you have anything longer than a 35mm lens it's just not going to be comfortable or practical in my opinion.
This being said, camera straps do have a place. If you are using multiple cameras, shooting a wedding or at an event, for example. Unless this is you, get a little bag and keep the camera tucked away to carry your camera more safely and more securely. If you are looking for a camera strap, either Black Rapid or Peak Design are the brands I'd recommend.
Wrist straps, however, can make for an awesome addition to your kit, because it means when your camera is out the bag it's safely attached to your wrist, which means that if you do drop your camera, it's not going to hit the ground.
If you are shooting with a small system camera, belt clips can be useful if you need to store your camera quickly. The main worry here is the size and weight of your camera on your trouser belt. I would always go back to the idea that a photo-specialised bag as the best option, [unless the camera is in your hand].
8: Photo-specialised bag
There are a vast range of different options of camera bags in the market; whether you want a waist belt, backpack, shoulder/courier bag or sling bag, the one thing they will all do is help to keep your camera that little bit safer.
If you are unsure of what bag is right for you, take your camera to your local camera shop, [if you have one] and try it out in a few different bags. Take advantage of the advice you'll get whilst there. This will help you double check that your camera will fit in the bag that you like, but will also give you an idea of how carrying that bag with your gear in it may affect you throughout the day and how best to pack it with any other accessories. There is nothing worse than having the wrong bag for you and your gear resulting in back pain.
Billingham's Hadley Pro Shoulder bag
Your camera bag is an important piece of kit and not something you want to cheap out on. If it's uncomfortable or ugly, you are more likely to leave it behind, which means missed photo opportunities. Camera bags, in general, will take a lot of abuse, protecting your gear inside. You want your choice of bag to be weather resistant and to protect your gear from any knocks, so good padding is really important. Bags generally range from small amounts of cash to full flight cases for hundreds of pounds, and everything in between.
My recommendations would include Billingham, Peak Design, and Domke. If you're looking for ultimate protection, then a Peli case should be high on your list.
9: Battery power
As touched upon a little earlier, as you start to use your camera more and more, you may want to consider investing in a few spare batteries. The best batteries to buy are always those produced by your camera manufacturer, but there are other third-party brands available. A great option is to pick up a battery grip if you're a heavy shooter.
The best way to ensure your battery gives you the best bang for your buck is to shoot quick, short and precise. Think about your photos and don't get carried away or too trigger happy. Take a photo and review it; if you have the shot you were after, carry on to the next one. When using the rear LCD, try to remember that screen is the biggest power drain on the battery. Be confident, shoot, quick, review and carry on. Do your 'proper' reviews later on, on a computer, where you can see the images on a larger, higher quality screen.
10: Memory cards
Basically, there are different sizes and speeds of memory cards. The faster and bigger the card, the more money you will pay for it.
Two of the big brands in photographic/film terms are Lexar and San Disk. Most people trust these brands in pro world. If you try and save money here, do it at your peril.
New Pro Card Lifestyle Shots
Most cameras will take SD cards but some higher spec cameras will have two card slots. In the settings, you can adjust how these two slots work. Most photographers have the images written to both cards so you have a back up instantly.
You may need to buy an SD card reader if your computer does not have one, built in. Go for something well built and using a USB 3 connection. Most cameras these days support the fastest cards [SDHC II] and ensuring you have a fast reader will speed up the time it takes to move them from the card to your computer or external hard drive.
Top tip is to go for Class 10 Cards and SDHC cards, but check your camera can handle the cards first.
11: Tripods
You may want to consider investing in a tripod. In the learning stages, I encourage getting your camera stable, so that you can experiment with settings and learn what they do.
For anyone interested in landscape photography, it is an essential piece of kit. Some photographers spend thousands on a good tripod, so never underestimate how important having your camera stable can be for certain kinds of photography.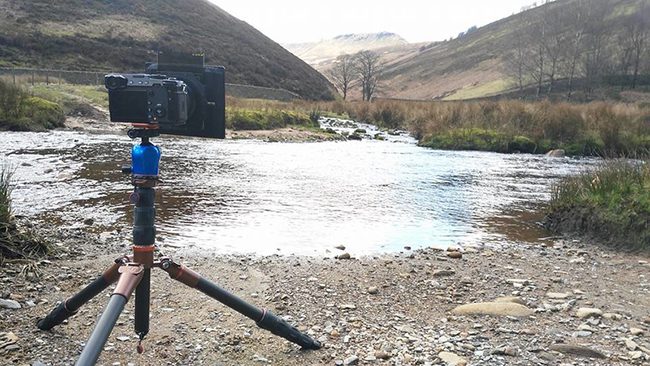 If you can afford it; even if you have to save, try to avoid buying a cheap tripod, because it is the tool that will keep your camera absolutely still. You don't want out of focus pictures because your tripod moves every time there is a breeze, or when you touch your camera. You definitely don't want your tripod to blow over with your camera on top. When shopping for your new tripod, look out for one that extends to eye level but also allows you to shoot close to the ground as well. Personally, I am more in favour of carbon fibre tripods because they are durable, but also lightweight, which is great for travelling.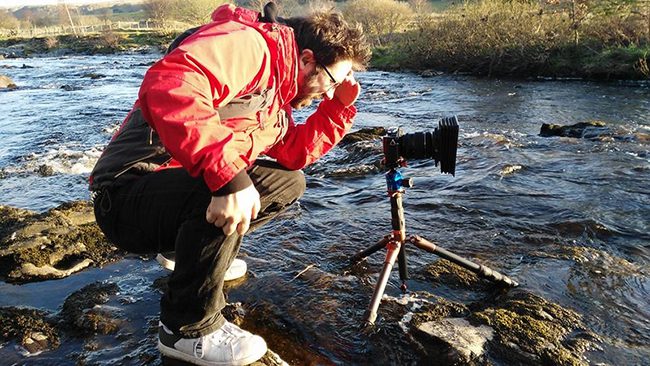 There is a place for heavy tripods and lightweight tripods, big tripods and small ones.
My recommendation to look at – 3 Legged Thing tripods.
12: Off camera flash
Depending on your camera, you may find a built-in flash or no flash at all. In fact, the more you have paid, the less likely you are to have an on-board flash.
This might not make sense at first as you would think the more you pay the more you get with the camera. The small flash you find on modern, digital cameras, is called the ëon-camera flash and is not going to give you the sort of effect that moving the flash away from the camera and really working on your light is ever going to give you.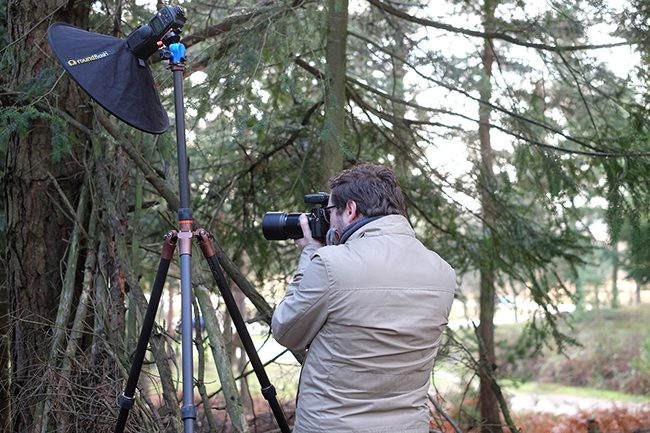 Pro range cameras don't have flash built in, as it's just not a feature a pro would use.
Taking control of your lighting is going to be something every photographer moves onto pretty quickly if you want to photograph people or be in a place to be able to create images rather than just find them.
13: Filters
The best way to think of a filter is like a pair of sunglasses for your camera, and with about as many options too. Companies like Lee Filters have great websites to explain all the options.
There are two main types of filter; ones that screw on to the end of the lens, and those known as filter systems. While they give you more flexibility and options, expect to pay more for a proper system filter.
My first filter, like pretty much every photographer's first filter was a protective filter. One that screws into the lens. It does not change the optics of the lens or affect the settings but does offer some protective elements from UV and physical damage. Normally the next filters people look are Polarisers or ND filters but there are many options.
14: Editing
In this digital world, most of the images we take are headed for the internet. They are going to have a digital workflow and be viewed on a digital device.
These days when we talk about editing we are normally taking about software packages like Lightroom or apps like Snapseed. The import thing to know is that everyone does things differently and there is no right or wrong.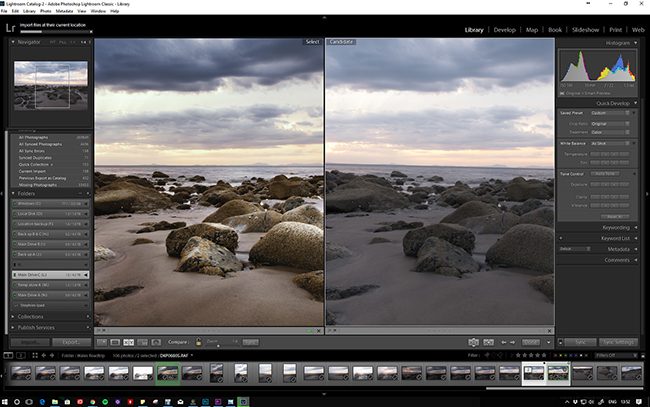 Your photography is your photography. Edit it, don't edit it; no one should tell you what is wrong or right but there are better ways and worse ways to approach it all. The world of digital editing is a huge and ever-evolving mass of new apps, tools, processes, and techniques. In the most simple form, you can send images to an iPad or phone and use apps like Snapseed to make adjustments before posting them to Instagram or Facebook.
From this stage, the next level up would be to use a catalogue & editing program like Lightroom. This is where you can start to use the full power of your camera using the RAW format giving you extra room to edit the images compared to the standard JEPG setting. Programs like Lightroom can be very powerful programs and offer enough for all but the very progressive photographer.
Beyond Lightroom programs like Photoshop are your high-end speciality editing program tools. It is worth again pointing out that you can do as little or much digital work as you like or need to tell your story with your image.
If you are using a Fujifilm camera, don't forget you have the wonderful Film Simulation modes you can access the menu or via the Q button. Many pro-photographers love the Acros Black and white setting.
15: Exporting, sharing and online communities
To kick this off, I would state that although Facebook is the most obvious place to start, there are better options if you want to showcase your work, and for many reasons too. Looking at photography based websites and online communities is going to be a better way to move forward.
Knowing the best ways to get your images online in a good way can be tricky. There is so much to cover on this topic, that it's going to be more of a homework challenge, but I would recommend looking at these sites and looking at how to add watermarks to your images amongst other things.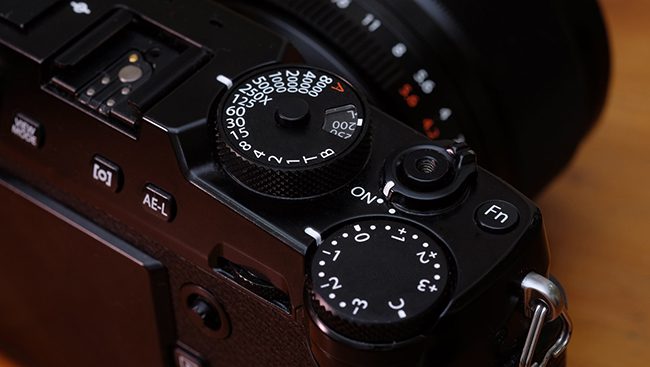 Online photo-based portfolio sites like SmugMug take all the hard out of getting your images online, then sites like Behance and 500px are good places to share your work and look at other photographers amazing work too.
Check these pages out for some amazing and inspirational work:
www.vonwong.com
www.peterdench.com
www.joecornishgallery.co.uk
www.woland.co.uk
16: What's next?
Get shooting, that is the most important thing. Look up the exposure triangle, learn what the camera modes do and learn how to active them, change them and get comfortable with your camera.
Once you have some images that you like and are proud of, get them printed. Your local camera store will help you with that and also if you ask them, they might give you some advice on achieving stronger images too.
Maybe book on to a workshop where you can not only ask the questions you have but meet other people who are also learning.
Join an online community; participate and share what you have learned and be proud to show the images you have made. Maybe even join a local camera club?
Most importantly, don't give up and don't leave the camera at home.
To view a growing number of equipment reviews, head over to the PhotoBite YouTube Channel HERE