Say Hello to the Nikon Z 9: New Flagship Mirrorless Camera with Best-in-Class Features
After a series of teaser films, we finally have every piece of info available on the Nikon Z 9 Full Frame Mirrorless Camera. Read on for more.
For what is probably the most important camera to come from the Nikon stable in a decade, the Nikon Z 9 has had us salivating for some time. Today, we've had our thirst quenched with details of a new level of power with the Nikon Z9, the first flagship mirrorless body that could be a fantastic upgrade for pro-Z-mount wildlife, sports, action, news journalist, creative photographers and filmmakers.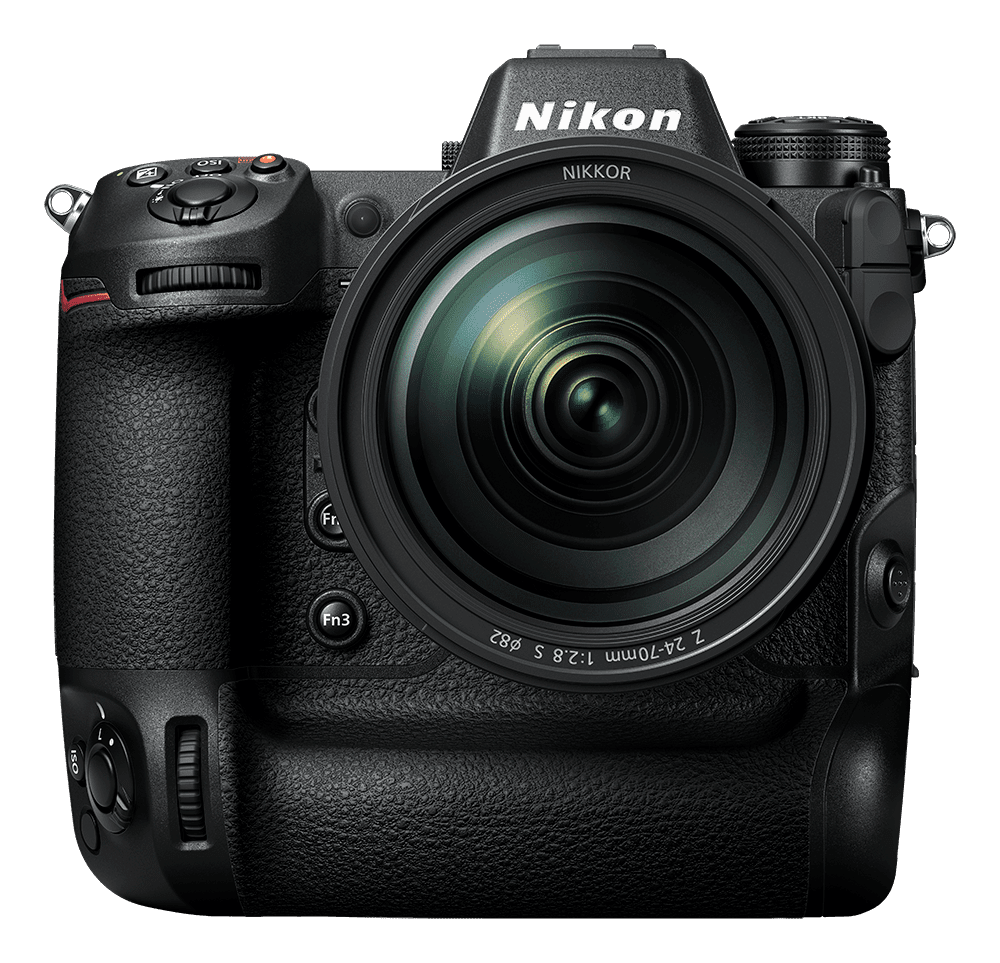 Key Features
8K 30p recording for up to 125 mins
4K 120p with no crop
ProRes 422 HQ Internal Recording
Internal 8K 60p RAW Recording [future firmware update]
45.7MP FX-Format Stacked CMOS Sensor
Vertical Grip, 2x CFexpress Type B Slots
AF tracking of people, faces, eyes, dogs, cats
11MP @ 120 FPS continuous shooting
EXPEED 7 enables no blackout and no EVF judder EVF
Quad-VGA with 3.69 million dots
3000 cd/m2 brightness [Nikon claims to be the brightest EVF in the world]
Touch screen with self orientation
Claimed fastest scan rate of any mirrorless camera in the world
High efficiency RAW, can preserve image quality similar to RAW, but a 1/3 size
ISO 64 base
Up to 1/32000 shutter speed
20% smaller than D6
Whilst the new Nikon Z 9 is clearly going to appeal to it's loyal legion of stills shooters, [in all of their guises] but what we find most interestig is the moving image capabilities. Let's be honest about things, Nikon hasn't had the best reputation with regards to video features and functionality. They have lagged behind both Canon, Sony, and Panasonic. Nikon has been very conservative when it comes to video features since the D850 and not a great deal of emphasis has been put on video with their mirrorless cameras; perhaps due to a desire to establish/protect their heritage in stills cameras during the move to mirrorless? Whatever the reason, it looks like all of that has all changed with this new camera.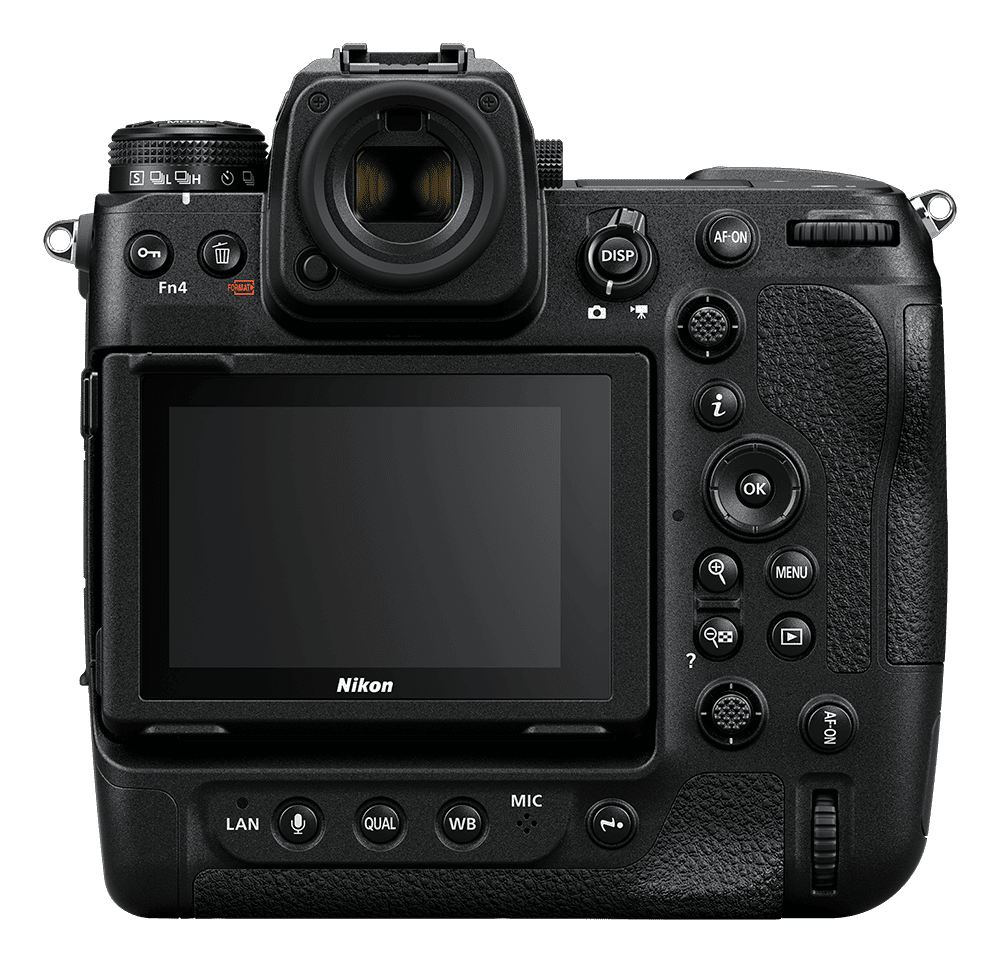 With the ability to shoot 8K 60p RAW internally and 8K up to 30p internally in ProRes 422HQ, the new camera is no slouch. Nikon has also devised an efficient heat dissipation design that they suggest allows users to record 8K UHD internally at up to 30p for around 125 minutes without the camera overheating. Using an 8K area, oversampled UHD 4K recording is possible at up to 30p. High-resolution frame grabs can be recorded in camera from 8K and 4K videos, for producing 33MP or 11MP stills, respectively.
The Z9 is also capable of recording 4K UHD at up to 120 with no cropping. The Z9 also features Nikon's original NLog and HLG (Hybrid Log-Gamma) that were both introduced with the original Z6 and Z7 cameras.
Perhaps the biggest surpeise is that the Nikon Z 9 can record internally in ProRes 422 HQ. At last, a brand has put ProRes recording in a mirrorless hybrid! It's also possible to record in H.265 and, subject to a future software update, the Z 9 will be able to record 8K up to 60p in 12bit RAW internally.
Auto-Focus [AF]
Nikon has said that the Z 9 boasts the most advanced AF performance and ultra-high-speed shooting in any Nikon camera, ever! The camera can track people, dogs, cats, birds, bicycles, motorcycles, cars, trains, and airplanes. What's nice is that the new camera is intelligent enough that if you set the subject detection to auto, it will automatically select the correct tracking without you having to go into a menu and choose it manually.
Covering the entire sensor area, the Z9 uses a 493-point phase-detection AF system to achieve fast and sharp focusing performance. This system is benefitted by the high-speed communication of the Z interface along with the speed of the sensor that enables AF readings to occur at up to 120 fps. This focusing system also supports working in low-light conditions with a Starlight mode that permits focusing down to -8.5 EV, which will appeal to those into astrophotography, concert, and other nighttime shooting applications. The Mnikon Z 9 is also Nikon's first mirrorless camera to be equipped with 3D-tracking. This is something that was previously only found on select Nikon DSLR cameras.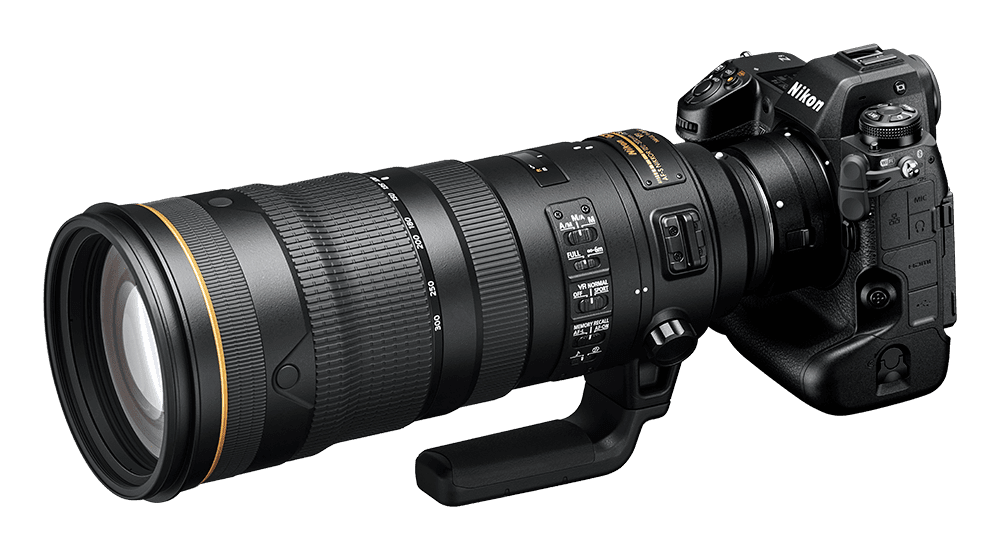 The Z9 features a newly developed FX-format 45.7MP BSI stacked CMOS sensor. Its stacked design offers fast readout speeds and helps to reduce rolling shutter, and the BSI design contributes to impressive clarity and minimal noise when working at higher sensitivities. At 45.7MP, it's also a high-resolution chip that benefits landscape, portraiture, and other detail-oriented genres, as well as enables recording video at resolutions up to 8K. The sensor offers a native ISO 64-25600 range, that can be expanded to ISO 32-102400.
EXPEED 7 Image Processor
Complementing the newly-developed sensor is an advanced processing engine, the EXPEED 7, which delivers speeds approximately 10x faster than a Z 7II. This engine works in partnership with the stacked sensor design to achieve impressively quick AF speeds, burst shooting rates, a high buffer capacity, fluid video performance, and quick all-around handling.
Top continuous shooting speeds of 20 fps when shooting in raw, 30 fps when shooting in JPEG, and an impressive 120 fps shooting rate when recording 11MP stills, with all rates supporting full AF/AE performance
Able to buffer over 1000 raw images in a burst, meaning raw image sequences can be recorded for approximately 50 seconds continuously
Electronic shutter affords a top shutter speed of 1/32,000 sec for working in the brightest conditions with wider apertures
Stacked sensor design reduces rolling shutter distortion so fast-moving subjects, like a golf club, tennis racket, or baseball bat, do not appear distorted when working with shutter speeds up to 1/32,000 sec
AF calculations are done at a 120 fps rate to keep up with fast continuous shooting speeds
New High Efficiency RAW file format maintains image quality akin to uncompressed raw files but with file sizes approximately 30% smaller for faster reading/writing to the memory card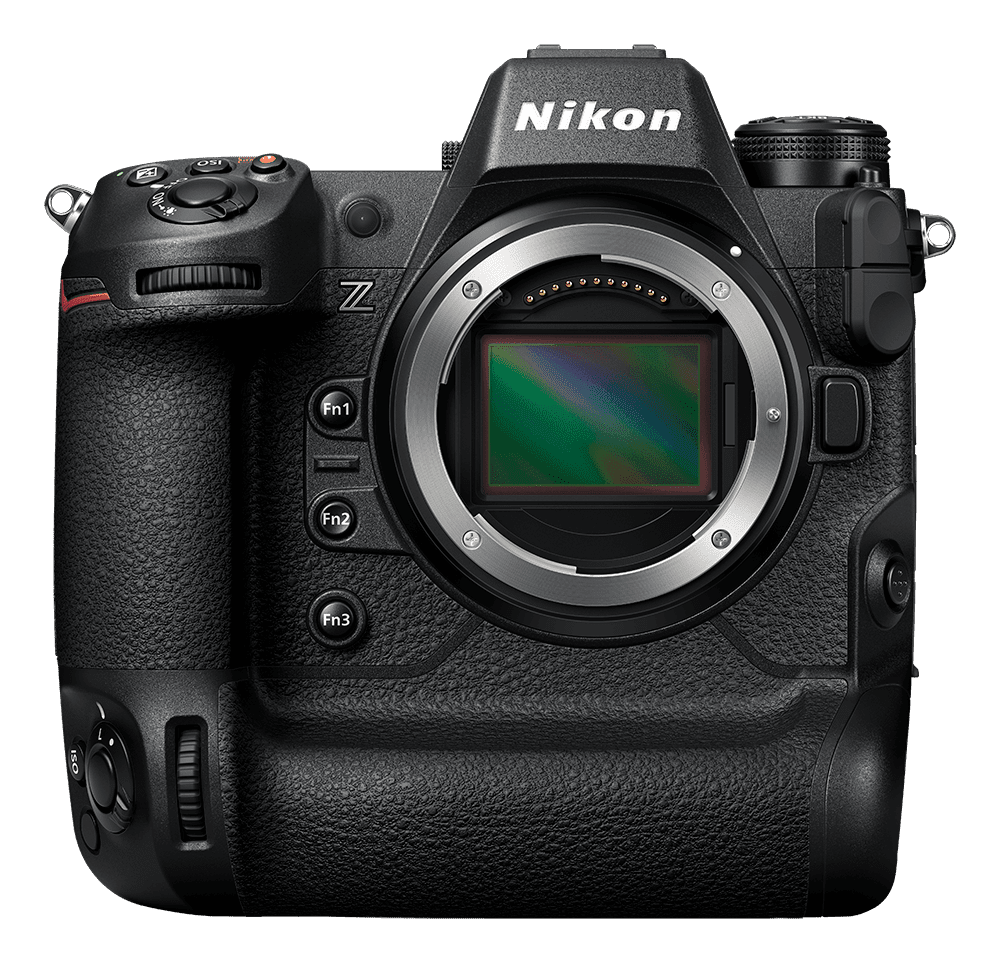 Electronic Shutter-Only
Relying on the speed and stacked design of the sensor, the nikon Z 9 forgoes a mechanical shutter and uses only an electronic shutter for all capture modes. The speed of the sensor enables recording at up to 1/32,000 sec and the stacked structure reduces motion distortion for accurate depiction of fast-moving subjects, like golf clubs, baseball bats, and cars. Also, despite the absence of a mechanical shutter, flash sync up to 1/200 sec. is still supported as well as high speed sync functions.
By removing the mechanical shutter, the Z 9 can also operate completely silently and there is no worry over mechanical shutter wear or breakdown. A shutter release sound can be added for awareness when a photo is being taken, and the volume can be adjusted to suit different working scenarios.
Real-Live Viewfinder and Four-Axis Tilting LCD
Real-Live Viewfinder is an advanced EVF utilising a quad-VGA panel with adjustable luminance up to 3000 cd/m2 for clear visibility in bright conditions. This EVF also works in conjunction with dual-stream technology for blackout-free viewing when shooting continuously.
Another first for Nikon, the new Z 9 features a 3.2″ four-axis tilting touchscreen LCD that improves working from high and low angles, regardless if shooting in the horizontal or vertical orientation. This screen's four-way tilting design allows for easier viewing from a variety of positions and the user interface orientation will also shift depending on how the camera is held.
Further Features
Dual CFexpress Type B memory card slots allow for flexible file saving and promote high-speed reading and writing to keep up with the fast continuous shooting and high-resolution 8K video recording
Optimised for a professional workflow, the Nikon Z 9 is characterised by its ergonomic form factor and inclusion of a vertical grip for easy switching between horizontal and vertical shooting orientations
Built to the same dust and moisture resistance standards as the D6, the Nikon Z 9 has a highly durable and rigid magnesium alloy chassis that manages to be 20% smaller than the former flagship DSLR body
Included EN-EL18d battery offers approximately 700 frames per charge. The Nikon Z 9 is also compatible with other EN-EL18-series batteries
In-body Vibration Reduction now supports Synchro VR to achieve up to 6 stops of camera shake compensation when used with select Z lenses
VR safety lock secures the sensor and VR mechanism in place to prevent damage caused by movement while traveling
Helping to cut down on dust reaching the sensor, the Z 9 incorporates a sensor shield that protects the sensor surface when changing lenses. For additional dust prevention, there is also a dual electro-conductive and fluorine coating on the optical filter covering the sensor
Backlit buttons offer easier navigation and button recognition when working in low-light conditions
Voice memo function for recording short spoken notes while shooting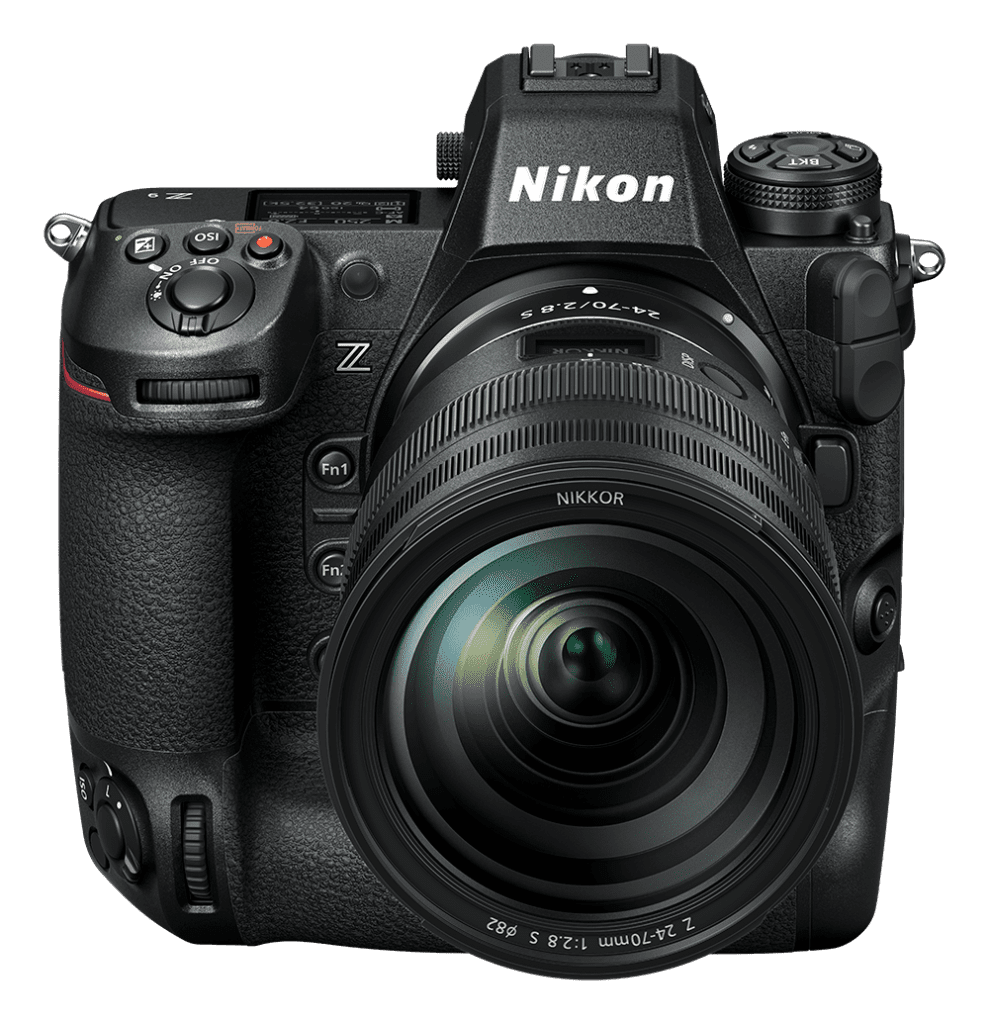 Connectivity
Matching its pro build quality, the Nikon Z 9 is furnished with a range of connectivity options to suit various workflow needs.
Full-size HDMI port for outputting video to an external recorder or monitor
USB 3.2 Gen 2 Type-C port supports tethering, data transfer, and in-camera battery charging
Ethernet port supports 1000BASE-T wired LAN connection for transferring files over FTP
10-pin port offers wide accessories and remote connectivity
PC sync port for flash sync
Bluetooth and Wi-Fi [2.4 and 5 GHz] permit wireless transferring of files, remote camera control via a mobile device, and works in conjunction with the NX Mobile Air app for file management
GNSS for in-camera geotagging and recording of location info while shooting
The NIKKOR Z 100-400mm f/4.5-5.6 VR S
In addition to the new Nikon Z 9 flagship camera, there's more from the camera giants in the shape of the…
Fast, sharp and versatile companion to Nikon Z cameras. The NIKKOR Z 100-400mm f/4.5-5.6 VR S focuses quickly and quietly to track fast-moving subjects with precision, even if they're on the move. In addition to this, the powerful VR performance equivalent to 5.5 stops lets photographers shoot handheld at slower shutter speeds without sacrificing sharpness. Minimum focus distance is just 0.75 m at the wide-angle end of the zoom range, and 0.98 m at full extension.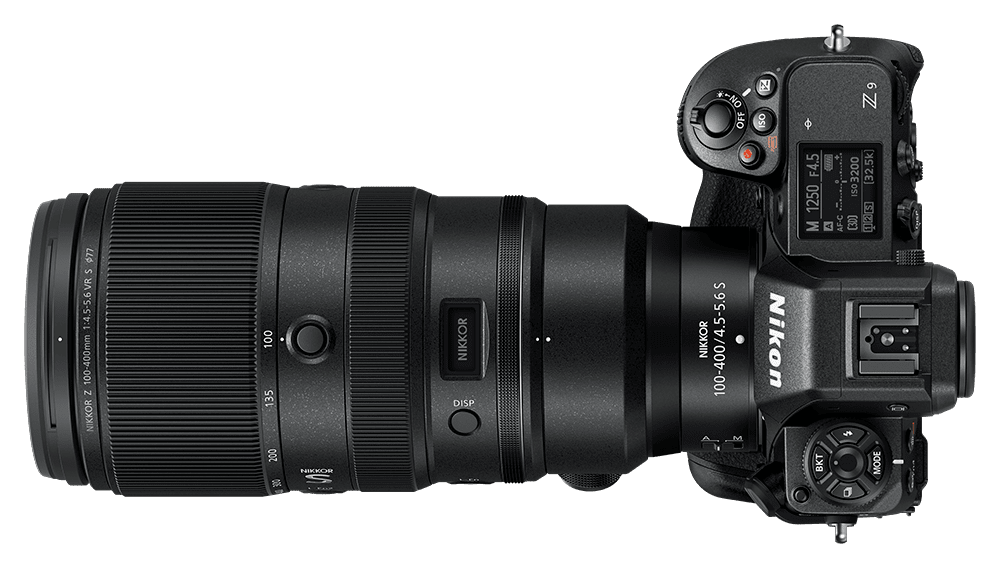 Mount Adapter FTZ II
The Mount Adapter FTZ II further improves the usability of the existing Mount Adapter FTZ, through a streamlined design. It supports approximately 360 NIKKOR F lenses from AI type onwards, enabling existing NIKKOR F lenses to be used with Z series cameras. The Mount Adapter FTZ II can be used together with a vertical grip and various video accessories, and allows for the changing of lenses without dismantling the camera from a tripod.
Pricing and Availability
Z 9 body only: £5,299.00
NIKKOR Z 100-400mm f/4.5-5.6 VR S: £2,699.00
Mount Adapter FTZ II: £249.00
Watch some introduction videos from Nikon below…
---
See more at Nikon's official web pages HERE.