Samsung Announce new 4K UHD Curved Monitors for 2019
Samsung has unveiled three brand-new monitors for 2019, including the Samsung UR59C, a striking 4K UHD curved screen that's been launched as the ideal tool for photographers, filmmakers and content creators in all shapes and sizes.
Each of the new monitors promises to deliver the best in cutting-edge tech, varying from ultra-wide screens and lifelike colours to space-saving designs to increase productivity.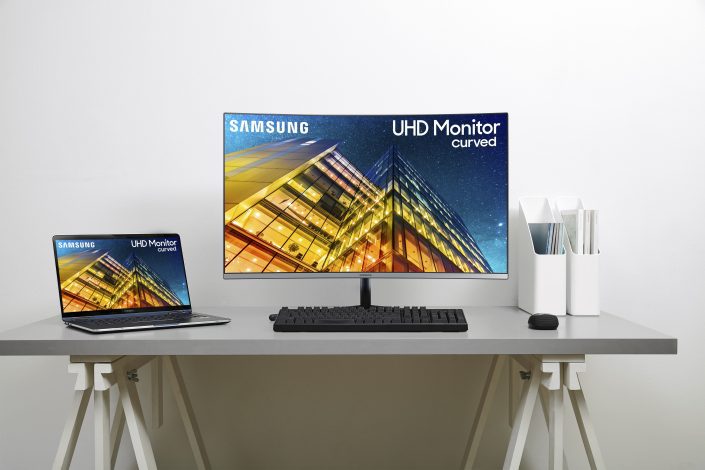 Seog-gi Kim, Executive Vice President of Visual Display Business at Samsung Electronics, told PhotoBite: "Samsung's latest monitor line-up is incredibly versatile, and demonstrates our commitment to continued innovation and leadership in the category. All of these monitors are part of our larger strategy this year, to keep giving you choices so you can get what you want; beautiful, hardworking devices that inspire you to do more."
Our pick of the new monitors is the new UR59C 32-inch monitor, which looks like a great choice for creatives that are looking for both versatility and performance. The new monitor boasts a UHD curved display with a 2,500:1 contrast ratio and a full 3840×2160 4K UHD resolution. It can also support up to one billion colours and its 3-sided bezel-less screen is attached to a slender yet sturdy V-slim metal stand with a two-prong base that encases cables, reducing the footprint on your desk.
The 1500R screen curvature promises a positively immersive experience, which is optimised for creating video, photo editing, along with graphics. This, along with the more leisurly activities of watching videos or gaming; all while reducing eye strain.
With details on pricing and a full review to follow, the UR59C is available in Dark Blue Grey, comes in a super-slim design, [with a depth of just 6.7mm] and fabric-textured rear casing.
For more on the complete range of Samsung's new monitors, please head to their dedicated CES website.
Samsung's UR59C 32″ Monitor