LUMIX S5 Mirrorless Camera is Revealed
The LUMIX S5 has finally arrived as one of the most highly anticipated cameras of the year so far. A mid-range, hybrid full-frame mirrorless camera boasting pro-level 4K video recording and particularly high-quality still image capabilities. The LUMIX S5 is here and it's very exciting!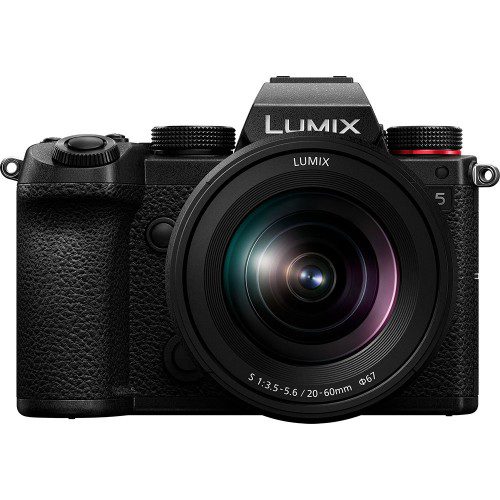 Essentially, the new LUMIX S5 from Panasonic lands as a kind of 'full-frame GH5'. Not least does this explain the absence of the much-awaited GH6 successor, but also suggests more of a move away fro the Micro Four Thirds format as Panasonic LUMIX builds its product range with the [relatively] new L-Mount system. The S5 is the fourth full-frame camera in the range. That said, Panasonic's Director of Imaging Business Unit, Yosuke Yamane, stated in a recent interview that the company isn't ruling out that the GH6 might surface in time.
As mentioned, the LUMIX S5 is the 4th full-frame camera in the S-Series range, but the others are all much heavier cameras, which are generally aimed at pro users. The S5 is much smaller. It's lighter, less expensive and yet packs a real punch in terms of high spec capability for both photo and video shooters. This put the new camera squarely in the popular 'hybrid' category, which whilst less specialist by nature, offers users some of the best available technology in all areas of digital image-making.
It comes with a weather-sealed die-cast magnesium alloy frame, the very same sensor that you'll find in the LUMIX S1, but with a much smaller price tag. It also houses the Dual ISO circuitry seen in the higher-end Lumix S1H.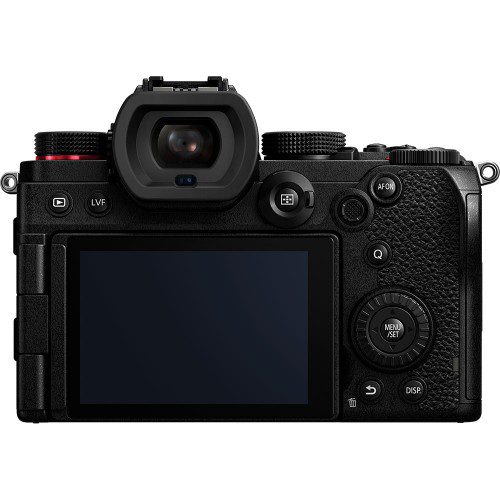 Key features
35mm full-frame [35.6mm x 23.8mm] CMOS sensor
24.20 megapixels
60fps 4K photo and 30fps 6K photo continuous shooting
Up to 4K/60p video resolution
Free-angle, 3.0-inch TFT LCD monitor with touch control
OLED Live View Finder Approx. 2.36 million dots
Dual SD memory card slots including one high-speed UHS-II video class
Built-in body stabilisation providing up to 5-stops of compensation with OIS lenses
Free-angle 3.0-inch LCD for selfies and Youtube vlogging plus a bright OLED EVF
Significantly improved AF with deep learning Face, Eye, Body and Animal tracking
New high capacity 2,200mAh battery for extended shooting times
Filmmaker connectivity through mini HDMI, mic input and headphone terminal
Weather sealed magnesium alloy die-cast body for reliable use anywhere
Excellent connectivity with 5GHz WiFi and Bluetooth® v4.2
Tethered shooting from a computer as well as smartphone camera control
Panasonic provides regular firmware updates to enhance capabilities
Approx. 630g [Body only]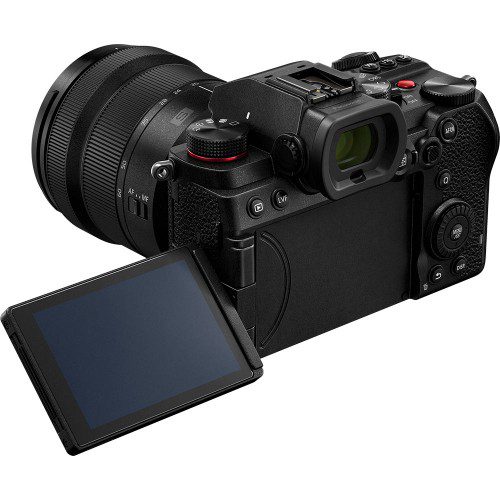 Available accessories
Battery grip DMW-BGS5E
Remote control DMW-RS2
DMW-MS2E Stereo Microphone
Spare Battery DMW-BLK22E
DMW-DCC17GU DC coupler for S5
Microphone Adaptor DMW-XLR1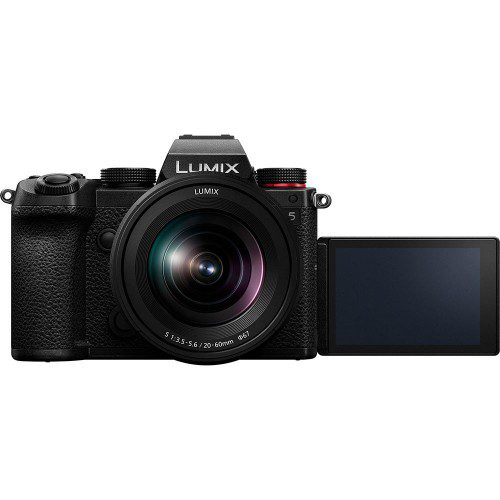 Video
The new Panasonic LUMIX S5 camera is capable of recording 4K 60p/50p 4:2:0 10-bit, and 4K 30p/25p 4:2:2 10-bit internal movies with 14+ stops of dynamic range [V-Log]. This kind of performance is up there with pro-level cinema cameras, whilst also producing V-Gamut compatibility with popular VariCam colour science, renowned for accurate colours and skin tones.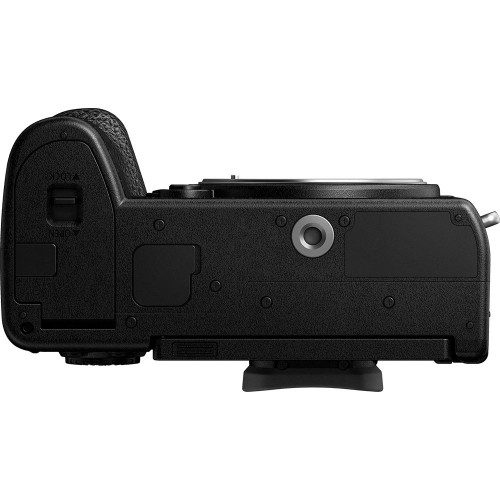 Low light capability
Filmmakers can also gain advanced low light capabilities from the S5, with a maximum ISO 51,200 producing crystal-clear high sensitivity video with the appropriation of Dual Native ISO technology.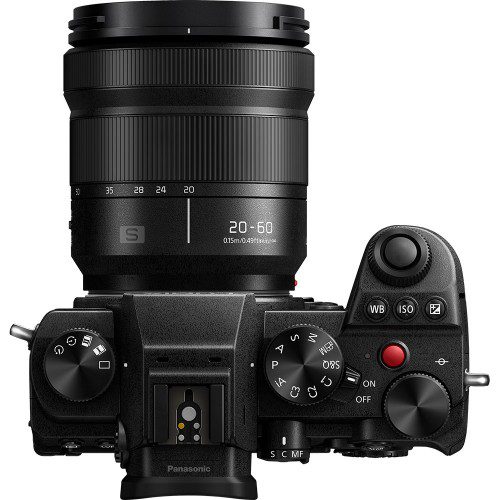 Never miss 'that' shot
Stills photographers who never want to miss a shot can burst up to 30fps in 6K photo mode with 18-megapixel equivalent photographs, ensuring every moment of action is captured. Ultra-high resolution stills are also possible with 96 megapixel equivalent images when using a tripod, which we're certain will broaden the appeal of the LUMIX S5 to landscape, architectural and photographers who produce large prints.
There's a lot going on with this new camera from Panasonic's LUMIX S5. Whether you're shooting street photography, portraits, cityscapes or centring in travel photography, the S5 could be a perfect match. That said, it's just as capable a device for disciplines such as Vlogging and any kind of video.
Unlike recent announcements from 'other' camera brands, we're told that the LUMIX S5 can produce high-resolution video files without the camera overheating. This provides numerous options from ultra slow motion to 4K at 60p with excellent colour rendering.
On the face of it, this mirrorless camera and lens kit from Panasonic is not only the lightest possible full-frame L-mount combination currently available in the range but the most versatile and best value for money. It will certainly appeal to a broad range of users who love to carry pro-quality equipment with the lightest load possible and we can't wait to run it through a full test. Watch this space!
Pricing and availability
The LUMIX S5 is available to pre-order as a camera body only or with the LUMIX S Series 20-60mm f3.5-5.6 lens. It'll be available at the end of September [2020] and will cost £1,799.99 for the body only, or £1,999.99 for the kit. Tap here for more info on Pansonic's website.