JOBY Wavo: New Series of Microphones Revealed
JOBY Wavo's range of audio gear has now expanded to boast a new range of devices. The Wavo PRO shotgun on-camera microphone, lavalier microphone, Wavo AIR 2-person wireless microphone set and Wavo POD desktop USB microphone. All available now, read on for more…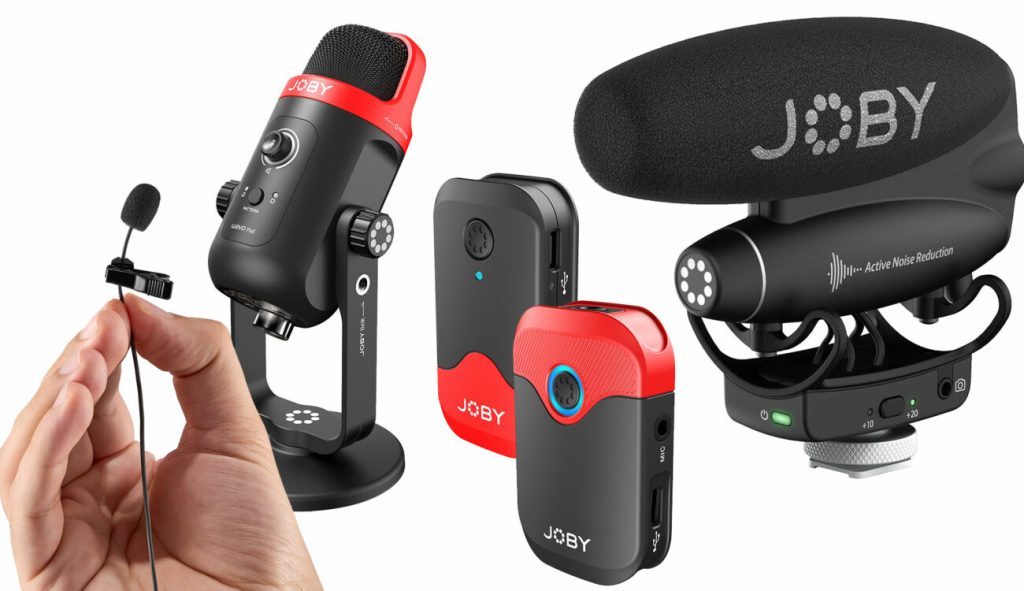 Along with the new devices, (Wavo shotgun on-camera microphone, lav mic, Wavo AIR 2-person wireless microphone set and Wavo POD desktop USB microphone), JOBY also has a new Wavo app, which has been developed to connect to the mics and to control them.
It was just a matter of weeks ago when we reported on the acquisition of the US-based audio brand, Audix, by JOBY's parent company, Vitec Group. A move that clearly defines the brand's intention to grow in this sector. You'll have read on our piece that what comes with the Audix facility is an impressive R&D facility, which will give the company the tools to progress at a more rapid rate. And here we are with JOBY announcing these new microphones to their range:
JOBY Wavo PRO on-camera shotgun microphone
JOBY Wavo Lav PRO lavalier microphone
JOBY Wavo AIR 2-person digital wireless lavalier microphone set
JOBY Wavo POD desktop USB microphone
JOBY Wavo PRO
This is probably the product that's likely to get the most attention, initially. An on-camera microphone, the Wavo PRO is a super-cardioid mic that has a highly directional polar pattern. Possibly the most intriguing feature is its active noise reduction [ANR] that can clean up spikes in sound that might appear from movement, i.e. footsteps or accidental tripod knocks etc.
The microphone has built-in LEDs that notify battery and audio levels in real-time. The JOBY Wavo PRO also features a second 3.5 mm microphone input for connecting a wireless mic or cable lavalier mic. It also offers a second -10dB safe track recording option.
The new mic presents two audio outputs:
Analogue 3.5 mm TRS output for connecting directly to camera
Digital USB-C output for connecting to a computer or to a smartphone
The microphone has LEDs built-in that display battery and audio levels in real-time. The JOBY Wavo PRO also features a second 3.5 mm microphone input for connecting a wireless mic or cable lavalier mic, along with a second -10dB safe track recording option.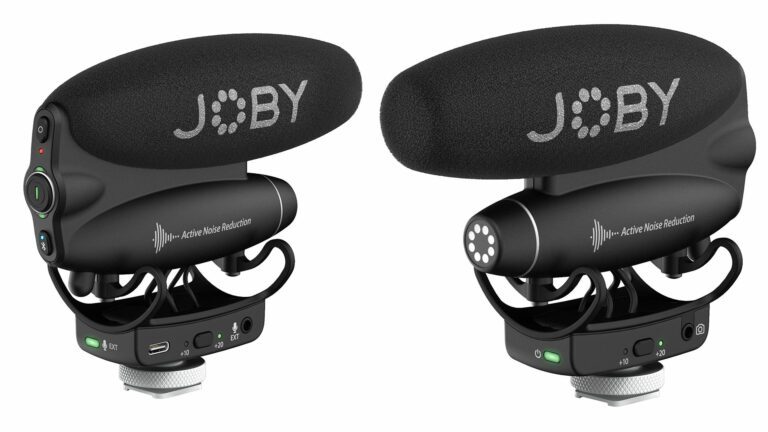 The new Wavo PRO mic utilises a built-in rechargeable battery which suggests a run-time of around 60 hours [50 hours with the ANR turned on]. That's according to JOBY and we'll test this as soon as samples arrive at PhotoBite HQ. Alternatively, it can be powered by a USB connection, either from a power bank or a laptop.
Also launched is the all-new JOBY Wavo app [available for both Android and iOS devices]. This can be used to manage multiple facets of the audio pick-up via Bluetooth 5.0 connection, such as gain, pads, filters, and parametric EQ. Within the app, users can also activate the -10dB safety track recording.
JOBY Wavo PRO DS
There's also a simpler [and more affordable] version of the mic, named the JOBY Wavo PRO DS. It includes most of the features that you'll find in the Wavo PRO, all except for active noise reduction, digital app-based sound management and external secondary mic input.
The mic's shock mount absorbs vibration from any stand/pole/camera handling. Additionally, the Wavo PRO comes with a USB Type-C cable for charging and computer connectivity, a foam windscreen that reduces 'rustling' noises, [from light wind etc] and a furry windshield for outdoor wind protection.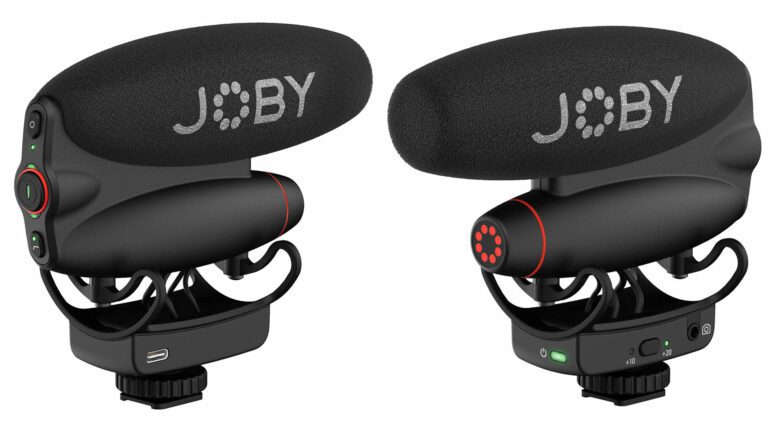 JOBY Wavo Lav PRO
The second in the new range of microphones from JOBY is the omnidirectional lavalier [Lav] microphone, The JOBY Wavo Lav PRO. This can be plugged directly into the Wavo PRO mic input or indeed into any wireless system with a 3.5mm TRS connection. The 8.2′ long mic cable has been developed to reduce handling noise and the new Wavo Lav PRO comes complete with a foam windscreen and a shirt clamp.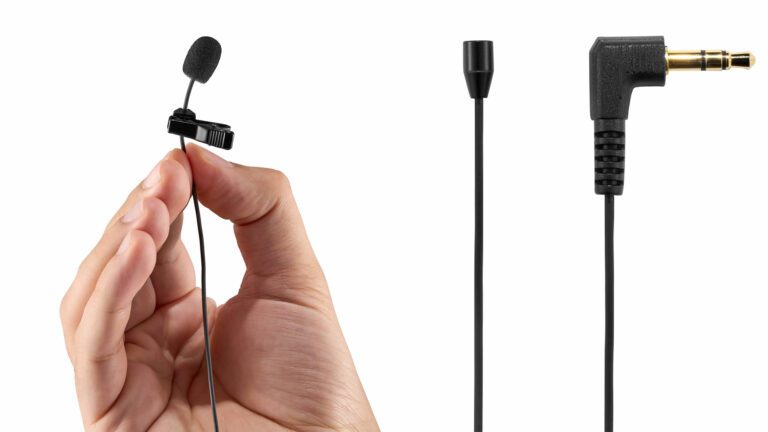 JOBY Wavo AIR
The new JOBY Wavo AIR is the new 2-person wireless microphone system in the range. It has a lot in common with the likes of the DJI Mic, the RØDE Wireless GO II, and Sennheiser XS. The transmitters [TX] can take any lav microphone via its 3.5mm TRS input. Alternatively, they can use the built-in omnidirectional microphone directly.
Both transmitters and receivers [RX] have built-in batteries that promise to function for [up to] 6 hours and can also be powered via USB-C ports. The wireless system operates in the 2.4 GHz spectrum [away from VHF/UHF wireless systems] and suggests a working range of up to 164′ [line-of-sight]. The JOBY Wavo AIR uses 18 channels with auto-scanning to automatically avoid interferences and JOBY claims that there can be up to five simultaneous systems (10 mics maximum) in one environment.
The new Wavo AIR features a proprietary mounting system and comes complete with two TX units, one RX unit, two lav mics, outdoor and indoor wind protection and both TRS and TRRS audio cables to connect the RX unit with the camera or phone. There are a few mounts already included in the set plus you can purchase an optional expansion kit that includes additional types of mounts.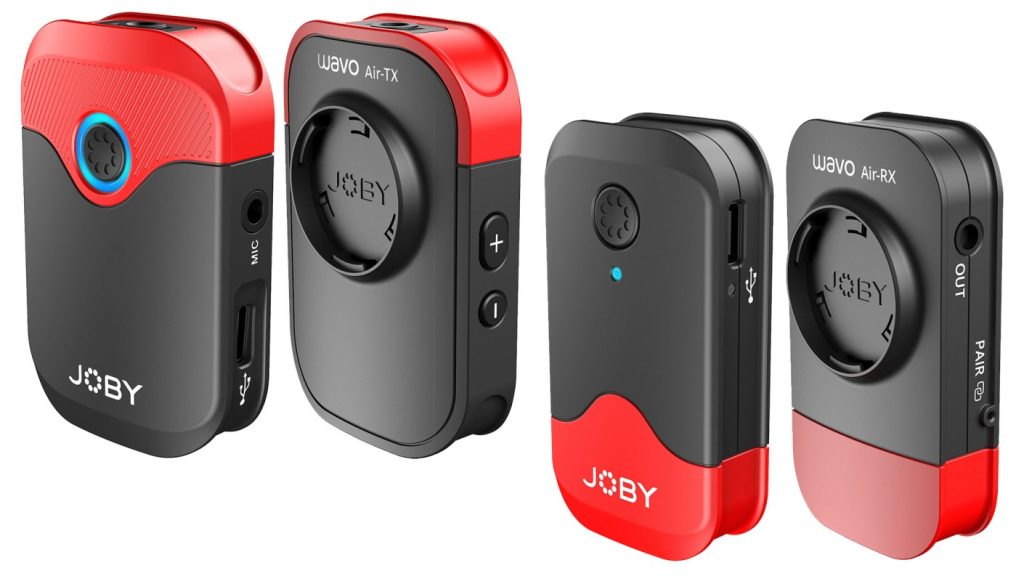 JOBY Wavo POD
The all-new Wavo POD lands as a large-diaphragm desktop USB microphone for podcasting, streaming, and all kinds of content creation. Great for solo production, the new mic is designed to deliver simple-to-use volume controls and a decent sound quality straight out of the box. The Wavo POD features interchangeable polar patterns; cardioid for directional pick-up or omni for capturing sound from all angles around the mic.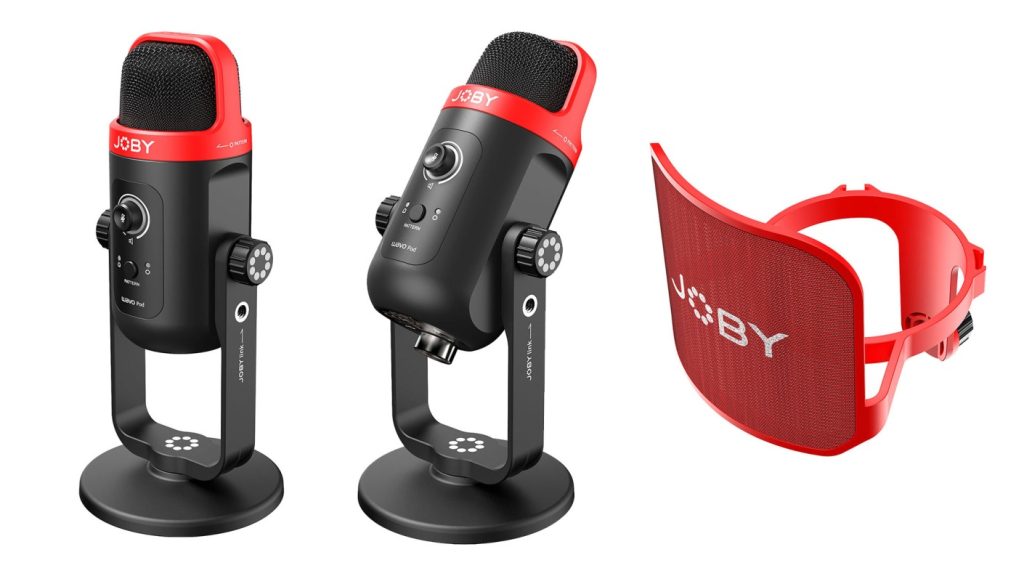 Users can monitor their audio using the built-in headphone jack. A pop filter is included in the box and it's also possible to buy a second pop filter to give protection on both sides when using the Wavo POD in Omni mode for interviews [for example].
The [included] desk stand is removable, so it can be fitted to tripod support if required. The microphone body is compatible with both 3/8″ and 5/8″ threads with the [included] adapter. There are also further 1/4″-20 mounts on the side that can hold additional accessories.
Pricing and Availability
The all-new JOBY Wavo products are available now at the following prices:
Wavo PRO on-camera shotgun microphone costs £257.95 and the DS version, which is coming soon, will come in at £228.95
Wavo Lav PRO lavalier microphone sells for £68.95
Wavo AIR 2-person digital wireless lavalier microphone set costs £214.95
Wavo POD desktop USB microphone sells for £85.95
See more at JOBY's website.