The Fujifilm X-T3 Mirrorless Marvel Lands
In a fortnight that's seen a slew of heavyweight mirrorless launches, Fujifilm join the fray announcing their latest edition in the X-T series; the Fujifilm X-T3
Furnished with a newly-developed back-illuminated X-Trans™ CMOS 4 sensor and high-speed X-Processor 4 image processing engine. The Fujifilm X-T3 promises 3 times the processing speed of current models with the X-Processor Pro engine.
This, along with a promise of the highest image quality and auto-focus [AF] accuracy in Fujifilm's X Series, and a compact and lightweight body, improved ability to track moving subjects [with blackout-free burst mode] and the ability to reach the demands of pro filmmakers with the world's first 4K/60fps 10-bit 4 recording.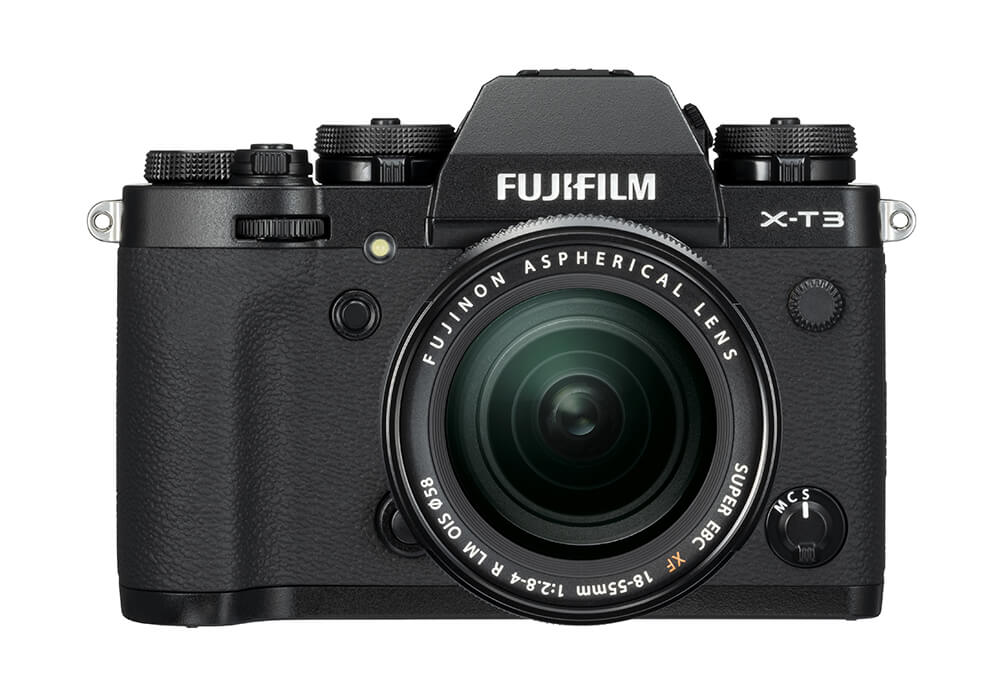 Key Features:
26MP X-Trans CMOS 4 APS-C sensor with no low-pass filter
425 Autofocus points
2.16m Phase Detection pixels with 100% coverage
11 FPS Continuous Shooting
X-Trans 4 Image Processor
Advanced Dynamic Range mode
4K/UHD Video – 60p 10 bit 4:2:2 [H.265]
Weather & Dust-resistant Body
3.69m dot 100fps Eye View Finder – capable of 30fps blackout free
390 shot battery life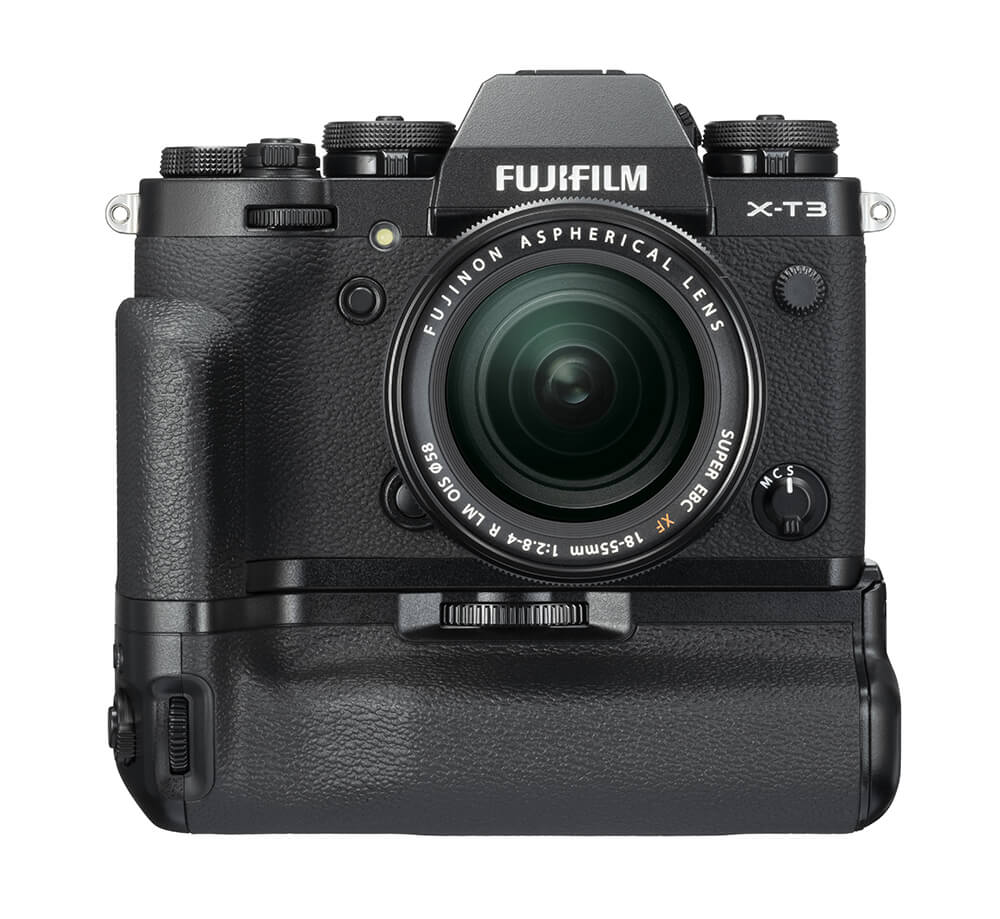 Sensor
The X-T3 houses Fujifilm's X-Series' fourth-gen APS-C sensor, freshly developed 'X-Trans CMOS 4′ [26.1MP, without low-pass filter]. It applies a unique colour filter array corresponding to X-Trans CMOS sensors to control moire and false colours and adopts the Series' first back-illuminated structure to improve image resolution without compromising the S/N ratio.
Furthermore, with a sensitivity of ISO160, available only as extended ISO previously, now forms part of the regular ISO range. It should be very helpful in daylight/outdoor shooting or when trying to achieve bokeh with a fast large-aperture lens.
The X-T3 uses the new X-Processor 4 image processing engine, adding the new 'monochrome adjustment' function to the native Film Simulation modes. Warm black and cool black, conventionally achieved with a choice of particular photographic papers and developers, have been loyally reproduced [digitally] to increase the scope of monochrome representations. This function is available in the standard 'Monochrome' mode as well as the 'ACROS' mode, which gives even halftones, intense blacks and fine textures.
The 'Colour Chrome Effect,' earlier available in Fujifilm's medium-format mirrorless digital camera the 'GFX50S,' is featured in the X-T3, the first in the X Series.
The effect produces richer colours and gradation in subjects with highly saturated colours, a notably difficult subject for gradation reproduction. The high-speed processing power of the X-Processor 4 means this effect can be applied not only in single shots but also in continuous shooting.
Auto focus performance

The X-Trans CMOS 4 has 2.16M phase detection pixels, more than 4 times [compared to current models], increasing the phase detection AF area to the entire frame [approx. 100%].
The low-light phase detection autofocus limit has been extended by about 2 stops from -1EV to -3EV, making it possible to precisely focus in low-light conditions. Moreover, the X-Processor 4's high processing speed and enhanced phase detection, means the camera refocuses [AF] and meters [AE] 1.5 times more often than current models to enable accurate autofocus.
The performance of face-detection AF on a moving person has been doubled, when compared to current models in the X-Series. The eye-detection AF supports the AF-C mode, maintaining sharp focus tracking. The X-T3 focuses when shooting a person front-on or side-on, even in situations where the face- or eye-detection AF previously had difficulty. The face- and eye-detection AF is available also during video recording to achieve constant filming of people.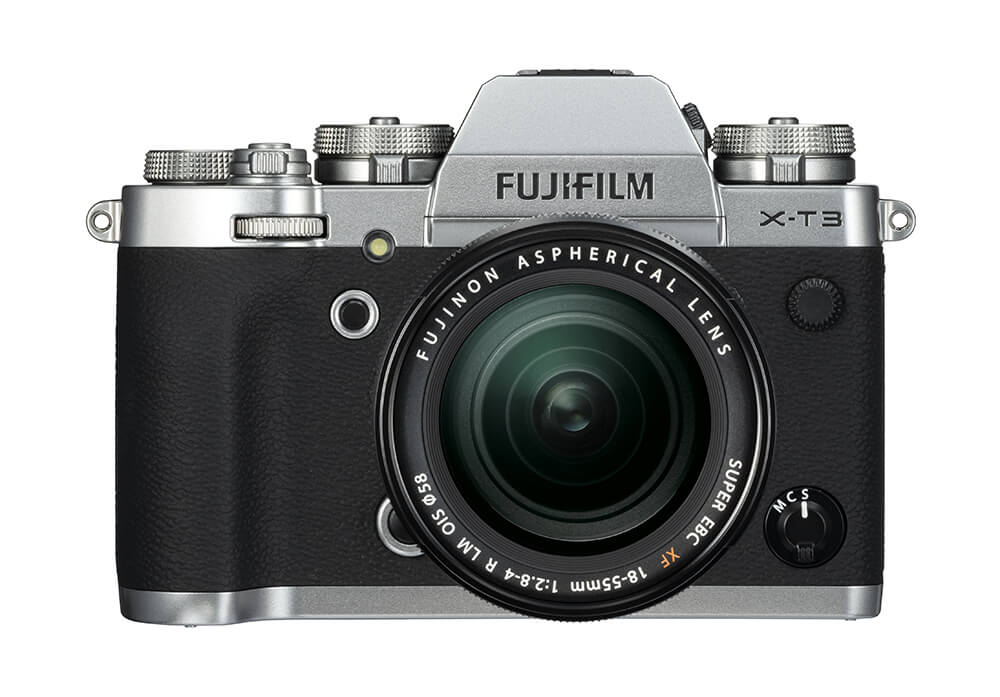 Enhanced Electronic Viewfinder [EVF]
Featuring a 3.69-million-dot high-resolution EVF with a high magnification ratio of 0.75x, the X-T3 gives a display time lag of only 0.005 seconds and refresh rate of approx. 100 fps to assure even display of motion, enabling the user to clearly identify movements and focus positions.
Unlike current models, continuous shooting of 11 fps with the mechanical shutter no longer needs the optional vertical grip, allowing fast continuous shooting while keeping the camera weight lower.
A new 'Sports finder mode' makes it simpler to shoot moving subjects. The mode displays approx. 16.6M [1.25x crop] area marking in the LCD/viewfinder, and shoots the area within the marking. This is especially handy for sports and wildlife photographers, as users can check movements of a subject just outside the shooting frame and take advantage of shorter-than-usual blackout time.
The X-T3 also has a new 'Pre-Shoot' function, where the camera will start to shoot as soon as the shutter button is half-pressed, meaning users will never miss an opportunity.
For a camera brand, who in recent years largely dismissed video capture in consumer cameras, Fujifilm announces the X-T3 as the world's first mirrorless digital camera capable of internal SD card recording 4K/60P 4:2:0 10bit.
Video
For a camera brand, who in recent years largely dismissed video capture in consumer cameras, Fujifilm announces the X-T3 as the world's first mirrorless digital camera capable of internal SD card recording 4K/60P 4:2:0 10bit.
It is also the world's first mirrorless digital camera with APS-C or larger sensor capable of 4K/60P 4:2:2 10bit HDMI output. Supported video formats include the widely-used H.264/MPEG-4 AVC as well as H.265/HEVC for greater data compression. This enables the use of high 200Mbps bitrate in recording of 4K/60P 4:2:0 10bit, as well as simultaneous HDMI output while recording.
Video compression options available are ALL-Intra and Long GOP. When using ALL-Intra, video is recorded at 400Mbps.
The X-T3's sensor's read speed is roughly 50% quicker than in current models, which allows fast 17msec reading of 4K/60P video. The rolling shutter distortion has also been decreased for the smooth replay of fast-moving subjects. The camera's support for 10bit colour depth boosts the amount of colour information 64 times compared to 8bit. This is combined with 400% [approx. 12 stops] dynamic range for capturing materials of rich gradation.
Pricing and availability
The Fujifilm X-T3 will be released on September 20, 2018, and pre-orders are currently being offered at £1,349