Fujifilm release the new Fuji X-T30
Sporting its compact form-factor, new sensor and a new focus lever the Fujifilm X-T30 sets the bar for enthusiast cameras. The Fujifilm X-T10 and X-T20 have been an extremely popular choice among Fujifilm users but also many new to the Fujifilm ecosystem. Offering similar features to its larger counterpart the X-T3, the X-T30 takes on the demand for an around enthusiasts camera.
In its compact body that weighs just 383g, the X-T30 features the 26.1MP X-Trans CMOS 4 sensor and the fast X-Processor 4 image processing engine that is seen in the X-T3. It offers highly accurate AF performance across the entire frame and silent continuous shooting capability of up to an impressive 30 fps, ensuring that you would never miss a decisive photo opportunity in a variety of situations. The camera can also record 4K/30P video while applying "Film Simulation mode", including the "ETERNA" film simulation that makes grading video in post a breeze. Its ability to record fine and smooth 4K video with high-resolution audio will meet the needs of those involved in all forms of video production.
Some features from the new X-T30
26 Megapixel X-trans CMOS sensor
ISO 160 to 12,800
256 Focus Points
4K Video up to 30fps and 1080p up to 60
Slow-motion video, 1080p at 120fps
Up to 16 film simulations to choose from
Continuous shooting at 30fps
New focus lever to making changing the focus point quick and easy
The X-T30 inherits popular exterior design features of the current model, FUJIFILM X-T20 [X-T20], while providing excellent operability with a new grip design that enhances stable grip when holding the camera, a touchscreen panel display with improved response performance, and the "Focus Lever" that facilitates faster-focusing operation. The camera is also equipped with the "Auto Mode Selector Lever" that allows you to instantaneously switch to a fully-automatic shooting mode, making it a perfect mirrorless digital camera for a broad range of users who want to enjoy premium-quality pictures.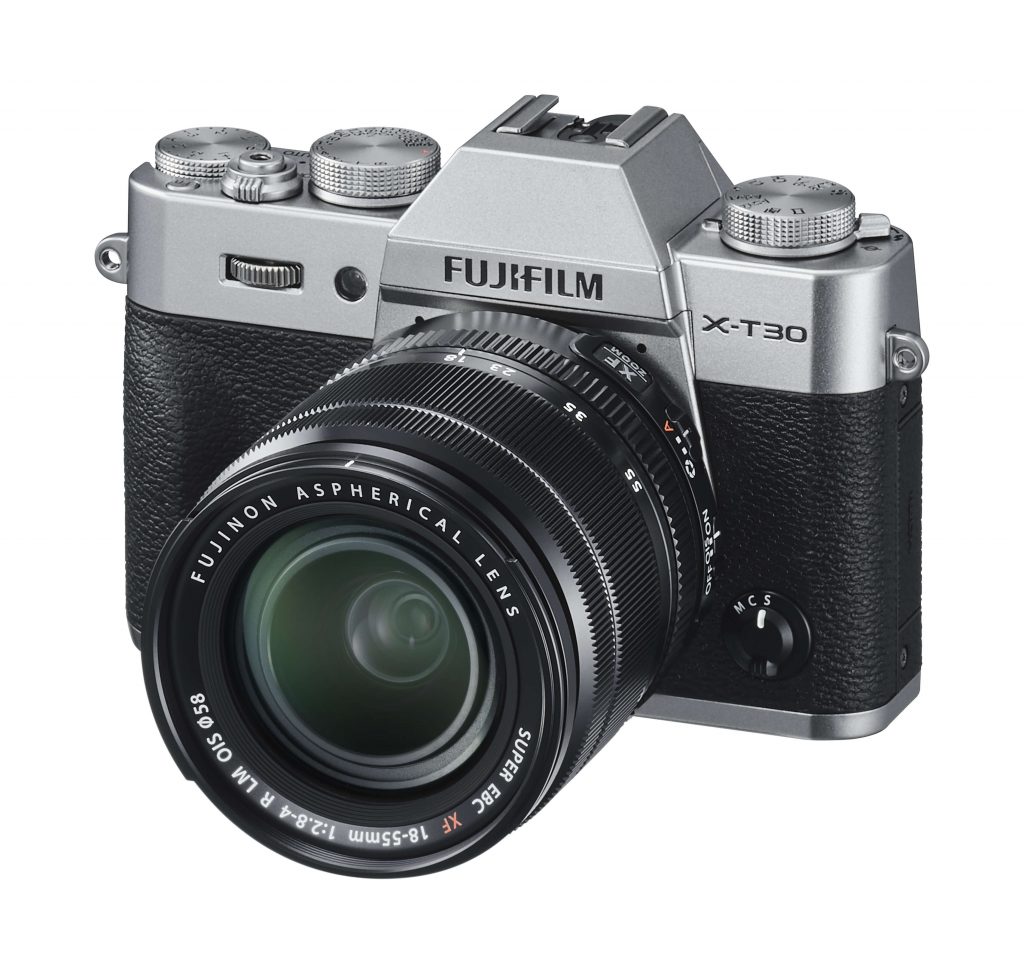 The X-Trans CMOS 4 sensor has 2.16 million phase detection pixels, about 4 times that of previous models, to expand the highly-accurate phase detection AF area to the entire frame (approximately 100%). When using the electronic shutter, the camera can deliver fast and silent continuous shooting of up to 30fps in a cropped frame equivalent to 16.6MP (1.25x crop). This means even a fast-moving subject, positioned away from the centre of the frame, can be autofocused at an amazing speed and accuracy, ensuring that you will not miss a decisive shutter moment.
Evolved functionality of the "Advanced SR Auto mode" can be activated instantaneously with the use of the "Auto Mode Selector lever", positioned on the camera body's top panel. The camera automatically chooses the optimum shooting settings for a given scene out of 58 presets so that you can achieve the best image quality without having to worry about settings yourself.
The X-T30 inherits popular exterior design features of the X-T20, while adopting a new grip design that makes the camera body sit comfortably in your hand. It also has the "Focus Lever", replacing the "Selector Button", to afford extra grip space at the rear. These design enhancements have created added hand-holding stability despite the camera's compact and lightweight body, even when it is mounted with a large lens such as a telephoto zoom.
The X-T30's new video features include the capability to record with high-resolution audio and track human eyes even during video recording. Smooth 4K/30P video can be recorded at 8bit 4:2:0 on an SD card, and also output to external storage media via the HDMI port at 10bit 4:2:2 to include more color information. The camera is also capable of F-log recording, which captures footage in wider gamut for later editing of color tones and luminosity. These extensive video functions cater to the needs of full-scale video production.
Video data, greater than what is required for 6K video, is scaled down to 4K to achieve advanced sharpness with minimal moiré. The camera supports recording in the DCI format (17:9 aspect ratio), used in digital cinemas, for dynamic video footage in high resolution.
The new Fujifilm X-T30 bridge camera has been announced with an RRP of £849.00 [body only] and will be available near the end of March 2019.
For more information visit Fujifilm's website.