Drones for Good: EENA Awards Heroic Icelandic Drone Rescue with DJI
The European Emergency Number Association [EENA], the Brussels-based public safety NGO, and drone gurus, DJI, have celebrated how drones are saving lives in complicated rescue missions and announced they are extending their research partnership to further integrate drones into rescue operations
At EENA's annual 112 Awards ceremony in Ljubljana, Slovenia, the Dalvik Search & Rescue Team from Iceland received the Outstanding Tech for Safety Award, honouring their amazing rescue of two cousins stranded on the side of a mountain. The Dalvik team piloted a drone toward the light of one cousin's phone, then guided a rescue team through difficult terrain and poor visibility to save them.
EENA and DJI kicked off their collaboration two years ago to study how public safety agencies can utilise drones in their work, studying their needs and developing hardware and software solutions to serve them. At the start of the EENA Conference 2018, they announced they are expanding their partnership to research the proper framework for agencies to integrate drones into their existing command protocols and deploy them for maximum effectiveness.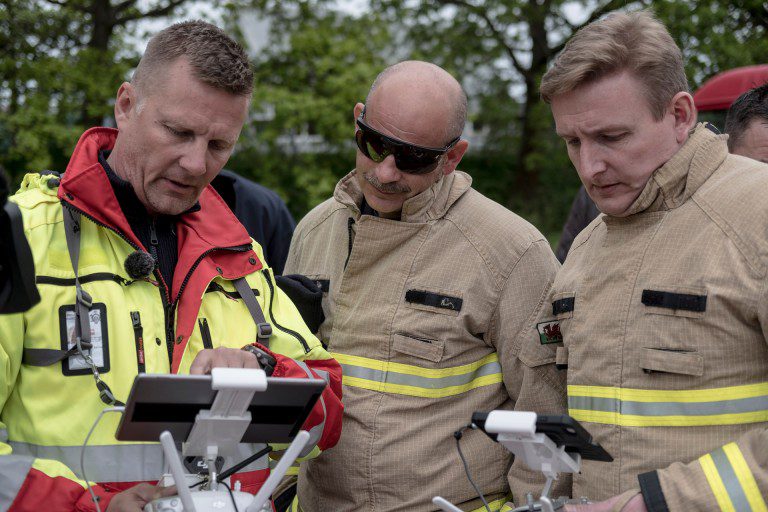 I am incredibly proud to see how far we have come, bringing extraordinary results which help save lives of ordinary citizens. Drone technology is one way we can enhance the capabilities of rescue services and keep citizens safer.
In a keynote address at the conference, Romeo Durscher, DJI Director of Public Safety Integration, explored how public safety agencies are rapidly innovating new uses for drones. While developers are creating special tools tailored to rescuer needs such as augmented-reality overlays and aerial searchlights, agencies have pioneered ways for drones to provide valuable information both before and after incidents.
DJI's partnership with EENA has allowed us to study and document how drone technology helps rescue services reduce the time, risk and cost inherent in their dangerous work. By responding faster, operating more efficiently and keeping emergency workers safer, drones have the potential to become standard equipment in emergency response. As DJI and EENA continue developing protocols to bring these benefits to emergency workers, it is gratifying to know our work will help ensure drones can save taxpayer money, reduce operational risks, and save more lives.
The next phase of the EENA and DJI collaboration will use real-world testing of drones to guide the creation of European-wide emergency service standards for using drones, training pilots, and operating within a legal framework. The project will deliver clear tactical recommendations for using drones, as well as recommendations to lawmakers, regulators and training bodies about how to consider drone use. The Donegal Mountain Rescue Team in Ireland and the Mid and West Wales Fire and Rescue Service in the UK will serve as testing grounds for this phase of the study, offering a variety of firefighting and search and rescue scenarios across cities, high mountains, coastal waters and other challenging terrains.
Watch this stunning short film, which captures the extent of the rescue mission: