DJI Mavic 3 Pro Lands with Ground-Breaking Tri-Camera System
The drone manufacturing masters at DJI have revealed their latest flagship Mavic model, the DJI Mavic 3 Pro. With plenty of new features, the perpetually popular Mavic series now boasts a sibling with a unique tri-camera system, including a primary camera with 46MP resolution, an ultra-wide camera with 12MP resolution, and a telephoto camera with 48MP resolution. This could be the ultimate bridge between the gap between DJI's more inexpensive drones and the top-end Inspire 3. Read on for more.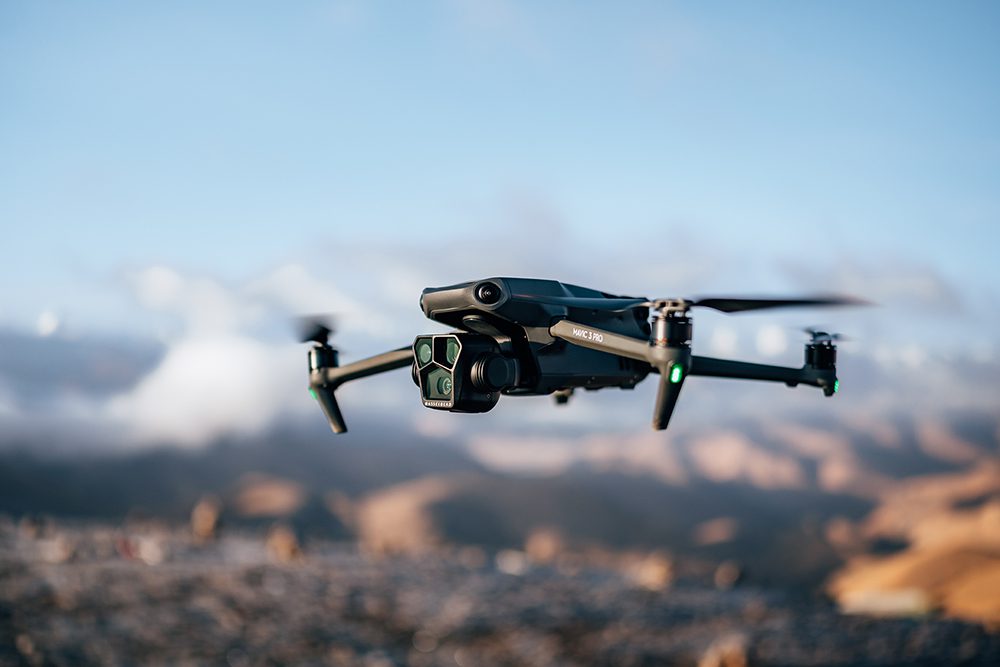 DJI announced the Mavic 2 Pro and the Mavic 2 Zoom back in 2018. 3 years later, in 2021, they unveiled the Mavic 3 and Mavic 3 Cine, the third iteration of drones in the popular Mavic series. These models featured two different cameras and two different sensors and they could record up to 5.1K video at 50fps as well as 4K at up to 120fps. Both drones had a 47-minute flight time. Also, similar to the Mavic 2 Pro, the Mavic 3 Pro comes in a variety of options.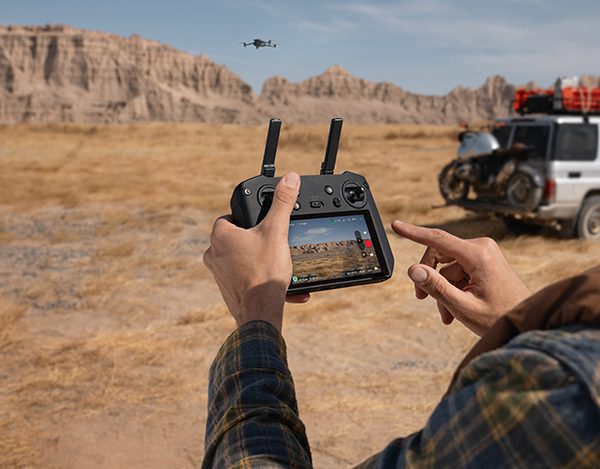 Mavic 3 Pro Drone with DJI RC
Mavic 3 Pro Fly More Combo [DJI RC]
Mavic 3 Pro Fly More Combo [RC PRO]
Mavic 3 Pro Cine Premium Combo
DJI Mavic 3 Pro Key Features
3-Axis Gimbal with Tri-Camera System
20MP 5.1K Wide-Angle 4/3 CMOS Hasselblad
166mm 12MP 7x Zoom Telephoto
70mm 48MP 3x Zoom Medium Telephoto Lens
7 x Intelligent Flight Modes
Up to 43 Minutes of Flight Time
O3+ Transmission with 9.3-Mile Range
Omnidirectional Avoidance with APAS 5.0
D-LOG, D-LOG M & HLG Post Processing
DJI RC Remote Included
---
---
Tri-Camera System
The Mavic 3 Pro drone has a special Tri-Camera System, which consists of three different cameras and sensors arranged in a triangular formation. The goal of this setup is to increase the drone's versatility and enable users to capture different shots at varying focal lengths. Although the three cameras function independently of each other, they are all mounted on the same 3-axis gimbal.

The Mavic 3 Pro's primary camera is a 20-megapixel 4/3 CMOS sensor that comes equipped with a Hasselblad camera and a wide-angle lens. This camera system is capable of capturing footage with resolutions up to 5.1K.
The secondary camera features a 1/2-inch 12-megapixel CMOS sensor and a 166mm 7x telephoto zoom lens. This setup enables users to capture close-up shots with great detail.
The third camera and sensor combination features a 1/1.3-inch CMOS sensor with a 49-megapixel 70mm medium telephoto zoom lens. The Mavic 3 Pro and Mavic 3 Pro Cine's larger 4/3″ image sensor is claimed to offer a higher dynamic range and better noise reduction in low-light conditions, resulting in a dynamic range of 12.8 stops.
DJI has stated that the Mavic 3 Pro and Mavic 3 Pro Cine use Hasselblad's Natural Colour Solution [HNCS], which was first introduced with the Mavic 2 Pro. These drones are capable of capturing up to 1 billion colours using the 10-bit D-Log colour profile.
The Mavic 3 Pro Cine has the same capabilities as the Mavic 3 Pro but with an added feature of supporting Apple ProRes 422 HQ, Apple ProRes 422, and Apple ProRes 422 LT encoding at a maximum data rate of 3772 Mbps. Users can record in any of these ProRes options using any of the three cameras.
To manage the large amount of data generated by ProRes encoding and high frame rate videos, the Mavic 3 Pro Cine is equipped with a built-in 1TB SSD. A DJI 10Gbps Lightspeed Data Cable facilitates fast transfers of large files from the SSD to your computer.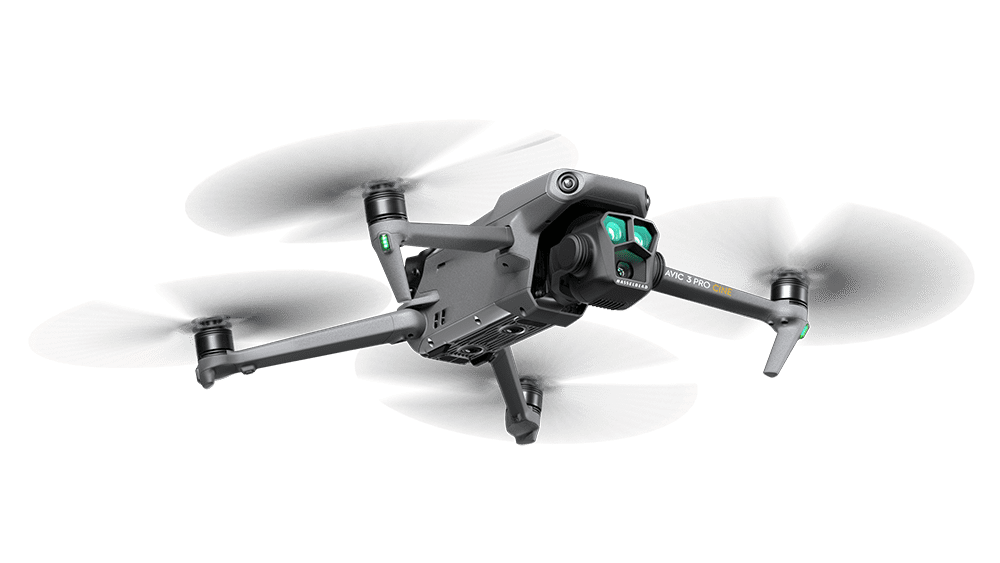 Recording
The Mavic 3 Pro and Mavic 3 Pro Cine can record up to 5.1K video at 50fps and 4K DCI at up to 120fps. Additionally, they can record 1080p up to 200fps, although this is limited to H.264/H.265.
The Mavic 3 Pro supports recording in H.264 or H.265 in 10-bit. Meanwhile, the Mavic 3 Pro Cine can record in H.264/H.265 and ProRes 422HQ. When recording 4K 120fps in ProRes 422HQ, the data rate is a remarkable 3772Mbps.
It's worth noting that the Mavic 3 Cine is the only one capable of capturing ProRes, and there's no mention yet of whether it will support other flavours of ProRes or ProRes RAW in the future.
The 1TB SSD on the Mavic 3 Pro Cine is built-in and cannot be removed or swapped out. This means that if you run out of storage space, you will need to land the drone, download the footage to another device, erase the SSD, and then continue flying. It's important to keep this in mind when planning your shoots and make sure you have enough storage space for your needs.
Enhanced AF
The Vision Detection Auto Focus Technology on the Mavic 3 Pro and Mavic 3 Pro Cine utilises multiple vision sensors to capture distance data, which is then used to optimise the focusing speed of the Hasselblad camera. This allows for faster and more accurate focusing, which can be especially useful when shooting in dynamic environments.
Extended Flight Times
The Mavic 3 Pro and Mavic 3 Pro Cine have a claimed maximum flight time of up to 43 minutes, that is in conditions with no wind and flying at a steady 25kph. This is slightly less than the 46 minutes of the Mavic 3 and Mavic 3 Cine, but the DJI-developed motors and propellers boast higher energy efficiency. The battery has a capacity of 5000 mAh and it is exactly the same as the ones used in the Mavic 3 and Mavic 3 Cine. The Mavic 3 Pro and Mavic 3 Pro Cine come with a new multi-battery charger that can charge up to three batteries simultaneously. DJI has not released a four-battery charger for the Mavic 3 series. However, users can charge four batteries sequentially using the single battery charger and swapping the batteries as needed.
Size and Weight
The Mavic 3 Pro weighs in at 958g, while the Mavic 3 Pro Cine weighs 963g. In comparison, the Mavic 3 weighs 895g, while the Mavic 3 Pro Cine weighs 899g.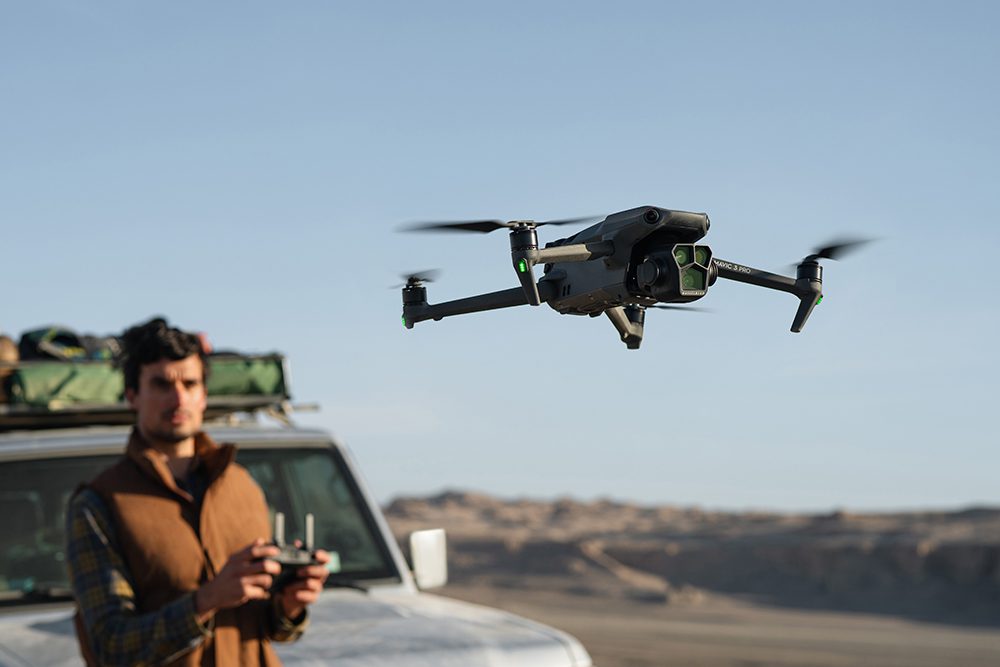 The Need for Speed
The Mavic 3 and Mavic 3 Cine can reach a maximum speed of 21 m/s [S mode], which is slightly faster than the Mavic 2 Pro's 20 m/s [S mode], but the same as the Mavic 3 and Mavic 3 Cine.
The Mavic 3 Pro and Mavic 3 Pro Cine have a maximum ascent speed of 6 m/s [P mode] and 8 m/s [S mode], and a maximum descent speed of 6 m/s [P mode]. This is not any faster than their predecessors for ascending and descending.
In terms of wind resistance, the Mavic 3 Pro and Mavic 3 Pro Cine can withstand winds up to 10.8-13.8 m/s.
Obstacle Avoidance
DJI has always been known for its impressive safety features in its drones, and the Mavic 3 Pro is no exception. The Mavic 3 Pro boasts improved obstacle sensing and navigation systems, with the APAS 5.0 system that combines six fish-eye vision sensors and two wide-angle sensors to continuously sense obstacles in all directions and plan safe flight routes to avoid them. This system even works in complicated environments.
The Mavic 3 Pro and Mavic 3 Pro Cine have a forward-facing vision system with a range of 0.5-200m / 1.64-656′, the same as the Mavic 3. The range of the downward/backward and lateral vision systems is also the same as the Mavic 3.
The omnidirectional obstacle sensing system and subject tracking use ActiveTrack 5.0, which enables users to sense obstacles even in Normal mode. This version allows the Mavic 3 Pro to move with the subject in all directions and fly alongside and around a moving subject. If the subject moves too fast and goes out of frame temporarily, the visual sensors on the camera body will continue to track and frame the subject intelligently and pick it back up when it reappears. This results in much more fluid and diverse drone and camera movement while using ActiveTrack.
The Mavic 3 Pro comes with a positioning algorithm that improves hovering precision with signals from GPS, GLONASS, and BeiDou satellites. This feature enables the drone to lock onto multiple satellite signals faster than previous versions, making it less likely to drift in the air and more stable when shooting long exposures and time-lapses.
The Mavic 3 Pro also includes other safety systems such as geofencing, altitude limits, and the AeroScope Remote ID system that allows authorities to identify and monitor airborne drones in sensitive locations. The integrated AirSense system warns drone pilots of nearby aeroplanes and helicopters transmitting ADS-B signals, so they can quickly fly to a safer location.
The Return To Home [RTH] system has been a staple of DJI drones for years, and the Mavic 3 Pro updates and improves this system by allowing the aircraft to automatically determine the shortest, safest, and most energy-efficient route to land back at its home point. This system measures the wind speed of the current environment and calculates the power required for returning home based on the wind speed and the return path in real-time, giving users more time to fly safely before triggering the RTH action.
DJI O3+ and Mobile Transmission Dongle
According to DJI, the O3+ transmission system is designed to provide reliable and clear video transmission, even in tough conditions where signal interference is strong. The system is capable of delivering stable and smooth video transmission, enabling the Mavic 3 Pro to fly further with a maximum control range of 9.3 miles / 14.96 km. This allows for more stable signals with less video lag during transmission.
The Mavic 3 Pro provides a High Frame-Rate Transmission option, which allows for a 1080p/60fps live feed. This allows the camera's view to be displayed at a resolution that is similar to the actual recording quality of the camera.
Pricing and Availability

DJI Mavic 3 Pro is available to order from store.dji.com and authorised retail partners, with shipping from May 23′, in the following configurations:
DJI Mavic 3 Pro [DJI RC] for the retail price of $2,199
DJI Mavic 3 Pro Fly More Combo [DJI RC] for the retail price of $2,999 US
DJI Mavic 3 Pro Fly More Combo [DJI RC Pro] for the retail price of $3,889
DJI Mavic 3 Pro Cine Premium Combo for the retail price of $4,799