DJI Inspire 3 Revealed: Heavyweight Filmmaker Drone Takes Off!
DJI, the market-leading drone business, has revealed their latest killer product, the DJI Inspire 3, a serious drone aimed at the professional film industry user and packed with pro-level features and stunning image quality. Read on for more.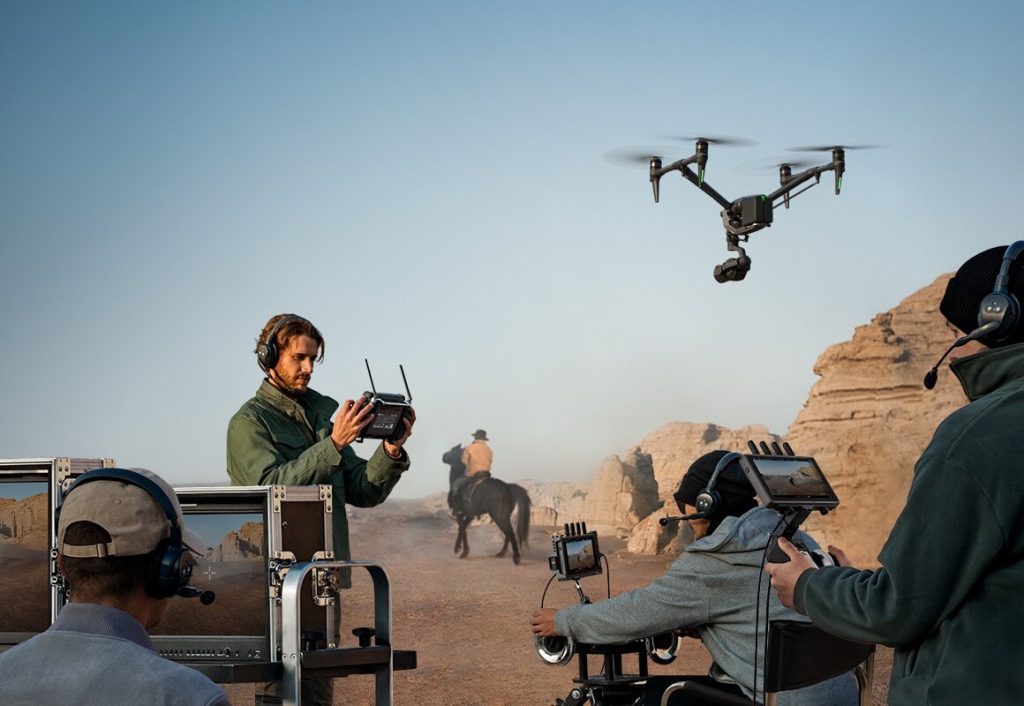 The new DJI Inspire 3 has been designed to be a one-stop solution for cinematographers looking to capture aerial footage in cinematic-grade image quality previously only available with large and bulky camera systems. The drone has been specifically created to meet the needs of top-level movie productions and pushes aerial cinematography to a new level.
With a slick design and a lightweight, integrated body with a highly portable form factor and a rigid, robust, and transformable frame, the FPV camera, visual sensors, positioning antennas, and storage card slot are all integrated into the airframe for a minimalist look and modern industrial aesthetics. The Inspire 3's all-new hot-swappable TB51 intelligent dual batteries provide a flight time of [up to] 28 minutes, and its powerful propulsion system brings a flight speed of up to 94km/h, 8m/s ascent and descent speed, and dive speed of up to 10m/s.
The Inspire 3 is equipped with the lightest ever full-frame Zenmuse X9-8K Air Gimbal Camera, which features DJI's latest image processing system, CineCore 3.0, supporting internal recording of up to 8K/25fps CinemaDNG video as well as 8K/75fps Apple ProRes RAW video, meeting the needs of high-end film and TV productions. The X9-8K Air supports dual native ISO, which delivers ultra-clear footage for low-light scenes with rich details. The X9-8K Air covers 14+ stops of dynamic range, which captures rich highlight and shadow details in complex lighting scenarios such as sunrises and sunsets.
The DJI Cinema Color System [DCCS] allows the X9-8K Air to retain authentic colours that redefine the look of aerial cinematography. DCCS ensures effortless colour matching between X9-8K Air and ground-based cinema cameras such as DJI Ronin 4D, delivering consistent colour style from air to ground to meet the needs of film-production post-editing workflows.
The Inspire 3 also integrates high-precision RTK positioning technology already deployed in industries such as architecture and surveying to deliver centimetre-level accuracy. The integrated 3 GNSS System [GPS + Galileo + BeiDou] is powered by built-in dual-layered ceramic RTK antennas and ensures precise flight manoeuvres even in challenging environments. The all-new Waypoint Pro function enables flight-route and shot planning with a wide range of customised settings.
In short, the DJI Inspire 3 is an all-in-one drone solution that has been designed specifically for professional-level aerial filming. Its sleek integrated design, 161° ultra-wide FOV night-vision FPV, and the O3 Pro transmission and control system offer the best-in-class flight performance and a full pro ecosystem that can be seamlessly integrated into the biggest film sets. The Inspire 3 is the only cinema-grade drone that supports both RTK-powered Waypoint Pro and omnidirectional sensing to perform flight missions more safely and with higher precision than ever before.
---
---
Price and Availability
The DJI Inspire 3 is priced from £13,419 and will be available from the store.dji.com and from authorised retail partners by the end of June 2023.
The combo includes the DJI Inspire 3 Aircraft, Zenmuse X9-8K Air Gimbal Camera, RC Plus remote controller, 6x TB51 Intelligent Battery, Charging Hub, PROSSD 1TB, Trolley Case, 3x Foldable Quick-Release Propellers [Pair], Lens Carrying Box, RC Plus Strap, and more.

Additional accessories will also be available, including: DJI DL 18 mm F2.8 ASPH Lens [New] for £1,209 DJI DL 24/35 mm F2.8 LS ASPH Lens for £1,299 DJI DL 50 mm F2.8 LS ASPH Lens for £1,199 DJI DL Lens ND Filters Set for £359 CinemaDNG & Apple ProRes RAW License Key for £899 and only available for purchase from the DJI store.

DJI RC Plus Remote Controller for £1,299 DJI RC Plus Strap and Waist Support Kit for £69 DJI RC Plus Height Adjustable Control Sticks for £19 DJI Inspire 3 Foldable Quick-Release Propellers [Pair] £59 DJI Inspire 3 Foldable Quick-Release Propellers for High Altitude [Pair] £79 DJI Inspire 3 Propeller Guard for £299 DJI TB51 Intelligent Battery for £309 DJI TB51 Intelligent Battery Charging Hub for £709 DJI TB51 Intelligent Battery Charging Hub AC Cable for 19 DJI PROSSD 1TB for £659 D-RTK 2 Mobile Station for £2,700 D-RTK 2 High Precision GNSS Mobile Station – Tripod for £248 D-RTK 2 Mobile Station Power Adapter Cable for £50 D-RTK 2 Mobile Station LAN Cable for £29

Check DJI's dedicated web pages for more info here.