Canon PowerShot V10 Revealed: A Pocket-Sized 4K Camera Designed for Vlogging
Canon has revealed the Canon PowerShot V10, their very first camera designed specifically for vlogging. The new camera represents a significant upgrade in terms of quality when compared to smartphone cameras, featuring a 1-inch CMOS sensor that allows for 4K recording. The Canon PowerShot V10 also boasts an optical ND filter and digital image stabilisation, with a flip-up 2.0-inch LCD screen, dual microphones [with noise cancellation], and a pocket-sized design that makes it perfect for beginners. Oh, and it shoots stills, too. Read on for more.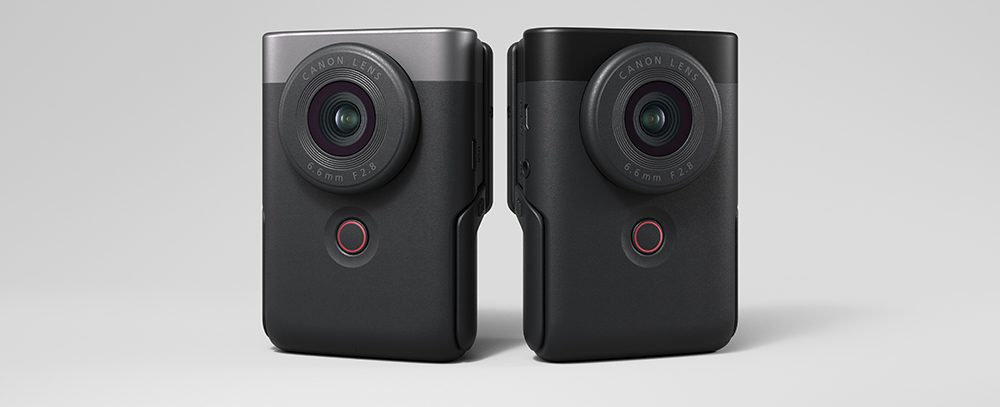 The Canon PowerShot V10 is a super-compact camera that instantly captures attention with its slightly unusual design. Measuring 63.4 x 90.0 mm [2.5 x 3.54″] and a slim 34.3 mm [1.35″] thickness, it's a camera that can easy to grab, pack and take to shoot anywhere. Despite its small size, it doesn't compromise functionality, weighing just 211g/7.44oz, it should be a popular and convenient choice for on-the-go photographers and videographers.
Canon Powershot V10 Key Features
Compact and lightweight vertical design
Wide angle lens focal length 6.6mm [35mm equivalent focal lengths are 18mm in stills and 19mm in video mode], f/2.8 maximum aperture
Movie recording in 4K UHD at 29.97/25.00 fps and Full HD at 59.94/50.00 fps
Face-tracking AF
Smooth Skin movie shooting mode
Large stereo microphone
Tilt screen
Built-in stand [tilt adjustment up to 30 degrees]
14 colour filters
JPG still image shooting, equivalent to Scene Intelligent Auto
Connectivity: Wi-Fi, Bluetooth, Webcam [UVC/UAC]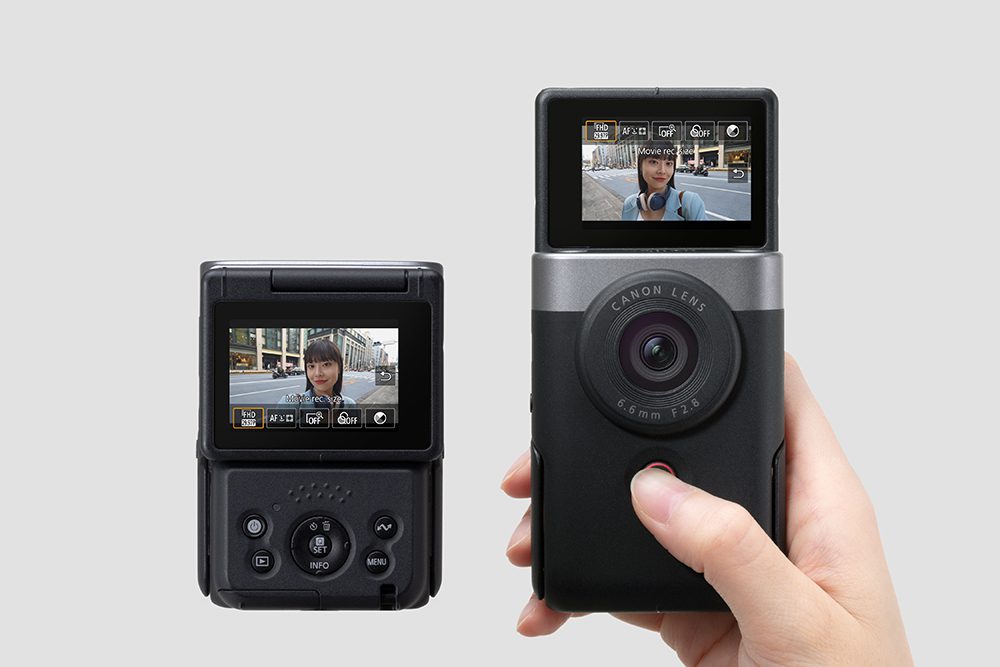 Sensor and Lens
Loaded with a 1-inch CMOS sensor, the Canon PowerShot V10 records videos up to 4K/30p and HD up to 60p in 8-Bit H.264 format, with a maximum bitrate of 120 Mb/s. To ensure smooth and steady footage, the camera also incorporates digital stabilisation, reducing unwanted camera shake to deliver stable results. As for the lens, the PowerShot V10 houses a fixed 6.6mm f/2.8 lens. In photo mode, this lens provides an equivalent focal length of 18mm, allowing you to capture wide-angle shots with a broad field of view. In video mode, the lens offers a slightly narrower equivalent focal length of 19mm in the 35mm format, still providing a wide perspective ideal for vlogging and capturing immersive scenes.
The autofocus system of the Canon PowerShot V10 relies on contrast-based autofocus technology, which incorporates face detection and subject-tracking features. This enables the camera to maintain focus on faces and objects within the frame, ensuring sharp and clear results. However, it's important to note that the PowerShot V10 does not feature dual-pixel autofocus, which is typically found in higher-end Canon cameras with larger sensors. Nonetheless, the contrast-based autofocus on the PowerShot V10 is still reliable and effective for capturing subjects with accuracy and precision.
Camera Body and Menus
The Canon PowerShot V10 offers a convenient touch-screen monitor that can be flipped up for selfie shooting. Additionally, it features a kickstand that helps you position the camera at the desired angle for capturing your shots. Moreover, the camera is equipped with a ¼" thread located on the bottom, allowing you to easily mount it onto a tripod for added stability and versatility.
Upon initial setup, the camera will be in full-auto mode, functioning similarly to a smartphone camera. It provides touch-to-focus capability and utilizes face-detection technology. Most camera functions can be controlled either through the responsive touch-screen interface or via physical buttons.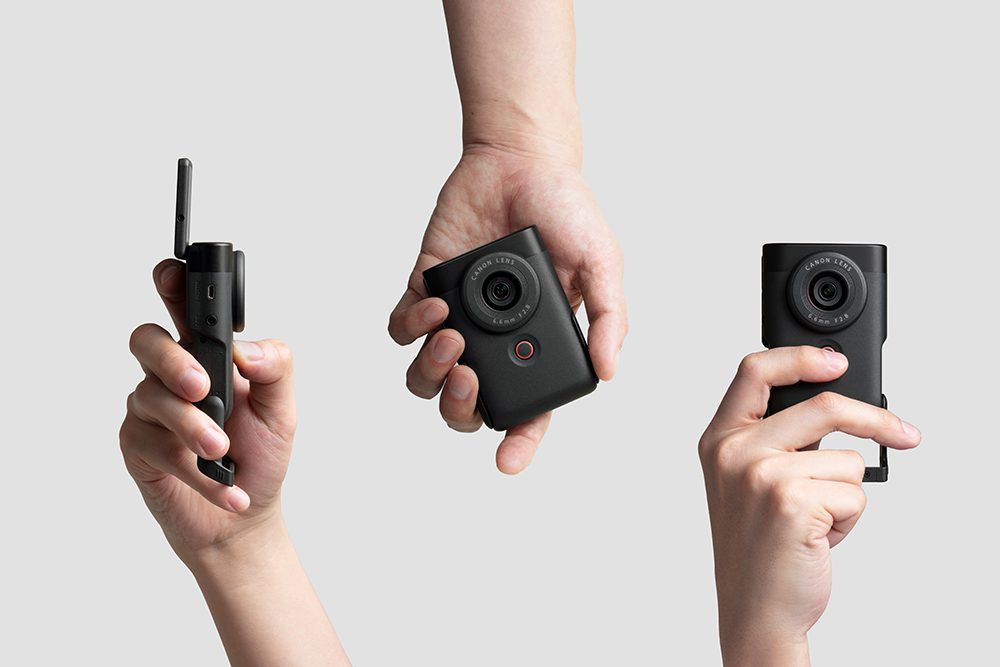 The menu system of the PowerShot V10 is designed to resemble the familiar Canon EOS menu layout, making it an excellent entry-level device for users accustomed to Canon cameras. This means that when you eventually upgrade to a higher-end EOS camera, you will already be familiar with the camera's operation and menu navigation.
Furthermore, the camera allows for vertical filming by simply rotating it, ensuring that the metadata records the camera orientation correctly. As a result, videos will display on your device with the appropriate orientation, eliminating the need for manual adjustment after capturing footage.
Microphones and Recording
The Canon PowerShot V10 employs its top two internal microphones, along with an additional microphone dedicated to noise cancellation, to capture audio during recording. Moreover, the camera is equipped with a 3.5mm microphone input located on the side, enabling you to connect external microphones for enhanced audio quality. It's worth noting, however, that the PowerShot V10 does not feature a dedicated headphone jack for real-time audio monitoring. Instead, you can monitor the audio levels through the on-screen audio meters provided on the camera's display.
Power
The Canon PowerShot V10 features a versatile USB-C connector on the side of the camera that serves multiple purposes. Firstly, it allows you to transfer footage and files to other devices quickly and conveniently. Additionally, the camera can be utilised as a webcam without the need for extra software, making it suitable for live streaming or video conferencing. Furthermore, the USB-C port can be used to charge the camera's internal battery using a USB-C power bank. However, it's important to note that for powering the camera via the USB-C input, a PD [Power Delivery] battery is required.
The camera is equipped with a built-in battery that offers a runtime of approximately 55 minutes when filming in 4K, 80 minutes in HD video mode, or approximately 290 photos. To store your images and videos, the PowerShot V10 utilises a removable microSD card, with a minimum requirement of UHS-I V30 for optimal performance.
Moreover, the camera provides the convenience of transferring your videos and images to your mobile device using Wi-Fi and Bluetooth connectivity, enabling seamless sharing and remote control functionalities.
Pricing and Availability
The Canon PowerShot V10 can be purchased as a standard kit, with a power cable, soft case, lens cap, windshield and wrist strap. I will cost you circa £429.99
To find out more about the Canon PowerShot V10, head to Canon's dedicated web pages.