Canon EOS R5 C Revealed with Full Frame 8K Video and Sports Active Cooling for Longer Shooting
The all-new Canon EOS R5 C has arrived with a BANG! A hybrid mirrorless camera designed for both filmmakers and photographers, it's the only member of the 'Next Generation' Cinema EOS range that's not a sole filmmaking camera. Read on for more.
One of the most significant distinctions between the new Canon EOS R5 C and the initial EOS R5 is that it boasts an active cooling system that allows for longer periods of shooting. Importantly, that means no more overheating. There are also three new Cinema Camera RAW Light recording modes and with the 8K recording capabilities found in the R5, this camera marks Canon's first 8K Cinema EOS camera.
Underpinned by a high-resolution, full frame CMOS sensor, DIGIC X processor and the RF Mount, these three elements enable high fidelity 8K capture, and 45 megapixel still photo capture at burst speeds up to 20 frames per second, all in a single body.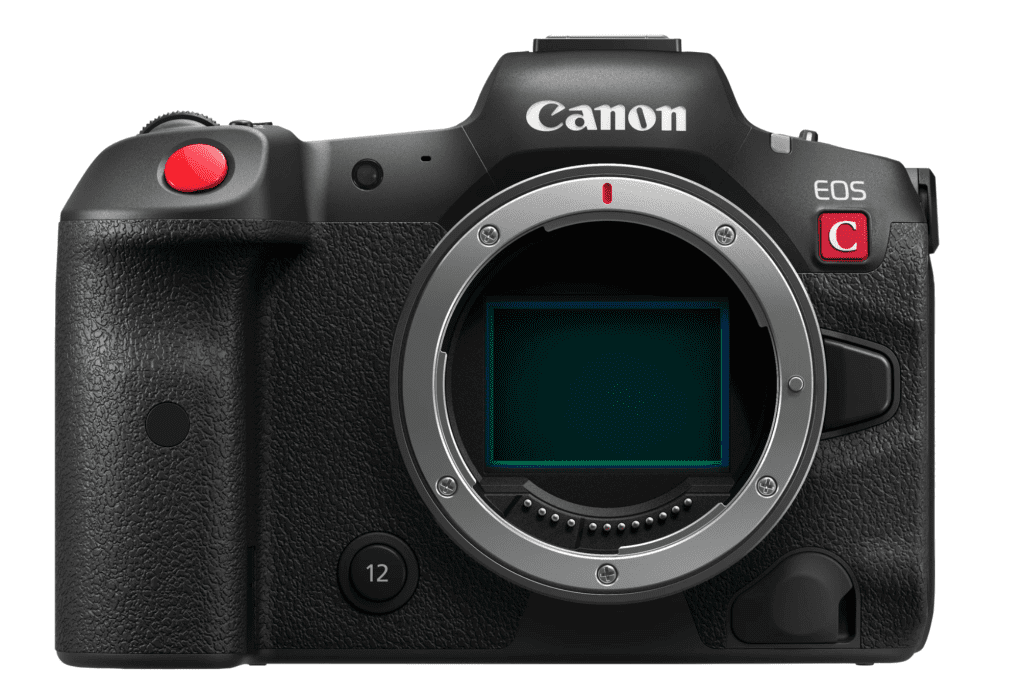 Fair enough, then, it's a hybrid camera, but it is very likely to tempt more filmmakers than those looking for a new stills tool. It features impressive specs such as internal 8K 30p RAW recording [up to 60p when using an external power source]. The power source can either be a wall adapter with a dummy battery or a power bank [or wall adapter] with USB-C Power Delivery. In this instance, be mindful that not every power bank is rated sufficiently to enable the 8K 60p feature.
The body looks a lot more chunky than the EOS R5 and that's really because of the additional cooling system. Canon has stated that, thanks to this system, the limitation of recording time no longer depends on the heat factor, but only on the capacity of the memory card and the battery; even when recording in 8K.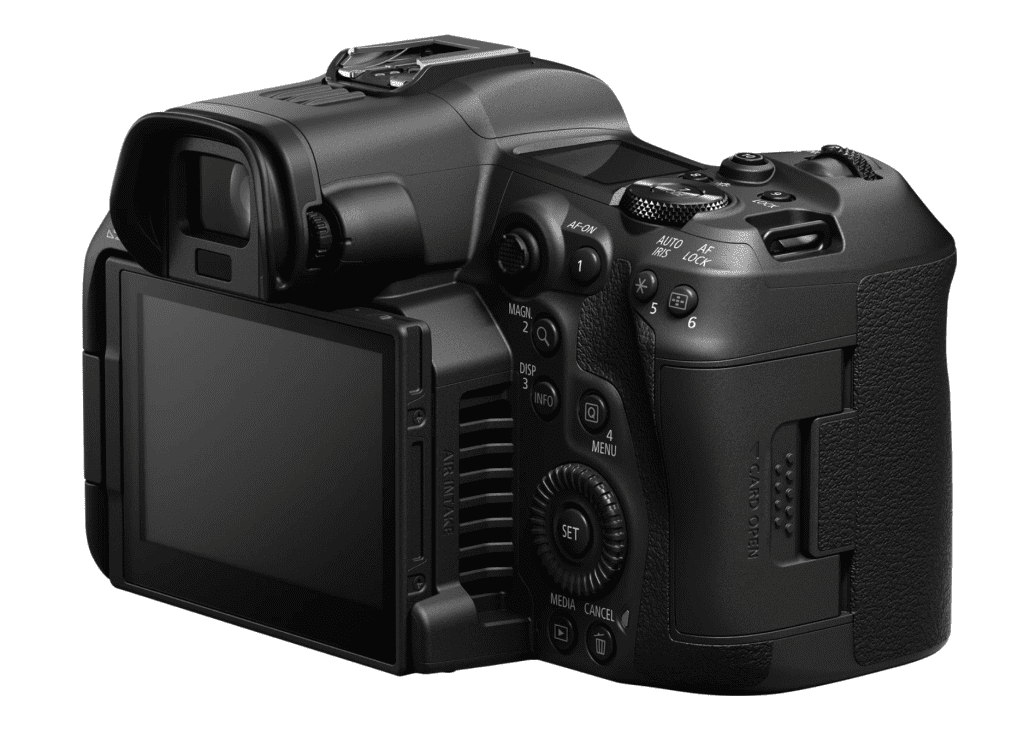 EOS R5 C key features:
Full Frame Sensor with 8K/30p 12-bit RAW recording or 8K/60p when using an external power source
45 megapixel images up to 20 fps
Precise Eye AF via Dual Pixel CMOS AF and intelligent face/ head tracking via EOS iTR AF X
Extensive professional recording formats including three new flavours of Cinema RAW Light
Active cooling for long-form recording
Timecode Terminal
RF Mount with Advanced Combination IS
Advanced connectivity and Multi-Function Accessory Shoe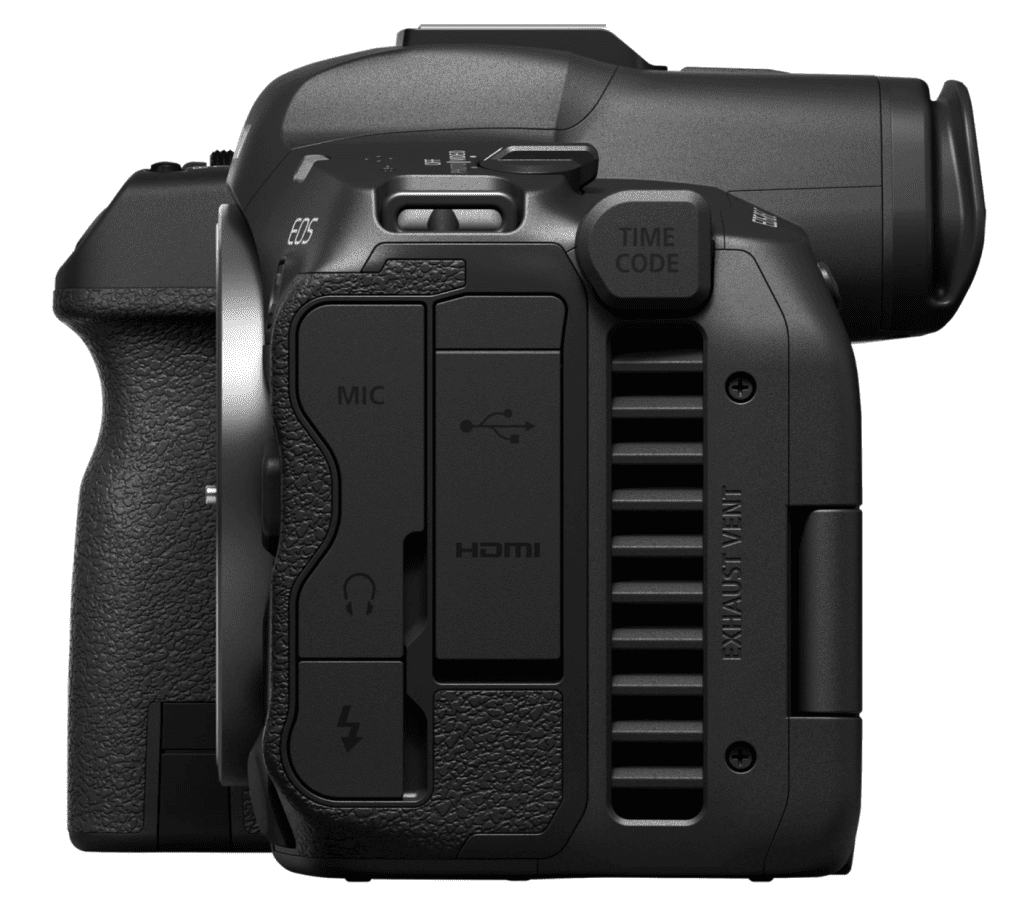 Advanced Camera Features
The EOS R5 C supports HDR via PQ and HLG, as well as Canon's own Log 3 gamma, so filmmakers can capture a wide dynamic range to further fine-tune the footage in downstream post-production. Furthermore, Canon's team of engineers have implemented their Dual Pixel CMOS AF system.
Naturally, the Canon R5 C offers both Eye AF and EOS iTR AF X, which tracks people's eyes in real-time and can even follow the subject's head when they look away from the camera. Working in combination with the Optical IS with compatible lenses, the camera features electronic image stabilisation with coordinated control that mitigates the effects of shaking when shooting hand-held.
The Canon EOS R5 C records Cinema RAW Light internally to sustain high fidelity 12-bit footage with a wide dynamic range and colour gamut, all in manageable file size. Canon has also introduced three newly developed variations of RAW, including RAW HQ [High Quality], RAW ST [Standard Quality], and RAW LT [Light Quality], so users can select the mode based on their shooting and output requirements.
Two card slots are on board; a CFexpress 2.0 Type B and UHS-II SD card slot, which allow for simultaneous recording options where different formats, resolutions, and bit depths can be recorded to each card at the same time for flexible workflow options. This also includes audio recording when shooting at 4K 120p. Additionally, the EOS R5 C supports anamorphic de-squeeze options, true 24p shooting and you can choose shutter angle instead of fractions of a second. This is super-useful in the case of switching frames rate often.
Along with 12-bit Cinema RAW Light, the EOS R5 C supports Canon's 10-bit XF-AVC format up to 810Mbps as well as more versatile MP4 options.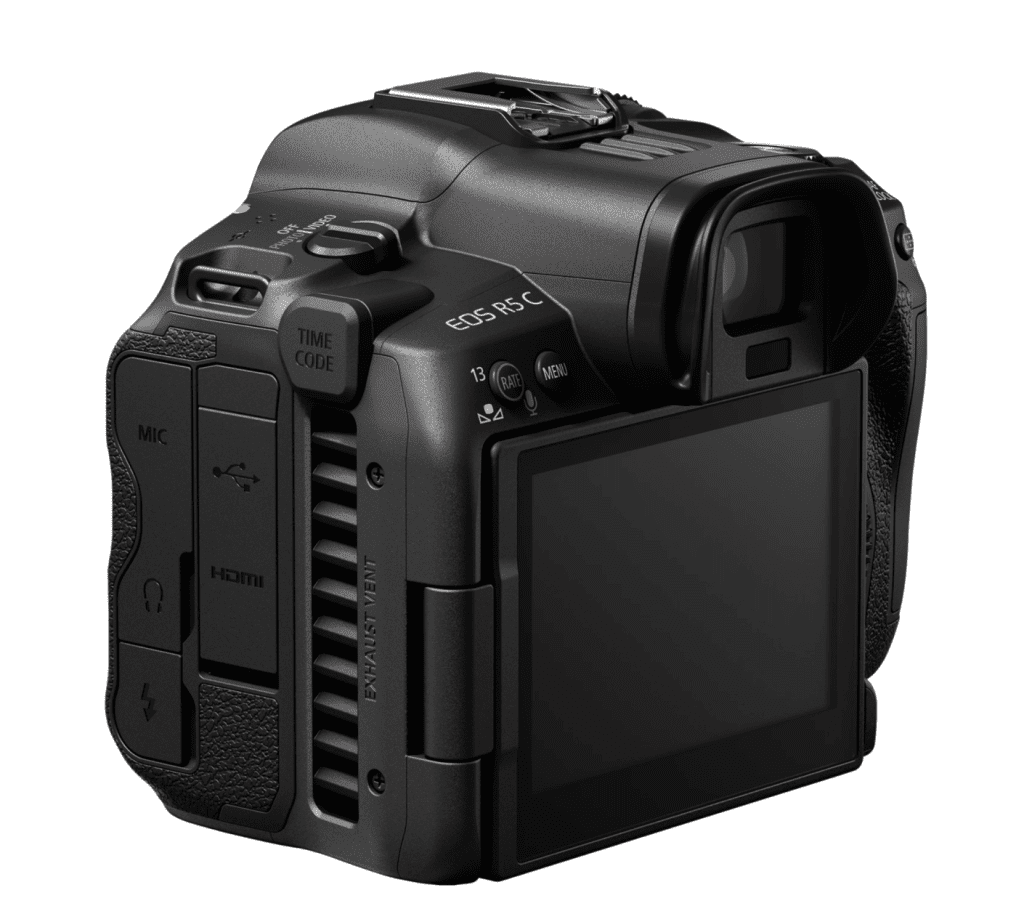 New Menu
Happily, Canon has totally separated the menus for shooting both stills and video so you get an EOS R menu when shooting stills, and Cinema EOS menu, which will be much more familiar for those shooting video. A great move by Canon and one that will be very appealing to many hybrid shooters. There's a new 3-position power dial, which allows users to switch between stills and video modes.
What Else?
The new Canon EOS R5 C presents 13 assignable buttons as well as a 0.5-inch OLED VF with 5.76 million dots. If peeking at a decent LCD is your thing, the R5 C boasts a 3.2-inch HD LCD touch screen, which can be tilted and swivelled. Great for the vlogging community.
OK, it may be a chunky beast, but the entire camera weighs just 680g; that's without cards or a battery and the body is constructed of durable magnesium. As you would expect, it's dust and weather-resistant, too.
Sadly, the Canon R5 C only has a micro-HDMI port but includes a dedicated port protector that can be used to clamp onto both USB-C and HDMI cables.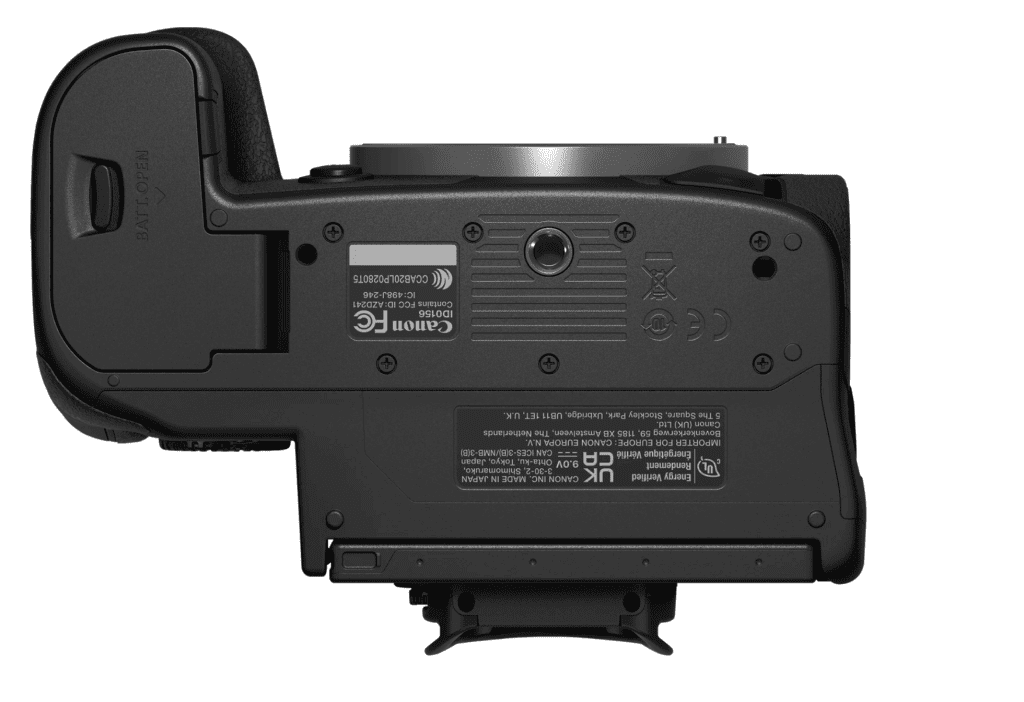 Omissions
The new Canon R5 C doesn't have internal ND filters as well as pro [XLR] audio inputs. The XLR issue can be resolved by employing a TASCAM CA-XLR2d adapter, but the internal filer issue can't be addressed as easily. The closest and best solutions are probably the superb Canon Clip Filters from STC.
As you would expect, a 3.5 mm TRS stereo mic/line input and a 3.5 mm headphone output are furnished on the camera body.
Pricing and Availability
Available from March 2022, the Canon EOS R5 C is priced competitively with a price tag of £4,499.99. Let us know your thoughts and keep an eye out here as we will be running a test in #TheMeasure soon. In the meantime, see more at Canon's website.