DJI OM5 Review | Taking Smartphone Video Footage to New Heights
The DJI OM5 is the newest mobile phone gimbal offering from the global leader in gimbal tech and, following on from its predecessors, it arrives with a few surprising additions.
At first glance, it's not too dissimilar from last year's DJI OM4 offering. It has the same button/control layout and basic functionality; the same magnetic clamp design, which can be used interchangeably between both devices, and they both fold up into a nice small form factor that's ideal for stowing into your bag or even your pocket.
It's here that one of the first changes resides. The new DJI OM5 is a whopping 25% smaller and weighs an entire 100g less than the DJI OM4, making this new gimbal feel extremely small and light by comparison. We hadn't considered the older model to be very heavy, but if you were to use a gimbal of this nature for extended periods; perhaps if you were documenting a long hike, you would definitely appreciate the lighter DJI OM5.
The 3-axis motors are the same as before but, according to DJI, can now support heavier devices and, perhaps the most significant new feature is that the new sibling in the DJI OM series now has all this built onto an extension arm! This basically means that you can hold the device really far above/in front of you for great wide-angle selfies, or get it super low to the ground for super-cinematic gimbal shots. This feels impressively sturdy and nothing like your average selfie stick.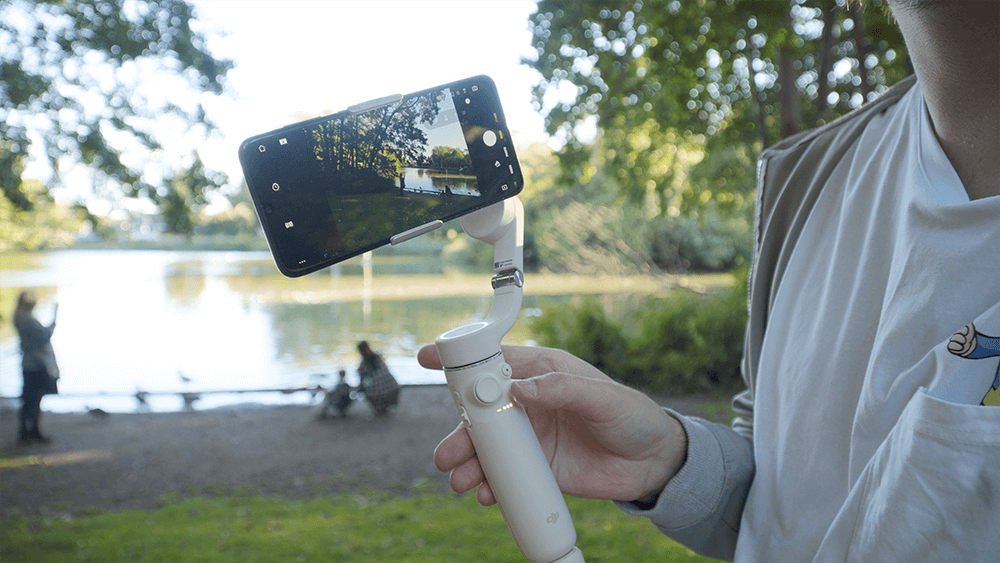 Another addition with the DJI OM5 is a new optional accessory for both the OM4 and/or 5 that comes in the shape of a phone clamp. This new clamp comes complete with two light bars built-in, which allow for shooting in the dark in a way that seamlessly integrates into DJI's systems and software.
The clamp allows for 3 brightness modes and 3 white colour options as well a great little add-on that actually makes shooting in the dark viable. This isn't the first phone gimbal to have an extension arm, but where DJI always shines is within its software. Brands like Zhuyin make excellent hardware but seem to lack in their accompanying application functionality.
DJI's 'Mimo' app brings this device to life, however, bringing some new and interesting features along with all the great and wacky features from before. The new headlining feature, entitled 'Shot Guides' will detect the environment you are shooting in and suggest shots and movements to make with your phone and gimbal; essentially holding your hand along the way. When you're done, it will automatically edit all of your resulting footage together and deliver it in a format that's perfect for simple sharing via your social media feeds. Yes, this could be perceived as a 'cheats' way to pump out some easy content, but we would argue that it's a fantastic learning tool for beginners as it really opens up your eyes to the possibilities of what can be achieved when shooting with a gimbal of this nature. It takes out much of the guesswork and what's wrong with that?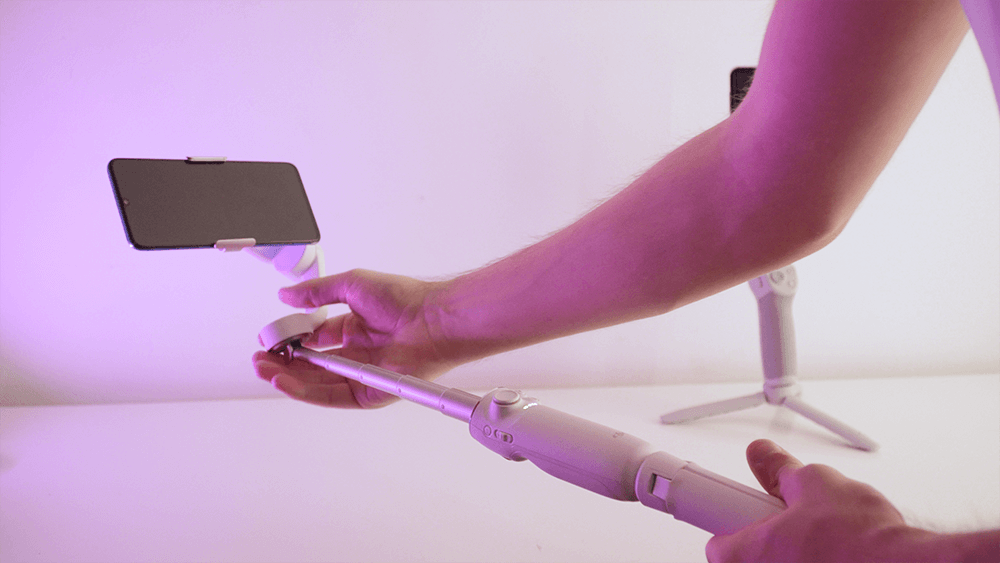 Much like the rest of the experience when using the new DJI OM5 gimbal, if you know how to use a smartphone, you will have no problem creating lots of awesome looking shots with this cool and easy-to-use tech. Active Track 4.0 also makes a great addition to this new device, as it's even more responsive and better at tracking people and objects. It can now also be activated using the trigger on the device, which is so much better than drawing boxes around what you want to track and fighting with the gimbal motors as you do so. A big tick for the developers on this one.
Overall, DJI always seems to be hungry for change. Iterations of their products are never dull and they could never be accused of being a slouch in the dev dept. They are a brand that is always adding interesting improvements to their products and they clearly listen to their user community to take steps that we hadn't even thought of. In this case, they've made their little phone gimbal; possibly their most entry-level product, even more portable, versatile and easier to use than ever. The only downside we see is that when extending the new 'selfie' arm, pressure is hard to avoid on the bottom motor and it feels like you could be forcing/damaging the motor while it's on. The 1000mah battery only lasts less than half as long as the OM4 at 6.4 hours as opposed to 15.
Watch Rob put the new DJI OM5 through its paces in our full review, here. Be sure to subscribe to our YouTube channel for future review content, hitting the bell for notifications.
---