Bold Samsung-Inspired Make-Up Trend Appears During Lockdown
Samsung's new Galaxy S20 FE has inspired the MUA artist and illusionist RJ Tulloch to share striking new makeup styles. Read on for some top tips on how to get the look.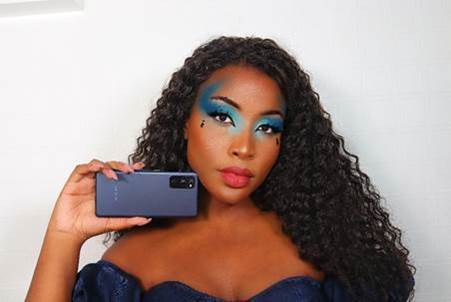 It's no surprise that, due to most of us spending more time at home during the lockdown, has inspired us Brits to experiment with many a pastime and this, of course, includes makeup looks. From neon lids and floating eyeliner to bright mascara; the hunt for 'colourful eyeshadow looks' have even increased by a staggering 250%+.
Recognising this explosion of self-expression and celebrating the use of the trend's wild colours, Samsung teamed up with makeup superstar and social media darling, RJ Tulloch, aka @cakefacerj to launch a range of striking looks and makeup illusions, inspired by the broad colour palettes of the all-new Samsung S20 FE mobile device.
The new Galaxy S20 FE, which comes in six vivid colours, boasting a triple-lens camera on the back and an impressive 32MP 'Selfie Camera' on the front, it could be the perfect device for Instagram-ready close-ups.
RJ Tulloch, Creator of the Galaxy S20 FE make-up looks, said: "I'm so excited to be partnering with Samsung to create a make-up series of bold looks and illusions. With lots of us being at home more, one of the positives is the extra time to be more creative and try out new things. I've loved seeing the creativity in make-up trends as a result of lockdown, especially the trend of maximalist 'more is more' make-up. I hope this series of looks influenced by the new Samsung Galaxy S20 FE inspires others to keep being creative to boost spirits as we head into winter."
Faithful beauty fans can tune into RJ's live stream as she re-creates each of the looks live on Thursday 15th October at 7pm HERE https://www.samsung.com/uk/explore/kings-cross/.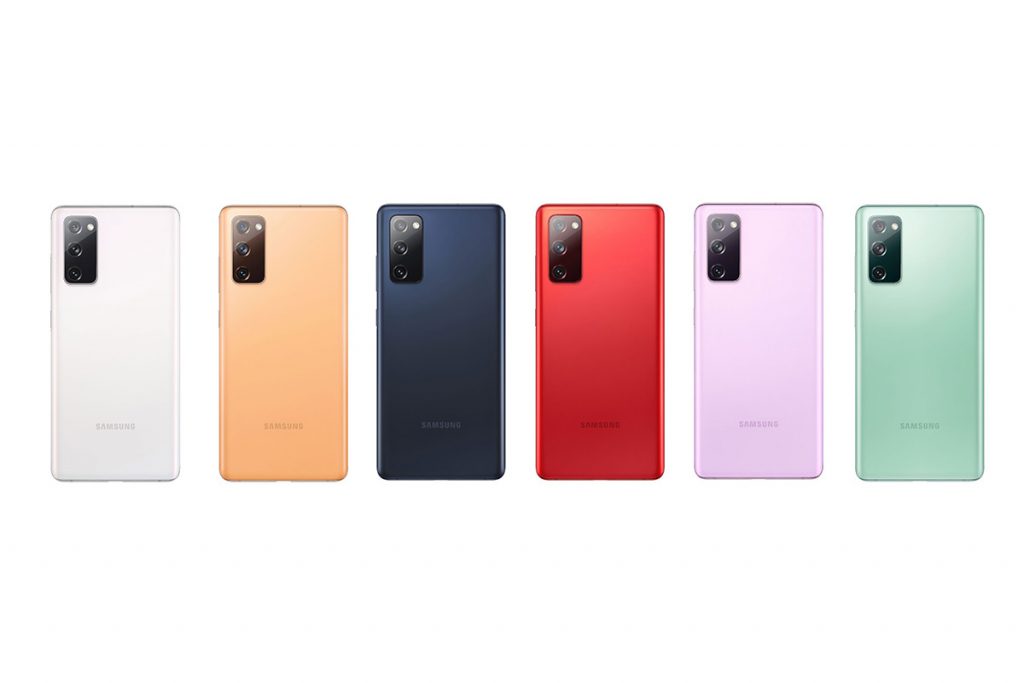 If you want to have a crack ahead of this, take a look at the step-by-step below.
1. Cloud Navy: Confidence [as shown in the image above]
"Confidence shines in the way the blue blends into the forehead with this look. Combine bold, blown out navy eye makeup with small gems or glitter for a glam effect, and combine with a nude lip."
DIY – how to:
Taking a dark blue eyeshadow shade, pat on the outer section of the lid and blur out up past the brow and towards the forehead. Continue to diffuse and add more shadow where needed.
Add 1-2 more shades of blue eyeshadow on the middle of the lid and inner corners to create a nice gradient.
Once both eyes match, add gems or glitter to really make the look shout. This makeup look is very confident so go all out!
2. Cloud Red: Passion
"This look focuses on strong red tones, as a statement colour for passion. I've focused on deep red eye makeup tones, and a glossy red lip."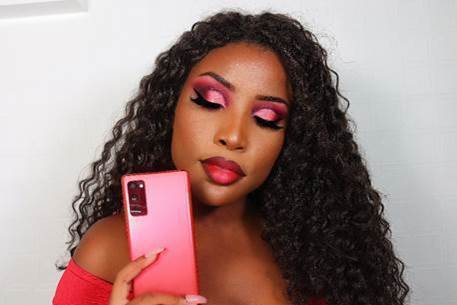 DIY – how to:
Pat the base cream all over the lid.
Take a red eyeshadow palette and swirl the deepest red into the crease, diffusing it with the lightest red
Take a flat-headed brush and define your cut crease with the base
Choose a shimmer of choice, I went for 3 different shades
Complete with liner and lashes
Add a bold red lip [or nude lip if you want your eyes to pop!]
3. Cloud Lavender: Free Spirited
"Being a free spirit is to be independent, not a trend follower and a believer in your own decisions. This look embodies these qualities in a loud but understated way."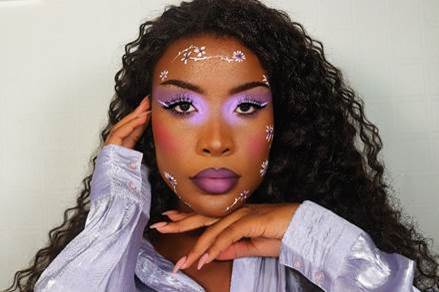 DIY – how to:
Prep your eyes by patting on a generous amount of base cream so all eyeshadow colours will pop
Taking a dark purple shade, apply this right into the crease and blend outwards to create a blowout look
Now taking a light lilac shade, blend this out from the inner corner to create a bright eye effect
Take the base cream again, this time on a small angled brush, and draw your liner shape
Take a small shadow packing brush and apply eyeshadow colour of your choice on top of the baseliner outline 
Add lashes 
For the flower addition, take a small detail brush and make small dots in a circle, then drag each dot out a little to make a small petal-like shape. Repeat as needed.
Set the look with your favourite lippy and setting spray!
4. Cloud Orange: Energetic
"A vibrant look with bright eyes and cheeks – resembling lightening. Combine with an orange top for energetic and confident vibes!"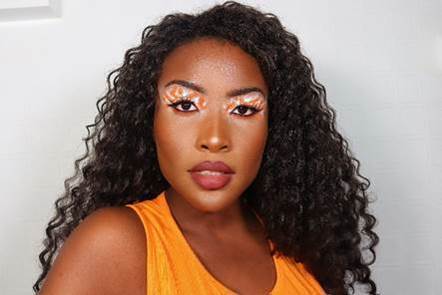 DIY – how to:
Apply base cream in white or any other concealer-based product all over the lid, no need to make it neat as this look doesn't require tidy lines!
Take an orange eyeshadow palette and small detailed brush, then swirl zig-zag lines all over the lid, and draw what looks like little bits of lightning
With the same small detail brush, add a deeper shade of the orange to the waterline and lash line.
Add your favourite lashes!
5.Cloud Mint: Focus
"I wanted to create a look that draws attention to the central point of the face. Water and the dropping of a bead creates a focused splash, and the striking eyeliner completes the look"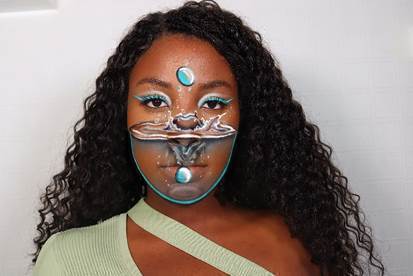 DIY – how to:
Start with your base and brows ready, as water illusions are always a final touch to the look!
Take the base cream and draw out the liner, then fill this in with eyeshadow for a super bold wing
Started the water illusion by drawing out the bowl shape first, using white liner. Make the edges uneven to match natural water flow in a bowl
Take some deep eyeshadow shades to add depth, then use a small detail brush to shade in
Gradually add small white bubbles to the water and above to really give a true 3D effect
As soon as you're happy, stop! It's always easy to carry on but the knack is to know when it's finished
6. Cloud White: Dedication
"Butterflies are hardworking species and always compared to growth. The idea of the ladders leading up to the clouds represent the determination to aim high and reach goals"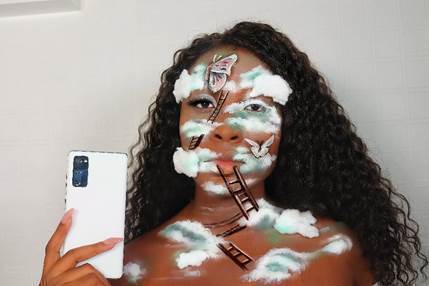 DIY – how to:
Pat base cream on the face and chest, then I add dotted areas of blue and cream shadow to look like an ethereal sky
Taking a flat head brush, use a white base cream and make cloud patterns around the face and chest, adding grey shadow for depth
Using ink liner, draw the butterflies and ladders, and use eyeshadow to add even more details
As a final 3D touch, add pieces of cotton wool over the clouds to really bring out the dimensions and gives an extra 'wow' factor 
So, what are you waiting for? Get to it and give these a try… For more information about Galaxy S20 FE, head to Samsung's dedicated pages HERE.