Lomography Announces Two Lomo'Instant Cameras: Oxford & Yangon
Timelessly elegant, the Lomo'Instant Oxford is the perfect way to usher in the autumn with a dark, olive green body, combining creativity and classic British style. And, with a metallic gold finish, the Lomo'Instant Yangon effortlessly fuses style and function
Available as single or combo packages for as little as £89 and £119 EUR, Lomography's most creative Instant camera, the Lomo'Instant provides endless experimental opportunities. With three different shooting modes, and an impressive 27mm built-in wide-angle lens these new editions are a brilliant way to reignite your imagination this autumn/winter. Complete with an auto flash shooting mode, the Lomo'Instant Oxford and the Lomo'Instant Yangon make it easy for users to shoot exceptional instant photos.

L: The new Lomo'Instant Yangon – R: The new Lomo'Instant Oxford
Take perfect selfies with the small built-in mirror, easily experiment with multiple exposures, or tint your pictures with a set of [included] four Colour Gel Flash Filters. With the Combo
With the Combo package, you can capture autumnal adventures from every angle by playing around with Close-up, Portrait or Fisheye lens attachments.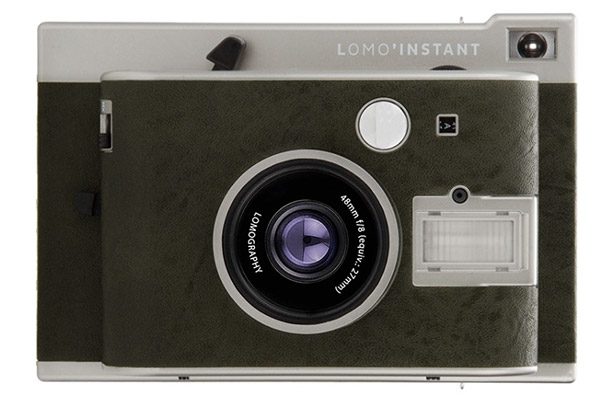 The new Lomo'Instant Oxford
These special edition cameras are perfect partners to bring to your seasonal parties, and they're certain to keep the creativity flowing all year round.
TECHNICAL SPECIFICATIONS
Film Format: Fujifilm Instax Mini
Lens Focal Length: 48mm [27mm equivalent]
3 Shooting Modes: Flash On Auto Mode, Creative Mode [Flash On], Creative Mode [Flash Off]
Exposure Area: 42mm x 64mm
Shutter Speed: 1/125s / Bulb
Apertures: default f/16; f/8, f/11, f/22, f/32 for manual exposure compensation
Ejection Mechanism: Motorised
Multiple Exposures: Yes, unlimited
Built-in Flash GN: 9[m]
Automatic Flash Output: Yes Battery Supply: 4x AAA batteries (1.5V)
Battery Supply: 4x AAA batteries [1.5V]
Tripod mount: Yes *Extra lens attachments available separately or with the Combo packages
*Extra lens attachments available separately or with the Combo packages