Fujifilm's Instax Share: Wireless Instant Photography at its Best
Fujifilm's latest photo printer is here and it promises to create the brilliant INSTAX instant credit-card-sized prints of pictures taken on smartphones and other compatible cameras in just 10 seconds
The printer is called the INSTAX SHARE Smartphone Printer SP-2 and features new functions including new exposure technology and has a very neat design.
As we're all very aware, here at PhotoBite, the popularity of smartphone photography is ever increasing and has contributed to the fact that more pictures are being taken today than at any time in history, with favourite photos being edited, filtered and shared across social media sites by the tens of thousand, every second of every day.
Following on from the Fujifilm SP-1, which launched in 2014, the manufacturer are encouraging smartphone photographers to free their pictures, with the new and improved SP-2 printer. It's compact, nicely designed, doesn't weigh a lot and offers you the satisfying experience of printing and sharing your photos instantly, easily, and at any time from any mobile device.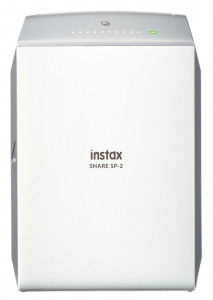 You can now send and print an image in just 10 seconds via wireless LAN using the free INSTAX SHARE app, which has also been updated with new filters and templates added for you to play with.
You can now can adjust the brightness, contrast and saturation of the image using the Custom Filter on the app, whilst the Collage and Split Templates can combine and split up to four images before printing.
It also has a new rechargeable battery, so it can be taken anywhere!
The Fujifilm INSTAX SHARE Smartphone Printer SP-2 is on sale now, available in Silver, and with a retail price of £164.99 [which includes 10 shots of instax mini film].