Fujifilm Brings one GF lens and two XF lenses to its line-up
Fuifilm have announced the release of one GF lens and two XF lenses, the GF80mm F1.7, the XF27mm F2.8 and the XF70-300mm F4-5.6. Fujifilm shows now signs of slowing down in their mission to populate their lens line-up for their XF and GF mount cameras. So let's break them down and see what they're all about.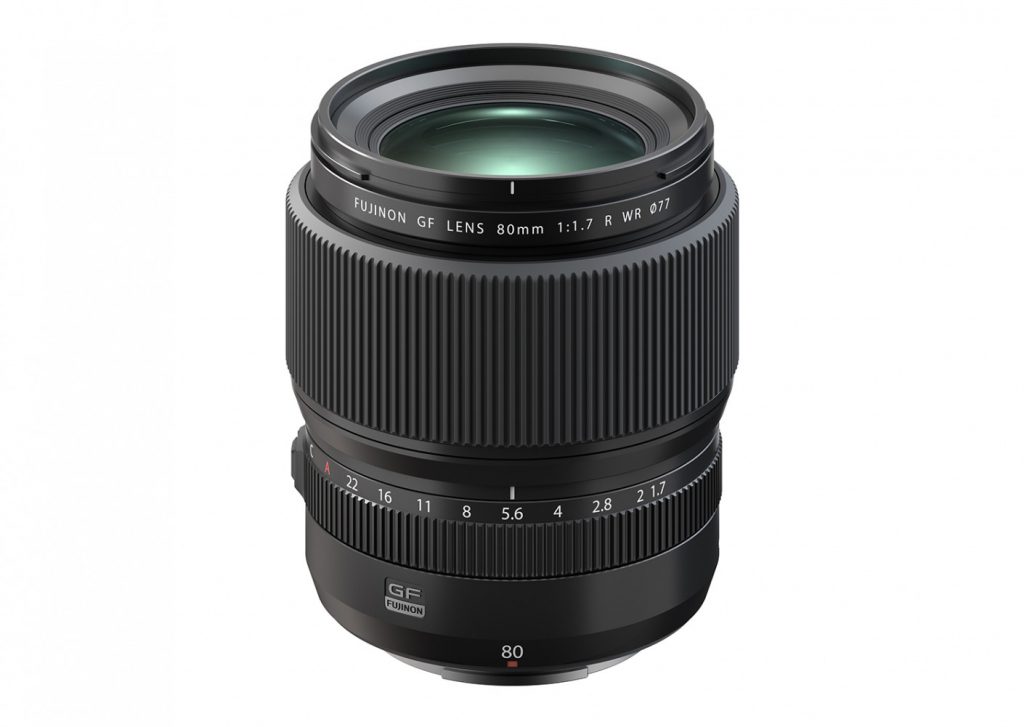 GF80mm F1.7
The GF80mm F1.7 R WR has a standard focal length of 80mm [a 35mm equivalent of 63mm].  Its large-diameter autofocus [AF] prime lens features a maximum aperture of F1.7, which also makes it the fastest lens among Fujifilm's G Mount lenses. 
Portrait photographers using GFX System cameras can now choose FUJINON GF110mm F2 R WR for when they want images with a tighter angle of view or pick GF80mmF1.7 for when they want something slightly wider. This choice will certainly give photographers more options creatively, especially since the highly anticipated bokeh produced from GF80mmmF1.7's wide aperture is sure to provide an incredible aesthetic quality to any image.
Product features
GF80mmF1.7 R WR features nine rounded diaphragm blades that can be stopped down to provide edge-to-edge sharpness or opened up to produce images with beautifully smooth bokeh, with astounding separation between a subject and its background, from any GFX System camera. Comprising 12 lens elements in nine groups, including one aspherical element and two Super ED elements, this lens is optimally balanced to control spherical aberration and deliver a quality of bokeh so aesthetically pleasing that it most likely cannot be reproduced by any other Large Format lens.
The use of ultra-high-precision glass moulding technology means both surfaces of the aspherical lens element can be manufactured to within a tolerance of 1/100,000th of a millimetre. This is five times more accurate than regular moulding and reduces the onion-ring effect that can oftentimes negate the effect bokeh can have on the out-of-focus sections of an image.
GF80mmF1.7 features a powerful DC motor that has enough torque to drive the focus group of six lens elements – which includes the aspherical element – to deliver accurate and reliable autofocus, even when the lens is wide-open at F1.7 and depth of field is extremely shallow. The lens also supports the Face / Eye AF function, which uses an advanced focusing algorithm to accurately acquire focus on a subject's face or eye even when they are moving within the frame.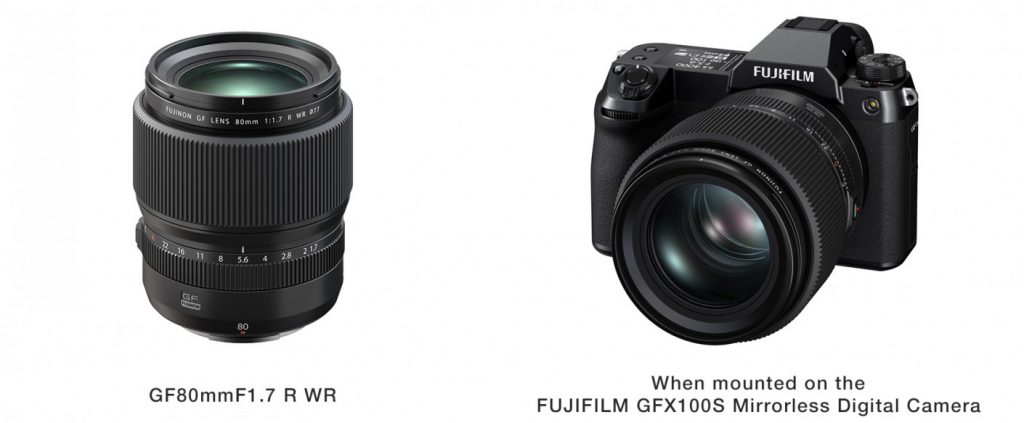 GF80mmF1.7 brings a half-a-stop of improvement to GFX100's AF scene luminance limit. Moving from EV-5.0 to EV-5.5, GFX100's autofocus is now even more capable in low-light.
Measuring at 99.2mm long and weighing just 795g, with a filter thread size of 77mm, GF80mm F1.7 is practically sized and suited for both on-location and in-studio applications. 
Weather-resistant seals have been applied to the lens barrel at 10 locations on the lens to protect it against dust and water, while also providing it with the ability to operate at temperatures of down to -10°C [14°F]. The front lens element is also coated with fluorine to repel dirt for an added layer of protection.
XF27mm F2.8
The XF27mm F2.8 is a thin, "pancake-style" prime lens, with a focal length of 27mm, which provides image-makers with a natural field of view that is close to what the human eye sees, making it extremely suitable for a diverse range of styles from everyday general use to portraiture, street, and landscape photography.
With its compact design, image-makers may find themselves using the lens frequently as a walkaround lens because of its exceptional portability, outstanding image quality, and weather-resistant features.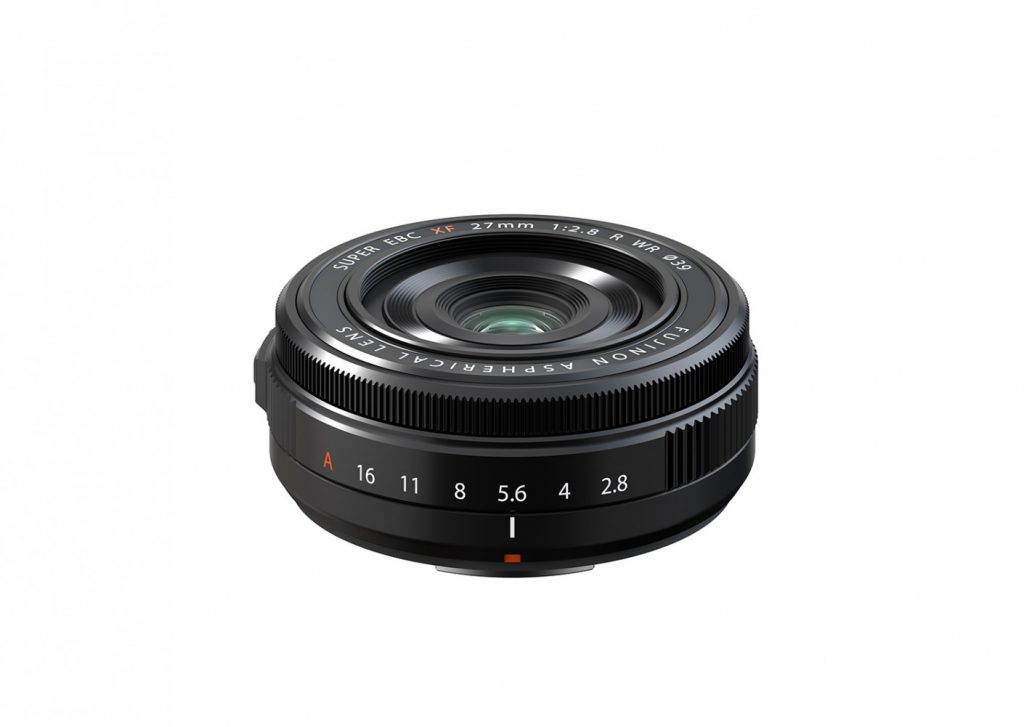 Product features include
XF27mm F2.8 now features an aperture ring with an F-stop scale, so that users can visually check and adjust their aperture settings without needing to look at the camera's screen or through its viewfinder. The aperture ring also features the A [Auto] Position Lock, which locks the lens into the A-Position to prevent unintentional adjustments to the lens's aperture while it is being used. 
Weather-Resistance has been applied at seven locations on the lens to protect against water and dust and allow it to fully operate in temperatures down to -10°C [14°F].
In addition to the standard lens cap, XF27mm F2.8 comes packaged with a dome-shaped lens hood [LH-XF27] and a hood cap [LHCP-27] to provide options to protect the lens and accommodate users that prefer using low-profile hoods over lens caps because of their convenience.
Since the diameter of the image circle needed to cover an APS-C sensor [28.4mm] is so close in dimension to XF27mmF2.8's focal length, it is possible to design an incredibly compact lens that produces high-quality images.
Despite its compact size, the lens consists of seven lens elements in five groups, including one aspherical element, which mitigates spherical aberration, field curvature, and distortion. This allows XF27mmF2.8 to deliver advanced image resolution, even when it is used at its widest apertures.
XF27mmF2.8 features a high-torque DC motor to enable fast and accurate AF, while the front lens group of five lens elements effectively maintains image quality by minimizing aberrations that may occur when the lens is used for close-ups or with subjects that are further away.
One of the thinnest and lightest XF lenses in the collection, XF27mm F2.8 R WR measures just 62mm [2.4in] in diameter and is only 23mm [0.9in] long. The lens is very lightweight at approximately 84g, which makes it an ideal choice for assignments where compactness and overall size are a concern.

Optional accessories
The lens hood and hood cap are available as optional accessories, but also come packaged together with the lens. Replacements can be purchased separately.
XF70-300 F4-5.6
XF70-300mmF4-5.6 R LM OIS WR is a compact and portable telephoto zoom that provides image-makers with a broad range of focal lengths between 70mm and 300mm [35mm equivalent of 107mm – 457mm] in a lightweight design, with a fast linear motor for autofocus, up to 5.5-stops of optical image stabilisation and weather-resistance.
Using the compatible FUJINON XF1.4x TC WR and FUJINON XF2.0x TC WR teleconverters, XF70-300mmF4-5.6's maximum focal length can be extended to a maximum of 600mm [a 35mm equivalent of 914mm], which will make faraway subjects feel closer and more in the frame.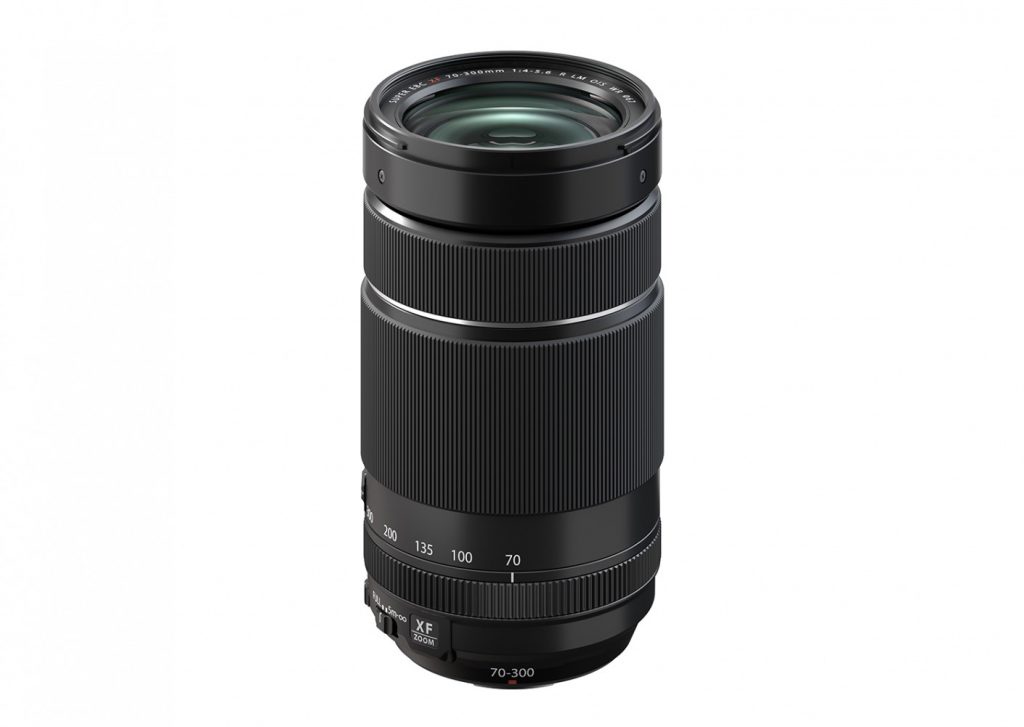 Product features
A great choice for sports and subjects that are distanced away from the camera, XF70-300mm4-5.6 gives image-makers a broad range of focal lengths between 70mm and 300mm [35mm equivalent of 107mm – 457mm] to choose from, packed into a single lens that is more similar in size and weight to a standard zoom lens than it is a telephoto one.
Weighing just 580g with a length of 132.5mm, XF70-300F4-5.6 combines 17 elements in 12 groups, including one aspherical element and two ED elements, into a compact and lightweight body that only has a diameter of 75mm.
Paired with FUJINON XF16-80mmF4 R OIS WR, image-makers can maximize portability and maintain versatility with just two lenses, effectively covering the 35mm equivalent focal lengths between 24mm and 457mm at a fraction of the size and weight.
XF70-300mmF4-5.6 R LM OIS WR is compatible with the FUJINON XF1.4X TC WR and FUJINON XF2X TC WR teleconverters, making it possible to achieve a maximum 35mm equivalent focal length of up to 914mm with only 2 stops of stop-loss when it is paired with XF2X TC WR. Alternatively, using XF1.4X TC WR with the lens will provide a maximum 35mm equivalent focal length of 630mm with slightly less stop-loss.
XF70-300mmF4-5.6 offers 5.5-stops of optical image stabilization [OIS] to help reduce the effects of camera shake, especially at longer focal lengths. Additionally, the lens's OIS capabilities can also be combined with the in-body image stabilization [IBIS] systems found in FUJIFILM X-T4 and FUJIFILM X-S10 to add five-axis stabilization, which can help to reduce the shake caused by linear shift.
The use of the linear-motor drive system in XF70-300mF4-5.6 has enabled fast and near-silent autofocusing, which allows it to fully leverage and make use of the advanced AF system found in X Series cameras.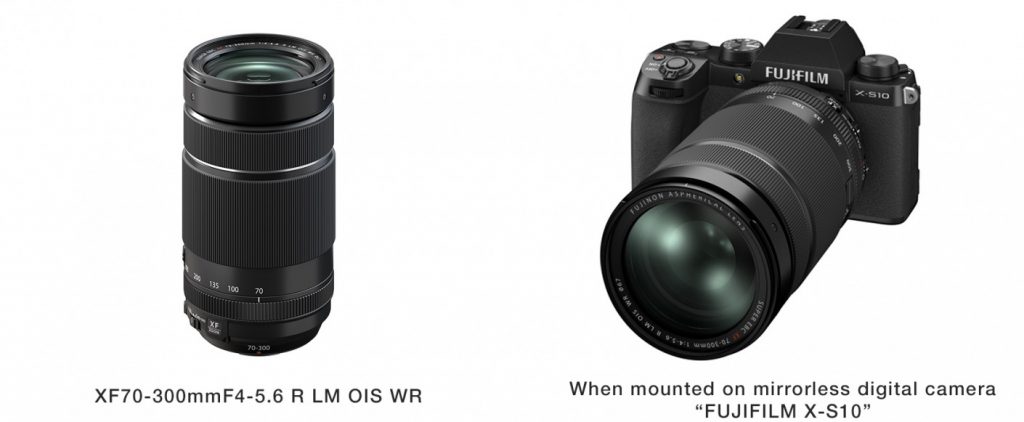 With a minimum focus distance of 83cm and magnification of 0.33x, which is a 35mm equivalent of 0.5x, XF70-300mmF4-5.6 can be used to create dynamic close-up photography, making smaller objects, like flowers, fill the entire frame. Attached to the XF2X TC WR teleconverter, maximum magnification is extended to 0.66x, which is the 35mm equivalent of 1:1 magnification and a necessary requirement to achieve the results most desired from macro photography.
Weather-resistant seals have been applied at 10 locations along the lens barrel to protect it against dust and moisture, while also giving it the ability to operate at temperatures of down to -10°C [14°F].
Pricing and availability: 
Fujifilm Lens GF80mmF1.7 R WR will be available from 4 March 2021 and priced as follows:
GF80mmF1.7 R WR £2099
Fujifilm XF27mmF2.8 R WR Lens will be available from 18 March 2021 and priced as follows:
Fujifilm XF27mmF2.8 R WR £419
Accessories:
XF27mm F2.8R WR Lens Hood £9.99
27mm Lens Hood Cap [for 27mm WR lens] £4.99
Fujifilm Lens XF70-300mmF4-5.6 R LM OIS WR will be available from 18 March 2021 and priced as follows:
Fujifilm Lens XF70-300mmF4-5.6 R LM OIS WR £729