DJI Reveal Free White Paper: Elevating Safety
DJI has reinforced its position as the leader in drone safety within the industry by revealing a 10-point plan to ensure that skies across the globe stay safe in the age of growing drone use, both in the consumer and professional sectors.
DJI's new White Paper, entitled, 'Elevating Safety' has been produced after a thorough evaluation of available drone safety data, which concludes that most drone incident data collected by government regulators are either misleading or, indeed, useless. It also shows that numerous media accounts of midair drone incidents are either false or unproven.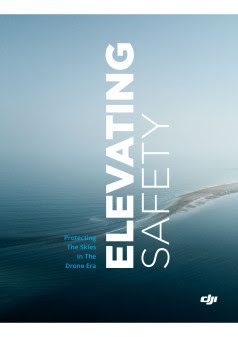 The paper centres on these 10 principal details:
From 2020, DJI will install ADS-B receivers in all new drones above 250 grams
DJI will develop a new automatic warning for drone pilots flying at extended distances
DJI will establish an internal Safety Standards Group to meet regulatory and customer expectations
Aviation industry groups must develop standards for reporting drone incidents
All drone manufacturers should install geofencing and remote identification
Governments must require remote identification
Governments must require a user-friendly knowledge test for new drone pilots
Governments must clearly designate sensitive restriction areas
Local authorities must be allowed to respond to drone threats that are clear and serious
Governments must increase enforcement of laws against unsafe drone operation
Tap HERE to download the document for free