DJI Mavic Air 2 Revealed
DJI has revealed the Mavic Air 2. The next step in the successful consumer drone range from the market-leading drone manufacturer, boasting 4K 60p video at 120Mbps and 1080p at up to 240fps slow-mo. This, along with 48 MP stills, 8K Hytperlapse, a fly time of [up to] 34 minutes and extended autonomy features, it could well be the best all-round drone from DJI yet.
With a brand-new 1/2″ sensor, the Mavic Air 2 is the first Mavic drone that's capable of shooting up to 4K in 60fps at 120 Mbps. That's an improvement on the Mavic 2 Pro, which maxes out at 4K at 30fps and 100 Mbps and costs twice as much. In fact, it looks a lot like a Mavic 2 Pro, only one that's been squashed into a smaller frame. Read on for a complete breakdown of features and functions from the new drone on the block.
'Fly More' Combo Includes ND Filters
In a first for DJI, the new DJI Mavic Air 2 'Fly More' Combo pack includes a set of ND filters. Along with these filters, you'll also find three batteries, a carry case, a car charger and a few other bits and pieces. We'll cover this off in greater detail in our upcoming review.

48 Megapixel RAW Stills
If compared to the first Mavic Air, the native CMOS sensor has beefed up to 1/2 inch and can shoot 48 Megapixel RAW photos in DNG format by using Quad Bayer technology. Again, we'll test the quality of these images in our review.
There's also the option to shoot HDR stills, where the drone will shoot seven separate exposures and blend them all into one – automatically.
The new Scene Recognition feature for stills promises to recognise five different varieties of scenes, optimising the settings for each one. Scenarios include sunsets, grass, snow, blue skies and trees.
OcuSync 2.0 Transmission
The original Mavic Air fell down in part due to the extended WIFI image transmission technology that sat between the drone and the controller. Extended WIFI is a far cry from the superior OcuSync transmission in terms of reach and responsiveness. Fortunately,  OcuSync 2.0 transmission comes as standard in the DJI Mavic Air 2, promising to make it as simple and sensitive to manoeuvre as DJI's Pro range of drones. OcuSync utilises two frequency bands on the Mavic Air 2 and will switch automatically to the best signal.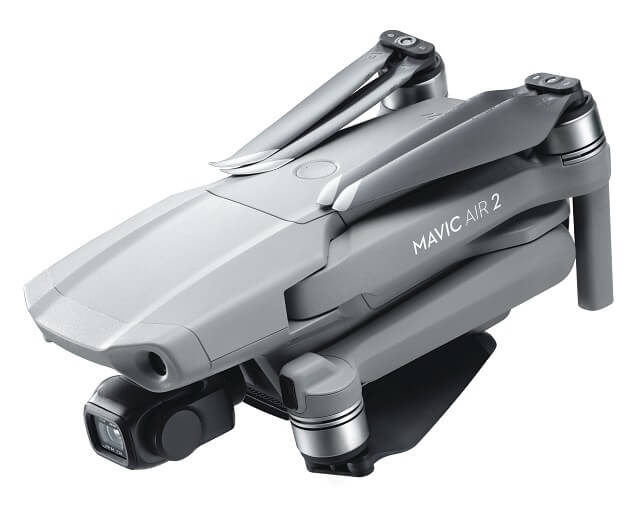 Super Slow-Mo at 120fps & 240fps in HD
The Mavic Air 2 can shoot up to 240 fps slow-mo in 1080p. Definitely something to experiment with and perfect for fast-moving scenes such as motorsports or cycling.
Hyperlapse 8K – Moving Timelapse – Quick Shots & Smart Photo
Hyperlapse 8K is a brand-new mode, which provides pre-programmed moving time-lapses, which basically stitches a number of stills into a video. Flight paths can be predefined, or the drone can also go in a circle or around an object.
Up to 34 Minutes of Flight Time
DJI suggests that the new DJI Mavic Air 2 will give a maximum flight time of 34 minutes. We'll give this a proper road testing when we run our test, but recommend the 'Fly More' option, which includes three batteries and therefore, ample flying time.
Advanced Intelligent Flying Modes
The Mavic Air 2 also highlights advanced autonomous flying modes that promise better obstacle avoidance and object tracking. DJI claims that their Focus Track system on the Mavic Air 2 is the most advanced tracking system in any of their drones. It includes these three modes: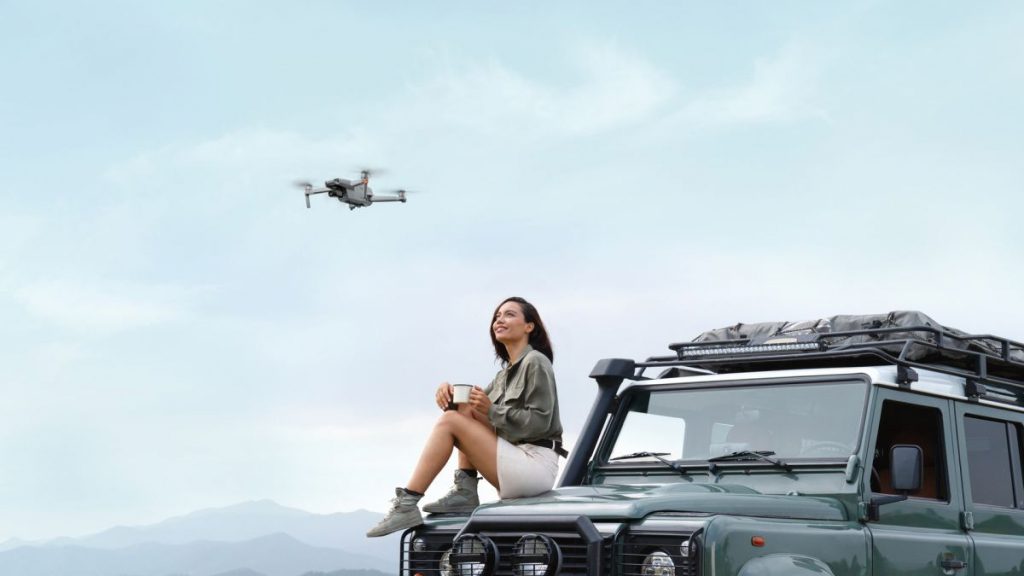 Active Track 3.0: Better mapping and greatly-improved obstacle avoidance. DJI was very confident in this improved feature, it's also suggested to recognise a subject again if it briefly gets lost behind trees, which was a standard problem with the original model.
Point of Interest 3.0: Set a flight path around a subject. Now it includes surface recognition to dynamically track subjects.
Spotlight 2.0: A first in a Mavic series drone. Spotlight locks a subject in frame while the user has free operation of the drone's movements.
Our first thoughts are that this is definitely worth checking out. The little brother to the Mavic 2 Pro and Mavic 2 Zoom, whilst still not costing peanuts, represents excellent value, sepc-wise and, [as mentioned earlier] around half the cost of the Pro and gives video quality that is [in some ways] even better despite the smaller sensor, because of the better compression. The Wifi transmission issue has also been solved, so possibly a no-brainer.
What are your thoughts on the Mavic Air 2? Is this the drone you have been waiting for? Let us know in the comments below and look out for our full review. Here soon at PhotoBite.UK.
Pricing and availability
The COVID-19 pandemic has presented complications for global shipping. As a result, the Mavic Air 2 will be initially available for immediate purchase in China, whilst customers in the UK can pre-order with an expected shipping time of mid-May.

The Mavic Air 2 will be available in two options: The standard package, which includes the Mavic Air 2, one battery, remote controller and all the required wires and cables. This'll cost you £769.
The Fly More option includes all items from the standard version as well as a shoulder bag, ND filters, charging hub, and three batteries will set you back £949.

Available from through all authorised retailers as well DJI's online store.