DJI Announce the Mavic Air Drone: Unrivalled Creative Possibilities
DJI has today announced the Mavic Air, a brand-new ultra-portable, foldable camera/drone that gives high performance coupled with greater intelligent features that other drones in the current range
The new drone from DJI promises do deliver creative possibilities that are unparalleled by any other consumer drone in the market and having been developed with the outdoor lovers and particularly travelers as the target user, the Mavic Air derives the greatest characteristics of DJI's Mavic series including a 4K camera for excellent image quality, new QuickShot modes and SmartCapture for simpler photo and film capture, along with FlightAutonomy 2.0 and Advanced Pilot Assistance Systems for intelligent and safer flight.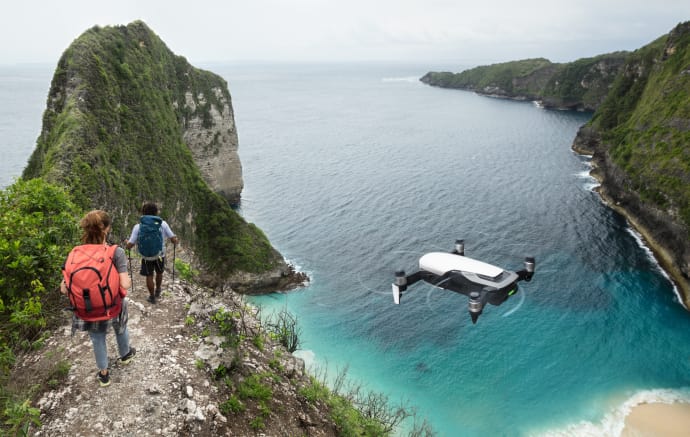 When DJI introduced the Mavic Pro, it reinvented what a consumer drone could be: powerful, yet portable, accessible, but advanced. Today, with the introduction of Mavic Air, we have pushed these attributes to the next level to create our best consumer drone yet.
Powerful Portability
Weighing in at just 430g, the Mavic Air becomes the most portable DJI drone ever and the folding arms and propellers on the device sit cleanly against its slim aerodynamic body, making it so small that its size is comparable to a smartphone when completely folded up.
The camera system houses a 1/2.3" CMOS sensor & the equivalent of a 24mm F2.8 lens [on a 35mm full frame sensor]
Every characteristic of the new Mavic Air's camera system has been produced for supreme performance. Its recessed three-axis mechanical gimbal is hung from dampeners to reduce vibration and subsequently giving better protection, resulting in steadier images. The camera system houses a 1/2.3" CMOS sensor & the equivalent of a 24mm F2.8 lens [on a 35mm full-frame sensor] and produces 12MP still images by employing new HDR algorithms that process more highlight and low light details.
In terms of video, the new Mavic Air promises to shoot smooth and stabilised 4K video at a full 30 frames per second, along with the ability to shoot 1080p slow-motion video at 120 fps, producing the highest quality video of any DJI consumer drone with a maximum bitrate of 100 Mbps.
The new Mavic Air is the first drone from DJI that comes with a full 8GB of memory capacity in the body. Of course, though, there's a micro SD card slot for extra storage if you need to expand it. Along with this, there's a new USB-C port which should make for exporting footage quick and easy.
You'll find another interesting and new function on the new Mavic Air in the shape of a new Sphere Panorama feature, which allows users to shoot and stitch 25 photographs, automatically, producing a 32-megapixel panoramic image; all within a single minute.
QuickShot Intelligent Video Modes
These video modes have been designed to make creating pro videos as simple as possible, offering predefined flight paths and keeping the desired subject in the frame, automatically. Rocket, Dronie, Circle, and Helix modes, that DJI pilots will already be familiar with, along with two brand-new modes, Asteroid and Boomerang.
Asteroid mode begins with a spherical image that zooms in as it descends toward the subject on the ground, while the Boomerang mode circles its subject in an oval-shaped flight path with the video finishing up back at the starting position.
Safe, Smart Flight
Powerful computing capabilities and optimised algorithms assure the Mavic Air can fly more safely amongst tricky obstacles and challenging terrain. FlightAutonomy 2.0 processes data which is collected from seven onboard cameras and infrared sensors to build a 3D map of its environment, resulting in precise hovering capability and improved flight performance.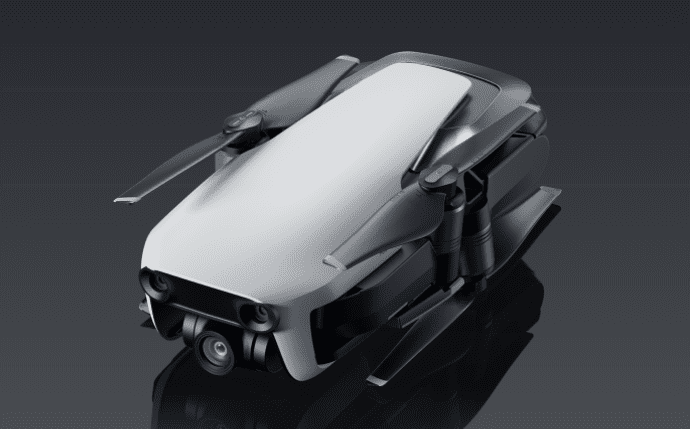 The advanced front and back dual camera systems can sense obstructions for up to 20metres [66 feet]. To help navigate through more difficult open-air situations, the Mavic Air has a new Advanced Pilot Assistance Systems which assists users in avoiding obstructions automatically.
The new Mavic Air will fly for a maximum of 21minutes at a time. It promises to be able to fly in winds of up to 22mph [36kph] and at heights of up to 5,000metres [16,404 feet]. The Mavic Air remote control is the first to feature detachable control sticks which can be stowed inside the controller and its omnidirectional aerials placed on the foldable landing gear help to increase signal coverage to deliver a max range of up to 2.5 miles [4km] and offering 720p real-time video broadcast when flying with the remote control.
When switched to Sport mode, the Mavic Air promises to fly at [up to] 42mph [68 kph] and is also compatible with DJI's Goggles for an enhanced FPV experience.
Pricing and availability
Upon launch, the all-new Mavic Air will be available in three colours: Onyx Black, Arctic White and Flame Red.
The price, which includes the drone itself, a battery, the remote control, carry case, two pairs of propeller guards and four pairs of propellers, comes in at £769.
The Mavic Air Fly More Combo includes the drone, three batteries, one remote control, travel bag, two pairs of propeller guards, six pairs of propellers, a battery to power bank adapter and battery charging hub, for £949.
Pre-orders will start shipping on January 28 and for more info, head to the dedicated DJI page