Alan 2.0 by 3 Legged Thing is here and better than Alan [Sorry Alan]
And they're at it again! 3 Legging Thing is following on from the success of their Pro Range 2.0 tripods and has announced the successor to their carbon fibre monopod, Alan. See review HERE for more details. Sharing a number of characteristics with the updated tripods, the Alan 2.0 monopod is enhanced with a new style of leg lock, improved internal leg mechanism, and an updated Tri-Mount plate design.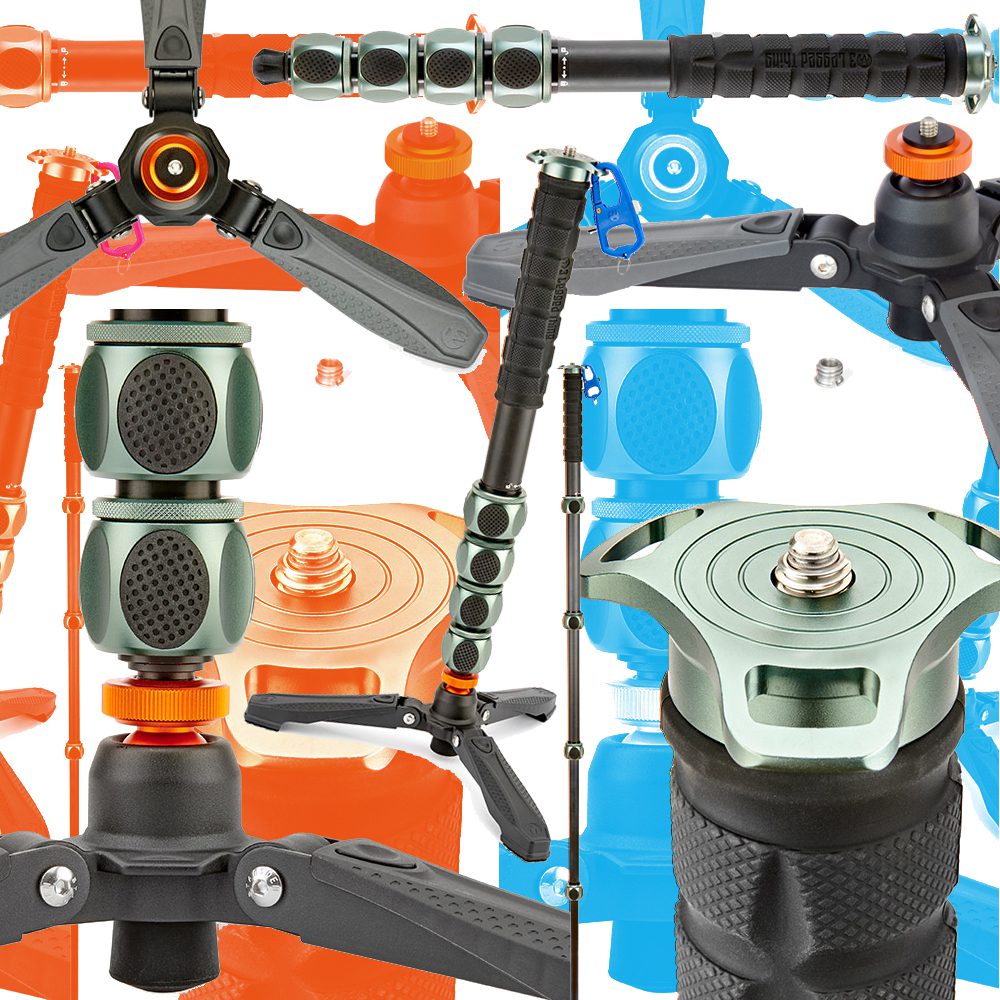 Monopods are favoured by videographers looking for extra stability, and are an essential tool for sports and wildlife photographers, particularly those using longer lenses. Alan 2.0 has five sturdy sections that retract to a compact size making it easily transportable and an ideal monopod for travel.
"We're excited to release this new version of our Alan monopod. Its predecessor has been hugely popular with wildlife and sports photographers since its release, and so it's time to bring the engineering upgrades and design refinements from our Pro Range 2.0 tripods to the Alan monopod."

Stuart Boston, 3LT's Director of Sales
Alan 2.0's new Parallel leg locks have a refined look and feature 3 grippy rubber pads. Parallel Locks feature a screw cap that stops the lock from being fully unscrewed unintentionally. The chunky locks are easy to grip, even when wearing thick gloves, enabling them to be used in a wide range of conditions. Alan 2.0 weighs in at just 615 g / 1.35 lbs. This, coupled with Alan 2.0's impressive 60kg / 132lb load capability, gives the monopod a load to weight ratio of almost 100:1! Internally, Alan 2.0's leg locks share the same new style of anti-rotation Chicken Lips [shims] as the Pro Range 2.0 tripods, and these give the monopod increased stability and rigidity over its predecessor. The top end of Alan 2.0 features 3 Legged Thing's patented Tri-Mount plate, which includes three hollowed spurs for the attachment of accessories, and to help with cable management. On this new version, the Tri-Mount has been contoured and rounded to give the user more comfortable handling
Just below the Tri-Mount plate, Alan 2.0 features the Big Grip, 3 Legged Thing's unique rubber grip with deep channels that are designed to disperse water. Alan 2.0 has a fully extended height of 1.48 m / 58.26", and packs down to just 44 cm / 17.32".  As with the original Alan monopod, Alan 2.0 features dual ¼"-20 and 3/8"-16 threads at either end. At the top, the innovative dual thread is spring-loaded with the outer 3/8" thread retracting to reveal the 1/4"-20 thread in the centre. This enables the monopod to be used with a head-mounted on top, or connected directly into the base of a camera.
At the bottom end, Alan 2.0 ships with 3LT's durable Bootz rubber foot. This can be replaced with any of 3LT's range of alternative tripod footwear, or the Docz foot stabiliser which gives extra stability and smooth movement when panning. Alan 2.0 is available as monopod only or in a kit with Docz.
Pricing and Availability
Both monopod only and kit are available now, both online and in retail stores. Suggested retail price is £129.99 / US $149.99 for the monopod, £169.99 / $199.99 for the kit with Docz.
See more details on 3 Legged Thing's Website.