The BenQ SW321C: Best Monitor for Creatives?
The BenQ SW321C is certainly an excellent choice when looking for a professional-grade monitor for photo or video tasks, but is it the best? Read on for more.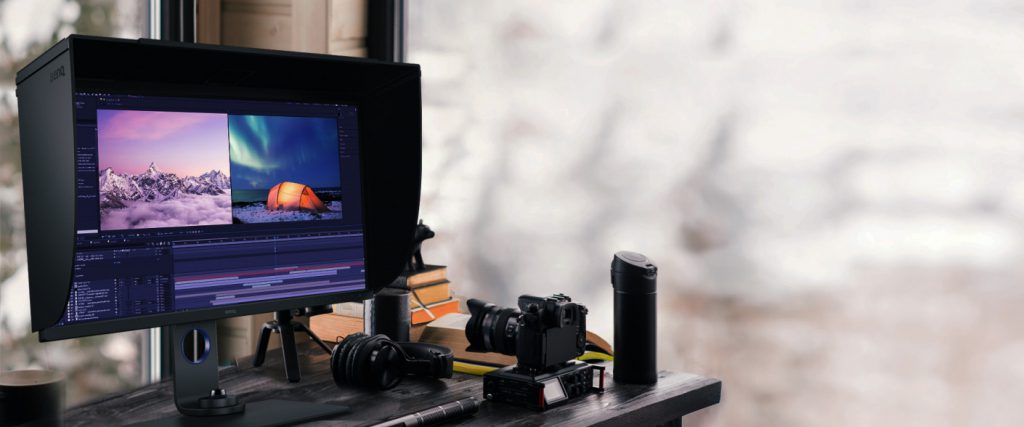 With built-in colour calibration and super-easy colour mode switching, it can quickly become a breeze to increase your productivity if compared with other setups. These benefits are accentuated by BenQ's unique Hotkey Puck controller, which makes switching and customising your setup even simpler. 32 inches at 4K resolution is astounding for editing 4K footage at full resolution. The exceptional screen really allows you to clearly see what you are doing, even if that does mean it takes up the entirety of your desk! Colour accuracy out of the box is stunning, with 99% of the Adobe RGB colour space 100% of SRGB, Rec 709, 95% of P3 With 10-bit colour and HDR 10 supported, too.
The monitor comes with a colour calibration letter to let you know exactly how your monitor is calibrated out of the factory, they calibrate using their AQ colour technology which allows them to match there monitors to each other so well that displays even from different factory lines should be matched out of the box, which is great news for multi-monitor setups.
The exceptional screen really allows you to clearly see what you are doing, even if that does mean it takes up the entirety of your desk!
Calibrating couldn't be easier with this monitor. There's built-in calibration but it also supports many third-party calibrators, such as the X-Rite i1display Pro Plus for which we also made a review recently. The on-board calibration generates a 16 Bit LUT that is stored on the display itself, freeing your PC up from any profiling apps switching and clogging up performance in the background.
The IPS panel they went with is great for the colour, but only at 60hz with a pretty slow response time and latency, so no gaming recommended using this professional colour grading monitor! The display has a super matt coating and is incredible at rejecting glare and reflections from light sources and comes with an included shade hood to block even more if you're still in need of further glare reduction.
The IO is decent as well with two HDMI ports that support 4K up to 60hz, a single display port 1.4, an integrated USB hub, an SD card slot and a USB C port that can carry display, data and power. This makes it perfect for docking a laptop into as well.
The only downside is the IO is buried quite deep and behind the screen so can be pretty tricky to find at without swiveling the entire monitor around.
£1599.99 [RRP] may seem a lot of bread to find for a quality monitor, but compare that to almost any other option on the market and you could actually be saving a pretty penny. This alone excuses the larger than ideal bezels and slow pixel response times.