Joby® GorillaPod Mobile Vlogging Kit – vivo Y20s & vivo Y70 Combined Review: Are These New Products Hitting the Sweet Spot for Vloggers?
Many aspiring vloggers have kicked off their channels using a rudimentary kit, i.e. zero stabilisation, crappy lighting etc, tending to hold back on finding more capable set-ups to give their content the degree of separation to make their videos pop! With so much easily accessible and specialist kit on the market nowadays, it's simpler than ever to make great-looking content. We got to testing out some of the latest suitable candidates to see how they stack up and see whether they'd help to launch you to vlogging superstardom! First up is Joby® GorillaPod Mobile Vlogging Kit, which has been designed to be functional, yet playful and simple to use. We've also picked up two smartphones from the new-to-EU brand, Vivo. Here, we look at the Vivo Y20s and the more premium Y70 models.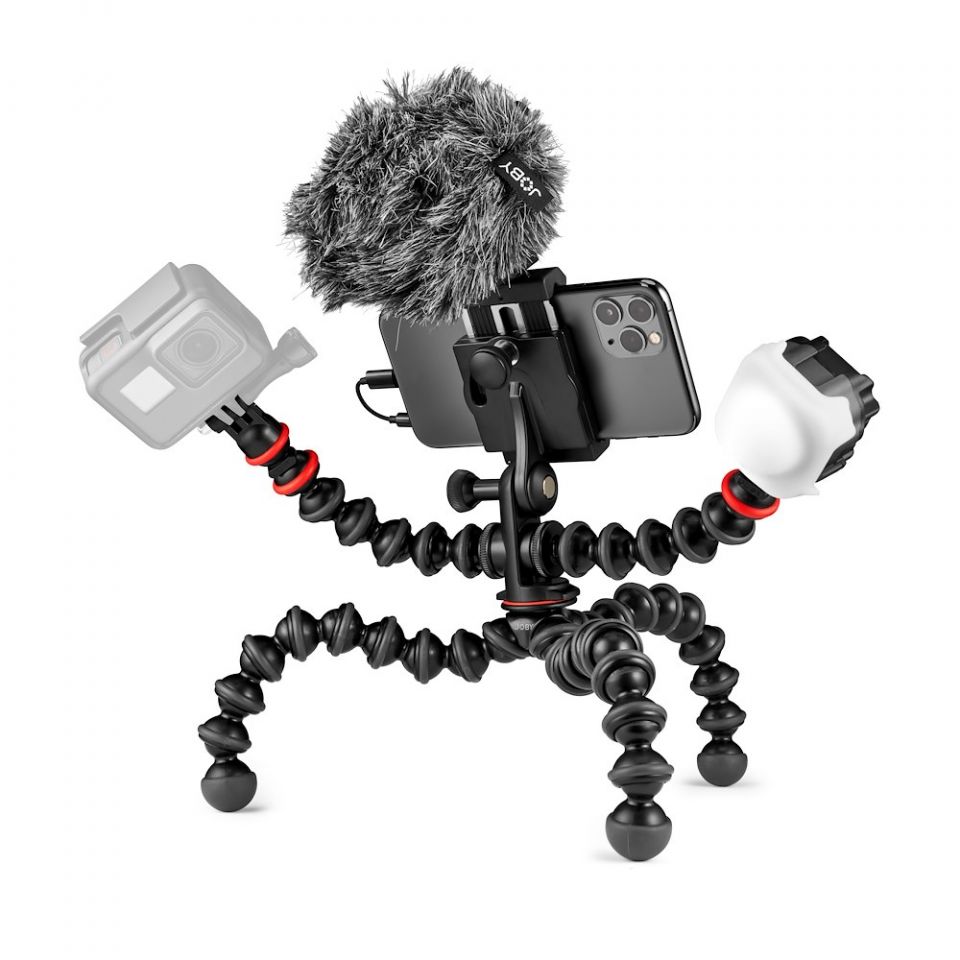 Joby® GorillaPod Mobile Vlogging Kit
First up, the Joby® GorillaPod Vlogging Kit is an excellent selection box style kit, which offers a bunch of modular equipment to turn any phone or small camera into a mini vlogging setup. Joby® has announced the vlogging kit along with their latest campaign which is entitled 'What is a JOBY'. Created to invite Generation Z and aspiring content creators to let their creativity loose, demonstrating boldness, one vlog at a time, you can read more about the campaign HERE.
Included in the Joby® GorillaPod Vlogging Kit box, you'll find the tried and trusted GorillaPod tripod, complete with a rugged-feeling phone mounting solution, a Waco Mic from JOBY which sounds great, and a very bright light in the form of the Beamo mini. This little light touts a 40min-5 hour battery lifespan, [depending on brightness level], waterproofing up to 30 metres and USB-C charging to boot! Plenty of modularity allows this kit to give you lots of options while shooting and allows you to get creative with the way you shoot. Watch the video below to see more.
Joby® GorillaPod Mobile Vlogging Kit
Pros
Very modular
Good selection of everything you need to get started
BEAMO Mini is a highlight [see what I did there]
Cons
A little pricey coming in at £179.95 [at time of posting]
The diffuser on Bemo doesn't seem to attach very securely
4.5 Stars
The Vivo Y70 Smartphone
The vivo Y70 boasts a lot of features from the flagship vivo X51 5G smartphone at the fraction of the cost. Weighing in with a great 48MP main sensor, not dissimilar to the one found in the Vivo X51 5G [minus the integrated gimbal of course] and a very stylish and modern pearlescent, [albeit plastic] matte paint job.
The FHD AMOLED display is sharp and vibrant with just a small unobtrusive teardrop notch housing the 16MP selfie camera, fast and snappy fingerprint scanner 8GB ram and 128GB of built-in storage which can be expanded via SD card. Where they've saved the money with this model seems to be in the plastic back, which doesn't feel as 'bad' as most plastic-backed phones. This, and the 2 additional bokeh and macro cameras only being 2MP and the more basic Snapdragon 665 processor. With that being said it does feature a 4100mAh battery and offers 33w fast charging over USB C which is great to see.
Vivo Y70 Smartphone
Pros
Stock Android 10 OS
48MP Main camera
Dual Sim Card support
4100MAH battery
Cons
Additional cameras are lacking in punch
Plastic build discredits the premium feel
4 Stars
The Vivo Y20s Smartphone
Looking for a snappy vlogging smartphone on a budget? The Vivo Y20s can be yours for only 149 quid [at the time of posting]!
Frankly, it's getting a little crazy how much bang you can get for your smartphone buck nowadays. That said, there's clearly a need to sacrifice the native features to achieve a low price tag.
Shortcuts with the Vivo Y20s include a dumbing-down of screen resolution with the display being only 720p and the LCD comes with an unfavourable capacity for smearing and less than great responsiveness. The fingerprint on the side in the lock button is a nice touch, though. The design is pretty good and, although its native capacitive scanner may not be as speedy and reliable as the screen scanners, it's still fast and not much of a trade-off and the Y20s' 5000 mAh battery is absolutely monstrous. A battery like this will definitely last a long time, but you'll have to make time for charging as it only supports 16W charging through an outdated micro USB port.
The front camera is only 8MP and the rear camera is still just13MP, paired with the same 2MP Bokeh and Macro lenses that we saw in the Y70. The colours in testing were kinda horrible out of the selfie camera, at least. The stock Android experience is still here with this model, and it still sports Dual Sim Card support with expandable storage.
All in all, a lot of smartphones for the money and with decent, albeit not excellent imaging capability. At such a low price, [compared to higher-spec models in the Vivo range] you have to expect to make a few tech sacrifices.
Vivo Y20s Smartphone
Pros
Affordable
5000 mAh Battery
Very stock Android 10
Dual sim support
Lock button fingerprint scanner
Cons
Smeary 720p LCD display
cameras lacking
Micro USB 2.0 in 2020?
3 Stars
To check out our full review, watch our video below. Don't forget to like and subscribe, hitting the bell on YouTube to make sure you don't miss our films as they launch!