Lumix S5 Review: The Perfect All-Round Full Frame Mirrorless Camera on the Market?
Taking full-frame shooting to new heights whilst positioning them somewhat toward the more attainable budget, Nikon, Canon & Sony have all released their latest models into the market of late. Now, it's the turn of Panasonic with the LUMIX S5. A mid-range, hybrid full-frame mirrorless camera that boasts pro-level 4K video recording and superb still image capabilities. On the face of it, it appears to have landed as a camera that can meet every situation; from landscape photography to pro-video, vlogging, sport, portraiture & more. Our question is simple; does it deliver?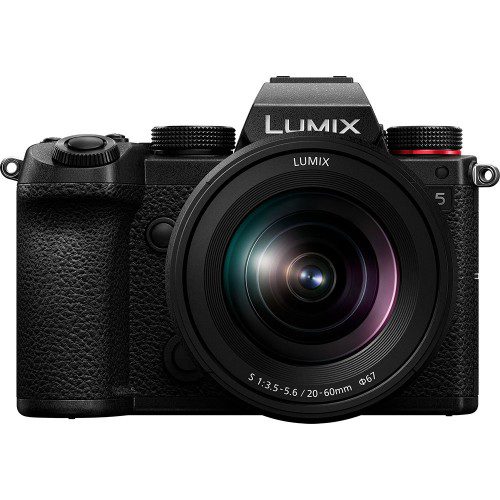 First off, let's run over the…
LUMIX S5 Features
24.2-megapixel full-frame sensor
4K 60fps with V-Log recording option
6K 30fps photo continuous shooting
Free-angle Screen
Dual SD memory card slots [including one high-speed UHS-II video class]
Built-in body stabilisation providing up to 5-stops of compensation with OIS lenses
Significantly improved AF with deep learning Face, Eye, Body and Animal tracking
New high capacity 2,200mAh battery for extended shooting times
Filmmaker connectivity through mini HDMI, mic input and headphone terminal
Weather sealed magnesium alloy die-cast body for reliable use anywhere
---
In testing, we found the LUMIX S5 to be a remarkable camera that's absolutely packed with serious features for the relatively low cost of £1799. This may sound like a lot of coin; mainly because it is a lot of coin, but, given the fact that we're seeing these kinds of specs in what is a mid-level camera, it marks a truly significant step in value for money and all-round capability. We're convinced that it's a camera that will sway some users working with competitor brands.
In the main, other camera brands tend to limit the capabilities of their midfield products, so as not to entice customers away from their higher-end, top tier models. Packing the S5 with some of the kick-ass features we've tried will do well in boosting Lumix's mirrorless market share.

The Design of the S5 is a triumph and best described as beautifully structured and considered. The Buttons are in logical, useful places in terms of the white balance, ISO and exposure compensation. The buttons are located in a row on the top of the body, near the grip for easy access; not scattered and perhaps a little misplaced as we see with some competitor products. There must be reasons why other brands choose to place these buttons where they do, but the layout on the S5 just makes sense. Clearly visible, perfectly logical and simple to use. What's not to like?
What About The Image?
The all-important imagery from the S5 really is impressive. Following in tradition of its S-Series predecessors, the LUMIX S5 offers easy to edit RAW files and vibrant Jpegs. Photographers will not be disappointed and in a well-designed body that can handle a hard life. It's honestly got my attention over its competition.
In many ways, the Panasonic LUMIX S5 is a full-frame G5, on steroids!
We're sure that Panasonic's not done improving the user experience on the S5 and that firmware updates will push through any bugs that might exist in the new model. A good sign the company is taking this camera just a seriously as it's top tier models – the LUMIX S1, S1R & S1H.
Video is where the S5 really pushes the limits. Featuring 4K 60fps and V-Log, along with AI Autofocus tracking, the S5 really knows how to deliver. It's a dream to use and proves itself to be a capable, working video camera. In many ways, it's a full-frame G5, on steroids!
The only issue we came across when using the S5 was with the AI Tracking system. Under stress, from running V-Log at high frame rates, resolution is reduced to bolster computing power for the AI system to work effectively. This could be fixed with a firmware update, and likely will be. It simply comes down it how Lumix has configured the S5 internally.
For more, check out our comprehensive review below and as always please do like and subscribe! Hit the bell on the YouTube channel to receive alerts for future videos from the PhotoBite team.