Zhiyun CRANE 3S Revealed with Up To 6.5KG Payload Potential
Chinese gimbal manufacturer, Zhiyun-Tech, has revealed its new flagship handheld gimbal stabiliser, the Zhiyun Crane 3S, which promises to out-perform most other premium stabilisers with higher payloads. With new and powerful motors, the gimbal can bear loads of [up to] 6.5kg and boasts a modular design with an EasySling and SmartSling Handle, which can be applied with the EasyRig.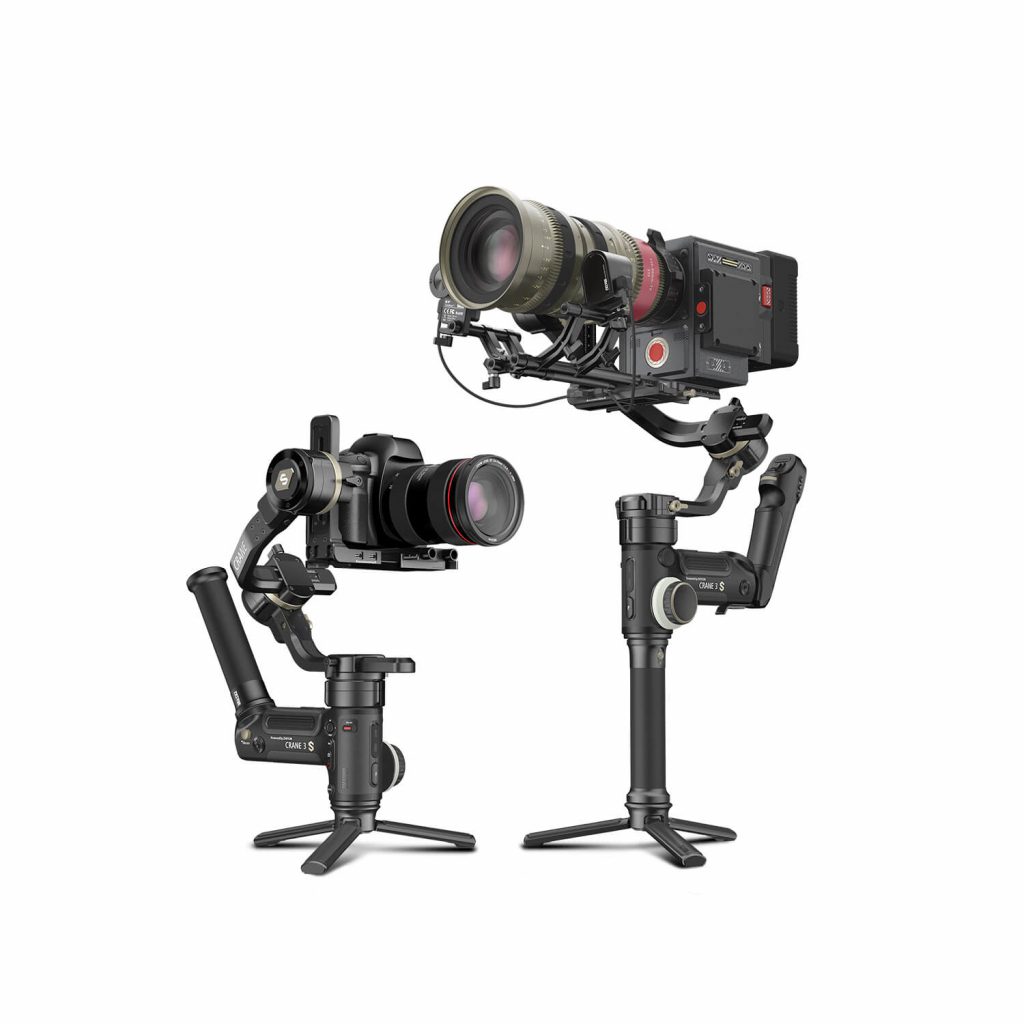 Zhiyun-Tech introduced their new gimbal design with the Crane 3 LAB and the Weebill LAB in 2018. The object of the gimbal design was to enhance the ergonomics for more comfortable shooting in 'underslung' filming mode, [when the camera is below the gimbal]. Since then, the smaller in the gimbal family, the Weebill LAB has seen a new and improved, 'Weebil-S' compact gimbal hit the market. Now, it's the turn of the big daddy to get the juice of a tasty new upgrade. Read on for the lowdown on its key specs and features.
Possibly the most notable difference in the new Zhiyun Crane 3S is the new, powerful motors, which enable it to manage payloads [up to] 6.5kg, which means that users can happily shoot with heavier camera setups. Zhiyun explained to PhotoBite that the gimbal can handle rigs with Canon EOS 1DX, Blackmagic Pocket Cinema Cameras, Canon Cinema EOS, Sony FS and FX series, and RED Digital Cinema cameras. It could even be possible to use a Blackmagic URSA on the gimbal, although it will have to be mounted inverted.
Modular design
The Zhiyun Crane 3S boasts a modular design within the motor axis and handles. For larger cinema camera combinations, users can attach the included extension module onto the roll axis. For smaller [DSLR/Mirrorless] rigs, the extension module can be removed to make the whole setup more compact and portable.
Zhiyun-Tech has also announced a detachable second handle in two options
EasySling Handle extends the grip for more comfort upright and underslung operation
SmartSling Handle features an intuitive control panel and OLED screen, for direct camera and gimbal parameter adjustment
It is possible to couple both handles as they designed to be simple to apply and remove. Both have multiple thread holes in different sizes for mounting accessories.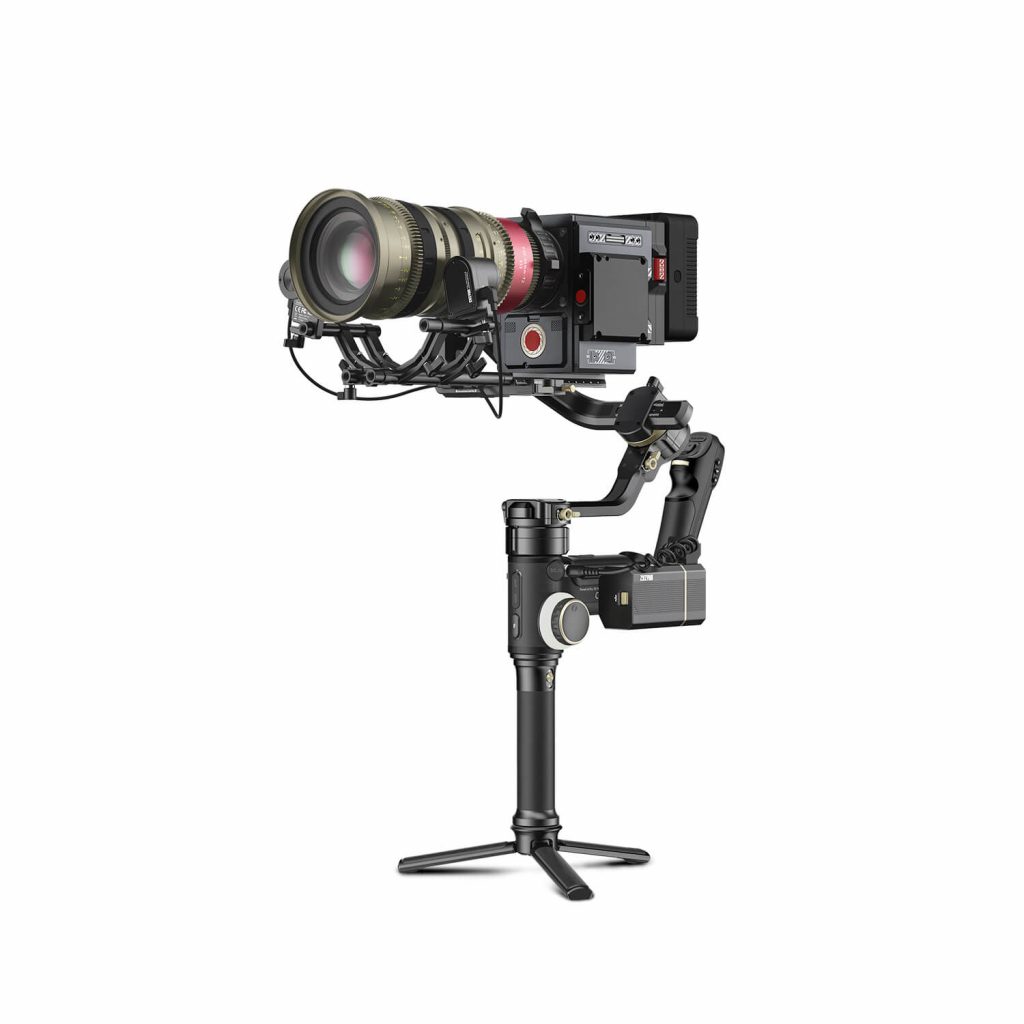 Ultimate performance for longer periods
With a three-battery setup, the Crane 3S can work continuously for up to 12 hours. A DC power-in port on the battery chamber also allows for input of up to 25.2V direct charging. To sustain long shoots with more substantial rigs, Zhiyun has introduced the TransMount PowerPlus Battery Pack which houses six batteries and can give a full 18 hours of runtime for the gimbal.
There's a freshly-designed locking system that can lock all three axes without obvious swinging and the modular design comes with double locks for added safety. Along with this, there's also a larger lens support included to the zoom and focus system.
Image Transmission Module
Zhiyun-Tech's TransMount Image Transmission Module is compatible with the Crane 3S. With the transmitter, video can be streamed to [up to] three devices for monitoring, including smartphones. The ViaTouch 2.0 system in the ZY Play app bridges the communication gap between gimbal, camera and monitoring devices, allowing users to adjust camera and gimbal parameters remotely. The ViaTouch 2.0 system also facilitates a visualised remote motion control for the gimbal.
Pricing and availability
The Crane 3S [with SmartSling Handle] is available now at £729 and the Crane 3S-E [with EasySling Handle] is also available now at £659. The Crane 3S Pro package [with SmartSling Handle, PowerPlus Battery Pack, Zoom and Focus Controllers, Image Transmission Transmitter and Smartphone Clamp] is available at £1149.
Team PhotoBite will be conducting a review of the new Crane 3S soon, so watch this space. until then, see more at Zhiyun's website.