World's Fastest SD Card Announced by Sony
Sony has announced their brand new SD card as the world's fastest SD in history!
The electronics mega-brand have applied their many years of experience in pro media to grow their high-end line up with this super-fast model that promises to maximise the performance of your digital camera.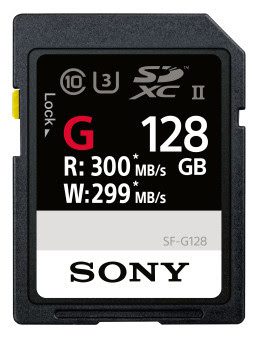 The new SF-G Series SD card. The world's fastest SD card from Sony
Available in 32GB, 64GB or 128GB capacities, the new SF-G series, being the world's fastest card, should serve as the perfect accompaniment for higher end DSLRs or mirrorless [CSC] cameras, giving [up to] 299MB/sii write speeds and facilitating high-speed continuous burst mode shooting for high-res pictures with any cameras supporting UHS-II.
Romain Rousseau, European Product Marketing Manager told PhotoBite: "As the continuous shooting of higher-resolution images and adoption of 4K video with DSLR and mirrorless camera increases, the inherent need for larger, faster and more reliable cards becomes apparent. Thanks to the SF-G series, we continue to show our commitment to providing a full range of extremely high-performance media devices to professional photographers and enthusiasts, maximising their camera performances"
Sony's SD products are highly reliable and durable and offer such features as water proofing and anti-static protection which help keep your precious contents safe. But when you are out all day shooting fast with time at a premium, accidental deletion of images can happen. With Sony's free downloadable File rescue software, you can quickly recover deleted images or videos, including RAW images and 4K XAVC-S video files.
In conjunction with the new card, Sony is introducing a new memory card reader. The MRW-S1 reader[snappy name], the perfect solution to drastically improve workflow efficiency after shooting by quickly transferring large data from the SF-G SD card to a computer. The new card reader offers an in-built SuperSpeed USB [USB3.1 Gen.1] standard A port for cable-free connection so that files can be copied faster than copying through the regular SD slot on a computer. Perfect for video files and/or pro photographers who need to transfer pictures quickly and efficiently.
The new SF-G series SD cards will be available in March 2017 and the MRW-S1 card reader will be available in stores in April 2017.
For more information on Sony's SD card lineup, including the SF-G series, Click HERE