TAMRON announces development of its first lens for FUJIFILM X-Mount with availability in Sony E-mount
Since the launch of the Tamron 28-75mm F/2.8 Di III RXD, a fast-aperture standard zoom lens for Sony E-mount Full-Frame mirrorless cameras in 2018, Tamron has continually expanded its line of lenses for Sony mirrorless cameras. The popularity and wide adoption of these lenses prompted many user requests for the manufacture of the lens for other camera brands. Fujifilm lens alternatives have always been few and far between. Manufacturers like Tamron and Sigma have normally stuck with Sony, Canon & Nikon since the user base is much bigger with Fujifilm being a rather small fish.
As a specialist in the all-in-one zoom lens category, Tamron recognized the potential to develop the first all-in-one zoom lens for the FUJIFILM X-mount. The Tamron 18-300mm F/3.5-6.3 Di III-A  VC VXD is the world's first all-in-one zoom lens for Sony and FUJIFILM APS-C mirrorless cameras featuring a 16.6x zoom ratio.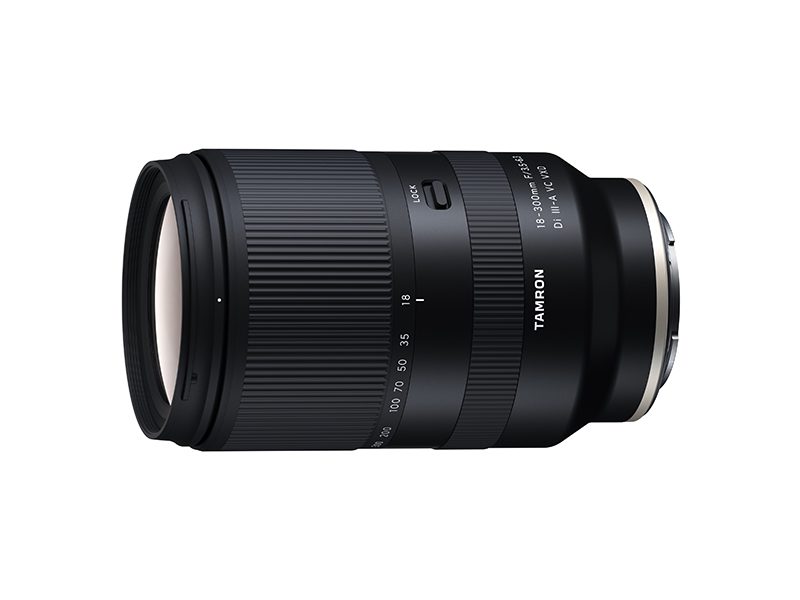 Main features
The world's first 16.6x all-in-one zoom.
Extremely fast and precice AF, VXD linear motor focus mechanism, the highest-level in its class.
MOD: 0.15m, maximum magnifiation ratio: 1:2 at 18mm wide end.
The best image quality in its class.
Outstanding VC [Vibration Compensation].
Comfortably compact.
User-friendly features [Moisture-Resistant Construction, Fluorine Coating, Zoom Lock switch]
Overview of the Tamron 18-300mm F/3.5-6.3 Di III-A VC VXD features
The Tamron 18-300mm F/3.5-6.3 Di III-A VC VXD covers a wide zoom range from approximately 27mm to 450mm [Full-Frame equivalent focal length]. The first APS-C mirrorless camera zoom lens in the world with a 16.6x zoom ratio, the lens delivers the benefits of a versatile all-in-one zoom lens ideal for a broad array of photographic possibilities. Its AF drive system uses Tamron's linear motor focus mechanism VXD [Voice-coil eXtreme-torque Drive] for superior quietness and agile performance. The lens includes special lens elements arranged precisely to maintain high-resolution performance from edge-to-edge and provide high image quality that is among the best of all all-in-one zoom lenses.
With a MOD [Minimum Object Distance] of 0.15m at the wide end and a maximum magnification ratio of 1:2, this lens performs astonishingly well in its category when shooting up close. It is equipped with Tamron's proprietary VC [Vibration Compensation] mechanism that supports stable photography even at ultra-telephoto focal lengths. And it features a unified 67mm filter size, the same as other Tamron lenses for mirrorless cameras