Shimoda Launch new Action X Collection on Kickstarter
Shimoda has launched its latest Kickstarter campaign for the all-new Shimoda Action X Collection, which includes three new heavy-duty backpacks, new Core Units, new rollers and a new top loader, to boot. 
The new collection, which has been designed by adventure photographer Ian Millar for heavy-duty use in testing environments, comes after Shimoda's first Kickstarter launch, which proved to be a huge success, hitting its target in only 30 hours and ultimately surpassing it by more than 600%.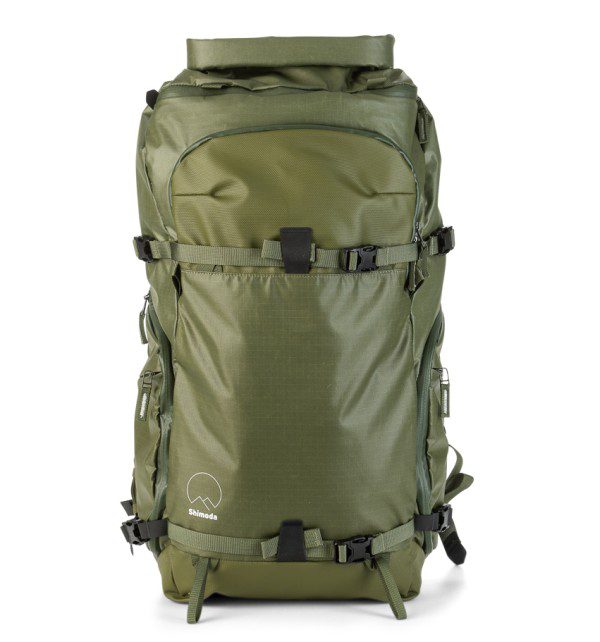 Action X30 & X50 Backpacks
Both the Shimoda Action X30 and X50 backpacks have been designed with action and adventure photographers who need the most from their gear in mind. They are best-suited for image makers on the move and that work in territory that is challenging to their camera and video gear as well as themselves. With swift access available via the large side-panel, there's also the main rear-panel opening for when there's more time to get set up. A volume-adjustable roll-top lets users pack their gear according to the needs of the day ahead and help to ensure a compact and solid fit.
All Action X Series packs include:
Adjustable torso-height
Expandable Roll-Top with 7L of extra storage
15-inch laptop sleeve
Removable/Swappable Harness Straps compatible with the Women's Strap Collection as well as 'Extra Cushion' Plus Straps
2 tripod or water bottle pockets
Large side-access opening
Removable waist belt
TPU ski straps
Removable helmet holder
Padded, shoulder strap mounted phone pocket
Shoulder strap mounted water bottle or accessory pocket
Numerous accessory attachment points and straps
2 heavy-duty carry handles
Weatherproof YKK SplashGuard zips
Shimoda v2 Core units
Shimoda's new Medium Mirrorless Core Unit v2 has been specially designed to work with the X30. Its depth easily accommodates non-gripped Mirrorless and DSLR bodies, whilst the v2 Medium and Large DSLR sized Core Units have been designed to match with the X50. The DSLR depth is built to accommodate gripped bodies whether DSLR or Mirrorless and are ideally suited for those wanting to carry compact video setups with a cage or, alternatively, using L-Brackets.
The new v2 Core Units feature an integrated side-access point in the sidewall, which aligns with the side-access panel of either the X30 or X50 backpack. Each Core Unit now has a lightweight aluminium frame around the rim to give more effective weight distribution and side-wall support. This promises to give a more stable load and overall energy-saving user experience.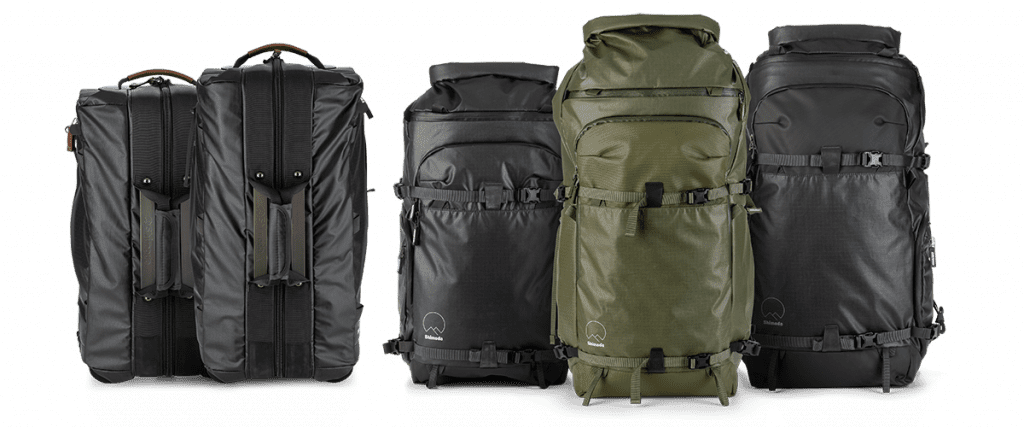 Action X70 & DV Core Units
Bolstering the new Shimoda backpack range is the new, [and we're told, highly requested] Action X70 backpack, which is an expandable 70-litre adventure bag, has been designed for demanding filmmakers and content creators working across various mediums.
The larger capacity of the X70 along with the new, extra-deep DV [Digital Video] Core Units, which are available in Large or X-Large, gives users a more spacious, cine camera system. Wildlife or sports photographers will appreciate the extra space, too, with the ability to pack a super-telephoto lens without trouble. Each side of the Shimoda Action X70 highlights a large, expandable, zip-sealed pocket, which is designed to house tripods, water bottles, gimbles and other kit that can often prove a challenge to pack. Like the smaller siblings, the X30 and X50, it also has TPU ski straps, a removable helmet holder, adjustable torso-height, shoulder strap mounted phone or accessory pockets, and a removable belt.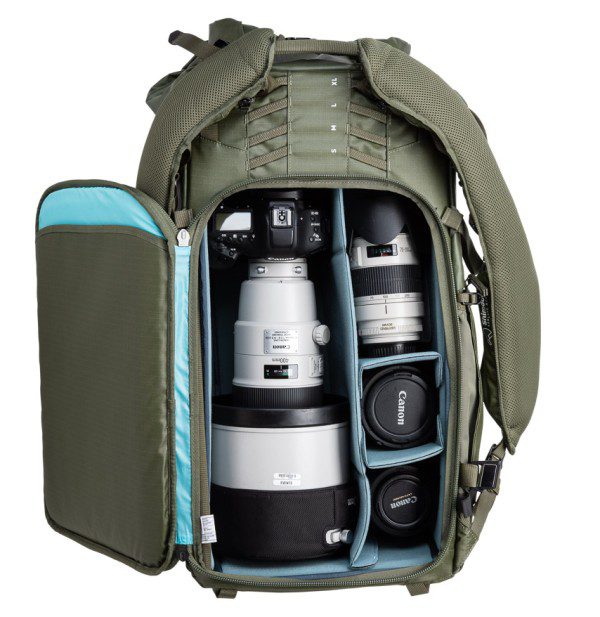 Shimoda Top Loader
The new Top Loader from Shimoda is probably the most versatile bag in the whole Shimoda range. It has been designed for quick access to Mirrorless and DSLR cameras that are paired with pro zoom lenses, and we're told can also take compact drones with ease. In its normal setup, the bag will take a camera with a lens up to 24-70mm 2.8. By unzipping the padded bottom extension, you can fit the camera with an attached 70-200mm 2.8, or a 24-70mm, [with the lens hood extended].
You can carry the bag in one of two ways; either with the included shoulder strap or attach it to your belt. This sounds slightly odd, but we're told it gives an 'excellent low-profile, stripped-down way to carry your professional camera and lens'. 
Shimoda tells us that the new Top Loader also pairs with the new backpacks, giving four more ways to carry.
You can attach the bag to the waist belt of the pack to give quick storage for your camera while shooting.
with the use of the [optional extra] Accessory Straps, you can attach it to the chest so that it doesn't interfere with your range of motion while walking around.
If you'd prefer the Top Loader be more integrated, you can position it inside an Action X30 or X50 pack to be accessed from the side. 
Once you get to camp, you can leave your large backpack behind, remove just the waist belt, and attach the Top Loader to it for a comfortable and supportive lightweight carry option to explore with.
Shimoda Carry On & DV Rollers
Lastly, Shimoda has revamped its current Carry On Roller and introduced a new size, which can accommodate the new DV Core Units. Both rollers share the same clever 'doctor' style opening. The retracting access allows the trolley's footprint to remain minimal while either open or closed.
Shimoda's new roller is a roller that can be used for travel and studio alike while hosting the tools video shooters generally need. It's also ideal for those with larger DSLR set-ups or if you are just in need of larger volume and wheeled travel bag. A new outside pocket system promises to make access simpler and the side-pockets have passport, phone accessory sleeves with the latter being ideal for books, water bottles or even a tripod and gimble.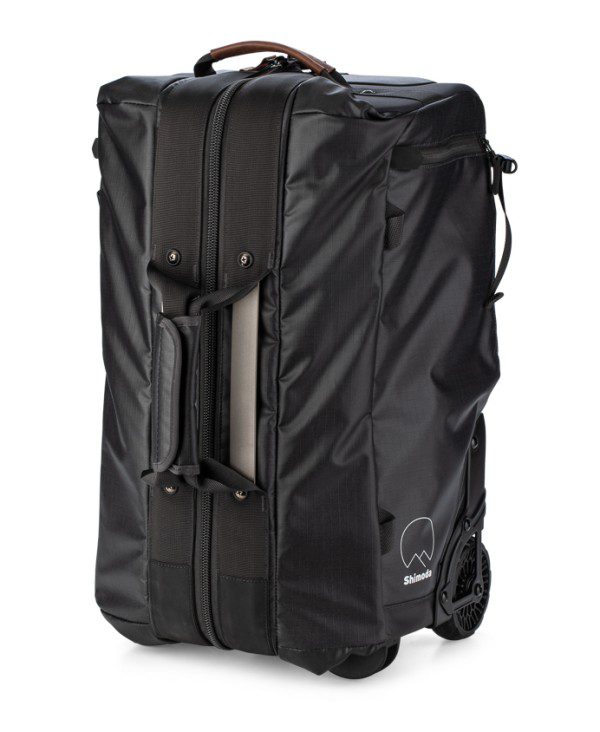 All Shimoda Rollers are Core Unit-compatible, allowing users to switch from pack to roller and back with minimal effort. Their modular nature lets the user find a suitable balance when packing personal items and camera gear. Of course, like all Shimoda products, the rollers have been developed and built to exceed the needs and the unpredictable environments adventurous creators find themselves in when travelling.
Ian Millar, Shimoda Founder, told PhotoBite: "I believe our products help support adventure photographers by providing a stronger and safer mountain experience. They genuinely make my time in the mountains more enjoyable and confident. We're launching Action X through Kickstarter because it's the best way to let people know and learn about our new products while allowing both our loyal community and excited early adaptors to purchase at discounted introductory prices. Everyone who helped build the new line knows the Action X system makes capturing content more enjoyable. Through Kickstarter, more creators will have the chance to share in this experience while capturing even more spectacular content."
   
Shimoda to Women's Straps at no cost
Thinking of their female supporters, Shimoda are to offer their industry-first removable Women's Straps at no charge to female customers who order any backpack. These straps have been developed with a team of female shooters across the globe to create a uniquely comfortable fit, with their custom contours and exclusive twin sternum straps. They're available in three styles; Simple, Simple Petite, and Tech. The Shimoda Women's Straps promise unmatched comfort and fit.
As part of their Kickstarter campaign, Shimoda has pledged to donate 1% of the total sales generated to Give Back To Nature, a community of adventure and landscape photographers with a goal of planting 1 Million trees to landscapes destroyed by deforestation. Shimoda's goal is to generate enough sales through their Kickstarter campaign so their donation can plant over 10,000 trees.
Pricing and availability
For more info on Shimoda's Action series, head to the Kickstarter page HERE.