Sennheiser Launches MKE2 Elements Microphone for GoPro
This new waterproof microphone can go anywhere a GoPro HERO4 goes and Sennheiser are billing this new beauty as 'the' choice for enhanced audio capture, even in extreme conditions
Available now, the new MKE 2 elements microphone has been created to go anywhere a GoPro can. It promises to withstand adverse conditions such as wind, water and snow.
Achim Gleissner, Commercial Manager for Broadcast & Media at Sennheiser told PhotoBite: "In the world of extreme sports, uncompromising sound quality remained a summit yet to be scaled. Until now, athletes have had to lower their expectations of audio and accept that there are scenarios where poor-quality recordings are inevitable or even when sound capture is impossible, for example under water. The MKE 2 elements has been designed to break through these barriers in the same way that GoPro cameras have done, giving users the ability to add fantastic sound that makes action cam footage even more intense."
The new mic, designed especially for action, is based on Sennheiser's professional lavalier microphone, but with new and innovative design features that make it [nearly] immune to snow, ice, and wind. It is capable of recording audio under water! This is thanks to an advanced capsule design with an internal Umbrella Diaphragm to protect its acoustically active membrane, a watertight connection with the camera's protective housing, and a special windshield. This newly-developed, replaceable windshield utilises a special foam material that ensures that the mic can be used for water sports while retaining its wind protection properties. Unlike classic hairy or foam windshields that cease to offer wind protection when they become wet, the innovative new design keeps performing, whether wet or dry. Thanks to the mic's elastic suspension, it is insensitive to structure-borne noise.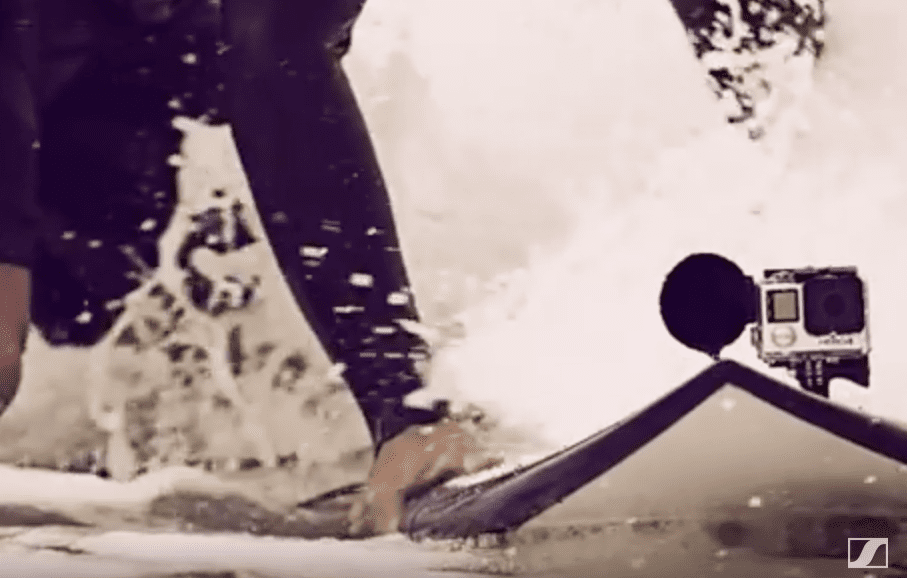 Achim [Gleissner] continued: "Sennheiser is currently the only audio company that has obtained Works with GoPro verification, and the ground-breaking nature of the MKE 2 elements is a testament to the power of this collaborative and excellence-driven approach. In parallel to bringing the MKE 2 elements to the market, Sennheiser is working on solutions for HERO5 cameras and is excited to continue to collaborate with GoPro as their products evolve."
Pricing TBA
MKE 2 elements Technical Data
Dimensions approx. 125 x 70 x 60 mm (back cover and wind stopper),
Ø 62 mm (wind stopper)
Weight 45 g / 0.1 lbs (back cover, mic and wind stopper)
Connector GoPro® audio connector for HERO®4
Ingress protection rating IPX7, waterproof to 1 bar (1 metre / 3 feet for 30 minutes)
Mic pick-up pattern omni-directional
Frequency response 20 Hz – 20,000 Hz
Temperature range -20°C to +70°C / -4°F to +158°F (storage)
-10°C to +50°C / +14°F to +122°F (operation)