Say Hello to the Insta360 GO 3: Redefining Action Cameras for a New Generation
Get ready to capture the world like never before with the highly anticipated Insta360 GO 3, the latest and greatest iteration of the action camera masters' groundbreaking tiny action camera. This device promises to take on-the-go shooting to new heights, combining ultra-portability with unparalleled versatility. Read on for more.

The Insta360 GO 3 is truly tiny, coming in smaller than your thumb and weighing only 1.2 ounces [35g]. Its unique magnetic body allows you to mount it just about anywhere, freeing a world of possibilities for capturing unique shots from creative angles. The all-new 'Action Pod' also takes the GO 3 to a whole new level, transforming it into a more versatile and powerful camera. With its flip touchscreen, users can control the camera remotely and preview shots even when it's mounted in hard-to-reach spots. When you're running low on power, simply mount the GO 3 in the Pod to keep shooting for [up to] a whopping 170 minutes.
Whether you're looking to capture immersive first-person POV images, view the world from your pet's perspective, or explore new and exciting shooting angles, the new Insta360 GO 3 offers unprecedented flexibility. It's now available for order through Insta360's official website worldwide, as well as dealers including Amazon and select [authorised] retail partners.
Insta360 Go 3 Key Features
Aperture: f/2.2
35mm Equivalent Focal Length: 11.24 mm
Weight: 1.2 oz/35.5g [camera]/ 3.4 oz/96.3g [ActionPod] 
Measurements: 25.6 x 54.4 x 23.2 mm/1x21x0.9-inches
Waterproof: 16.4 feet / 5.0 m
2.7K video: 24fps, 25fps and 30fps 
1440p [2K] video: up to 50fps [4x slo-mo]
1080p video: up to 120fps [4x slo-mo]
Stills resolution: 2,560 x 1,440 pixels [3.7MP]
Photo Format: INSP, DNG [raw]
Video Format: MP4 [H.264]
Battery life: 170 mins [45 mins camera/125 mins ActionPod]
Unleashing Creativity with the GO 3
Capturing moments with the GO 3 should be effortless. With 'QuickCapture', all it takes is a press of the camera body's front to start recording on the go. The lightweight and low-profile design ensures simple, pocketable portability. Whether you're tearing down trails or walking the dog, the GO 3 can be with you to capture the moment. With 2.7K resolution, users can capture any perspective to share on social media with reasonably sharp results.
The GO 3 comes complete with a set of magnetic accessories that unlock the new camera's creative potential. The Magnet Pendant, for instance, is a circular magnet that can be worn around your neck and hidden beneath your clothing. This allows the GO 3 to be worn on the chest for a first-person POV filming experience. The 'Easy Clip' is another accessory designed to snugly fit the GO 3 above your head, providing a hands-free, high-angle shot. Additionally, the 'Pivot Stand', completely redesigned, offers an adjustable design for capturing tricky angles. It even unscrews to reveal a 1/4″ mounting point for attaching to a selfie stick or tripod.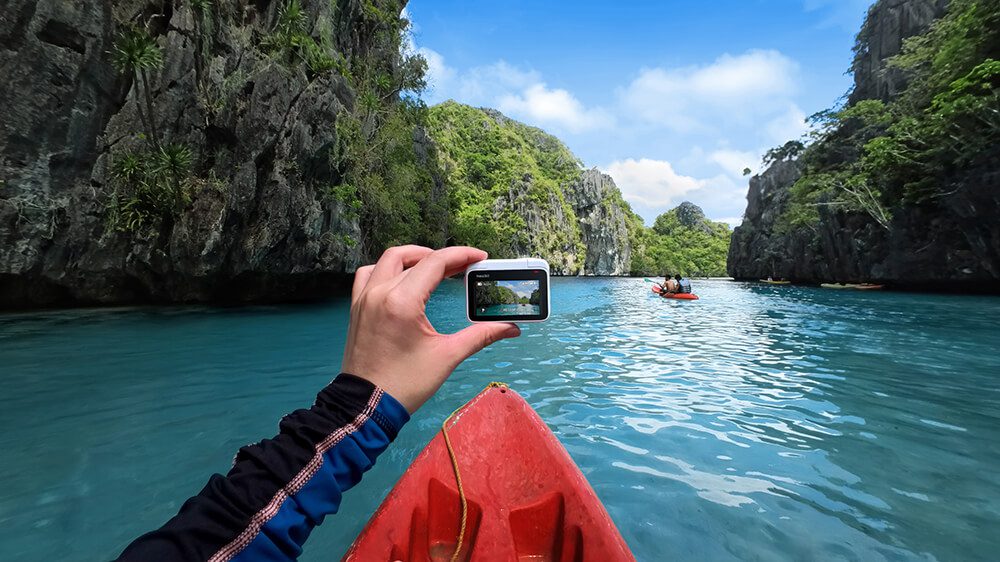 Introducing the Multifunctional Action Pod: Remote Preview and Enhanced Control
An innovative addition to the GO 3 ecosystem, the Action Pod is a hub that elevates shooting potential. It acts as a housing, remote control, and charger for the GO 3, all rolled into one. Equipped with a 2.2″ flip touchscreen, the Action Pod connects to the GO 3 via Bluetooth, providing real-time remote control and live preview. Now, difficult angles, from your cat's collar to your bike, can be easily framed and mastered. The best part? The Action Pod and camera are compatible with the same magnetic mounts, providing hassle-free setup and enhanced versatility. And if you find yourself running low on power, simply place the GO 3 into the Action Pod, attach it to the mount, and keep shooting.
The GO 3 is designed to capture memories anywhere, thanks to its IPX4 water-resistant Pod and IPX8 waterproofing, allowing it to go down to 16 feet [5 metres]. It comes equipped with Insta360's signature FlowState Stabilisation and 360 Horizon Lock, guaranteeing silky-smooth footage even in the most action-packed scenarios. Plus, it comes with a pre-installed replaceable Lens Guard for worry-free shooting.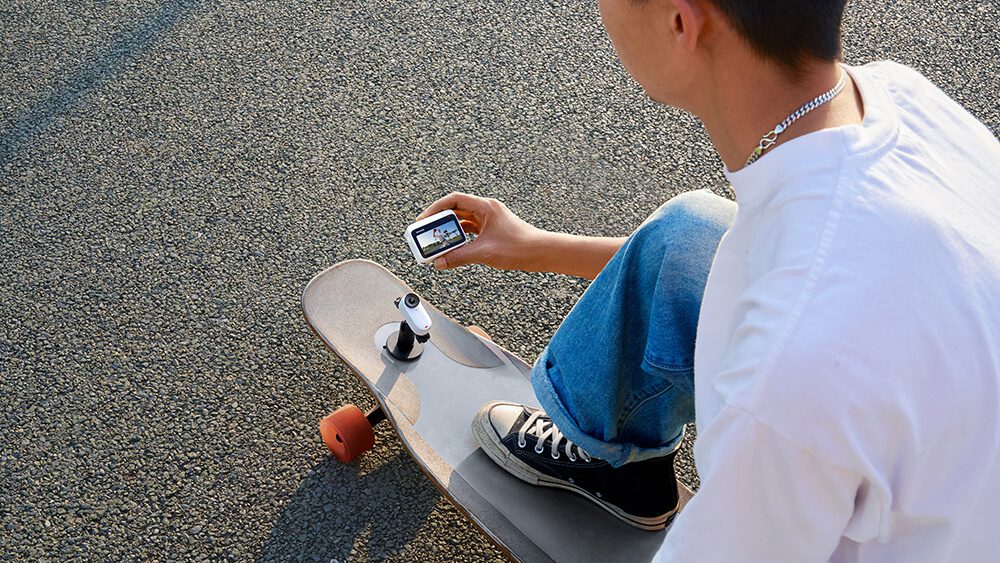 Flagship Performance
The Insta360 GO 3 addresses the pain points of its predecessors, introducing comprehensive enhancements to ensure this new generation of tiny camera delivers significant upgrades. Software optimisations and a resolution upgrade [to 2.7K] deliver crisp, vibrant videos. Say goodbye to clip length limitations, as the larger 310mAh battery allows creators to shoot for up to 45 minutes without the Pod; a full 50% increase from the previous generation.
The GO 3 now also features dual microphones, giving clearer and crisper audio when compared to its predecessor. It also includes 'Voice Control 2.0', allowing for complete hands-free operation in any situation.
New recording modes have been added as well, including Pre-recording, Loop Recording, and Timed Capture. With Timed Capture, you can schedule the GO 3 to power on and start recording at a specific time, which is great for capturing beautiful sunrise timelapses without the early alarm clock!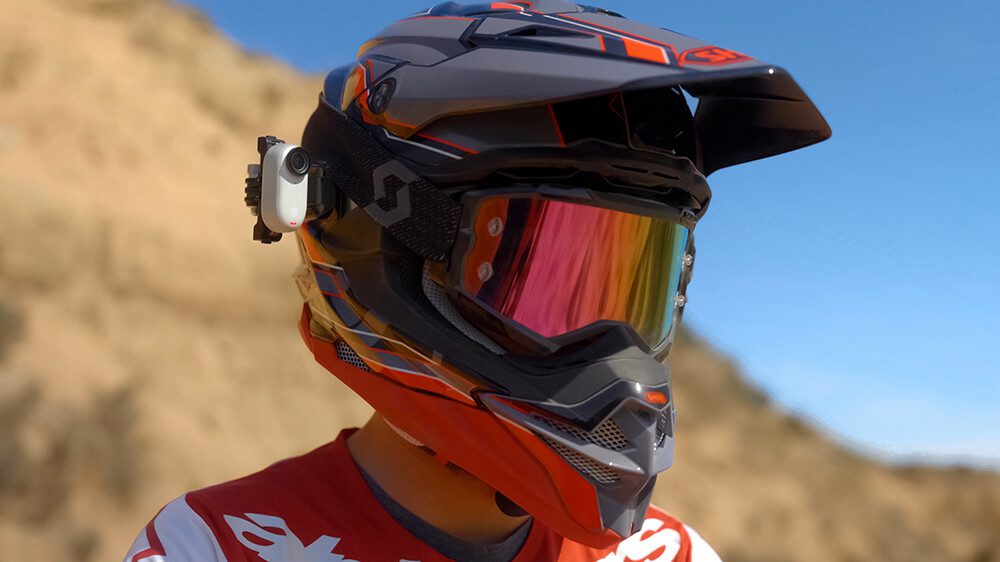 A World of Possibilities
Insta360 has presented the new GO 3 as more than just a camera. It's backed up by the powerful Insta360 app and editing ecosystem, designed to simplify your filmmaking journey. The FreeFrame Mode enables you to modify the aspect ratio of your footage after shooting, allowing you to edit the same clip for a 9:16 Instagram Reel or a 16:9 YouTube video. Unlike other action cameras that push to pre-select the aspect ratio before shooting, the GO 3 saves all the content, providing flexibility for sharing in any aspect ratio.
The app's AI-powered editing features automatically curate your best clips and edit them into custom reels. With an intelligent interface, users can focus on creativity while the technology handles the rest. Plus, there's a whole host of creative modes available to help create inspiring content, such as 'TimeShift' for hyperlapse montages, AI-powered 'PureShot HDR' for photos with enhanced dynamic range, slow motion up to 120fps, and timelapses.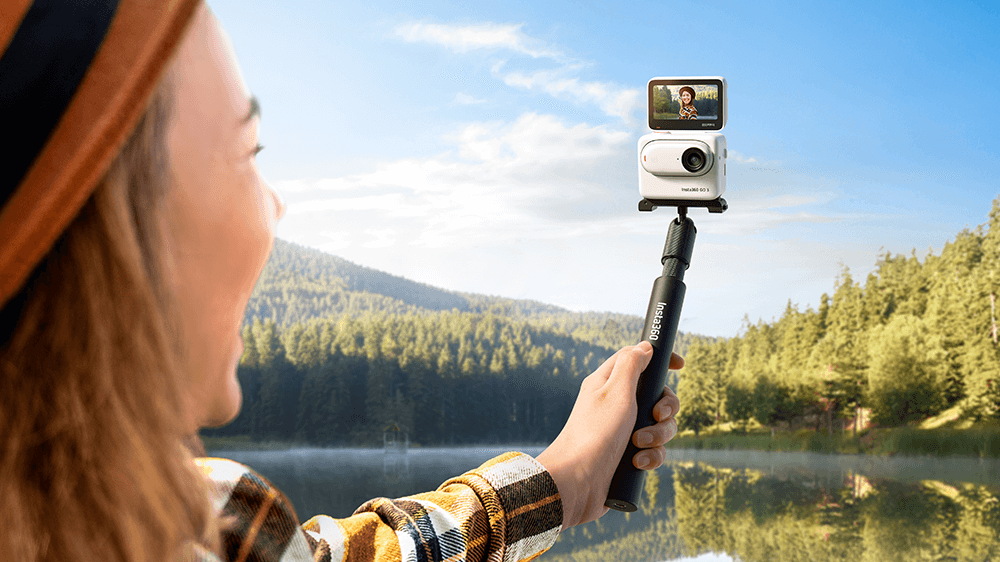 Available Now
The Insta360 GO 3 is available for purchase from today. The GO 3 comes with the Action Pod included, along with other useful accessories like the Magnet Pendant, Easy Clip, Pivot Stand, and Lens Guard. There are three storage options to choose from, including 32GB, 64GB, and 128GB models, priced at £380, £400, and £420 respectively.

---