Saramonic Announces New White Blink 500 Wireless Mic Systems
Saramonic's flagship, the Saramonic Blink 500 Wireless Mic System is now available in a new white colourway, the Blink 500 B1W and Blink 500 B2W. The new models deliver the same performance but add more flexibility for filmmakers and broadcasters from a single range.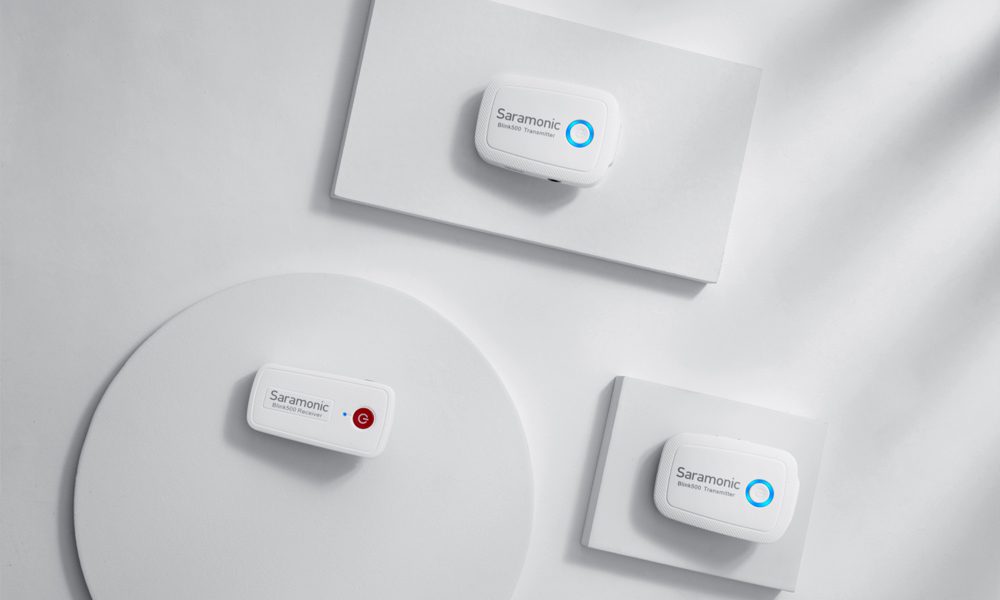 Saramonic's powerful Blink 500 range promises to deliver proven, detailed, broadcast-quality sound in a tiny package and at a competitive price-point. The new white B1W joins the existing B1 system in the range, both made up of a receiver, transmitter, which can be either handheld, slipped into a pocket or placed on a surface for sound capture, and an optional lavalier microphone enabling the mic to be worn by a presenter or interviewee. The new B2W unit joins the existing flagship B2, with both uniquely enabling use of two independent wireless mics with a single receiver and automatic balance output and an additional transmitter for dual-use.
Breakdown
Blink 500 system now available in a white colourway
The same superior performance & competitive price point in a versatile colourway, joining the existing black models to give filmmakers & broadcasters more flexibility from a single range
Compatible with DSLR, mirrorless, video and mobile phone cameras across Android and iOS operating systems
Made for vloggers to outside broadcasters and filmmakers, Saramonic's Blink 500 range delivers clear sound in a tiny, portable yet tough package. The addition of the white colour option gives filmmakers and broadcasters flexibility of choice when selecting a system that can most effectively blend into the design of the shoot. Set up is simple; the kit can be up and running without any delays, no matter what camera system is in use. Just take the Blink 500 out of the box, mic-up, turn on and it will do the rest; including automatically balancing the feed if working with two transmitters.
"The Saramonic Blink 500 is our most technically adept system yet, and the addition of the new white models offers creators even greater flexibility. All units are really tiny, making them highly portable, but suffer zero loss of quality or performance. The beauty of the system is that it is light enough to keep with you at all times and versatile enough to work with anything from top-quality video and DSLR cameras through to a mobile phone, all the while delivering broadcast quality sound. It is intuitive to set up, doing all the hard work for you, including balancing if working with the flagship range's two transmitters. It's a very exciting product in our line-up, packing all of Saramonic's technical know-how into a simple but highly effective package."

Jit Soni, Saramonic Brand Manager at Mac Group Europe
All models in the range are compatible with DSLR, video and mirrorless cameras. They can additionally be used with a mobile phone, using either Android or IOS operating systems, for the most convenient capture that means creators will never again have to miss a moment of the action thanks to poor sound.
The system operates over 2.4 GHz wifi, a global standard which means it can be used worldwide without any licencing issues or interference with other systems. It uses 24-bit/ 48 kHz resolution for high-quality audio capture and will operate over a distance of 50m. TRS and TRRS cables are in-boxes for connectivity to both cameras and mobile devices.
Pricing and Availability
The new Saramonic Blink 500 B1W and B2W are in-store now priced at SRP £180 and SRP £240 respectively.
Head to the Saramonic website for stockists and more information. This Saramonic system will be on test in #TheMeasure shortly, so keep an eye out for more.