Panasonic LUMIX BS1H Revealed: Box-Style Full-Frame Camera
Panasonic has revealed the all-new LUMIX BS1H. A box-style full-frame camera that almost entirely mirrors the S1H internals and has and a body that's quite similar to the BGH1. Read on for more.
The new Lumix BSH1 camera is quite a serious bit of kit for the money. Yes, it's essentially an SH1, without the IBIS, and gives [up to] 5.9K/30p or up to C4K/60p Super35 crop video capabilities. It can also output 12-bit raw video over HDMI and Full HD over a 3G-SDI port. The sturdy body also has an Ethernet port with a PoE+ feature for remote power and control.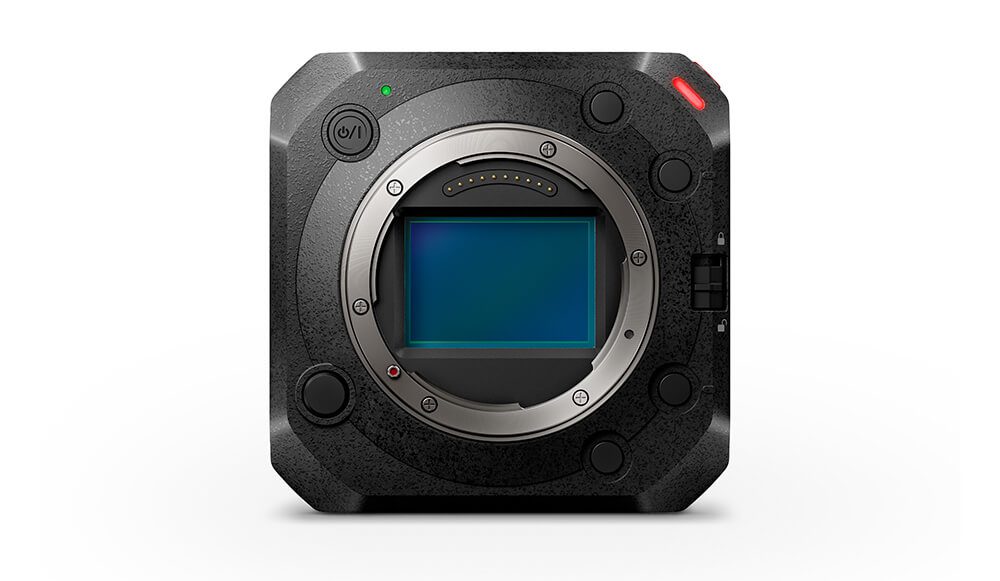 Modular, box-style cameras have really become quite popular nowadays; think of the Z CAM E2 series, the RED Komodo and the new RED V-RAPTOR. Panasonic announced a similar form-factor camera back in November 2020 in the shape of the Panasonic LUMIX BGH1, which arrived as the most affordable Netflix-approved camera on the market. Its Micro Four Thirds sensor, borrowed from the GH5S gave it improved connectivity via the SDI-out, Ethernet port, and more besides. Now, we welcome the LUMIX BS1H, which, as the name suggests, is a box-shaped S1H.
Panasonic has named the new camera the 'Full-Frame Box-Style Mirrorless Live & Cinema Camera'. Given that the guts of the LUMIX BS1H are borrowed from the brand's video-centric mirrorless flagship, the LUMIX S1H, the recording modes are essentially identical. Its 24.2 MP full-frame CMOS sensor with dual native ISO has an active resolution of 6,024 x 4,016 and there is an OLPF[optical low pass filter] that suppresses moire and false colour, [from what Panasonic tell us] and houses the L-mount, which is, of course, a main differentiator to the LUMIX BGH1's micro four thirds mount.
Key Differences Between the S1H & BS1H
There are, of course, differences between the two cameras. First up, the new BS1H does not have IBIS [In Body Image Stabilisation] and secondly, the BS1H does not have a display, meaning you'll need to connect an external monitor via the camera's HDMI or SDI output.
External Recording and Live Streaming
The new camera only has a 3G-SDI output, so it can only output Full HD resolution making it most suitable for the purposes of monitoring. On the other hand, the HDMI port can output either a clean video feed with up to 4K 60p 4:2:2 10-bit or raw video output with up to 5.9K 30p 12-bit. The camera's HDMI output will work with both Atomos Ninja V and Blackmagic Video Assist 12G recorders to record externally in various video formats.
With the growing demand for live streaming, the BS1H gives an IP streaming function that allows distant image transmission to social streaming platforms with a simple PC connection over wired LAN. The camera can stream 4K 60p [50p] video in H.265. Streaming in ultra-high definition 4K at low bitrate is also possible even in the cases where the bandwidth is not broad enough.
Video Recording & Dynamic Range
As this is predominantly a video recording camera and so close in its functionality to the S1H, there are numerous recording modes in this new camera. Both 10-bit 4:2:2, 4:2:0, and 8-bit 4:2:0. The video resolution and framerates top up at 6K/24p or 5.4K/30p [3:2 aspect ratio for anamorphic] or 5.9K/30p [16:9 aspect ratio]. The LUMIX BS1H also gives 10-bit 60p 4K/C4K HEVC video recording when cropping down to Super35 or further to pixel/pixel. The 4:2:2 10-bit 4K30p is recordable in H.264 at its full area.
With regards to dynamic range, Panasonic has claimed that the camera can deliver 14+ stops in V-Log. Panasonic also claims that the LUMIX BS1H imports the colourimetry of the VariCam lineup of cinema cameras for decent skin tones and accurate colours.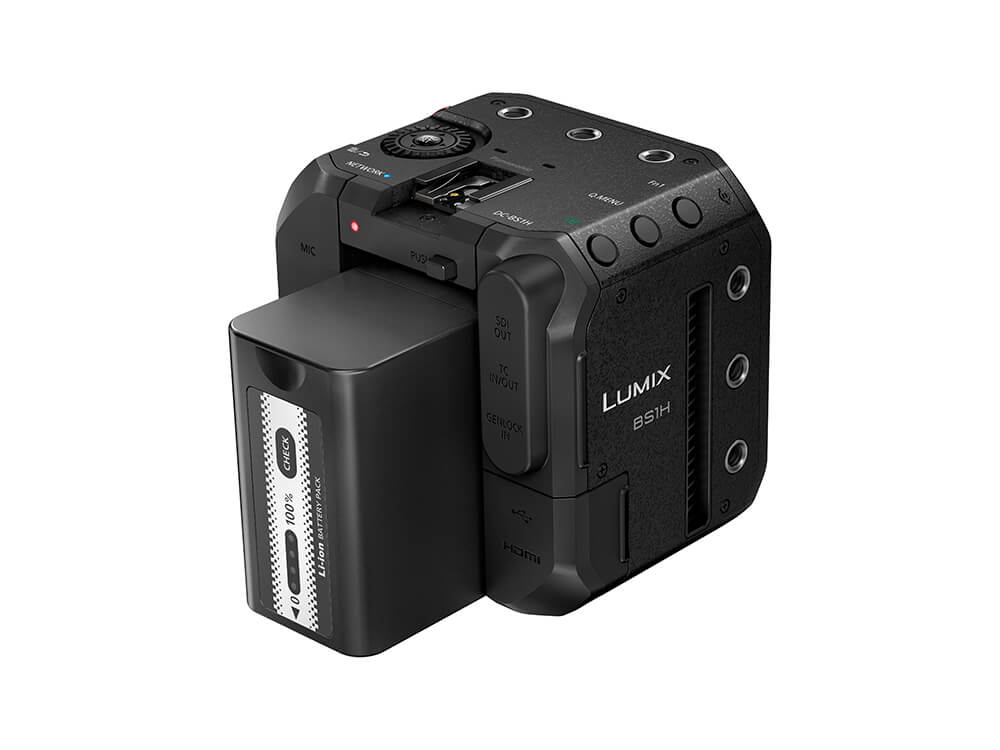 Memory, Audio & Connectivity
The new LUMIX BS1H comes packed with twin SD card slots for backup or recording in relay. With regards to audio, the LUMIX BS1H has a 3.5mm audio jack and it is compatible with the XLR microphone DMW-XLR1 unit from Panasonic.
At the rear of the new camera, there are a good few ports and also a battery slot. Just like the BGH1 and EVA1, the BS1H takes Panasonic VBR batteries and in addition to a USB 3.1 Type-C, a 3G-SDI [BNC] and a full-size HDMI terminal are implemented, which can be used for simultaneous output. Also, Genlock IN [BNC] and Timecode IN/OUT [BNC] functions which enable multi-angle synchronised recording are available to build a scalable system with external monitors, rigs, and gimbals, not to mention a ton of other cool aspects that relate to virtual production and xR filmmaking, but more of that when we get to our hands-on review in #TheMeasure!
Pricing and Availability
The all-new LUMIX BS1H will be available at [just] RRP £2,999, including VAT, from mid-November 2021. See more at Panasonic's dedicated pages.