Nikon Z8 Revealed!
Nikon has revealed its new Z8 mirrorless hybrid camera, which has been designed to fit into the range between the Z7 Mark II and the brand's flagship Z9. Delivered as a 'baby Z9', is this now really the best hybrid camera on the market? Read on for more.
Back in October 2021, Nikon revealed its flagship hybrid mirrorless camera, the Z9. It boasted impressive specifications, including the ability to internally record 8K 60p RAW, 8K up to 30p, and 4K UHD ProRes 422HQ up to 60p. Furthermore, the Z9 addressed overheating concerns, making it an attractive choice for professionals shooting both video and still photography at high quality.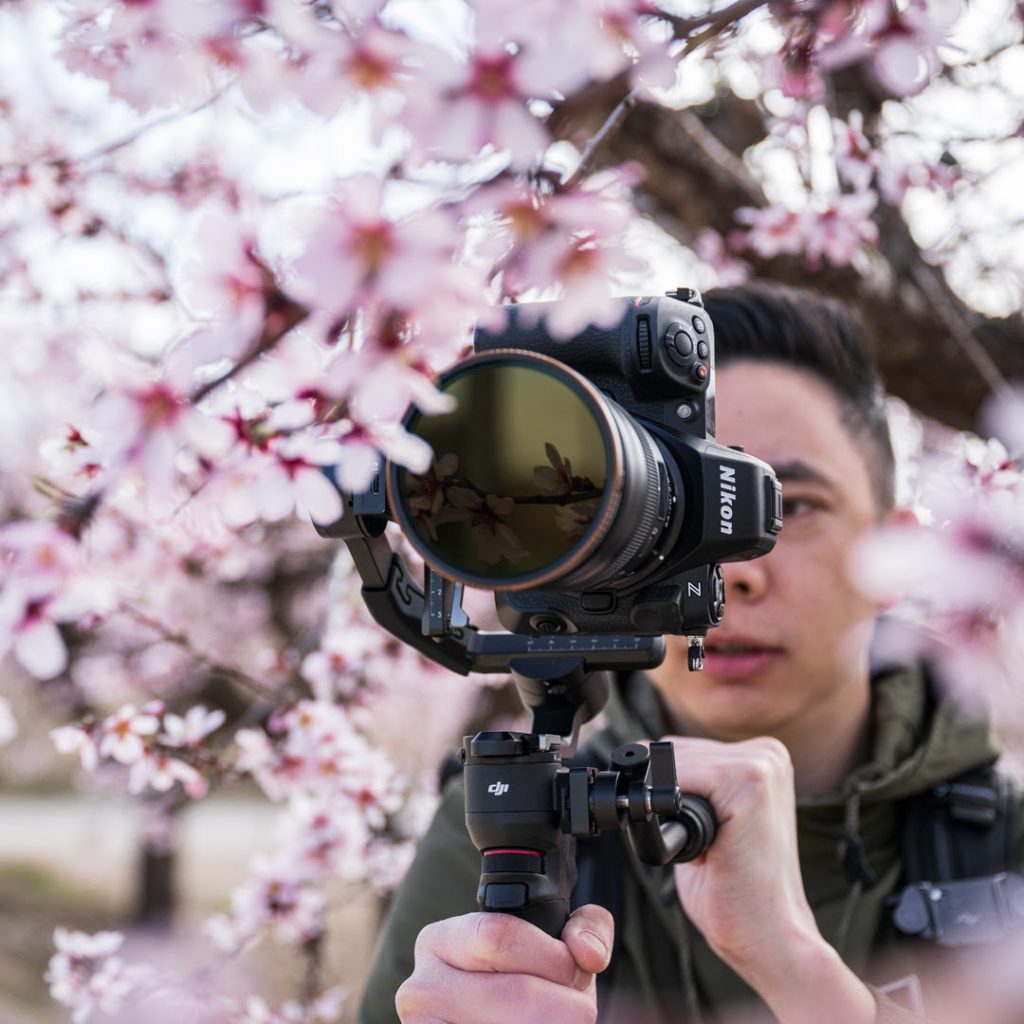 The Nikon Z8 has now arrived and incorporates many of the same features and functionalities found in the Z9. This similarity makes the Z8 an intriguing option for individuals seeking a camera capable of seamlessly capturing both video and still images.
Nikon Z8 Key Features
45.7MP Full-Frame Stacked CMOS Sensor
EXPEED 7 Image Processor
Smaller and Lighter than Both the Z9 and D850 Cameras
Intelligent Tracking and Autofocusing
8K60p and 4K 120p Video Recording
Internal 10-Bit ProRes 422 HQ and 12-Bit Raw
Blackout-Free Viewfinder and 4-Axis 3.2″ Tilting Monitor
Dual Memory Card Slots, Dual USB-C Ports
Lightweight body
Pro-grade weather sealing
493 AF Points
6 Stops In Body Stabilisation
The announcement of the Z9 caused quite a stir among many individuals, particularly due to its impressive video capabilities. Unlike Sony, Canon, and Panasonic, Nikon does not have a lineup of dedicated digital cinema cameras, which gives them the freedom to push boundaries without concerns about conflicting with their own products.
This lack of internal competition allows Nikon to take bold strides with the Z9, aiming to deliver exceptional video performance without limitations imposed by protecting other camera models. As a result, Nikon can focus on pushing the boundaries of technology and meeting the demands of photographers and videographers who seek cutting-edge capabilities.
In theory, Nikon's lack of digital cinema cameras should have given them the opportunity to offer unique and advanced video features and functionalities. The decision not to do so earlier, especially during the release of the Nikon Z6 and Z7, remains a mystery.
While the Z6 and Z7 were the first mirrorless hybrid cameras capable of outputting a RAW signal over HDMI, the implementation of this feature was considered subpar. Additionally, Nikon's requirement to send the camera for a paid service to enable this functionality was seen as a disadvantage, potentially impacting sales.
For a considerable time, Nikon had not been considered a strong contender in the mirrorless hybrid camera market for those primarily interested in video shooting, whilst their core stills-shooting audience had remained strong. However, the introduction of the Z9 and now the Z8 has definitely changed that perception. These models bring Nikon into the conversation by offering impressive video capabilities, potentially attracting users seeking top-tier video performance in a hybrid camera.
It is often overlooked that Nikon, not Canon, was the first to introduce video recording capabilities in a DSLR with the Nikon D90. The D90 allowed users to record movie clips with sound at up to 720p HD resolution using the Motion JPEG format, albeit with certain limitations such as a maximum recording time of 5 minutes.
However, Canon recognised the potential of video recording in DSLRs and capitalised on it by further developing and expanding its video capabilities. Canon's commitment to advancing video functionality in their DSLR lineup helped them gain significant traction in the market.
While Nikon made the initial foray into DSLR video recording, it was Canon's subsequent efforts and dedication that propelled them to the forefront, ultimately overshadowing Nikon's early achievements in this area.
Despite the introduction of the Z8, Nikon potentially continues to face a challenging situation as many potential buyers have already heavily invested in camera systems offered by Canon, Sony, and Panasonic, to a lesser extent. Convincing users of other systems to switch to Nikon can be an arduous task. The choice of camera often ties closely to the lenses an individual owns, and once someone has invested in a specific lens mount from a particular brand, it becomes difficult to entice them to switch unless they are using non-native lenses with an adapter.
Sensor
The Z8 shares the same sensor as its big brother, the Z9. This sensor is an FX-format 45.7MP BSI stacked CMOS CMOS sensor with a physical size of 35.9 mm x 23.9 mm. It is worth noting that this sensor is sourced from Sony, [which is a common practice in the camera industry].
The stacked design of the sensor enables fast readout speeds, which helps to reduce the rolling shutter effect. Additionally, the backside-illuminated [BSI] design contributes to impressive image clarity and minimal noise, particularly when shooting at higher sensitivities. With its high resolution of 45.7MP, the sensor is well-suited for landscape, portraiture, and other genres that require fine detail. Moreover, it enables recording videos at resolutions up to 8K.
The sensor's native ISO range is from 64 to 25600, which can be expanded to ISO 32-102400. This wide ISO range provides flexibility in various lighting conditions, allowing photographers and videographers to capture high-quality images with low noise levels.
EXPEED 7 Image Processor
The Z8 is equipped with the EXPEED 7 processing engine, which offers significantly faster speeds compared to the Z 7II, approximately 10 times faster. This same processor is also utilised in the Z9 camera. The EXPEED 7 engine works in conjunction with the stacked sensor to deliver various advantages, including fast autofocus [AF] speeds, high burst shooting rates, a generous buffer capacity, and impressive video performance.
Thanks to the stacked sensor design, the Z8 minimizes rolling shutter distortion. This means that even when using shutter speeds as fast as 1/32,000 sec, fast-moving subjects like golf clubs, tennis rackets, or baseball bats won't appear distorted.
The AF calculations are performed at a rapid rate of 120 frames per second [fps], enabling the autofocus system to keep up with the camera's fast continuous shooting speeds.
The Z8 utilises two data streams from the stacked CMOS sensor: one for writing data to the memory card and another for viewing. The viewing stream remains unaffected by any capture processing, ensuring a lag-free and uninterrupted live view experience without any blackout periods.
The Z8 has a High-Efficiency RAW file format, which retains image quality similar to uncompressed RAW files while reducing file sizes by approximately 30%. This file format optimisation allows for faster reading and writing to the memory card, enhancing overall workflow efficiency. By employing this format, photographers can benefit from the advantages of RAW files, such as increased flexibility in post-processing and preserving maximum image quality, while also experiencing improved file management due to reduced file sizes. This enables quicker file transfers, more efficient storage utilisation, and smoother handling of large volumes of images during editing and processing.
Video First?
Although Nikon had not really emphasised video functionality as a primary selling point of its mirrorless cameras until the introduction of the Z9, Nikon was the first to introduce video recording in a full-frame DSLR and offered features like RAW output over HDMI for ProRes RAW recording in their mirrorless cameras, they had not put a strong emphasis on video capabilities until recently. With the Z8, it is worth noting that while it does offer impressive video specs, it may not be considered a videocentric mirrorless hybrid in the same way as dedicated video-oriented cameras like the Panasonic S1H, Canon R5 C, or Panasonic GH6, which were specifically designed with video shooters in mind.
In comparison to those dedicated video cameras, the Z8 may lack certain video assist features and advanced audio capabilities. It also does not feature physical timecode In/Out functionality. While the Z8 is a capable video solution, it may not offer the same level of specialization and comprehensive video features as cameras specifically designed for videography.
Ultimately, it's important to consider the specific needs and preferences of individual video shooters when evaluating camera options, as different cameras cater to different use cases and priorities.
One of the biggest appeals of the new Nikon Z8 is that it can shoot in a wide range of codecs, resolutions, and frame rates. Being able to choose between recording in ProRes, H.265 4:2:2 10-bit, ProRes RAW and N-RAW gives users of this camera loads of flexibility.
The Z9 was the first hybrid mirrorless camera to offer internal recording in ProRes 422 HQ, and the Z8 continues this trend. ProRes files, despite occupying more storage space compared to codecs like H.265, have significant advantages when it comes to post-production workflows. ProRes files are known for their robustness and ease of use. They maintain high image quality while providing efficient and reliable performance during editing and colour grading. ProRes files are widely supported in professional editing software, making them easily compatible with various post-production workflows.
For those already accustomed to working with ProRes files, the inclusion of internal ProRes recording in the Z8 allows for seamless integration into existing workflows. The convenience and compatibility of ProRes can enhance efficiency and simplify the post-processing stage, streamlining the overall production process.
Internal recording in five different formats:
MP4
MOV
ProRes
N-RAW
ProRes RAW
Recording Time Limitations
The Z8 does have a single recording limitation, but in reality, this is somewhat meaningless. Users can record up to 125 Minutes of UHD 8K [7680 x 4320] at 29.97p [4:2:2 10-Bit]. Essentially it doesn't matter what resolution, frame rate, or codec you are recording in, the only limitation will be how much you can fit on a single card.
Autofocus
The Z8 boasts advanced autofocus [AF] capabilities and high-speed shooting performance, according to Nikon. It features a comprehensive subject-tracking system that can effectively track a range of subjects, including people, dogs, cats, birds, bicycles, motorcycles, cars, trains, and aeroplanes. What's notable is that the camera's intelligent auto mode automatically selects the appropriate subject tracking without the need for manual selection through menus.
With a 493-point phase-detection AF system that covers the entire sensor area, the Z8 achieves fast and precise focusing performance. The camera leverages the high-speed communication of the Z interface and the sensor's speed to enable AF readings at a rapid rate of up to 120 frames per second [fps]. This advanced focusing system is also designed to excel in challenging low-light conditions, featuring a Starlight mode that allows for focusing down to an impressive -8.5 EV. This capability greatly benefits astrophotography, concert photography, and other nighttime shooting situations where reliable autofocus performance is crucial.
Lens Mount
The Z8 utilises Nikon's Z-Mount, which is characterised by its short flange distance. The Z-Mount boasts a large lens mount with a 55mm inner diameter and a short 16mm flange focal distance. This design provides significant flexibility in the optical design of NIKKOR Z lenses.
The combination of the large diameter and short flange distance enables Nikon to create lenses with impressive capabilities, including the ability to achieve maximum apertures as wide as f/0.95. These wide apertures allow for exceptional low-light performance, shallow depth of field, and beautiful bokeh, providing photographers with creative possibilities and versatility in their image-making. By leveraging the advantages of the Z-Mount's design, Nikon can optimize the optical performance of their lenses, delivering high-quality images and expanding the creative potential for Z-series camera users.
Nikon does offer a range of high-quality lenses for its Z-Mount system, and the compatibility with older Nikon DSLR lenses through the FTZ II Mount Adapter expands the lens options even further. However, the absence of Nikon's own ND filter adapter, similar to Canon's offering, remains a mystery.
For potential Z8 buyers who do not already own Z-Mount lenses, there may be hesitancy to invest in the camera due to the additional cost of acquiring AF lenses. While the Z8 may still be an attractive option for those who prioritise manual focus or use non-AF lenses, the overall investment can add up quickly for those seeking AF capabilities. When considering the cost of the camera and multiple lenses, the total expenditure can easily surpass £10,000.
Nikon's late entry into the video-centric mirrorless hybrid market has posed challenges for the brand. Many videographers have already made substantial investments in systems from Canon, Sony, and Panasonic, which have been established players in this space. Consequently, switching systems and investing in a new camera platform can be a significant hurdle for those already committed to other brands.
Pricing and Availability
The new Nikon Z8 will be available for prices resembling £3,999.00.