Nikon Unveils the Nikon COOLPIX P950 SUPERZOOM Camera
Pushing the focal length boundaries is no mean feat when you consider some of the 'superzoom' cameras that are now available. Nikon's new Coolpix P950 offers an impressive reach, though, and could well be the ideal companion camera for photographers who want to photograph birds or wildlife, or for keen aircraft spotters. The 83x optical zoom offers a focal length range of 24–2000 mm [35mm equivilent] while the 166x Dynamic Fine Zoom digitally extends the upper limit to an incredible 4000mm [using Dynamic Fine Zoom].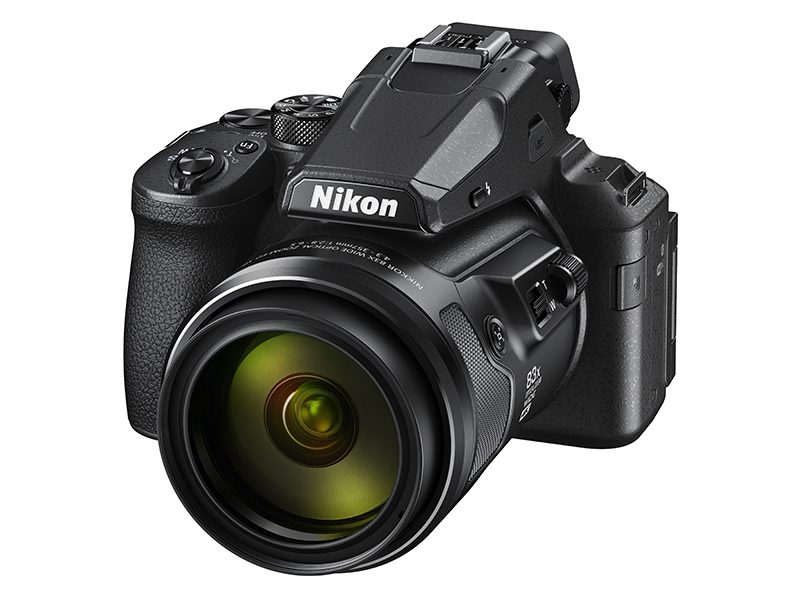 Nikon adds to its formidable line-up of bridge cameras with the Coolpix P950, which boasts an impressive 83x optical zoom. This sturdy superzoom camera updates the Coolpix P900 with a range of sought-after features that make it simple and easy to capture distant subjects in great detail, in close-up stills and clear 4K video.
Summary of Key Features
Incredible Zoom: 83x optical zoom [24–2000 mm] and 166x Dynamic Fine Zoom [4000 mm].
Bright NIKKOR lens: f/2.8 maximum aperture and Super ED glass to help reduce distortion when at high zoom.
Sensor, Processor & VR: 16 MP backlit CMOS sensor, fast EXPEED image processor, and Dual Detect Optical Vibration Reduction.
RAW Support: Save and export uncompressed RAW [NRW] images to processing/editing programs.
4K movies: Record stereo 4K/UHD 30p footage or Full HD [1080p] video at frame rates of up to 60p. Record in stereo sound and manually adjust key exposure settings while filming.
In-Camera Time-Lapse: Time-lapse movie function of around 10 seconds, which plays back at 25 fps or 30 fps.
Vari-angle LCD monitor: A bright 8.1 cm [3.2 in] 921k-dot LCD monitor can be tilted and twisted in almost any direction.
Clear Electronic Viewfinder: 1 cm [0.39 in] 2360k-dot OLED electronic viewfinder with eye-sensor.
Smooth & Functional Control: The large grip, side dial for autofocus, side zoom control, and snap-back zoom button promise steady handling.
SnapBridge: Sync to your mobile device or use a smartphone to shoot remotely, even with RAW files.
Full-size Hot Shoe: Mount Nikon accessories like Speedlights and mics, or try Nikon's DF-M1 Dot Sight, a foldable scope that helps track even fast-flying birds.
Connectivity: Wifi, USB and Bluetooth.
Check out the image gallery for the new Nikon Coolpix P950 below.
Gabriela Januario, Commercial Planning Manager at Nikon UK, said: "The Coolpix P950 is a feature-packed update to the Coolpix P900, which changed the market for superzoom cameras with its 83x optical zoom. This new camera keeps the impressive zoom range of its predecessor and adds many of the features people have been asking for, including: 4K movies, an improved eVF, RAW support, and a hot shoe for accessories. It's a great addition to the Nikon family of superzoom cameras: people can choose between an 83x optical zoom and the extraordinary 125x optical zoom of the Coolpix P1000 depending on their passions."
Wildlife or bird photographers shooting at first light or at dusk should be able to achieve excellent results thanks to the bright NIKKOR lens with wide f/2.8 maximum aperture. Nikon tells us that image quality is sharp, even when shooting at high zoom.
Video shooters can record 4K movie footage and users can adjust key exposure settings while filming, which is ideal in varying light conditions. The Coolpix P950 also supports RAW [NRW] image capture so users can make the most of advanced processing/editing programs and its full-size hot shoe allows for the use of Nikon accessories like mics or scopes.
Pricing and Availability
The Nikon COOLPIX 950 will be available nationwide from early spring 2020 at an RRP of £799.