Nikon Celebrates Centenary with Exclusive Anniversary Content Hub
Since its conception as Nippon Kogaku K.K. back in 1917, Nikon has given the world products and expertise that have pushed the boundaries of optical technologies. In order to celebrate its 100th Anniversary today; July 25th, 2017, Nikon has launched an exclusive content series
Collated within Nikon's Anniversary Hub, the series is set to be delivered throughout this summer and will be made up from stories, iconic images and plenty of advice from photographers all over the planet, who have contributed in shaping a hundred years of creativity and vision within the brand's history. Along with these delectable delights, it will also host a behind the scenes virtual tour of Niko's Museum in Tokyo.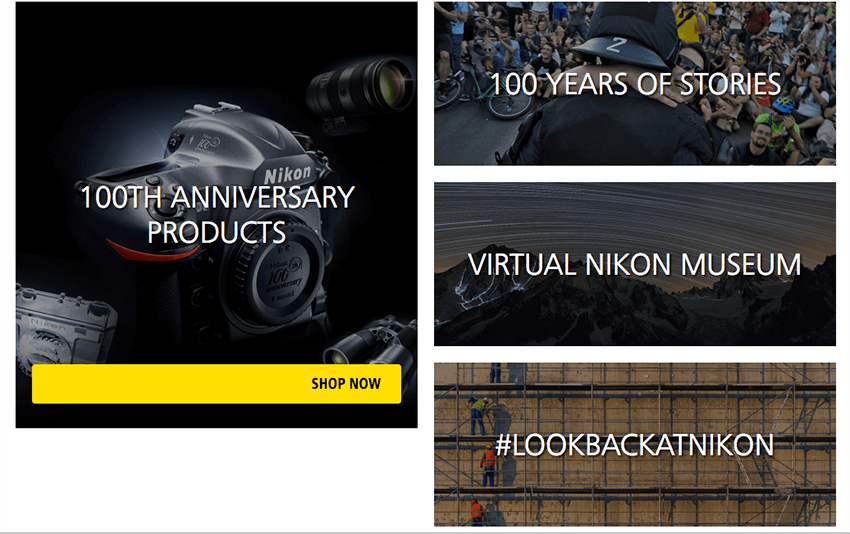 The content series will be released across five main categories:
100 Years of Stories
Over the last 100 years, Nikon has been instrumental in developing the world of image making. From iconic milestones and product innovations to the individual inspiration of professional photographers and amateurs, Nikon is now to share some of the most important, personal and wonderful stories from across the world.
Virtual Nikon Museum
To showcase Nikon's legacy [and where it all began], Nikon has produced a 360-degree virtual tour of its museum in Tokyo. Entering the world of Nikon, viewers will get an insight into Nikon's technologies, products and many of the key milestones in its 100-year history, including how the company has assisted bioscience, medicine and even space.
Icons with Nikons
Nikon cameras and lenses are used by people from all walks of life. This series of photos shows celebrities from the worlds of music, TV and film, and sport with a Nikon to hand.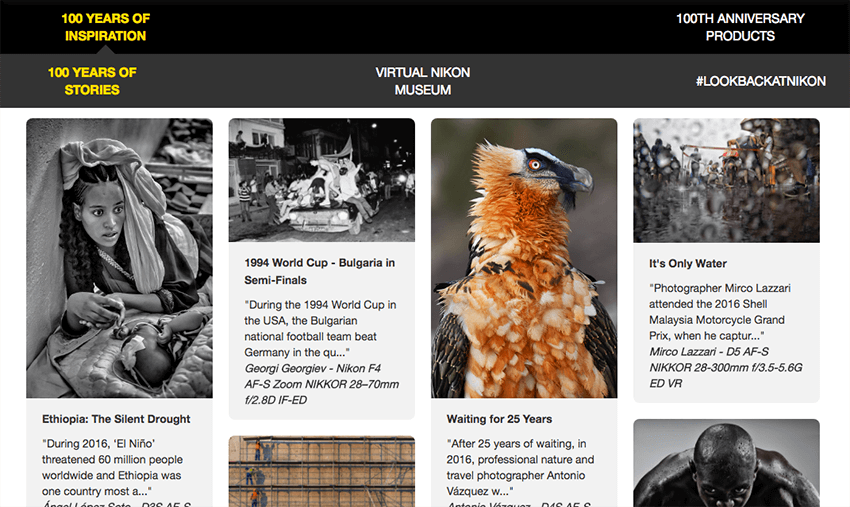 100 Years of Helping
Since 1917, Nikon has backed photographers with their chosen disciplines, sharing insights and advice to push the boundaries of what's possible, as well as guiding amateurs along the way. To celebrate this, and with insights from a selection of the brand's global photographer base, Nikon has collated its best tips from a century of photographic and imaging expertise.
#LookBackAtNikon
Nikon is launching an Instagram competition for Nikon fans across Europe, with a range of prizes available, including Nikon cameras [of course]. The competition invites entrants to take a photograph which is a reflection of themselves and their Nikon camera. Participants who take the best 'selfie' in front of a mirror, piece of glass, puddle, or another inventive option, will be in with a chance of winning a Nikon D500 or D7500. For more info, simply follow @NikonEurope on Instagram.
So, to celebrate Nikon's 100th Anniversary and to access anniversary content, simply click through to the Anniversary Hub.