New Super-Fast G-Series CFast Memory Card Range from Sony
Sony has announced a new range of high-end CFast memory cards designed to perform to the levels expected by professional videographers and photographers
The new G-Series CFast range from Sony has been launched to meet the increasing capacities of high-end DSLR and 4K cinema cameras, offering super-fast write speeds of up to 510MB/s and read speeds of up to 530MB/s.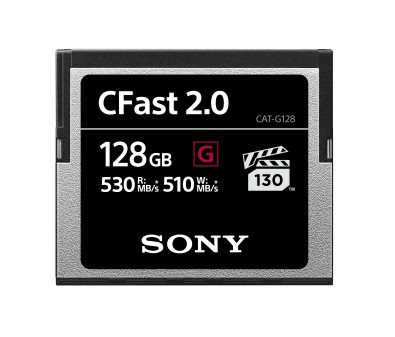 Industry-leading write speeds
With demands for fast speeds to enable continuous burst shooting in high-res formats [like RAW] and with [up to] 510MB/s write speed, outperforming the capacities of current CFast cards, the G Series supports high-speed burst shooting of high resolution RAW.
Romain Rousseau, Senior European Product Manager, told PhotoBite: "Joining an established range that includes Professional internal SSDs, XQD and SxS cards, as well as the world's fastest SD card, the new CFast models strengthen Sony's position as a leader in professional memory solutions, improving the shooting experience and optimising the workflow."
4K video with VPG130 support
The new CFast cards support VPG130 for recording Cinema-standard, high-bitrate 4K video. A minimum sustained write speed of 130MB/s is guaranteed, making the new cards perfect for reliable recording of pro-grade 4K video [such as Cinema RAW light mode].
Super-fast read speed for ultra-effective workflow
Dynamic workflow is critical for professional image makers. With high-speed read speeds of 530MB/s, the G Series CFast promises to reduce time to transfer RAW files, long 4K video footage and high-res images.
Availability
The new G Series CFast 2.0 memory cards will be available in 32GB [CAT-G32], 64GB [CAT-G64] and 128GB [CAT-G128] capacities, and will be available early 2018.