New DJI Handheld Camera Stabilisers Unveiled At CES 2018
A brand-new, re-worked DJI Osmo Mobile 2 for smartphones has been announced at CES in Las Vegas, along with the announcement of the Ronin-S; DJI's first single-handed stabiliser for DSLR and Mirrorless Cameras
Osmo Mobile 2
The handheld smartphone camera stabiliser from DJI has been redesigned using a lightweight design to support portrait orientation, with simpler controls and cinematic zoom, a longer battery life means more filming, and intelligent features help you share a pro-looking narrative wherever you go. DJI's built-in 'SmoothTrack' technology detects and compensates for movement of the camera, promising smooth cinematic shots, every time.
A new, more powerful battery allows you to film for [up to] 15 hours at a time, so be sure to bring your charger with you if shooting with iPhone!** That's more than 3X longer than the original Osmo Mobile's battery!
**Also, a new USB port allows phone charging during use and serves as a power bank for charging other electronics while on the go.
Smart software in the powerful DJI GO mobile app offers intelligent photography and film features that help to create simple, pro-looking content, automatically. Filmmakers can switch to modes which include DJI's 'ActiveTrack' to auto-follow moving subjects, 'Motion Timelapse' with up to 5 different positions available, 'Hyperlapse' to create dramatic time-lapse films with the camera in motion, or even the ability to stream live to popular social platforms [like Facebook and YouTube]. Also, photographers can shoot with settings such as 'Panorama', 'Long Exposure' and 'LightTrail'.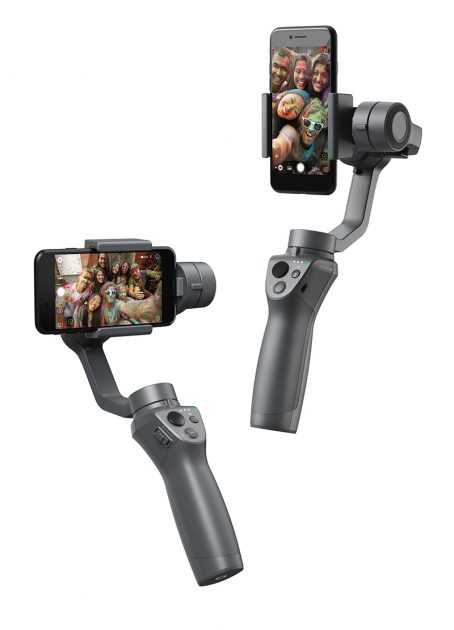 Ronin-S: DJI's very first single-handed stabiliser for DSLR and Mirrorless Cameras has arrived! Built for simple setup, easy use and with dedicated buttons to control key camera settings and precise positioning. All of this, along with intelligent features for advanced shooting modes are all delivered to bring steady control to any shoot.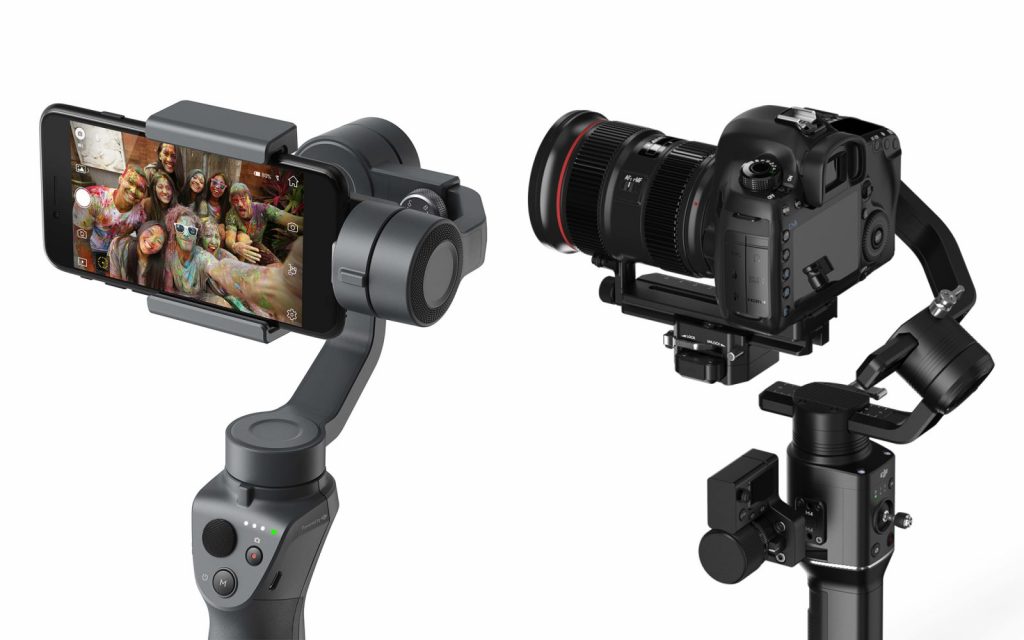 The newly revised DJI Osmo Mobile 2 and the brand-new DJI Ronin-S for Mirrorless and DSLR cameras
Paul Pan, Senior Product Manager at DJI, told PhotoBite: "With the introduction of these two stabilisers, DJI now offers gimbal technology to help unlock the creative storyteller in everyone no matter what camera they're using. Osmo Mobile 2 offers the best in smartphone stabilisation at an affordable price, and Ronin-S brings the quality of DJI's professional gimbal technology to a new form factor that is perfect for run-and-gun filming using your favourite DSLR or mirrorless camera system."
Ronin-S [continued]
Powerful motors have been designed to support the most popular camera and lens combinations, including the Panasonic GH, Canon 5D, and Sony Alpha systems. Its advanced stabilisation compensates for attached zoom lenses, whilst also working with both in-lens and in-camera optical stabilisation to give optimum performance.
A new 'Push' mode allows for the adjustment of pan and tilt axis by hand while powered on and axis locks speed up the setup process, allowing for more filming and less prepping. The new Ronin-S also features DJI's intelligent battery technology that can be switched during shooting for longer shoots.
Dedicated control buttons for the camera and gimbal allow for toggling between 'SmoothTrack' settings, recording and stopping the camera, and the joystick changes the camera position to help frame the shot.
A new Sport mode allows for speedy movements with tight and quick subject following speed.
Further intelligent shooting modes for the Ronin-S are available through the DJI Ronin mobile app, allowing users to create complex camera moves like 'Panorama', 'Hyperlapse', 'Track' and 'CamAnchor', which allow users to designate specific camera positions within any given scene and rotate between them on demand.
A cheese plate adapter will be available for the new Ronin-S, so that users can continue to use their prefered third-party accessories
The new Ronin-S is also compatible with a number of DJI pro accessories, including a 'Focus Control Center' consisting of a focusing dial and a screen allowing advanced gimbal and focus control without a mobile device, a vehicle mount solution, 'DJI Master Force', 'DJI Master Wheels', an external focus motor, and a cheese plate adapter so users can use prefered third-party accessories. A dual-handle support will also be available for an added level of comfort and stability soon.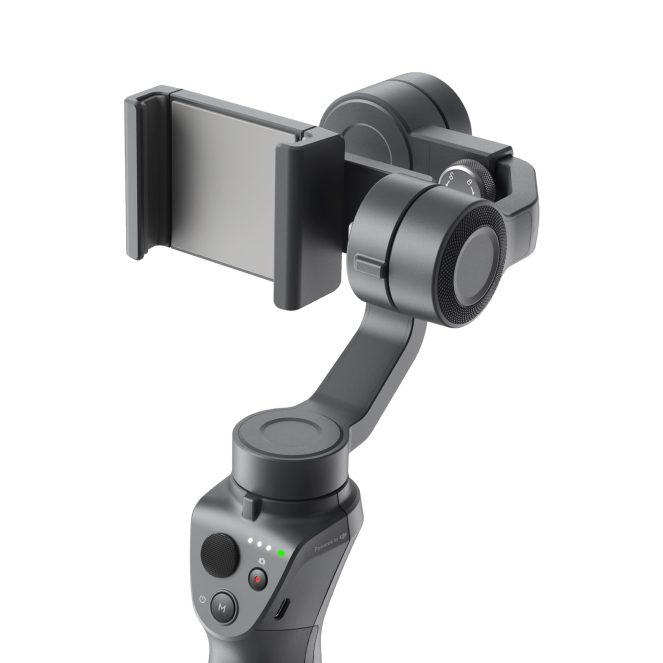 The new DJI Osmo Mobile 2
Price and Availability
Osmo Mobile 2 retails for 139 GBP and will be available exclusively for pre-order at Apple.com from January 23, 2018. Then from early Feb, it will be available at store.dji.com, DJI Flagship Stores, and DJI Authorised Retailers.
Ronin-S pricing will be announced soon and it will be available in the second quarter of 2018 from DJI Resellers worldwide.
Disclaimer: The Ronin-S products shown at CES 2018 are prototypes and the final specs and features may vary