Manfrotto PRO Light Camera Bags Revealed
We know that we can trust the Italians to design and manufacture great things. Cementing the point, Manfrotto, who has been producing exceptional camera accessories since 1960 reveal their redesigned Manfrotto PRO Light camera bags. Let's take a look.
Manfrotto has been a global leader with regards to camera kit for many a year. Whether you're a photographer, filmmaker, or just in need of a bag with stacks of well-designed compartments, it's a brand that has you covered. Now, they've revealed their new Pro Light Collection.
These 5 brand-new bags and 2 new hard cases have been designed for challenging conditions and each has been specifically designed for varying applications and specific workflows. The Pro Light collection also introduces an all-new protection system that includes modular dividers manufactured from high-density EVA foam.
PRO Light Backloader
First up – the Pro Light Backloader, which is available in two models. The Backloader S and Backloader M. Both are the smallest of the bag line and come with multiple access points. A rear access point and a top access point. Both allow full access into the padded interior for your most-used cameras or lenses. The front contains a multi-section compartment for accessories and small items, such as drives, filters, and snacks. This section also contains an airport-friendly laptop section for laptops with screens up to 15 inches.
Both bags feature a double-sided connection for travel-sized tripods, an adjustable chest strap, and a rain cover. Both of these are perfect for photographers on the go. Be it for landscape photography, on-location photojournalism, or for hobbyists looking to lump around all of their gear. The compact size isn't ideal for video kit, however. You'll have to look elsewhere in the range for more appropriate models.
PRO Light Frontloader
Next is the Backloader M's relative. At the same size, you could mistake the Pro Light Frontloader as being the same bag, but subtle differences make it helpful for different situations. With a front access door, and a second single side door, the Frontloader does away with the Backloader features for a different layout. Being able to fit a full-frame workhorse with an attached 70-200mm f/2.8 in the side door pocket. It also features a tripod attachment point on the side, the same airport/checkpoint-friendly laptop section, adjustable straps, and rain cover. It's almost the same bag, but with more features.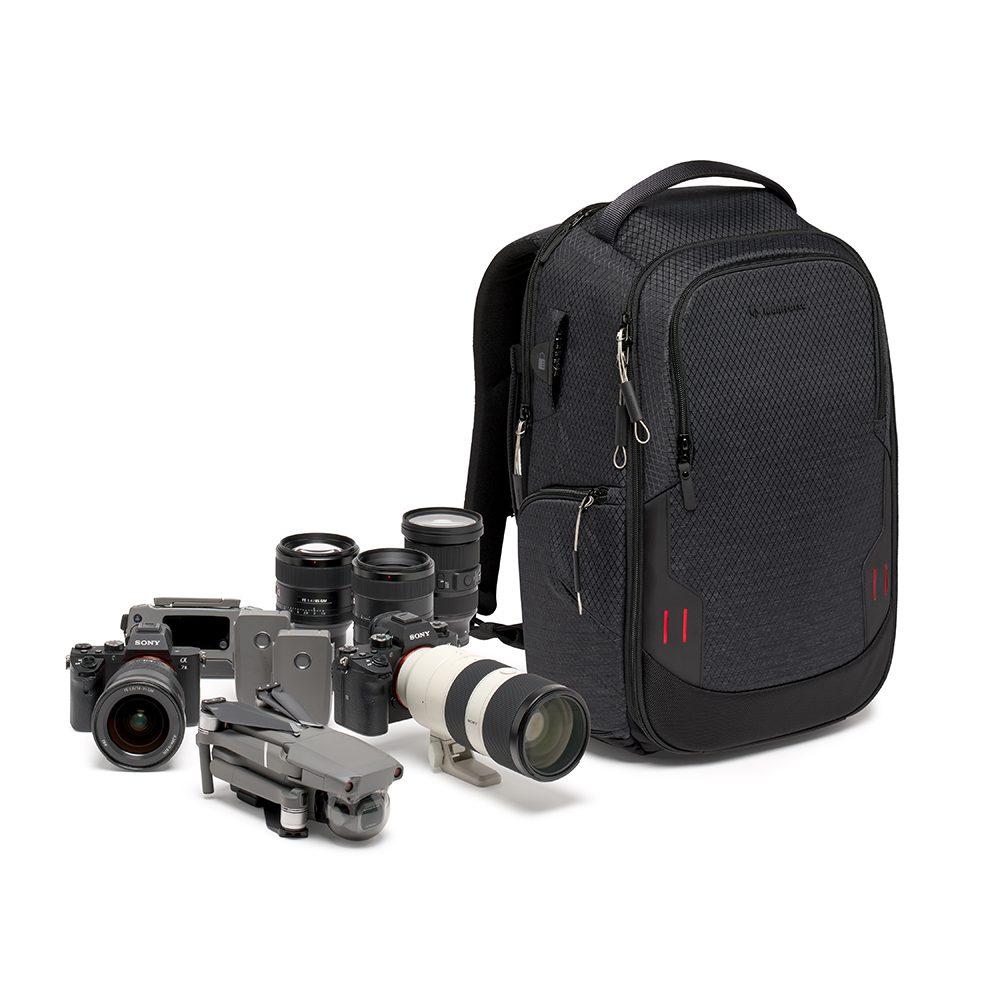 PRO Light MultiLoader and Flexloader
The previous three bags have the label of 'Professional' in the Pro Light Collection, the new Pro Light MultiLoader and Flexloader step into their own territory. Manfrotto calls it the Master' category.
The Pro Light MultiLoader takes features from both of the previous bags and combines them into what is essentially a robust backpack that offers 4 points of access, and 2 side doors. The latter allows for quick access to equipment for quick gear swaps. Inside, the modular bag has three different configurations and can be carried either as a backpack, as a sling bag for quick lens swaps, or as a duffle bag for full access.
The MultiLoader also has a side attachment for a full-sized tripod and a front attachment that can carry monopods or lightweight stands. You'll find the same laptop compartment as well as an adjustable torso height, double chest straps, and a padded waistband. With how much kit this bag can hold, it's a real one-stop solution for pro shooters.
The Pro Light Flexloader is the largest bag in the collection and there's a reason Manfrotto called it the FlexLoader. It can expand and cater to whatever needs you may have; be that DSLR, mirrorless, or video kit, you should be able to fit it into this bag, no trouble.
The FlexLoader has multiple attachment points for tripods, sliders etc. The rear pocket is an expandable compartment that can be used for small form factor stabilisers and gimbals, as well as their accessories. This compartment is completely separated from the main camera section and provides extra space without compromising the safety of your kit.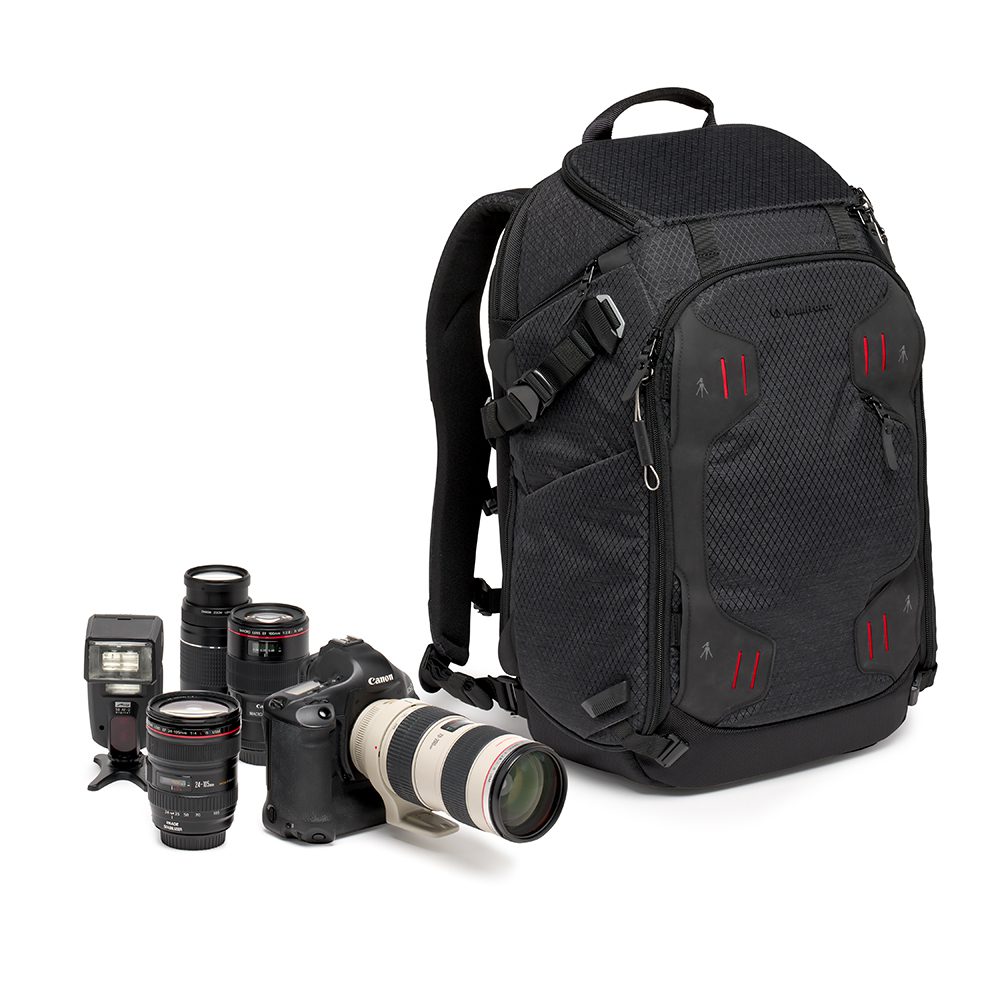 The PRO Light Tough
In addition to the five other bags, Manfrotto has revealed two hard cases with rolling wheels. The Pro Light Tough comes in two types, the TH55, and the TH83, with the TH55 offering various internal configurations.
These two new cases give the highest level of protection for your equipment in the range. The TL55 and TH55 have been produced specifically to meet airline carry-on luggage restrictions. Both of these cases offer an airtight compartment with pull release latches and a telescopic handle. Modular accessories specifically made for these cases really make this gear stand out from the rest, while the protective interior and IP67 resistance keep your kit safe from dust, moisture, and impact. Perfect for the regular traveller.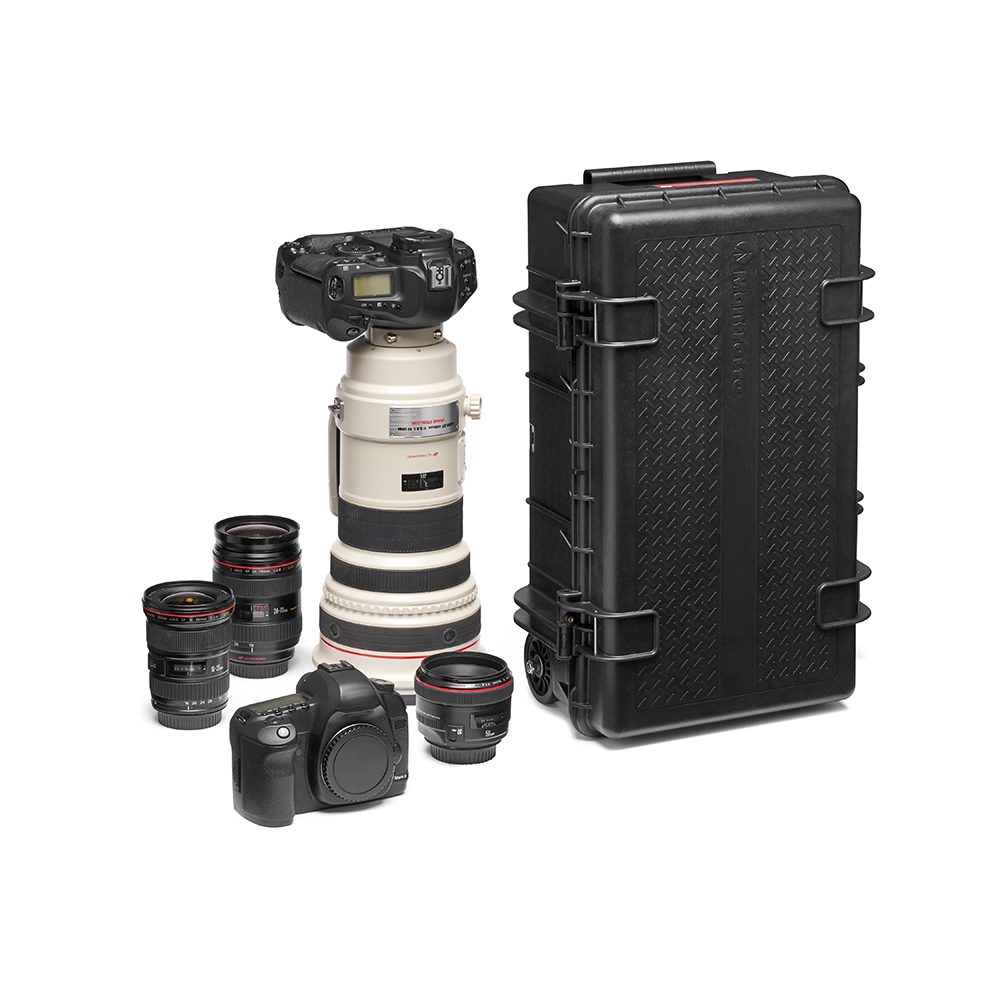 Pricing and Availability
The new Manfrotto PRO Light bags and tough cases are available now and pricing looks like this…
PL Backloader backpack S £169.95
PL Backloader backpack M £179.95
PL Multiloader backpack M £259.95
PL Frontloader backpack M £199.95
PL Flexloader backpack L £299.95
Reloader Tough Tripod Bag £45.95
Reloader Tough Laptop Sleeve £64.95
Reloader Tough Harness System £82.95
Reloader Tough H-83 Roller £289.95
Reloader Tough H-55 Roller £259.95
See more at Manfrotto's website.