Introducing The Fujifilm X-A5 – Smallest X-Series Mirrorless Camera
This new, retro-looking mini-mirrorless camera from Fujifilm, boasts some really quite grown up features, such as a 24.2 MP sensor, a newly developed zoom lens, 4K movie recording, touchscreen and the latest Bluetooth pairing tech
Introducing the new X-A5 as a serious camera for everyday photographers, the new camera also it houses a 180 degree tilting rear LCD screen and an extended battery life, promising the user the ability to shoot up to 450 frames per charge.
It's light, too. Combined with the new [collapsible] FUJINON XC15-45mm F3.5-5.6 OIS PZ lens, the X-A5 weighs under half a kilo [at just 496g]. This means that it's officially the lightest zoom kit-lens comb0 in Fujifilm's X Series.
Sensor
The 24.2MP APS-C sensor that you'll find in the new Fujifilm X-A5 is furnished with a phase-detection autofocus system, originally developed for the X series' high-end models, along with a brand new image processing engine, which promises processing speeds of 1.5x quicker than earlier models. The Intelligent Hybrid Autofocus [AF] speed is alleged to be twice as quick as past models, too. Not bad for such a small machine.
The ISO sensitivity in the X-A5 has been expanded to ISO 12800, so when you find yourself shooting a high-speed subject or perhaps in low light conditions, camera shake and noise will be decreased, giving improved image quality.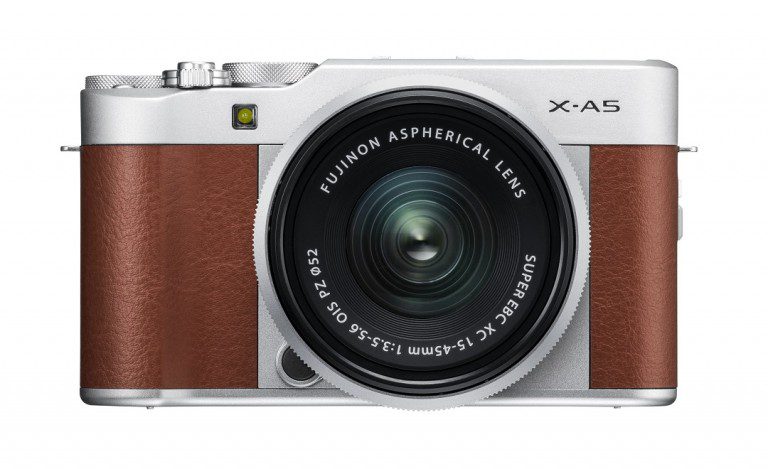 That new Lens
The new Fujifilm X-A5 debuts a brand new lens. The FUJINON XC15-45mm F3.5-5.6 OIS PZ is the first electric-powered zoom lens for the X Mount. With a minimum working distance of just 5cm, the lightweight and compact zoom should prove to be ideal for close-up photographs.
Seamless Selfies
Given its small frame, the X-A5 comes packed with a generous rear LCD monitor that can pivot 180 degrees. When it is, the Rear Command Dial automatically switches to the Zoom and Shutter Release function.
The 180-degree rotation of the rear LCD monitor also activates the Eye AF function [automatically] to produce flawless selfies. Seemingly built especially for [said] selfies, the Portrait Enhancer Mode has evolved with the new user interface to select from three levels of skin tone enhancement with touch-screen operation for easy, natural and [hopefully] flattering selfie shots. There are also options to utilise 11 of Fujifilm's Film Simulation Modes, straight from the camera, so there really is no excuse not to capture the perfect selfie.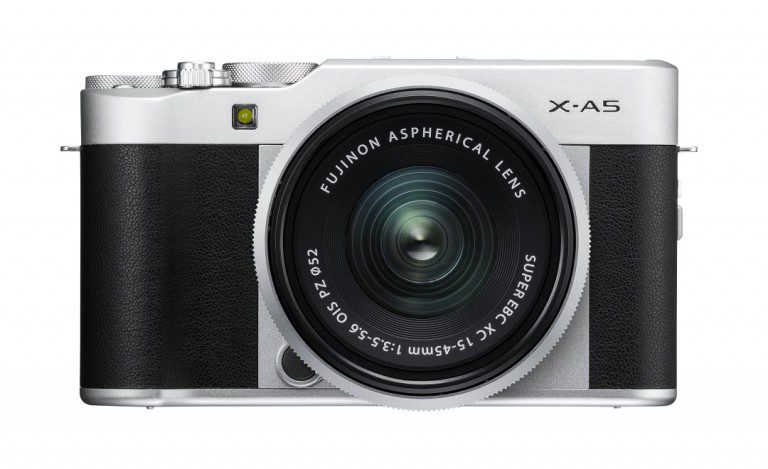 Fujifilm X-A5 – Pricing and availability
Fujifilm's new X-A5 will be available as a kit with the FUJINON XC15-45mmF3.5-5.6 OIS PZ lens this February [2018], available in Brown, Pink and Black
UK RRP: £549.00