GoPro Hero8 Black, Mods & Max Unveiled
After many a rumour pouring over the internet in recent months, GoPro has revealed their new set of action cameras, including the GoPro Max, a 'three-cameras in one' solution and the GoPro Hero8 Black.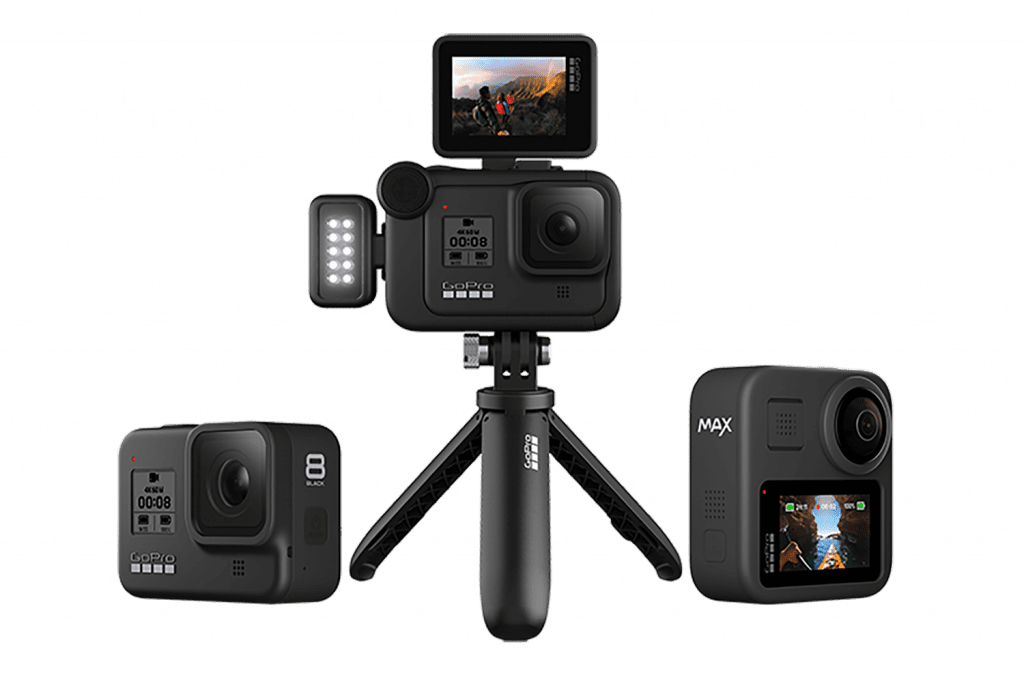 The new GoPro Max features dual lenses, a touch screen and shoots 5.6K 360 videos and delivers 16.6MP 360 photographs, too. If you were to compare the new camera to the GoPro Fusion 360, the GoPro Max represents great value for money as it's not just a 360 camera.
We love 360 cameras, but they can be somewhat limiting with what you can actually achieve with them. Weirdly, they're a little one-dimensional. That's what makes the new GoPro Max so exciting!
GoPro Max features
By developing the GoPro Max's goal of enabling vlog-style shooting, we expect the Max to quickly become an attractive option for the influencer set, vloggers and GoPro's traditional end-user in the shape of the sports enthusiast. With a front-facing screen and shotgun-mic performance, this GoPro seems to have all bases covered. But, as well as having the ability to shoot single-lens Hero mode, you can now reframe your 360 footage into regular videos and photos with the GoPro app. This quite simply means that now you can shoot first and compose later. One feature that's got us salivating is the 'Max Hypersmooth' function, or, as the GoPro calls it, 'the new king of stabilisation'. It's been designed to give users the smoothest ever video footage from any GoPro camera, however, it seems that you can only use this function in the Hero mode.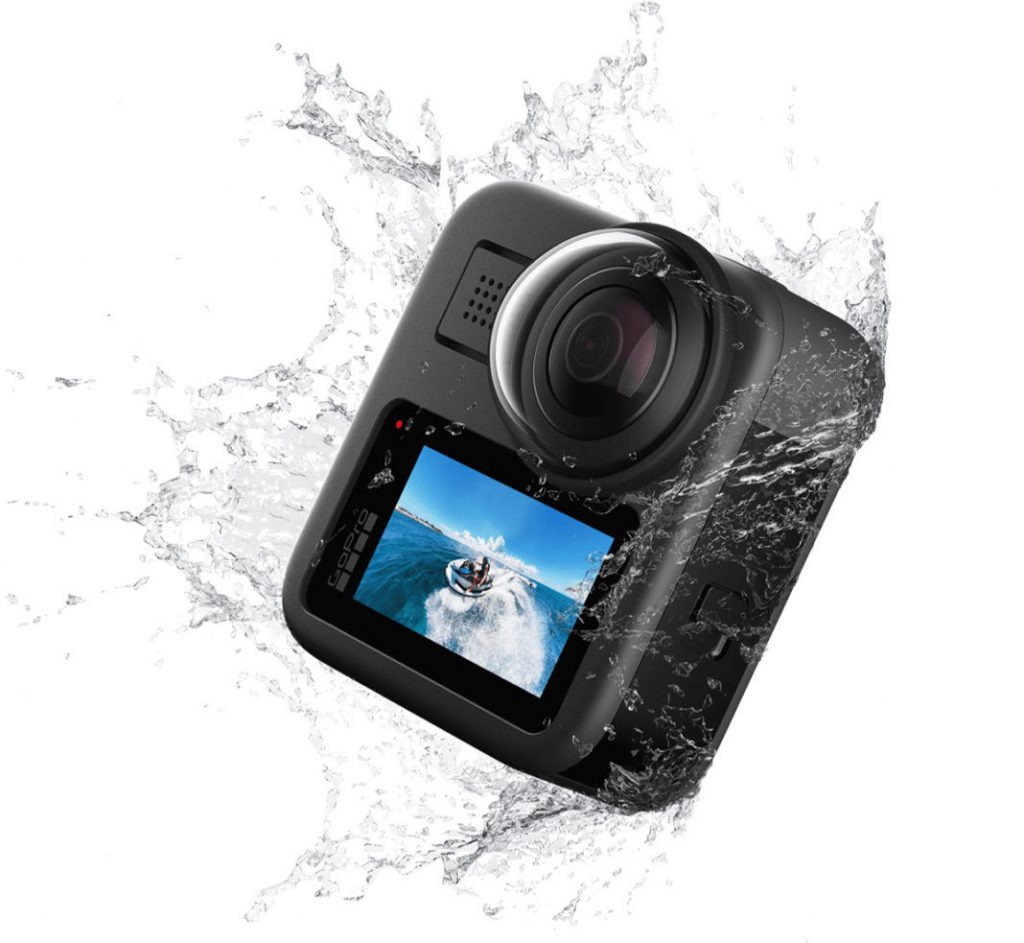 If you're after even more filming options, you can now select from four different angles of view, including 'Narrow', the distortion-free 'Linear', 'Wide' and 'Max SuperView', which is GoPro's widest and most immersive view thus far. Alternatively, if you want to shoot dramatic landscape panoramic photographs without having to stitch them later on, you can opt for the 'PowerPano' function. This feature will shoot a 270° distortion-free panoramic picture without you having to scan the horizon. See more key features below:
Max TimeWarp: Warps time in both 360° and Hero modes. In Hero mode, TimeWarp automatically adjusts speed based on motion, scene detection and lighting. It also changes from slow capture to real-time with just one tap.
Premium Image Quality: 5.6k30 360° video, 1440p60 and 1080p60 Hero video, 5.5MP Hero photos and 6.2MP PowerPano photos.
Premium 360° + Stereo Audio: Six microphones capture true-to-life 360° audio and is designed to deliver the best stereo sound ever from a GoPro.
Directional Audio: Directional audio in Hero mode enables you to prioritize sound from either side of the camera.
1080p Live Streaming: Capture in Hero mode and share with HyperSmooth stabilisation.
Rugged and Waterproof: The GoPro Max is waterproof without housing to 5m. 
GoPro Founder and CEO Nick Woodman, said: It's been 15 years since the first GoPro camera, and from the start, we've been about enabling people to share their passions whether they're fueled by adrenaline or artistry. HERO8 Black, the Mods and MAX redefine what's possible with a camera."
GoPro MAX: Intro video
HERO8 Black
The new HERO8 camera builds on the undeniable success of its predecessor and promises to deliver superb performance to the HERO range. HyperSmooth 2.0 video stabilisation delivers improved pitch-axis stabilisation and now supports all frame rates and resolutions. TimeWarp 2.0 auto-adjusts to your speed and can be slowed to real-time with a single tap. The revamped 'SuperPhoto' feature promises ghost-free HDR action photographs, and all-new 'LiveBurst' shoots 1.5 seconds of 12MP [4K 4:3] footage before and after the shutter. Also, the HERO8 Black's new wind-optimised front-facing mic and high-fidelity audio improvements will certainly make a difference. Plus, new digital lenses help to set up your shot with one of four options, ranging from GoPro's patented 'SuperView' to the zero-distortion 'Linear', and customisable capture presets provide quick access to settings for any activity. All of this is housed in a streamlined, frameless design with folding mounting fingers.
New Mods
The new HERO8 Black can be converted into a potent vlogging or production camera with GoPro's new modular accessory ecosystem. The 'Mods' allow on-demand expansion of HERO8 Black's capabilities without sacrificing the signature compact, ruggedness of the HERO camera design. The Media Mod delivers shotgun-mic directional audio performance and features two cold shoe mounts for extra accessories along with Type-C, HDMI and 3.5mm external mic adapter ports.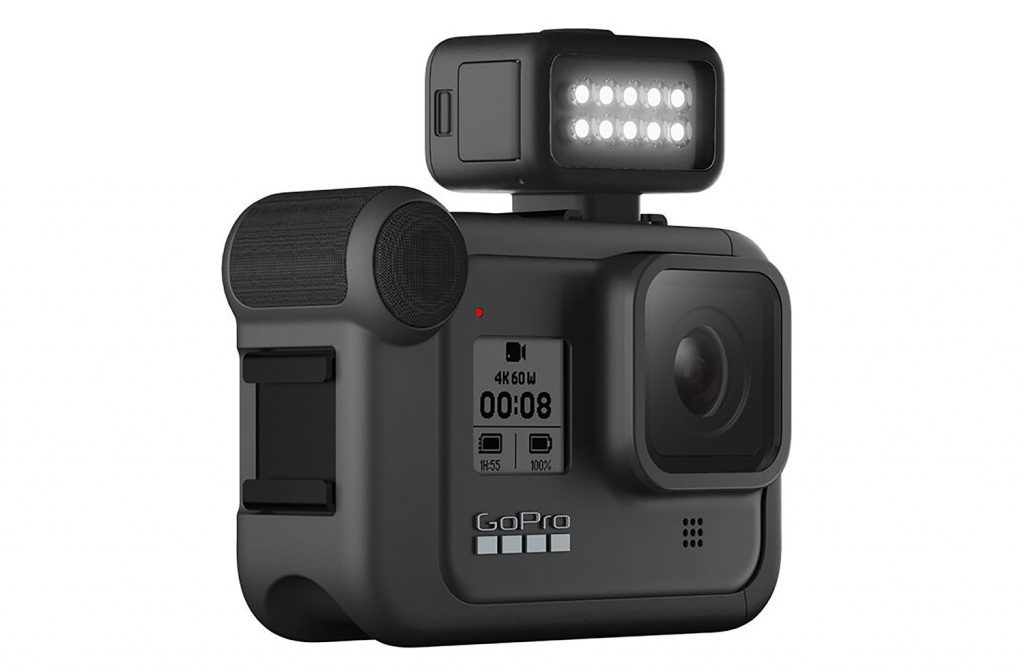 Light Mod: Waterproof to 33 feet (10 meters), wearable and gear-mountable, the Light Mod is the world's most versatile light. The Light Mod is ready to brighten any scene, whether mounted to the Media Mod or attached to a GoPro mount, it's rechargeable, and it comes complete with a diffuser to soften lighting when filming with HERO8 Black.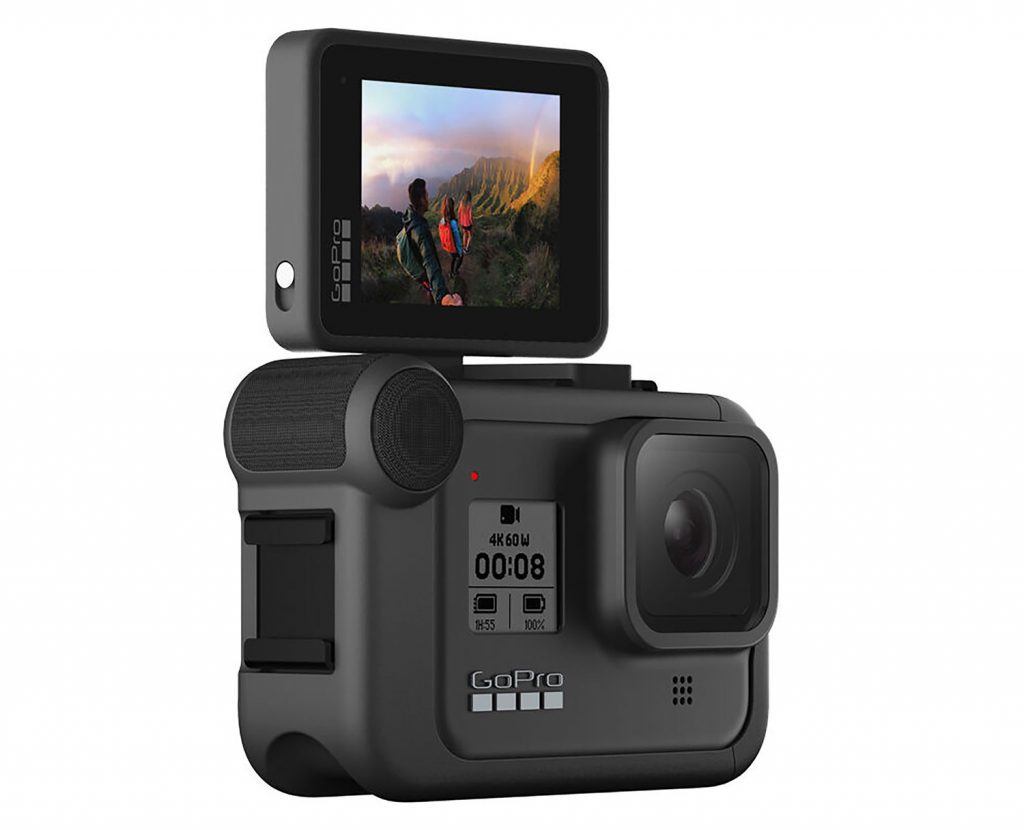 Display Mod: The Display Mod is a folding front- or rear-facing 1.90-inch display that attaches to the top of the Media Mod. It's the perfect size for both framing up vlogging shots and folding down and out of the way when not in use.
GoPro HERO8 Black: Intro video
GoPro HERO8 Black + MAX: Intro video
Pricing and availability
GoPro Max
You can pre-order the GoPro Max from the GoPro website for £479.99, which is only £100 more than the new GoPro Hero8 Black, which will retail for £379.99.