Fujifilm X-E4: Fujifilm's Latest Cool Compact Camera is Revealed
The latest addition to X Series, the Fujifilm X-E4 brings the best of what X Series products have to offer and combines them into a single camera that is the perfect storytelling tool for everyday photographers, videographers, and content creators that want results they can be proud of.
This lightweight, compact camera features the same 26.1-megapixel, X-Trans CMOS 4 sensor, 0.02-sec autofocus, and fantastic colour science that can be found in the professional X Series cameras, but makes these features easily accessible to image-makers of all levels. Outstanding image quality, wide dynamic range, and superb low-light performance combined with simple controls, advanced Face and Eye Detection, and a 180° tilting LCD touchscreen will make this camera a joy to use, so regardless if it is being used to make professional-quality photos, 4K/30p video or super-slow motion, Full HD/240p footage, X-E4 will make the experience quick, easy, and fun for anyone that crosses its path.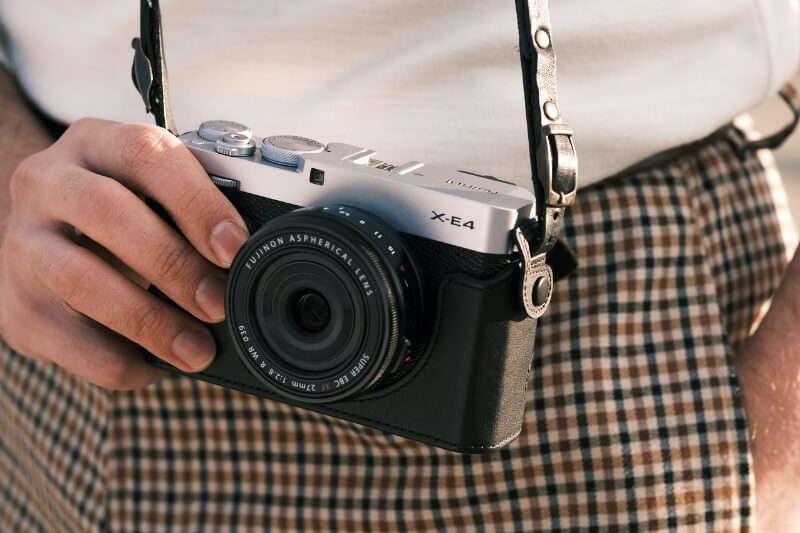 Main product features
A sophisticated, beautiful design housed in X Series lightest and smallest camera body
At 364g and measuring 121.3mm x 72.9mm x 32.7mm [4.77in x 2.87in x 1.28in], X-E4 is the most compact interchangeable-lens camera using the 4th generation sensor and processor. To maintain its slim and sleek design, a rear tilting LCD screen has also been carefully designed to ensure the body remains as thin and portable as possible.
The camera's compact design is influenced by the design of classic film cameras. Both the front and rear grips are flat to give it a classic aesthetic, while the top plate of the camera body is carefully moulded with extreme precision from magnesium that is polished for a beautifully classic appearance.
The rear tilting monitor can be flipped upward and forward-facing up to 180 degrees, which can accommodate a wide variety of compositions, from high to low angle, as well as selfies and vlog-style videos.
The top panel includes a Shutter Speed dial [S.S. Dial] that can be set manually or switched to Program Mode [P] if fully automatic functionality is required.
Controls have also been concentrated to front-side dials to give extra thumb space for added in-hand comfort
Using the state-of-the-art 26.1MP X-Trans CMOS 4 sensor and the high-speed image processing engine X-Processor 4 to provide incredibly fast autofocus, E-X4 uses phase-detection autofocus points across almost 100% of the sensor to acquire focus in as fast as 0.02 seconds. It is also able to track moving subjects with an advanced AF-tracking algorithm so that it is ready to make images at just the right moment.
X-E4 also includes the latest Face and Eye detection technology to track subjects accurately, even in luminance levels as low as -7.0EV when the XF50mmF1.0R WR is mounted. Acquire focus on a subject, even in near darkness, broadening the possibility of when images can be made.

Extensive video-recording functions
X-E4 oversamples 6k footage to record 4K/30P 4:2:0 8-bit video to internal media, or 4K/30P 4:2:2 10-bit video via its HDMI port.
The camera can also deliver high-speed full-HD video at 240fps, which can be used to replay fast-moving subjects up to 10x slower compared to footage recorded at 24fps.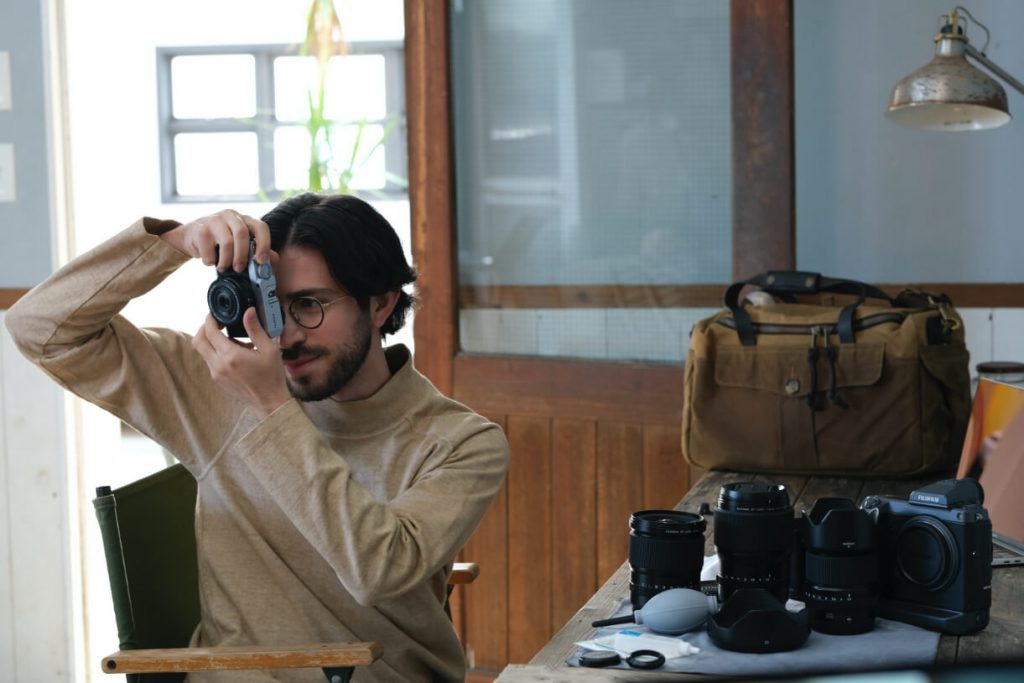 Variety of film simulations
A total of 18 film simulations are available, including Velvia, which is characterized by highly saturated colours and crisp gradation, and ETERNA Bleach Bypass, which reproduces a traditional dark-room processing technique to create unique images with low saturation and high contrast.
Optional accessories
Leather case BLC-XE4 – This is a genuine leather case, specifically designed for the X-E4, that accentuates the camera's flat and compact design while protecting the lower part of the camera body from impact. The battery or SD card can be replaced without having to remove the camera from the case.
Handgrip MHG-XE4 – This metal handgrip makes it more comfortable to hold the camera with larger lenses, which can help to reduce camera shake. The camera's battery or SD card can be replaced without having to remove the handgrip. The bottom of the grip is also finished into a dove-tail that will work any Arca-Swiss style tripod head.
Thumb rest TR-XE4 – This metal thumb rest can be fitted to the camera's hot shoe to provide extra comfort when holding the camera. The surface of the thumb rest is covered in rubber for added stability and its unique shape allows for easy access to the camera's controls and dials.
Pricing & availability:
The FUJIFILM X-E4 will be available from the 4th March 2021, available in black and silver and priced as follows:
Fujifilm X-E4 Body Only – Black £799.00
Fujifilm X-E4 Body Only – Silver £799.00
Fujifilm X-E4 Kit with XF 27mm lens [Black] £949.00
Fujifilm X-E4 Kit with XF 27mm lens [Silver] £949.00
Fujifilm X-E4 Body with Accessory Kit [Black] £899.00
Fujifilm X-E4 Body with Accessory Kit [Silver] £899.00
X-E4 Metal Hand Grip £79.99
X-E4 Thumb Rest Black £59.99
X-E4 Thumb Rest Silver £59.99
X-E4 Leather Half Case [Black] £69.99