DxO PhotoLab 2.2: Adds Support for Nikon Z 6, Canon EOS R & M50, Plus DJI Mavic 2 Zoom
DxO's photo editing software, DxO PhotoLab has announced it's latest evolution with the new update of version 2.2. After introducing and improving DxO PhotoLibrary, an image and data management system that lets users search for, select, sort, and display images, DxO PhotoLab 2.2 now also offers support for a number of new devices the Nikon Z 6, the Canon EOS R & EOS M50, along with the DJI Mavic 2 Zoom drone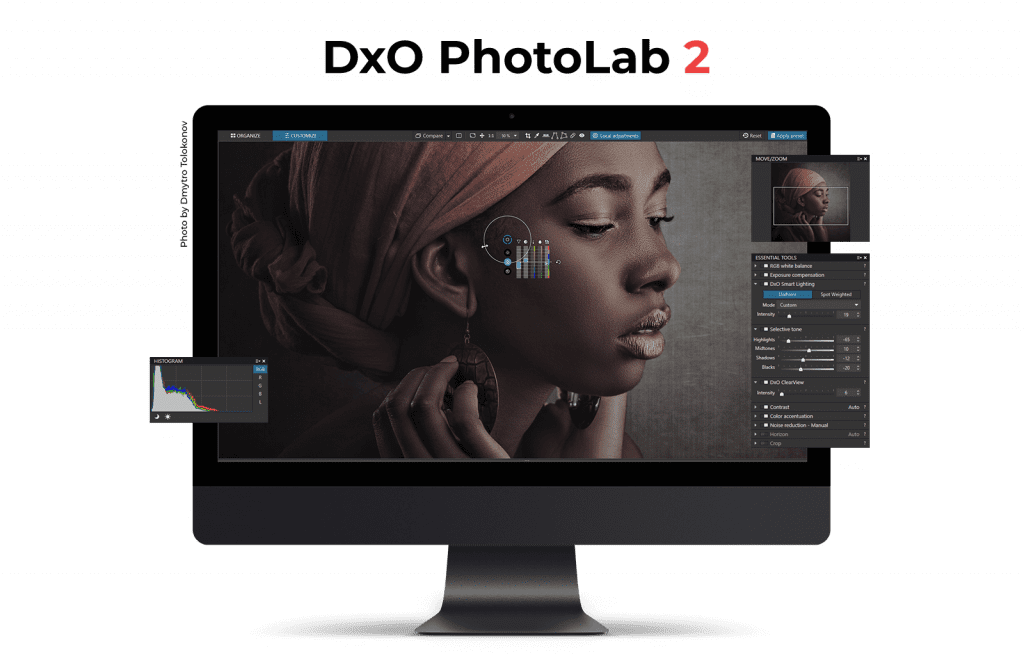 46,000+ camera & lens combinations
DxO PhotoLab 2.2 adds a huge 3,472 new optical modules to its library, bringing the total number of available combinations to 46,248! Among them, the recent NIKKOR Z 35mm f/1.8 S and NIKKOR Z 50mm f/1.8 S, as well as the CANON RF 24-105mm F4L and the CANON RF 50mm F1.2. The software also includes modules from the Hasselblad X1D's range of autofocus lenses specifically designed for high resolution: the Hasselblad XCD 21mm F4, the Hasselblad XCD 30mm F3.5, and the Hasselblad XCD 90mm F3.2. Further, the new version supports the Mavic 2 Zoom, a DJI consumer drone with 24-48mm F2.8-3.8 lenses. Finally, version 2.2completes its offer for Canon, Nikon, Panasonic, Pentax and Sony with the following modules:


Panasonic Leica DG Vario 50-200mm F2.8-4.0 ASPH 
Pentax-D FA 50mm F1.4 SDM AW
Samyang AF 35mm F2.8 for Sony FE 
Sigma 105mm F1.4 DG HSM Art for Nikon F 
Sigma 56mm F1.4 DC DN C for Sony E 
Tamron SP 35mm F1.8 Di USD [F012] for Sony Alpha
Tamron SP 45mm F1.8 Di USD [F013] for Sony Alpha
Zeiss Milvus 25mm F1.4 ZE for Canon EF 
Zeiss Milvus 25mm F1.4 ZF.2 for Nikon F 
Zeiss Distagon T 35mm F2 for Nikon F
Zeiss Loxia 25mm F2.4 for Sony FE 
DxO PhotoLab 2

DxO PhotoLab 2
These optical modules are all designed in DxO's laboratories according to a proprietary scientific characterisation process. They contain all the information about the specificities of thousands of camera/lens combinations. Further, they allow DxO solutions; DxO PhotoLab, DxO FilmPack, and DxO ViewPoint, to automatically correct such optical defects such as distortion, chromatic aberrations, and vignetting with a high level of quality.

In addition, DxO PhotoLab is noted as being the only software that corrects the lack of sharpness in lenses without otherwise degrading the image.
Tap through HERE to see the list of equipment that DxO PhotoLab 2.2 supports.
Pricing and availability
The ESSENTIAL and ELITE editions of DxO PhotoLab 2.2 [PC and Mac] are available now from the DxO website at the following prices:
DxO PhotoLab 2.2 ESSENTIAL Edition: £99
DxO PhotoLab 2.2 ELITE Edition: £159