DJI's Range of Ronin Gimbals Expands with the Lighter & Brighter DJI RS 2 and DJI RSC 2
Two brand-new DJI stabilisers enter the fray and the Gimbal-king's stable with all-new designs and new features for creatives. The expansion of the DJI Ronin series comes in the form of the redesigned and reimagined DJI RS 2 and RSC 2 3-axis camera gimbals.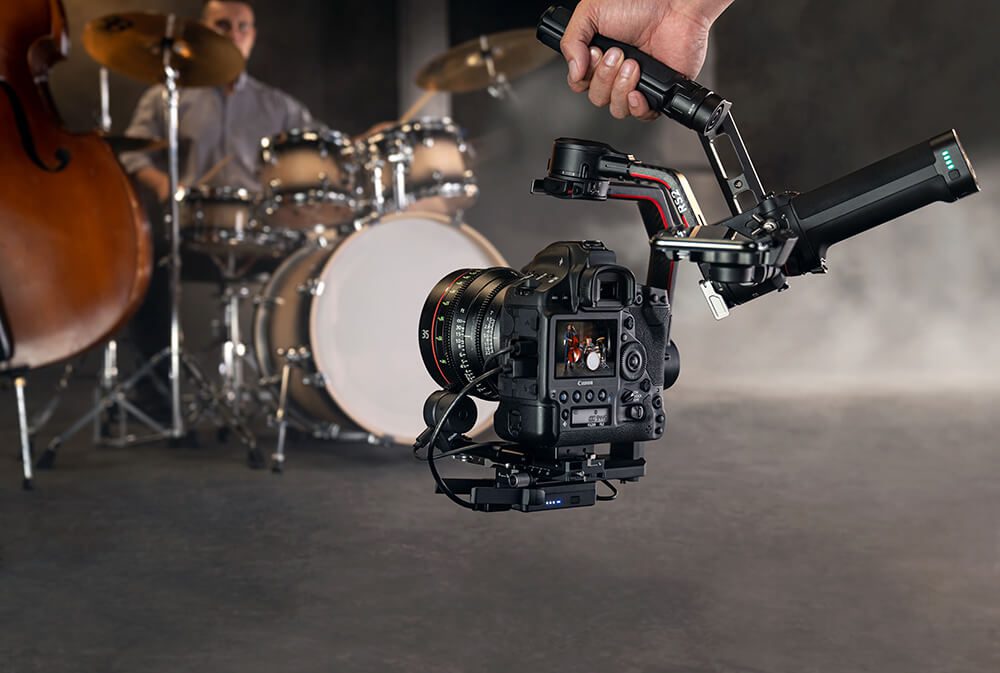 The DJI RS 2 promises to deliver additional strength for users with heavier camera systems such as pro DSLRs and compact cinema cameras, whilst being portable to meet the needs of mirrorless and compact camera users.
The DJI RS 2 includes carbon fibre within its essential structural elements, reducing weight to 1.3 kg while maintaining strength and durability. It promises a dynamic payload of up to 4.5 kg for those using heavier cameras and lenses. This, whilst making the impressive 12 hours of battery life that we know and love from the DJI devices.
There's also a new quick-charge function that fixes directly to the battery handle, which has been added for critical situations to give an extra two hours of battery life with just a 15-minute blast.
Its a 'newly optimised' Titan Stabilization Algorithm is said to decrease the need for manual user input while compensating for user movement and optimizing the gimbal's tilt and angle. There's also a new 'SuperSmooth' mode that promises to give users next -level camera stability, especially for compensating longer focal length lenses of up to 100mm.
Axis locks make for simpler transport and balancing process, [a fine-tune balancing knob allows for even more precise balancing of the camera] whilst a dual-layer camera mount plate is compatible with both the Arca-Swiss and Manfrotto standards.

Take a loo through the clean image gallery for the DJI RS 2 below:
Colour Touchscreen & Controls
There's a built-in 1.4" colour touchscreen, which can show camera data, gimbal settings, or even a live feed from the camera. The screen can also launch key functions such as ActiveTrack and intelligent shooting modes.
The built-in front dial above the trigger gives users accurate focus control and supports a DJI Focus Wheel, which is mounted on the RSA port to create two-channel focus and zoom.
Bigger Rigs
The new DJI RS 2 can be used as a part of larger filming rig ecosystems, once attached to separate systems such as jibs, car attachments, and sliders. Two RSA ports double as NATO ports so that users can mount accessories and attachments such as grips and a remote controller.
Paul Pan, Senior Product Line Manager, told PhotoBite: "DJI's first Ronin-S and the original Ronin-SC created so much excitement when they launched that we immediately went back to the drawing board to figure out how to make our products even better. Just like with the first version, we took time to research how our professional customers use their Ronin products and what new features they wanted in the next generation of a handheld gimbal. Yet again, the result is the culmination of user feedback, years of design and development, and significant advancements in stabilization technology. Now we are excited to showcase two new filmmaking tools designed to meet the needs of a wide array of filmmakers. From cinema cameras to mirrorless systems, we have a solution for you."
The DJI RSC 2
The new DJI RSC 2 introduces a completely new folding design that should make it easier to carry without adding weight to the kit list. The new design also provides new ways to operate the gimbal, such as vertical filming without the need for additional accessories, as well as a new 'Briefcase Mode', where the main gimbal arm can be loosened and thrown forwards to produce new and unusual shooting angles.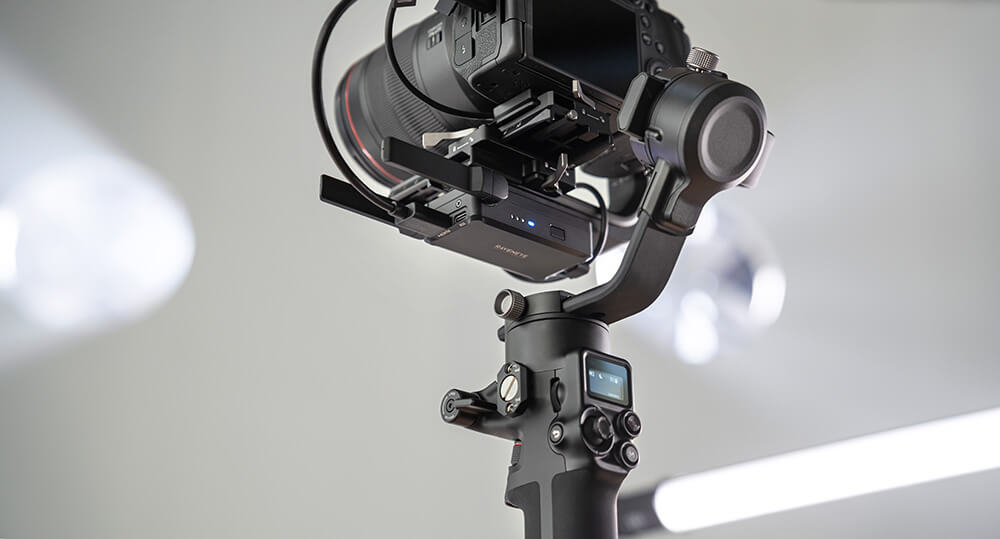 The RSC's built-in battery also gives a whopping 12 hours of battery life and also boasts the same new quick charge feature for urgent situations.
DJI RSC 2 also has stronger motors than its predecessor and will take a tested payload of up to 3 kg. This means that users can happily plonk on camera combinations, such as the Panasonic S1H and a 24-70mm lens.
The new DJI gimbal also applies the same new Titan Stabilization as DJI RS 2, promising a greater level of stability. Native axis locks make it simpler to transport and balance, much like the RS2, and also comes with a dual-layer camera mounting plate that's compatible with both Arca-Swiss and Manfrotto standards.
Screen & App
The DJI RSC 2 has a 1" built-in OLED screen which will show camera data and gives users the ability to modify settings directly.
Vital features and functions can now be managed over longer distances with the Ronin app. These include gimbal movement using the virtual joystick and Force Mobile, where the gimbal mimics the mobile device's movement. For individual operators using manual-focus lenses, the 3D Focus System applies state-of-the-art TOF sensors mounted above the camera to produce autofocus. This clever combination allows individual shooters to achieve smooth footage using a manual lens, without relying on a second camera op or focus puller.
Pre-Programmed Movements and Features
Both the DJI RS 2 and the RSC 2 open up on their older siblings' collection of creative modes, movements, and features with tools, including:
A 'New' Time Tunnel: The system performs a 360-degree roll while capturing a hyperlapse
Flashlight: The system tilts the camera all the way forward so users can grip the base like a flashlight
One-Tap Portrait Mode: The gimbal quickly orients the camera into vertical shooting for pro-level social media-type content
Panorama: After configuring sensor and focal length, choose a start and stop point for panoramas up to gigapixel size
Roll 360: The gimbal enters into the Flashlight position and rolls the camera system 360 degrees
Timelapse: This classic feature shows subtle changes over time periods of your choice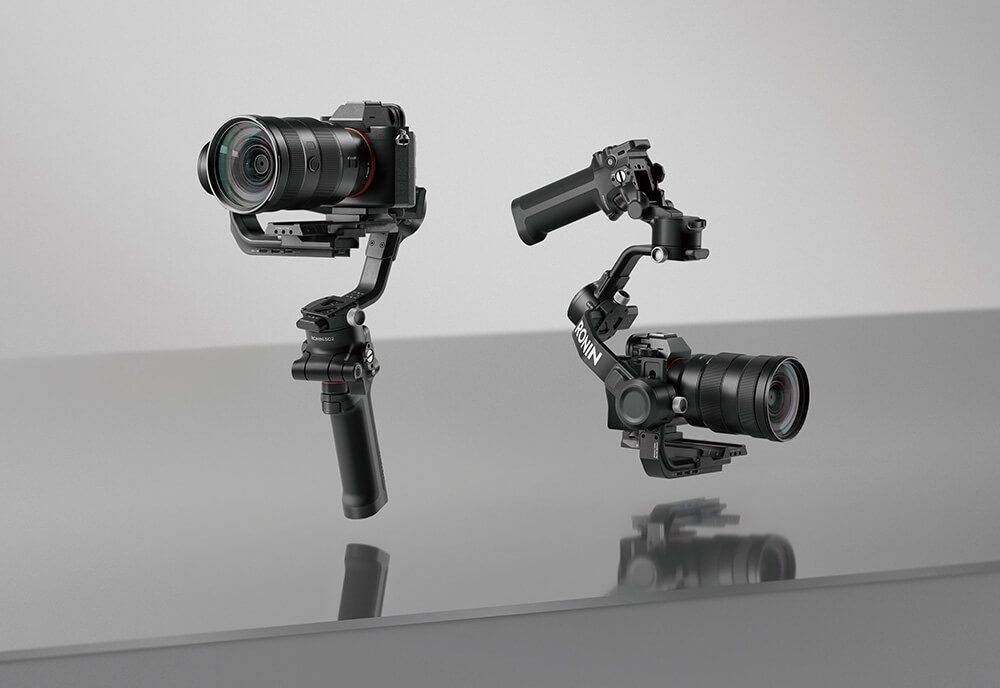 DJI Care Refresh
DJI's Care Refresh is available for both DJI RSC 2 and RS 2. For an additional charge, DJI Care Refresh offers extensive coverage as well as up to two replacement units within one year.
Receive your replacement even sooner with DJI Care Refresh Express. DJI Care Refresh also includes international warranty services, VIP after-sales support and free two-way shipping. For a full list of details, head to the dedicated web pages.
Pricing and Availability
The DJI RS 2 and DJI RSC 2 are available for sale from 31 October 2020 from various dealers and from the DJI Store.
Each product offers purchase options for a standalone gimbal and a combination pack that includes additional accessories. The standalone DJI RS 2 is available for the retail price of £699 and the standalone DJI RSC 2 is available at the retail price of £389.
The Pro Combo includes additional accessories such as a phone holder, Focus Motor, RavenEye Image Transmitter, dedicated carrying case, and more. The DJI RS 2 Pro Combo is priced at £839, and the DJI RSC 2 Pro Combo is £569.