DJI RS 3 & RS 3 Pro Revealed
It's always an exciting day in the office when we hear news of DJI products being revealed. The market leaders in stabilisation have led the way for some time in terms of both market share and innovation. Let's see what the latest gimbals, the DJI RS 3 & RS 3 Pro have to offer.
The new DJI RS 3 and RS 3 Pro gimbals bring 'landmark improvements to the classic and reliable Ronin series' according to DJI's official press release. The RS 3 Pro, the premium version of the two new gimbals, can employ the DJI Ronin 4D's progressive LiDAR focusing technology that has now been placed inside a new device called the DJI LiDAR Range Finder.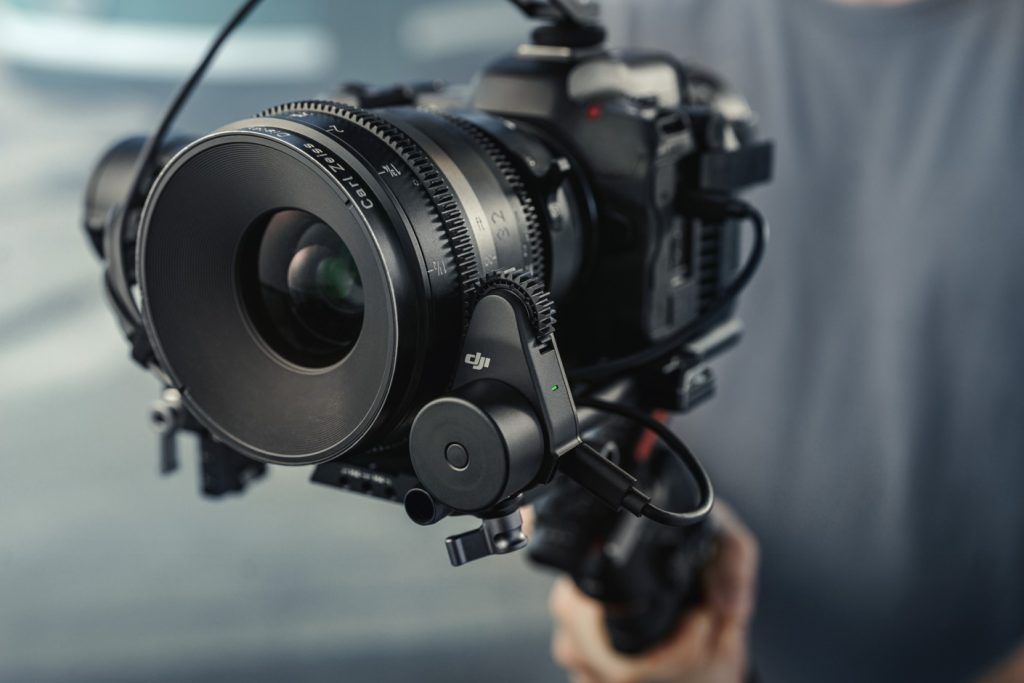 Both the DJI RS 3 and RS 3 Pro can also use 'DJI Transmission', DJI's first independent wireless video solution that will allow users of the RS 3 and RS 3 Pro to incorporate reception, monitoring, control, and recording in a single device. DJI claims an operating range of [up to] 3.78 miles, which is pretty nuts!
As with the Ronin 4D, DJI is developing an ecosystem for the RS range gimbals to give users products that can be used to enhance and simplify workflows. Both gimbals feature a new automated axis lock system, 3rd-Gen RS stabilisation algorithm that is claimed to improve performance by 20%, and one-tap calibration.
The DJI RS 3 Pro is probably the version that most people will be interested in, [including us] and is being lauded as the more professional of the two, with a greater number of features, a higher payload capacity, and the ability to use the DJI LiDAR Range Finder. The arms of the RS 3 Pro are made from one uncut piece of carbon fibre, not unlike like DJI Ronin 2. This makes the RS 3 Pro lighter and stronger than the jointed carbon fibre material used on previous stabilisers. The arms have also been extended to allow for more balancing space so that you can use cameras such as the Sony FX6, Canon C70, and RED Komodo. It weighs just 1.5 kg but it is capable of handling a reasonable payload capacity of [up to] 4.5kg.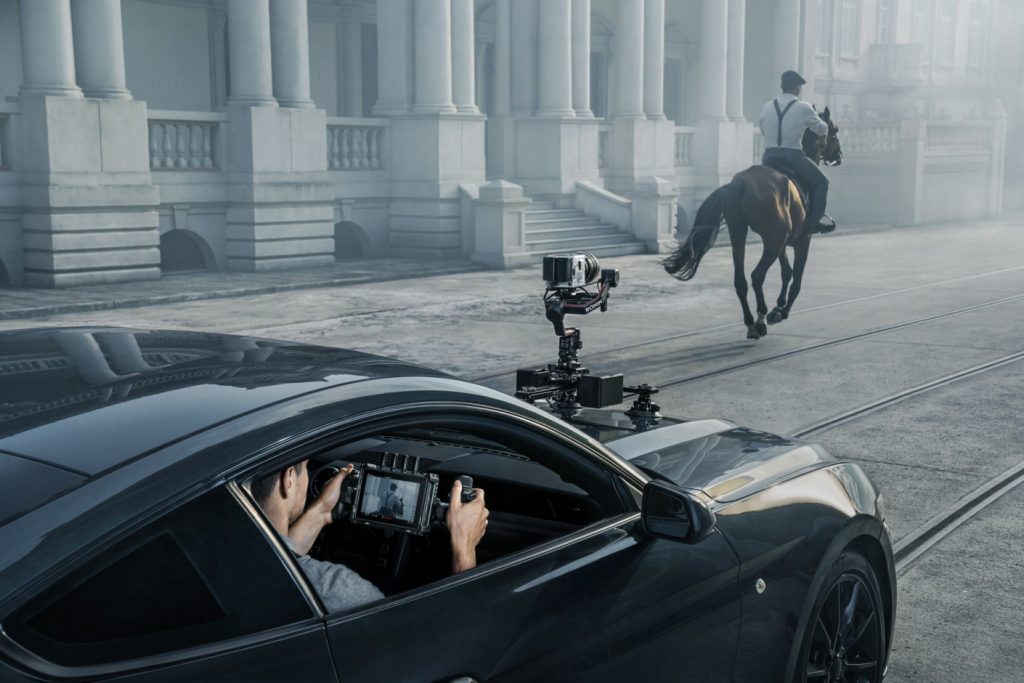 The new gimbal boasts automated axis locks, Bluetooth Shutter Button, 1.8-inch OLED touchscreen, and the same gimbal mode switches found on the RS 3.
Possibly the most exciting element of the new DJI RS 3 Pro is that it can use the new DJI LiDAR Range Finder [RS], which is capable of projecting 43,200 ranging points within a 14-meter indoor area, although this doesn't come as standard. It'll cost you more and comes with the following:
LiDAR Range Finder [RS]× 1
Multi-Camera Control Cable [USB-C, 30 cm] × 1
LiDAR Control Cable [USB-C, 30 cm] × 1
The DJI LiDAR Range Finder [RS] allows users to autofocus with manual lenses with no need for repetitive calibration. The LiDAR Range Finder also carries a DJI-developed chip identical to the one used in Ronin 4D and a built-in 30mm camera. This allows users to use ActiveTrack Pro, which they claim boosts the computing power of ActiveTrack by more than 60 times! It features target identification and tracking that is said to be more sensitive and accurate than ever before.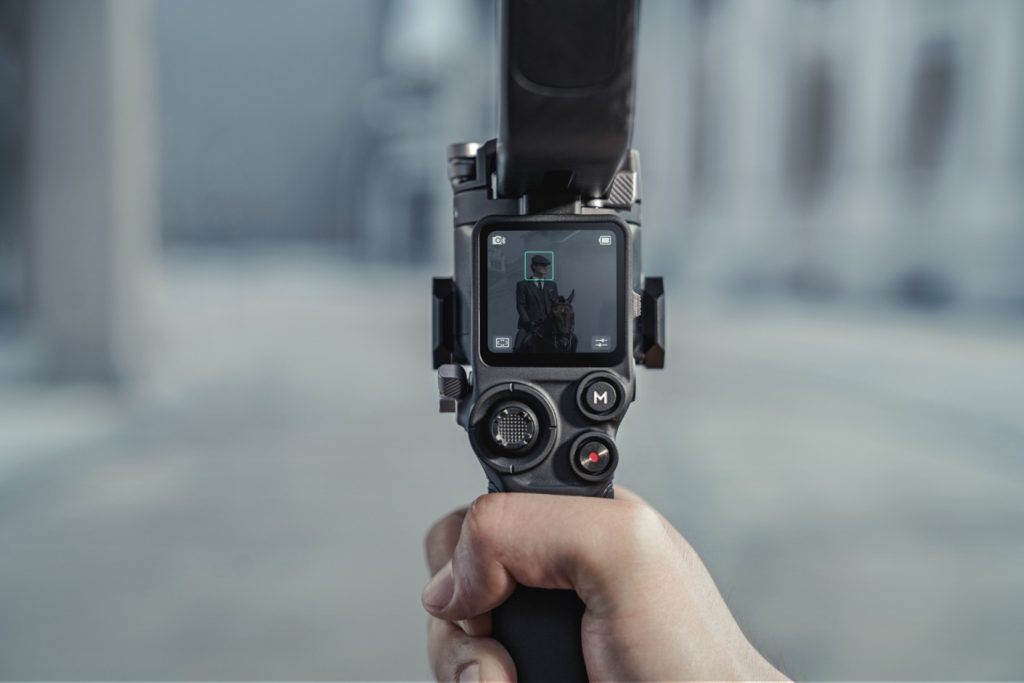 A redesigned axes-locking system means that the process is now automated. By simply turning on the gimbal, the automated axis locks release and unfold the gimbal. Tapping the power button once will send the device into sleep mode, which makes powering on the device, stowing, and relocating, much quicker. There's also no need for repetitive balancing with position memory via quick-release plates, enabling fast mounting with the perfect balance of the payload. Furthermore, the addition of a Bluetooth Shutter Button supports automatic connection without the need to connect a camera control cable.
DJI's RS SDK protocol allows third-party manufacturers and individual developers to create customised shooting solutions for the RS 3 Pro. Whether filming from a moving vehicle, with a jib or Steadicam or from a cable cam or slider, the RS 3 Pro supplies anyone with comprehensive shooting solutions and lots of options as to how to use the new gimbal.
There is a brand-new 1.8-inch OLED full-color touchscreen, and most gimbal setups can be done directly without connecting to the mobile app. The UI and interface logic has been redesigned to make them easier to access. There's also a physical gimbal mode switch that operators can slide to alternate between pan follow, pan and tilt follow, and FPV modes and a brand-new battery grip gives [up to] 12 hours of battery life. The RS 3 Pro and RS 3 both feature a quick-release structure that supports PD fast charging at 18 watts. The battery can be charged independently or even during use, allowing users to operate without stopping.
DJO RS 3
The more entry-level DJI RS 3 features the same redesigned axes-locking system, sleep mode, Bluetooth Shutter Button support, and 1.8-inch OLED full-color touchscreen as the RS 3 Pro. It weighs in at 1.3 kg and it has a payload capacity of 3kg. This payload capacity should allow users to adopt the gimbal for shooting with most mirrorless hybrid cameras and lenses.
A 3rd-Gen RS Stabilisation Algorithm is claimed to offer 20% improved performance over the RSC 2. According to DJI, this makes it easier to operate while shooting at low angles, running, or even filming from a moving vehicle. If you want to use the RS 3 with lenses that have focal lengths of up to 100mm, a SuperSmooth mode provides further stabilisation.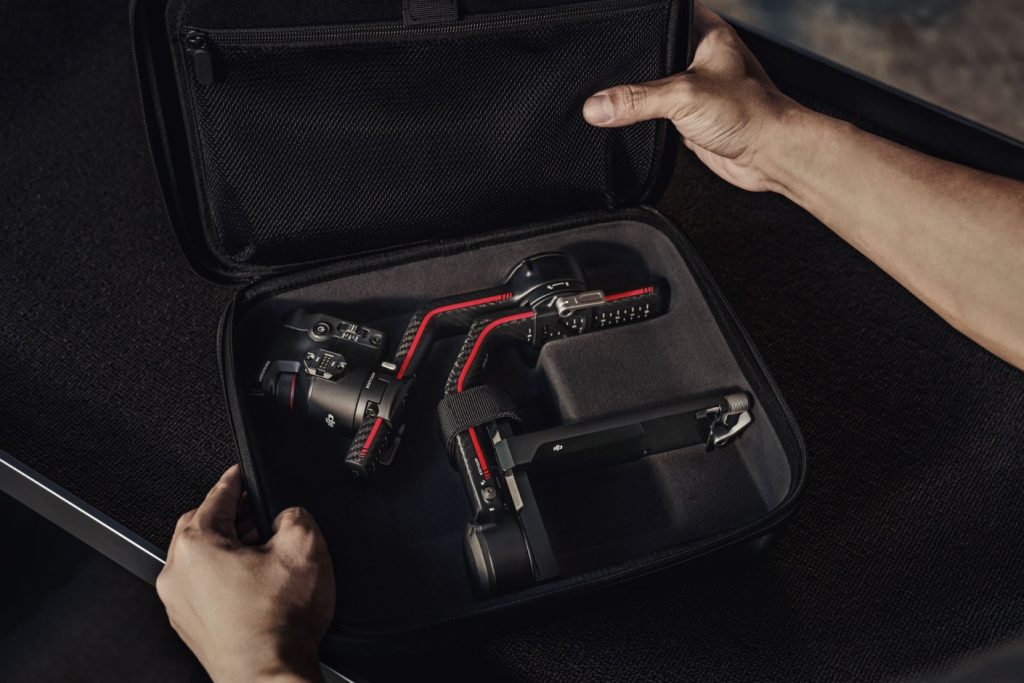 DJI Transmission
DJI Transmission is the brand's very first independent wireless video system. It has been designed, based on the Ronin 4D's advanced video transmission tech. The system integrates reception, monitoring, control, and recording and places it all into a single device. O3 Pro transmission tech allows the transmission system to deliver a transmission distance of up to 3.78 miles, with end-to-end ultra-low latency. This is a monumental upgrade from the traditional Wi-Fi transmission systems that have come before. Video is transmitted in 1080p/60fps and provides live audio monitoring at 16-bit 48 kHz.
To handle the more tricky situations, a DFS band has been added on top of the traditional 2.4 GHz and 5.8 GHz settings, offering [up to] 23 channel options. A built-in frequency sweeper automatically scans the current electromagnetic environment for the best wireless channel, and then instantly switches channels when needed. When necessary, users can also manually select an appropriate channel to avoid interference between devices.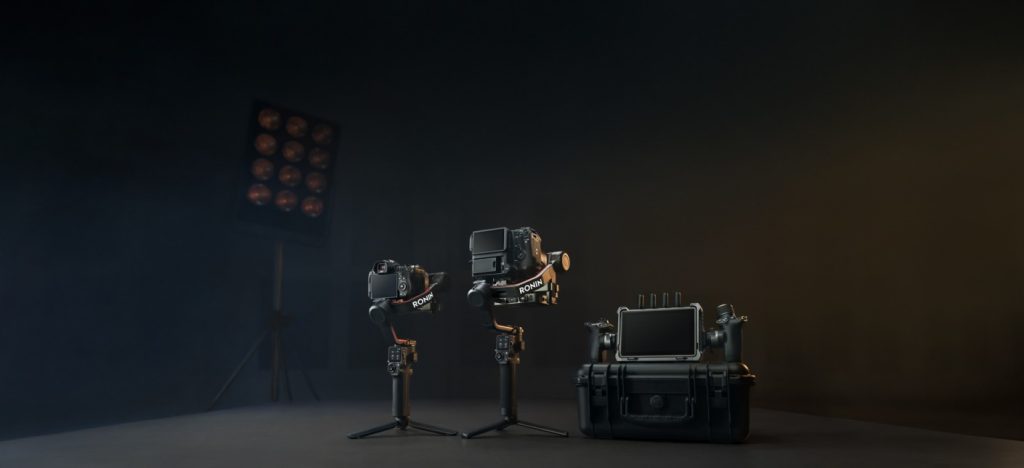 DJI's 7-inch, 1500-nit High-Bright Remote Monitor includes an integrated receiver, eradicating the need for video cables running into a monitor. The device supports a single transmitter with multiple receivers, as well as two transmission modes. In Control mode, monitoring can be carried out from two receivers at the same time, while the gimbal and camera can also be controlled remotely. For larger teams, Broadcast mode can be enabled on top of Control mode, which will allow an unlimited number of receivers to be used. On larger sets, DJI Transmission can work simultaneously with ten or more transmitters.
The DJI Transmission system, which can be used with any camera system, can also be used as a comprehensive controller. When applied with RS 3 Pro, it can work as a gimbal and camera controller, unlocking more functions and fully integrating the ground-based Ronin ecosystem. Pretty neat.
The High-Bright Remote Monitor has a built-in gyroscopic sensor that acts as a standalone motion controller for RS 3 Pro. And when combined with the Ronin 4D Hand Grips, the operator of an RS 3 Pro stabiliser can control the gimbal, focus, exposure, and start/stop a recording with both hands, as well as simultaneous access to video time codes, the High-Bright Remote Monitor allows for independent recording and playback of 1080p/60fps H.264 footage.
Pricing and Availability
The DJI RS 3 is available to buy today from authorised dealers and at the DJI Store with two options available. The standalone DJI RS 3 retails from £469 and includes one Gimbal, BG21 Grip, USB-C Charging Cable, Lens-Fastening Support, Extended Grip/Tripod [Plastic], Quick-Release Plates, Multi-Camera Control Cable, and Screw Kit. The DJI RS 3 Combo retails from £619 and additionally includes one Briefcase Handle, new Focus Motor, Focus Motor Rod Kit, Focus Gear Strip, a second Multi-Camera Control Cable, and one Carrying Case.

The DJI RS 3 Pro is available to buy from today with two options available for the stabilisers. The standalone DJI RS 3 Pro retails from £749 and includes one Gimbal, BG30 Grip, USB-C Charging Cable, Lens-Fastening Support [Extended], Extended Grip/Tripod [Metal], Quick-Release Plates, Briefcase Handle, Multi-Camera Control Cable, Screw Kit, and Carrying Case. The DJI RS 3 Pro Combo retails from £949 and additionally includes one Extended Quick Release Plate, Phone Holder, Focus Motor, Focus Motor Rod Kit, Focus Gear Strip, Ronin Image Transmitter [previously known as the DJI RavenEye Image Transmission System], two Hook-and-Loop Straps, and additional cables.
DJI Transmission will be available in September 2022. The DJI Transmission Combo retails from £1,979 and includes one DJI Video Transmitter, DJI High-Bright Remote Monitor, Remote Monitor Hood, Installation Toolkit, Protector Case, two WB37 Intelligent Batteries, one WB37 Battery Charging Hub, as well as various cables and battery adapters. The independent Video Transmitter and High-Bright Remote Monitor will also be available for separate purchase and retail from £949 and from £1,139, respectively.

DJI Care Refresh
DJI Care Refresh is a comprehensive protection plan for DJI products and is now available for both DJI RS 3 and DJI RS 3 Pro. Accidental damage is covered by the replacement service, including natural wear, collisions, and water damage. For a small additional charge, you can have your damaged product replaced if an accident occurs.

DJI Care Refresh [1-Year Plan] includes up to 2 replacements in 1 year. DJI Care Refresh [2-Year Plan] includes up to 3 replacements in 2 years. Other services of DJI Care Refresh include rewards for safe use, international warranty service, and free shipping. For a full list of details, head to DJI's dedicated web pages.
Camera and lens compatibility can be found here: https://www.dji.com/support/compatibility