DJI OSMO Action Unveiled
At last! DJI's long awaited, highly anticipted, direct competitior to the Go Pro Hero 7, the DJI Osmo Action has landed. And it looks good!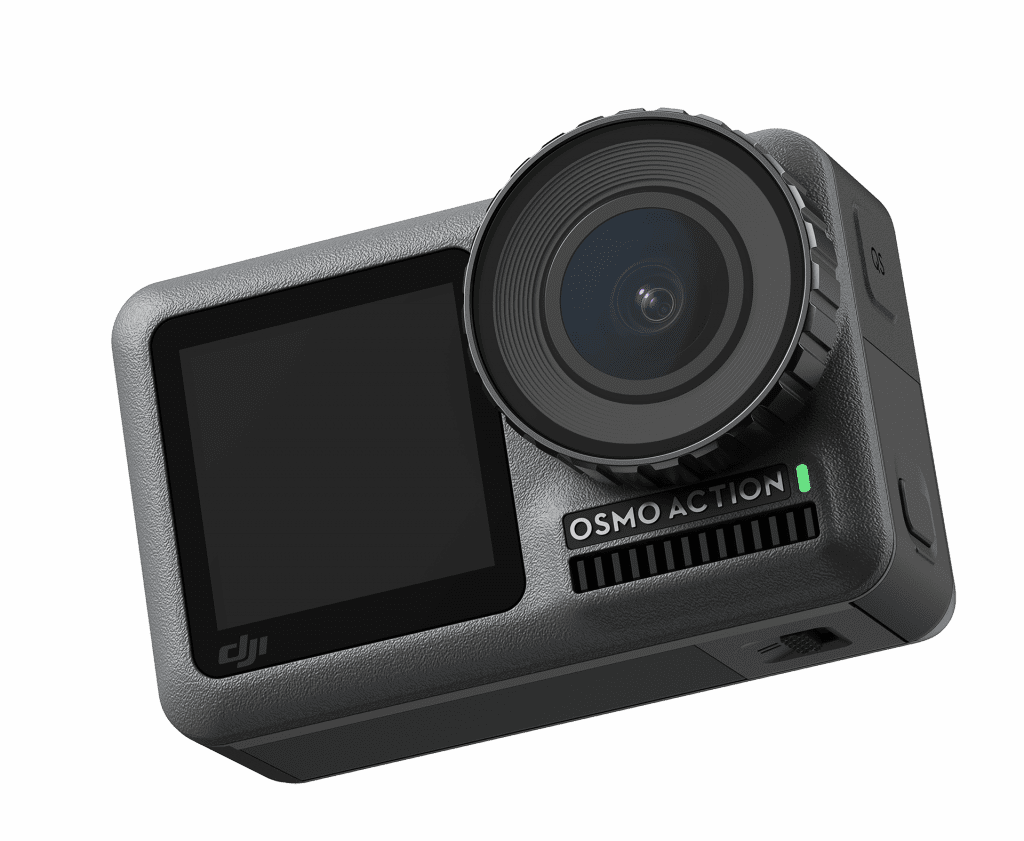 Launching what could just provide the strongest competition to Go Pro's incredible market share in the action camera space, DJI has produced an action camera that is packed with whistles and bells aplenty!

An exciting time for adventure freaks and those looking for a small-form camera to capture the action with ease, in high quality and with silky-smooth stabilisation. At least, that's what DJI is saying will be the case. Let's look at the fundamentals.

Key features
1/2.3′′ 12MP CMOS Image Sensor – Likely to be the Sony IMX377
Ambarella H2 image processor
Electronic image stabilisation
Front and rear screens
145° field of view
f2.8 lens
4K60p
2.7K, HD
8x HD slow-mo
HDR and automatic time-lapse photography
Single, AEB continuous shooting, countdown shooting, multiple continuous shooting, and interval shooting
So let's break down the tech specs

Well, it's likely that the most novel part of the Osmo Action camera is its 5.7 cm, 640 x 360-pixel touchscreen on the rear of the device. This, as well as the 1.4″ [3.56 cm] 320 x 320 front-facing screen.

The back screen has a claimed brightness of 750 nits, which should make it easier to see in bright conditions outdoors. According to DJI, the front screen is only for viewing, it doesn't do touchscreen camera control.
DJI has produced its new action camera to be simple to operate, and adding screens to both the front and the rear, it could serve well as an attractive solution for Vloggers as well as extreme sports nuts.

In terms of weight, it is comparable to the GoPro HERO 7 Black. In fact, when you look at it, there's only so much difference you can expect from action cameras in general as the sensors for most brands in this space are made by Sony. What is a nice touch though, is the fact that you can attach filters to the front of the lens on the DJI Omso Action.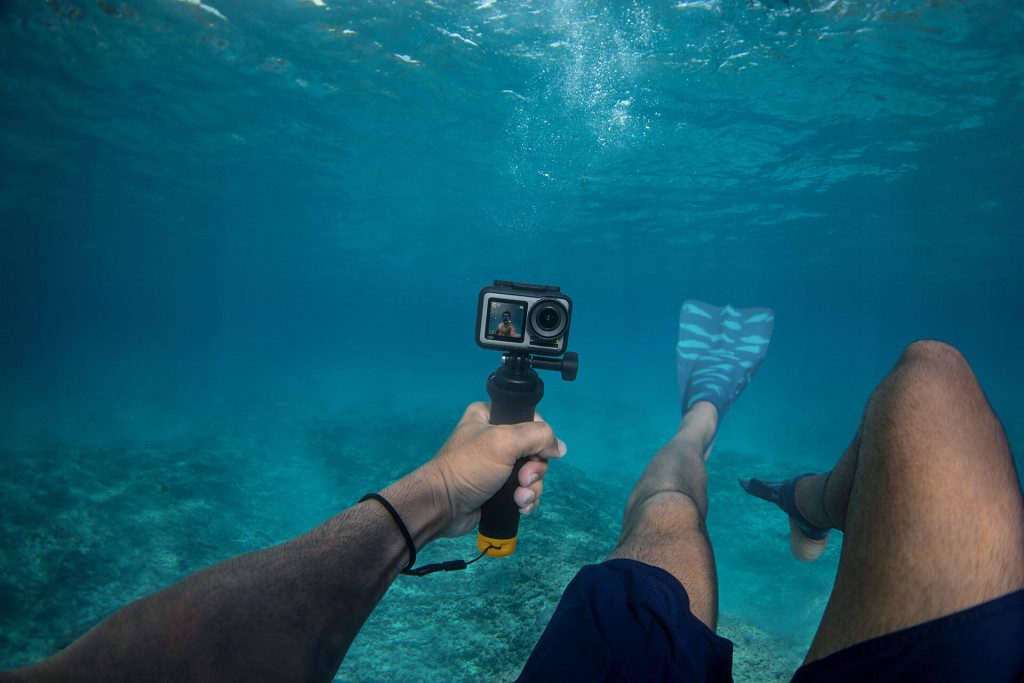 DJI claims that the Osmo Action is tough and reliable with waterproof capabilities that will take it to depths of 11 metres and, like the GoPro HERO 7, it doesn't need waterproof housing to do so.

We're told, [by DJI] that the Osmo Action has waterproof sealing, along with water-resistant coating on the touch screen, which should make the device capable of withstanding use in depths of 36′ of water without a case for up to half an hour.
Lens
The new DJI Osmo Action camera houses a fixed f2.8 aperture lens made up from three aspherical lenses which should prevent distortion and, as DJI tells us, will give crystal clear images with a 145° field of view. The lens cap also promises to remove dust and liquids whilst protecting against greasy fingerprints.
Filters
Also announced are [optional] Neutral Density [ND], polarizer, and underwater filters, as well as ND filters [ND4, ND8, ND16, and ND32].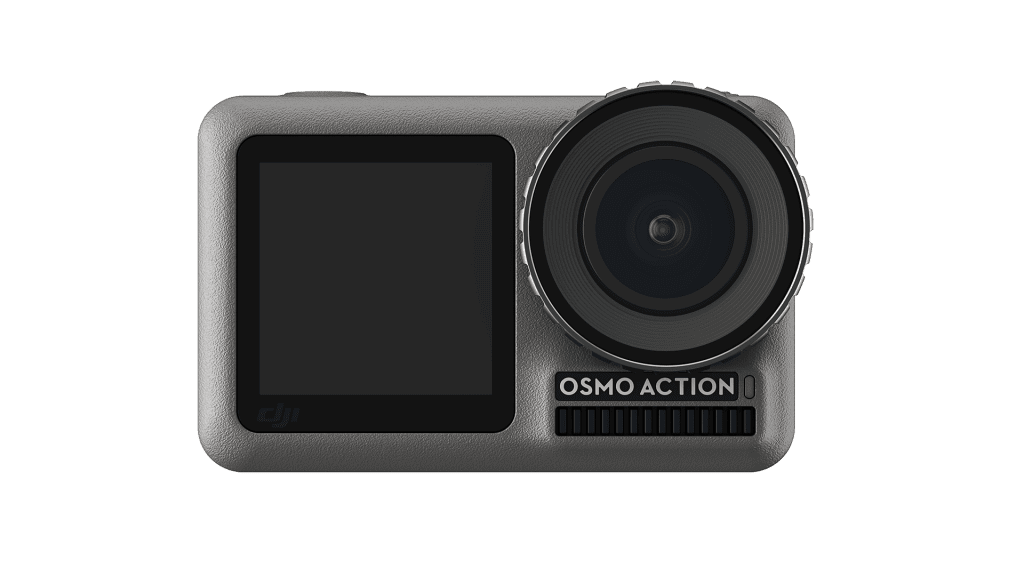 Video
The new DJI Osmo Action is released with capabilities of shooting up to 4K UHD at [up to] 60p at 100Mb/s and can also in HD at up to 240fps. This, and as well as 4K UHD, the new camera can also record in 2.7K, 1080 and 720p. There is also an HDR mode, but this can only be used at frame rates of up to 30p in 4K UHD.
Just like the DJI Osmo Pocket, users will have the ability to switch between Auto and Manual modes. In Manual mode, we should see full control over ISO, shutter speeds and other settings.

So far as storage and transfer speeds are concerned, the Osmo Action from DJI captures footage in MOV, MP4 [H.264] at up to 100 Mb/s [in 4K UHD 60P] to microSD/SDXC/SDHC cards.

Don't expect to find D-Log available in the new Osmo Action. Alternatively, you will find D-Cinelike.
D-Cinelike has been developed to obtain a wide dynamic range from the camera's sensor, with colours being distributed evenly so the dark elements of an image are considerably improved. This is not a real LUT, but a lower-contrast video with a flat colour profile, which is excellent for post-processing options.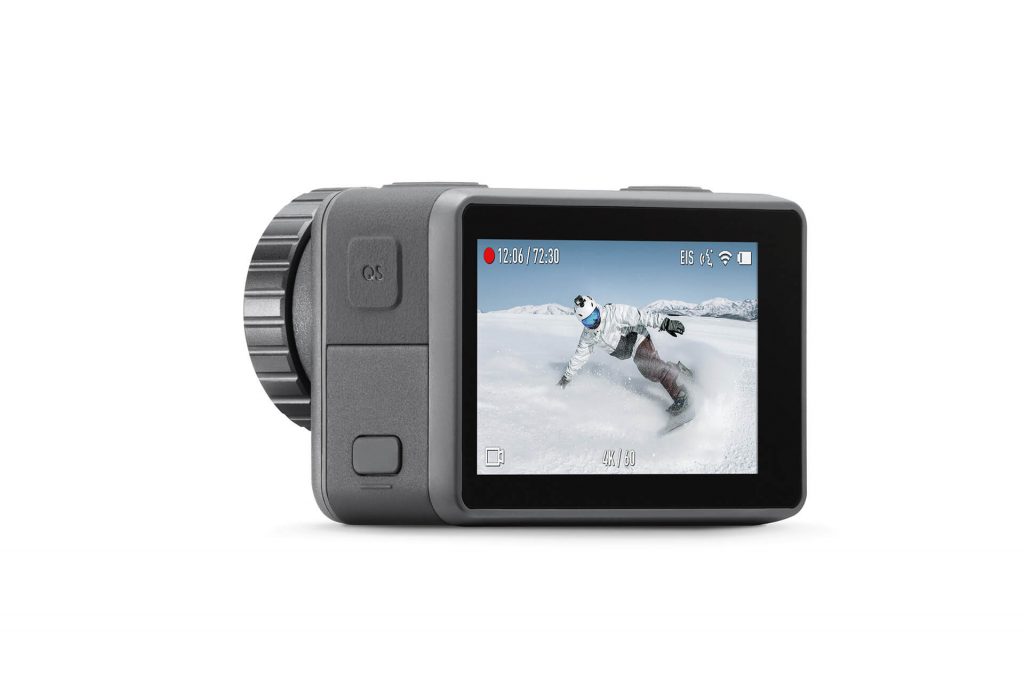 Stabilisation
With such a trusted heritage in stabilisation, you'd expect to find market-leading, smooth video footage being pumped out from the DJI Osmo Action. Alas, though, there's no physical gimbal in sight. Instead, the camera employs electronic stabilisation.
That said; we're not overly concerned about the quality of the stabilisation here. After all, it is made by DJI, so unlikely to be rubbish and it will form a major part of our review as soon as our sample arrives.

The DJI Osmo Action applies, what DJI refers to as, 'RockSteady' technology, to stabilise any resulting footage. This [EIS] tech is achieved by raising the camera's shutter speed, interpreting the images captured by the CMOS sensor and compensating by cutting off the edges of the images. In this way, multiple frames are overlaid and finally combined into a single frame that should be clear and perfectly exposed.
It's not possible to use HDR and DJI's RockSteady tech concurrently, though. EIS can be switched on in all video modes except for slow-motion, hyperlapse, or in time-lapse mode.
We see this as quite a major oversight by DJI. Not being able to shoot in HDR mode with the stabilisation isn't overly impressive. Stabilisation can be switched on [or off], depending on the shooter's choosing.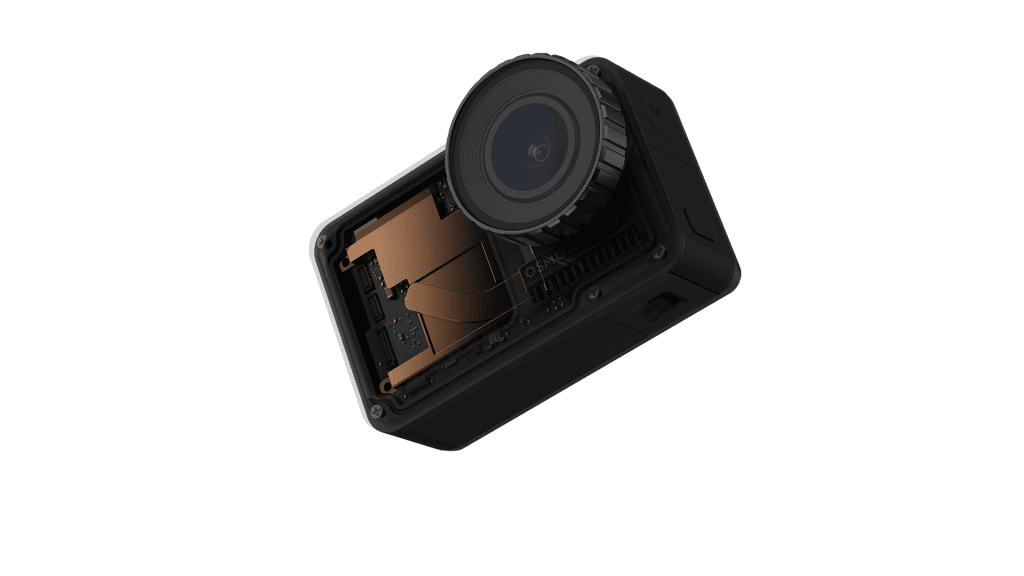 Additional features
The new DJI Osmo Action boasts a few other interesting features such as SnapShot. A QS button, Custom Exposure Control, Timelapse, Interval Recording, and Custom Mode.

Snapshot is intended to offer control for times when you want to record spontaneously. Just hold down the record button and the camera will begin recording in fewer than two seconds. Press the record button in sleep mode and when the power is off, it allows you to action preset recording modes.

The Custom Exposure Control allows for long exposures of up to 120 seconds, which is ideal for shooting time-lapse shots at night.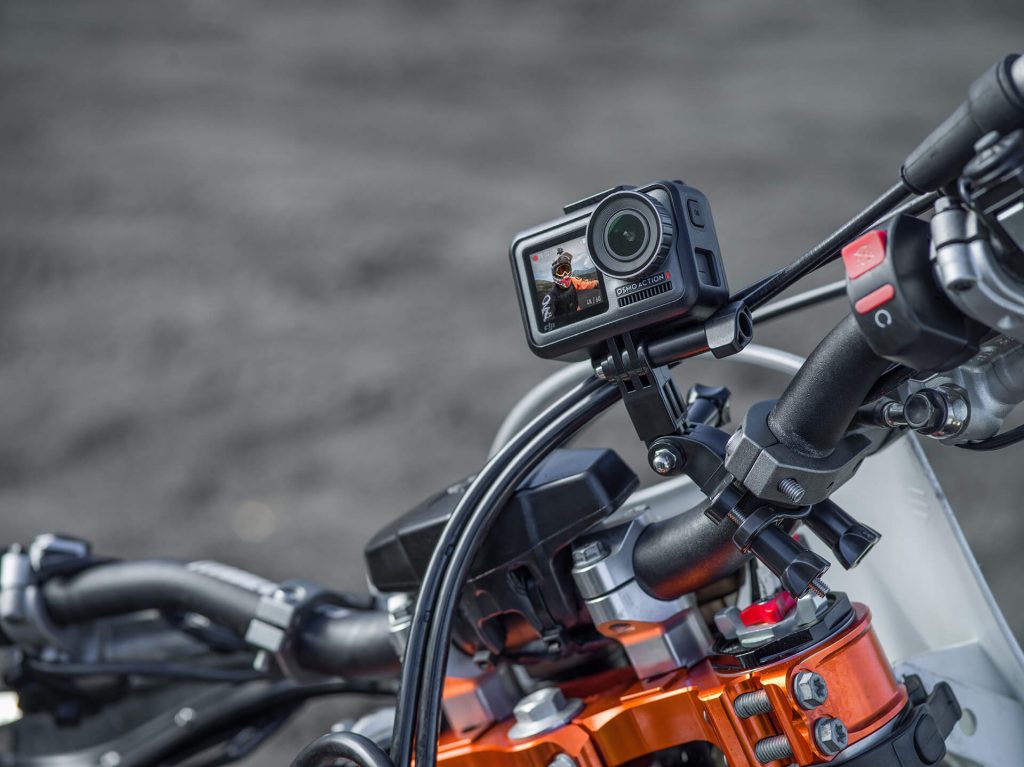 The QS button [Quick Switch] allows users to change the various modes without having to move into a menu. It also allows switching between various screen modes quickly. Custom Mode allows for saving preferred camera settings for speedy recall.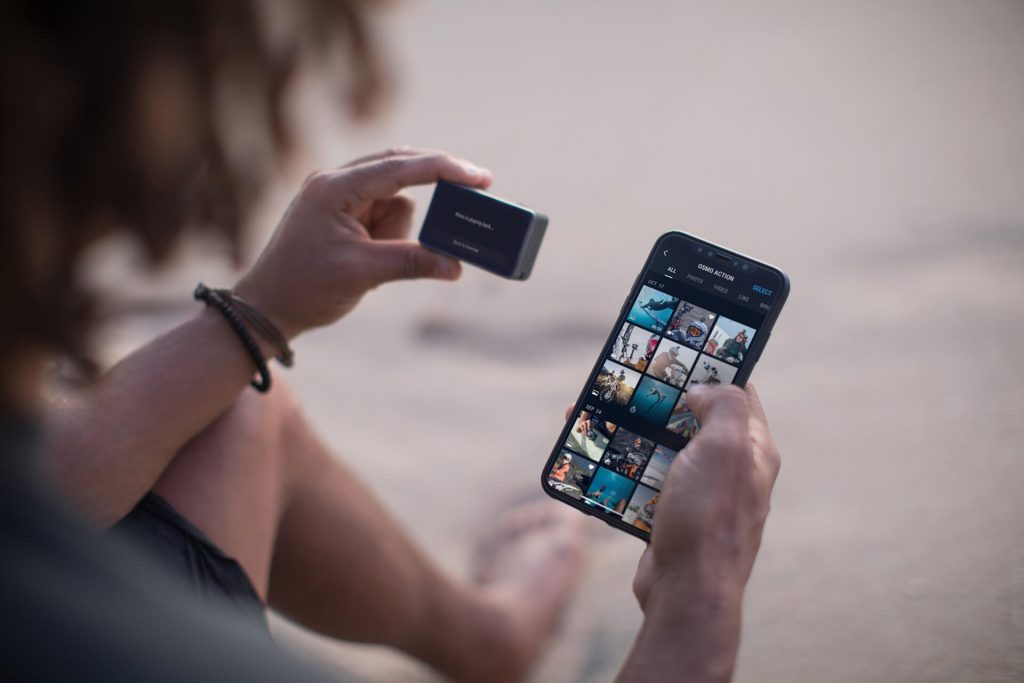 DJI Mimo App
Users can work with DJI's 'Mimo App' to transfer footage to mobile devices for quick sharing. Just like the Osmo Pocket, users can utilise smartphones or tablets to view a live picture from the camera. However, unlike the Osmo Pocket, it's not possible to control the Osmo Action through the app.
Watch DJI's intro video here

Pricing and availability
The DJI Osmo Action camera will come in at £329 and comes complete with the camera itself, camera frame, flat adhesive attachment, curved adhesive attachment, quick release base, battery, rechargeable battery housing, locking screw, and a USB-C cable.

You can order your Osmo Action from DJI's store right away, but other authorised dealers will take stock from 22nd May.

For more info on the Osmo Action, head to DJI's dedicated website.