Hands-on with the LaCie 4TB Rugged Drive and the LaCie 2Big 20TB Dock.
In the age of mass digital data storage, it has never been more important to secure our precious memories to ensure that we can treasure them for years to come. Whether you're a freelance professional or enthusiast photographer or filmmaker or in fact anyone who sees the value in preserving cherished digital files, choosing the right hard drive is a must. Road-testing the LaCie 4TB Rugged Drive and the LaCie 2Big 20TB Dock for us was a must. Read on for more.
Kicking off the with the LaCie 4TB Rugged hard-drive, it's the latest edition in a very well established and trusted line of pro-grade hard drives and certainly proves itself as a great drive to take on the road or keep with you on location during a shoot.
Housing two individual 2TB drives in its body, users can set up as 'RAID 1', which essentially mirrors data between two drives, [so if one breaks or corrupts it'll store it on the second drive]. If you are an SD card user [let's be honest, most of us are] we are happy to report that there is a built-in SD card reader in the rugged hard-drive itself. However, if you are not using USB-C yet, you will need to use the provided power adapter to get the hard-drive working as the USB-C to USB 3.1 will not deliver enough power. This will be an issue for laptop users and non-USB-C users. Other than that, we found the Lacie rugged 4TB a great option for general photo and video storage. A tough piece of kit with excellent read and write speeds of around 100mbs.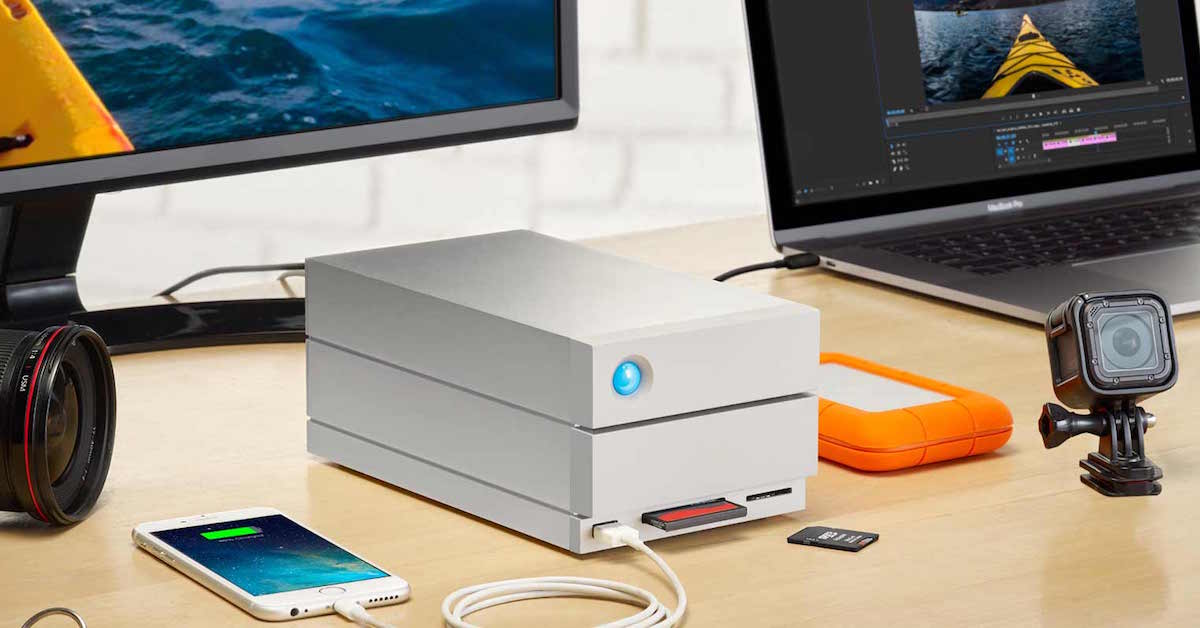 Now for the LaCie 2Big 20TB. If you're a serious or professional photographer or videographer, then this device should be a serious consideration for you. Sitting inside its thick aluminium shell are two huge 10TB hard drives. Out of the box they are set-up as 'RAID 1' drives, so you have 10TB to fill.
Now it's extremely unlikely that you'll be taking this with you to shoot on location and we certainly wouldn't recommend it. This drive is really built for editing in a studio or desk environment. Not so much for those who frequent their local coffee shop to work.
Through the power of USB-C, you will be able to edit photographs and video footage straight from the drive. This will definitely give a significant boost to your workflow and you'll find your once arduous and long-winded projects are completed in no time at all.
Built-in to the front of the drive is an SD card and Compact Flash card reader as well as a USB socket to charge up an external device, [such as a phone]. Overall, we found it to give a fantastic performance, giving read and write speeds around 150mbs when linked into a 2015 MacBook Pro. However, when linking up via USB-C, speeds will push between 190/220mbs!

Watch our review in the short film below:
For more information, head to LaCie's website.