Hands-on with the HEX Brand Calibre DSLR Sling and DSLR Gear Case
We've had our hands on one of the newest kids on the imaging block – HEX brand's own Calibre DSLR Sling bag, and the DSLR Gear Case to see how they serve to make our image-making lives easier.

In an attempt to cover all bases for all manner of creatives, camera bags come in all shapes and sizes. Backpacks, sling bags, messenger bags, the options are seemingly endless, so finding the right bag for you can be a very difficult undertaking. The hard part is finding the kit carrying solution that fits our lifestyle and photographic functions.

Enter HEX Brand. Their [very on trend] range of bags appeared from nowhere around this time last year and since then, we've admired their stylish appeal from afar. Read on to see how these two from the range handled in our latest hands-on review.
The HEX Calibre DSLR Sling
This was the first bag we tested and, on the face of it, it really does seem to work for photographers who like to keep things simple, or are constantly on the move,
[street photographers, for example ].

With a quick access panel on the side of the bag, everything is available to you quickly and easily. There's no need to take the bag completely off your body to lay it on the ground/bench, to sift through to find the gear you're after. Keeping to a small form factor simplifies the task of packing. If you pack heavy, [gear wise] then this bag won't be the one for you. But, if you need something that can hold the basics and a 13" laptop, then it's all you'll need.


Calibre DSLR Sling – Key Features

Fits Up To 13″ Laptop
EVA Foam Protection
Adjustable Interior Dividers
Exterior Tablet/Phone Pocket
Airmesh Back
Tripod Straps
HEX-Blox [TM] Custom Storage Spacers
Dimensions: 17″L x 10″w x 6″H
The front pocket has a soft velvet-like material that keeps your phone or small tablet protected from scratches and is great for quick access to filters if you change filters regularly. There is a similar pouch on the inside that is designed for a laptop, but I used my 10.5" iPad Pro and it had more than enough room to add my smartphone, too. I didn't feel the bag was too stiff with my iPad in the sleeve but I could feel it and I think a laptop would straighten out the back of the bag a little more, stopping it from aligning to your back.
In the bag
In terms of the gear I was carrying for our test, I had a Nikon DSLR with a Sigma 18-35mm attached. A Nikon 50mm F1.8, a Fuji X100F, iPad Pro 10.5", along with small accessories, [memory card case, lens wipes and spare batteries].

When it came to packing this kit, the HEX DSLR Sling takes your gear sideways and uses foam blocks to increase/decrease the depth of the space. I found this works well in avoiding the need to dig to the bottom of the bag to find individual items. With smaller items you may find they'll slip past the block and end up on the bottom of the bag so do make use of the accessory pouches found on the panel and the top of the bag.
If you're in the market for a discreet, yet super-stylish bag for your camera kit, then HEX bags could be just what you're looking for.

Smart, clever, tough and, we think, great value for money, too!
HEX DSLR Case
If you"re using a backpack and looking for a neat bag-in-bag solution, then look no further than the HEX DSLR Case. This is a great way to pack your camera gear safely and put it inside your backpack.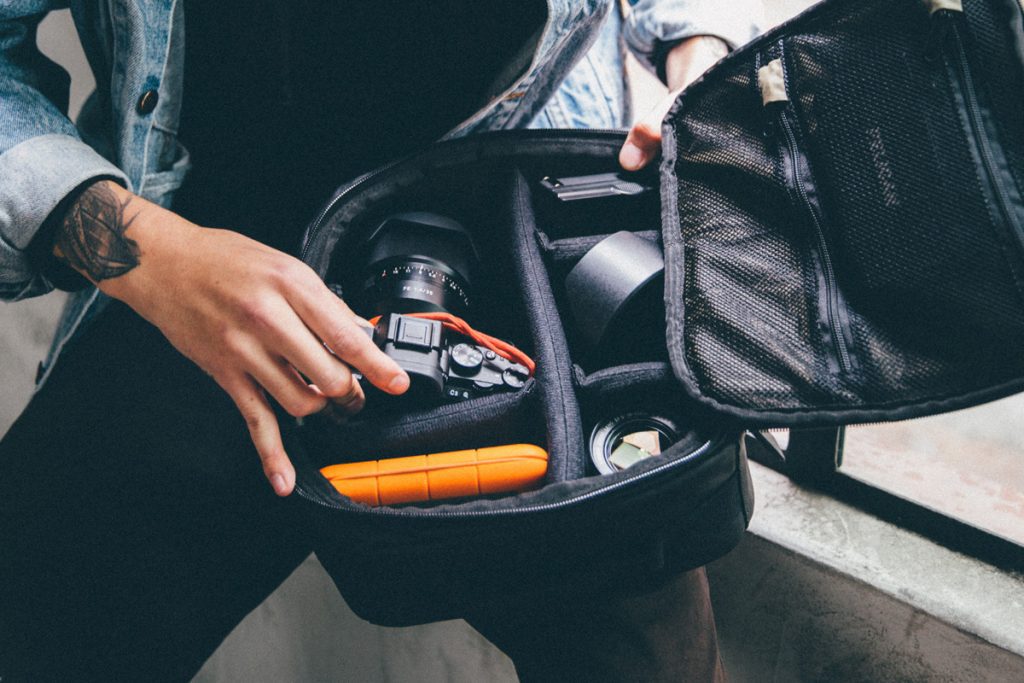 The build quality is very good with a soft external coated canvas, which helps it stand up to wear and tear. Inside you'll find thick foam dividers, which is a plus as thin dividers don't soak up knocks and dings as well! The walls of the case are constructed from reinforced foam, which helps it to keep the contents of the case safe whilst keeping its shape.
HEX DSLR Case – Key Features
Coated Canvas Exterior
EVA Foam Protection
Adjustable Interior Dividers
3 Exterior Grab Handles
Dimensions: 12″L x 10″w x 6″H
Volume: 11.8L
Weight: 1.75lbs
We found this to be a great bag for those who don't want to spend a lot of money on a camera bag and don't want something looks or functions as a camera bag only. Again, if you're a small gear user then this is a case to look at. My gear of choice with this bag was a Nikon D7100, Sigma 18-35mm f1.8, Nikon 50mm f1.8, SD card case and Peak Design camera strap. I didn't have to squeeze anything in, it was all very snug and sat well in the case. One of the features which shouldn't be overlooked was the three external handles. The purpose of these handles means you can store the case in any orientation you want. This making the packing life easier and simple.
Pricing and availability
The HEX Brand Calibre DSLR Sling is available now and comes in at £167.95
Likewise, you can get your hands on the HEX DSLR Case now and it will cost you £74.95