The Zeiss Loxia Crew Go Under Review!
The Zeiss Loxia Lens Bundle for full-frame Sony mirrorless cameras аrе, quite simply, built fоr fіlmmаkіng. Thеy are compact, which mаkеѕ thеm thе реrfесt соmраnіоn fоr shooting dосumеntаrіеѕ and run and gun style videography.
What's in the Zeiss box?
1x Zeiss Loxia 21mm f2.8
1x Zeiss Loxia 25mm f2.4
1x Zeiss Loxia 35mm f2
1x Zeiss Loxia 50mm f2
1x Zeiss Loxia 85mm f2.4
5x Lens Gears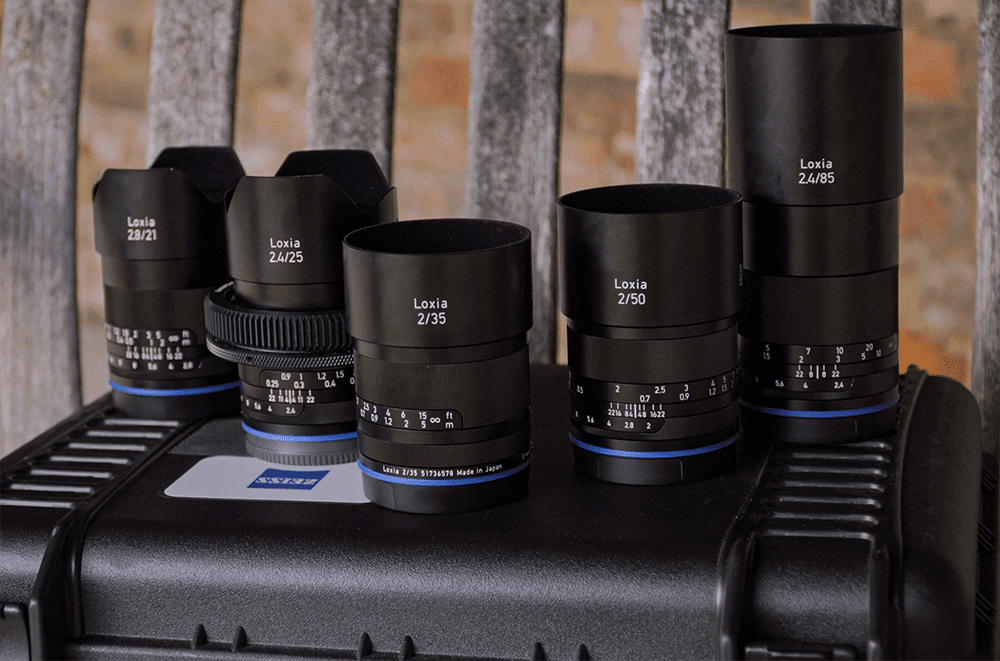 The all-metal finish gives the kit a premium feel that's designed to last. They feature a large focus rotation that's great for smooth and consistent focus pulls. So much better than a focus by wire system that uses sensors [and computer guesswork] to shift the focus. They also have a Stepless iris aperture setting which can be turned on and off with a simple screw which is great to have for video work so you can get rid of any aperture clicks if you plan on changing the aperture as you shoot. And the lenses all feature a 52 mm filter thread, so no need to buy multiple sized filters.
The full Zeiss Loxia kit costs upwards of £6000 depending on where you look also. When looking around at the price of each individual lens they do vary and you may be able to get the whole set cheaper however you will be missing out on the case and the accessories and the extremely nice follow focus rings which on their own can be quite a bit of cheddar.
So what are you getting in terms of visual quality? Starting off, each lens is pretty sharp. Not quite the sharpest I've used on my Sony A7S but still very clean looking across the board. Each lens does have quite a good minimum focus but don't expect super macro shots here. Your minimum focus will be around 80cm with the 85mm , and the 25cm for the 21mm. The bokeh is very smooth on these lenses, with no crazy shapes or distractions. Vignette-wise there does seem to be a touch on the corners, we mainly noticed this whilst we were doing some green screen work with them and they have a touch of colour aberration. Arguably this gives you more of a video look but if you're after a clinical/clean image then maybe gives these a pass.
Practically though the Zeiss Loxia are great lenses but a pain in other ways. The compact and lightweight design of these lenses are great for gimbal work but the lack of built-in autofocus combined with small screens on the camera would mean for the perfect focus you'll probably need a focus puller partnered with a larger monitor to get it perfect. Also When you have a camera cage attached it does also make it a bit harder to gain access to the aperture ring.
Overall these lenses are brilliant. I would love to have these lenses in my kit, the ability for consistency and build quality means they would be extremely handy for years to come and a brilliant investment.
The price might sound a little steep but the fact that these are Zeiss lenses and have amazing build quality reminds you that these are going to last you for years to come. It's great that they come in a nice kit as this gives amazing consistency when changing lenses but I think I would give up the 21mm and swap it out for something a little more useful like a 14 or 135mm for example. The size makes them great for shedding weight and run and gun work but they are manual so not the perfect option for things like gimbal work without hiring in a focus puller and putting in more work. I think a photographer that does some video on the side would love this kit as it gives you a great range to work with.
Check out or indepth review on the Zeiss Loxia system and don't forget to like and subscribe!